This post brought to you by Immortalized On AMC. All opinions are 100% mine.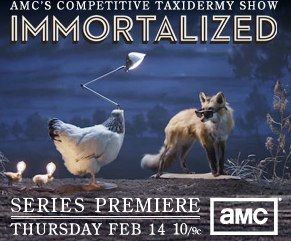 AMC's new unscripted series Immortalized brings viewers into the captivating and provocative world of creative and competitive taxidermy. Immortalized explores the passionate detail and artistic expression that goes into creating this compelling art.
Each episode will feature one of four highly regarded "Immortalizers" facing off against a "Challenger" in a competition. Their task is to create a piece to be judged on three criteria; originality, craftsmanship and interpretation of the designated theme.
Whether the artists are known for their classic or rogue creations, each week they'll work to perfect this centuries-old art form in an unprecedented battle.
I wasn't sure what to expect from this show, but once I started watching it I was hooked. If you told me before that I'd be watching a reality show about taxidermy, I'd have called you crazy. But it's one of those shows that takes you inside a world you've never seen before, and the competition aspect of the show keeps you coming back for more. So give it a watch, and let me know what you think!
Immortalized airs Thursdays at 10pm EST/9pm CST, only on AMC.
If you're interested in Immortalized; find out more at their website.