'25th Race Of Champions' To Exclusively Air On DRIVE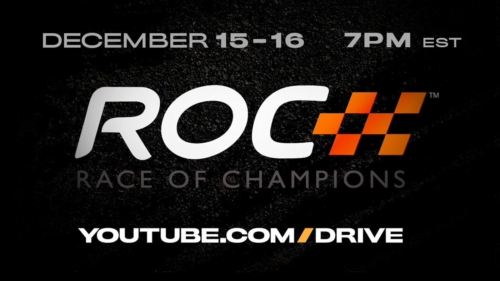 DRIVE announced it will exclusively air the 25th Race of Champions (ROC), taking place in exotic Bangkok, at 7pm ET on December 15 and 16 for U.S. viewers on its YouTube channel: www.youtube.com/DRIVE.
Accessible exclusively in the U.S. at www.youtube.com/DRIVE, ROC will pit motorsports' racing elite from various disciplines, including Formula One, World Rally Championship, MotoGP, Touring Cars, IndyCar and Le Mans. The competition will feature a series of head-to-head races in identical cars on a parallel track inside Rajamangala Stadium to crown the "Champion of Champions." Drivers will pair up by nationality for the ROC Nations Cup ahead of the individual Race of Champions the following day.
Drivers competing in ROC 2012 include:
MICHAEL SCHUMACHER, seven-time Formula 1 World Champion
SEBASTIAN VETTEL, Formula 1 World Champion (2012, 2011, 2010)
RYAN HUNTER-REAY, IndyCar Series Champion (2012)
JORGE LORENZO, MotoGP World Champion (2012, 2010)
SÉBASTIEN OGIER, seven-time WRC winner, 2011 ROC "Champion of Champions"
DAVID COULTHARD, 13-time Formula 1 Grand Prix winner
TOM KRISTENSEN, eight-time Le Mans 24 Hour race winner
JAMIE WHINCUP, V8 Supercar Champion (2011, 2009, 2008)
MICK DOOHAN, five-time 500cc MotoGP World Champion
ROMAIN GROSJEAN, Formula 1 driver
ANDY PRIAULX, three-time FIA World Touring Car Champion
In recent years, ROC has visited the Stade de France in Paris (2004-2006), London's Wembley Stadium (2007-2008), Beijing's 'Bird's Nest' Olympic Stadium (2009) and Düsseldorf's ESPRIT arena (2010-2011). For 2012, it's venturing outside Europe for only the second time in its 25-year history.
For more information about Race of Champions, visit www.raceofchampions.com.
You can watch DRIVE's ROC coverage video teaser below:

To view DRIVE's exclusive Race of Champions coverage on YouTube on December 14 and 15 at 7pm ET, please visit www.youtube.com/DRIVE.