All-Star Cast Chronicles Economic Crash In First Trailer For 'The Big Short'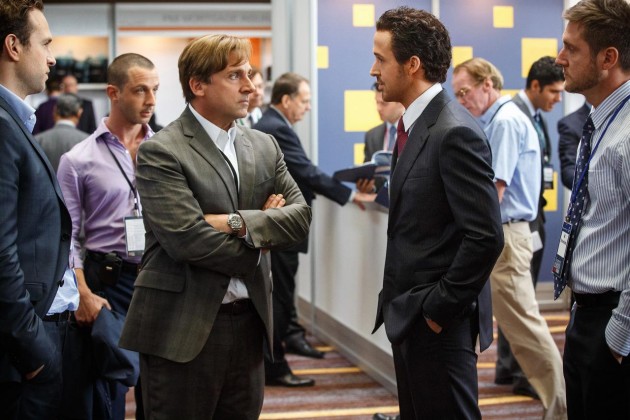 At this point, it seems as though any novel by historical chronicler Michael Lewis is perfect fodder for a movie. Adaptations of sports-centered novels The Blind Side and Moneyball both proved to be successful at the box office, and now with The Big Short, his take on the 2008 economic down-turn comes to life. The film comes to us from director Adam McKay, who departs from his typical broad comedy found in Anchorman and Step Brothers to tell a more grounded and stylistic story. It seems like a big gamble, even with the all-star cast he has assembled. However, it certainly looks to be paying off big time.
There is something about this trailer that just exudes "cool". Even though the disaster of the housing bubble was obviously a heavily tragic ordeal, McKay seems to have taken a satirical and punchy approach to the material. There's a fun heist element that runs though this trailer, as this group of bankers attempt to pull a defrauding scam in the midst of the crisis.
It certainly helps that we have actors like Christian Bale, Steve Carell, Ryan Gosling, and Brad Pitt to deliver the crackling dialogue. Each performer seems to be putting everything they have into this, especially Carell, in a role that both fits and departs from his usual shy persona. I'm not even a fan of the other Michael Lewis movies, but I really think this could be something special.
The Big Short opens December 11th in limited release and expands over the Christmas season.