Bentley To Debut Continental GT V8 S At Detroit Auto Show
Bentley will be unveiling the Continental GT V8 S in North America for the first time at the Detroit Auto Show next week, bringing sharper V8 power to the world's most stylish, luxury grand tourer.
Dr. Wolfgang Schreiber, Bentley Chairman and Chief Executive, comments: "The GT V8 S is a car for our V8 customers who want more. It is more agile, with a lower and uprated suspension, faster, with more power and more distinctive with its signature S styling and a unique V8 S soundtrack."
More power and more performance
The new GT V8 S models bring added excitement to the Continental range, and will be offered as both a coupe and convertible.
The new V8 S models provide an even more engaging driving experience from Bentley's already renowned 4-litre twin-turbo V8 powertrain. The engine develops 521HP at 6,000rpm and a peak torque of 502lb-ft at a mere 1,700rpm.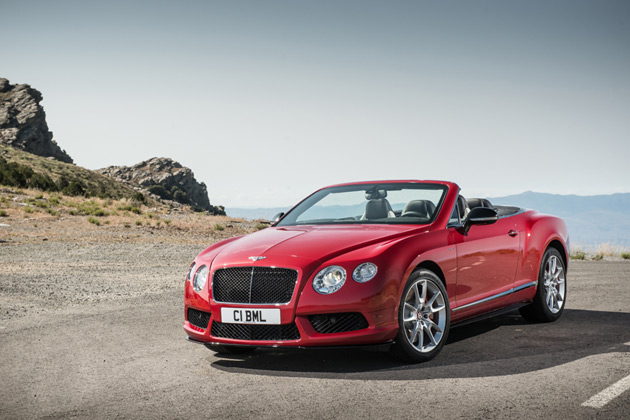 Delivered via a close-ratio ZF 8-speed automatic transmission, the increased V8 power provides effortless, exhilarating high performance with breath-taking acceleration and imperceptibly smooth power delivery. Switch into S mode via the gear selector and the V8 S rewards the spirited driver with a sharpened throttle response while gears are held for longer with faster shifts.
The GT V8 S coupe dispatches the 0-60 mph sprint in just 4.3 seconds onto a top speed of 192 mph. This increased performance is achieved without detriment to the V8 engine's class-leading fuel economy and CO2 emissions, or its ability to cover more than 500 miles between fill-ups.
The Continental range now consists of four distinct models. The V8 S complements the GT V8, giving customers a choice of different V8 models for the first time. The W12, with its iconic engine, is the signature car of the Continental range. And the fastest luxury GT in the world, the 205 mph Continental GT Speed, forms the pinnacle of the model line.
What do you think of the new Bentley Continental GT V8 S?