Clips From Ghosts Of The Abyss 3D Blu-Ray DVD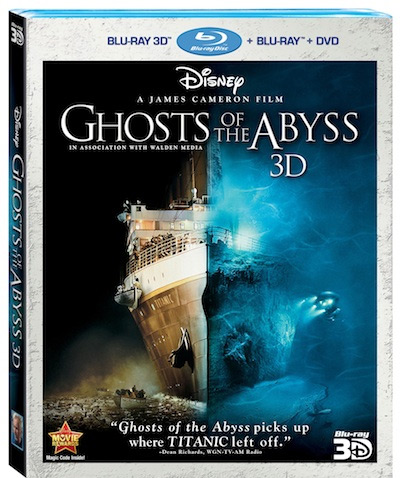 James Cameron's Ghosts Of The Abyss 3D came out on Blu-ray today, and we've got some awesome clips from the DVD!
Joined by his personal friend Bill Paxton and a team of the world's foremost historical and marine experts, James Cameron journeys back to the site of the Titanic. During the voyage, you'll explore inside the entire ship, deck by deck, room by room, encountering mysteries that have remained hidden for almost a century. Revolutionary underwater robots were designed and built solely for the purpose of allowing the explorers to peer deep into the remains of the once-great ship and bring those surreal and haunting images back to the surface world.
Ghosts of the Abyss – Clip 1

The submersibles come across the sunken Titanic
Ghosts of the Abyss – Clip 2

The bots explore the inside of Titanic, finding intact dining room windows

Ghosts of the Abyss is a must-own for any Titanic buff!