Does Your Super Bowl Party Have A Deep Fryer?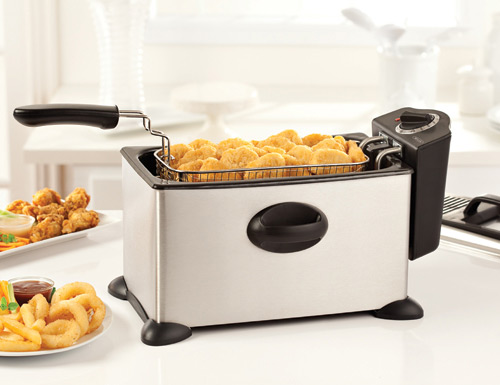 What sporting event would be complete without some deep fried foods? Corn dogs, fried chicken fingers, homemade french fries, fried Oreos, the list goes on and on.
You might not be in New Orleans for the Big Game, but that doesn't mean that you should miss out on these tasty treats! Pick up a BELLA 3.5L Stainless Steel Deep Fryer, and you can deep fry whatever you want from the comfort of your own home.
We fired up our shiny new deep fryer over the weekend, and after finding this huge list of deep fryer recipes, we started experimenting! We started with some simple recipes (deep fried Oreos and Snickers), and eventually worked our way up to some delicious fried chicken fingers.
The BELLA deep fryer is incredibly easy to use. An adjustable temperature control helps you maintain the ideal cooking temperature, a see-through viewing window lets you see exactly what's going on, and with 1600 Watts there's no concern about the oil not getting hot enough to give you a crispy finish (a common complaint with lesser deep fryers).
We had a blast deep frying everything in sight, and I'm sure our friends will enjoy all the deep friend goodies on hand at our big Super Bowl party!
Want a deep fryer of your own? Head over to Macy's or macys.com, where the BELLA Deep Fryer is currently on sale for just $39.99 (normally $59.99).
And while you're there, consider picking up some other party essentials, like the BELLA Triple Slow Cooker or the BELLA Pizza Maker.
Enjoy!