Dos Equis Unmasks More Interesting Side With Launch Of Ultimate Masquerade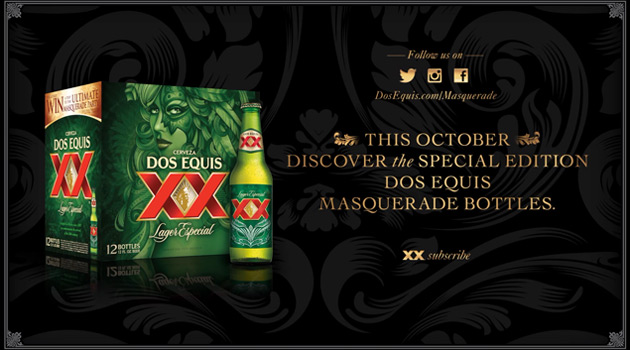 This fall, Dos Equis is donning its own mask and helping fans 21 and older embrace their alter egos with the launch of the Ultimate Masquerade. Dos Equis will kick off the fall with a series of incredible events, new masquerade-themed bottles and a nationwide contest to meet The Most Interesting Man in the World.
Dos Equis will showcase its own mask with two brand new bottle label designs for its Lager and Ambar brews. Each pack and bottle will feature a graphic designed by artist Hydro 74, and are only available while supplies last.
Dos Equis will also give fans 21 and older a chance to celebrate with the Ultimate Masquerade contest, which will send four grand prize winners on an all-expense paid trip for two to Miami to meet and greet with the Most Interesting Man in the World, and take part in the campaign's culminating celebration on South Beach. Fans 21 and older can enter by visiting www.DosEquis.com/Masquerade, where they can enter special codes found via the new limited edition bottles and packs.
As part of the Ultimate Masquerade, the Most Interesting Man in the World is also featured in a campaign-themed commercial, which you can see below. The 15-second spot features the icon offering his take on Masquerade Parties: "If the only thing that comes off during the unmasking hour is the mask, you've done something wrong."
Fans are encouraged to post photos and updates on Facebook, Instagram and Twitter of their own Masquerade parties and bottles using hashtag #DosEquis.