FLIPPING OUT Coming Back For A Sixth Season On 9/4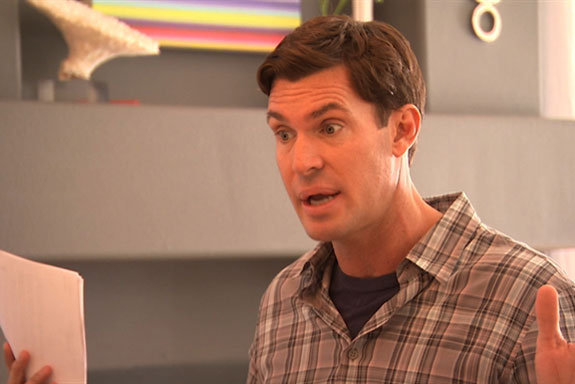 There's no denying it, I'm addicted to these stupid house-flipping realty shows.. Flipping Out, Flip This House, Flip That House, Flipped Off, Property Ladder, etc.
But if you've watched past seasons of Flipping Out, you know that it's unlike any other home renovation show out there. While we still get to see the gorgeous homes he designs, it really focuses more on his and his employees crazy antics.
Last season, Jeff lauched a new show called Interior Therapy with Jeff Lewis, and many folks wondered if that show would replace Flipping Out. Thankfully, that's not the case at all, and Bravo's set to debut a new season of Flipping Out on September 4th at 9pm!
I had a chance to talk with Jeff and Jenni about the upcoming season, and let me tell you, it sounds awesome! I'm really curious to learn what (new design assistant) Andrew's shocking revelation is, as Jeff still seems pretty shook up by it all these months later..
Here's the offical press release:
The sixth season of Bravo's hit docu-series "Flipping Out" returns on Tuesday, September 4th at 9:00 PM ET/PT with demanding designer Jeff Lewis and his ever changing, yet always entertaining, staff at "Jeff Lewis Designs." In the new season Jeff's business continues to be more centered on interior design than house flipping, but he still manages to turn the lives of everyone around him upside down. As Jeff wrestles with a growing business, new staff members, a slate of crazy clients and a renovation of his own, his life is becoming a mess so big not even his faithful maid, Zoila, can clean it up!

The sixth season of "Flipping Out" finds Jeff and his trusty assistant and sidekick, Jenni Pulos, busier than ever in both their business and personal lives. Jeff and his partner, Gage Edward, have purchased a home with the intention of settling down and starting a family. Their dream home on Gramercy begins to turn into a nightmare, however, when costs and delays on a massive renovation of the property begin to put a strain on their relationship. Meanwhile, Jenni's boyfriend finally popped the question, forcing Jenni to juggle her responsibilities to Jeff while planning a destination wedding in Chicago. As Jenni becomes overwhelmed with the wedding plans Jeff steps in to help her create the fairy tale wedding of her dreams.

Unsure of what Jenni's long-term goals are, Jeff decides to hire new staff including Vanina and an eccentric design assistant, Andrew, to pick up slack at the company. Gage becomes frustrated by Andrew's inappropriate behavior and questionable work ethic, but Jeff defends the new employee's place in the company until he discovers in a shocking revelation that Andrew isn't who he seems to be. Zoila and Jeff continue to have their ups and downs, but, with the strain of moving in to the Gramercy house, tension between the two mounts and in a shocking development Jeff actually considers letting her go.
And here's a sneak peek from the new season:


** Flipping Out returns on Tuesday, September 4th at 9:00 PM ET/PT on Bravo!