Get An Android-Powered Tablet For Only $129!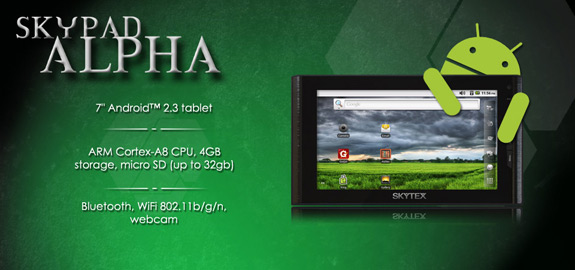 The SKYPAD Alpha 7″ Android™ 2.3 tablet was designed to keep you connected wherever you go, and its convenient, compact and lightweight construction makes it the perfect travel companion. With Alpha's built-in lightning fast Wi-Fi (802.11b/g/n), you can check-in, update your status, and tweet in real-time anywhere there's an available connection. And its compatibility with Adobe Flash Player, means you'll experience the web the way it is meant to be experienced.
With SKYPAD Alpha, for Android™, you'll have a world of apps at your fingertips. SKYTEX has partnered with GetJar to give you immediate access to their library of over 75,000* mobile applications. This means you'll be able to enjoy some of the hottest games, social apps, and productivity suites right away. You won't have to worry about lag with Alpha's powerful ARM Cortex™-A8 processor with OpenGL ES 2.0 support and 3D GPU.
Alpha has you covered whether you're in the comfort of your own home or off in a faraway land. It's a portable audio and video player, color e-Reader (with the pre-installed Aldiko app), handheld gaming device, mobile internet device, digital photo frame, document editor, VOIP phone, and more.
Screen
• Type: 7" (diagonal) color LCD Display
• Resolution: 800×480 WVGA
• Touch type: Resistive
CPU
• Freescale i.MX515 ARM Cortex-A8 (800Mhz core + 200Mhz DSP)
Memory
• 512MB RAM
Storage
• 4GB Internal
• microSD Card support (up to 32GB)
This tablet normally sells for $199, but Groupon is currently running a sale on them for only $129! As of this posting, over 1400 tablets have been sold, and there's no telling when they'll run out of inventory. So if you've been in the market for a tablet and waiting for the right deal, wait no longer!
Click here to view this deal!