Enter To Win An LG OLED TV Or LG Twin Wash Laundry Pair From LG + hhgregg
A few weeks ago, we told you about the LG + hhgregg Play For Keeps Sweepstakes that our good friends at hhgregg are hosting in celebration of March Madness. If you missed it, they've got both an in-store and online sweepstakes going on right […]
This is a sponsored post written by me on behalf of hhgregg. All opinions are 100% mine.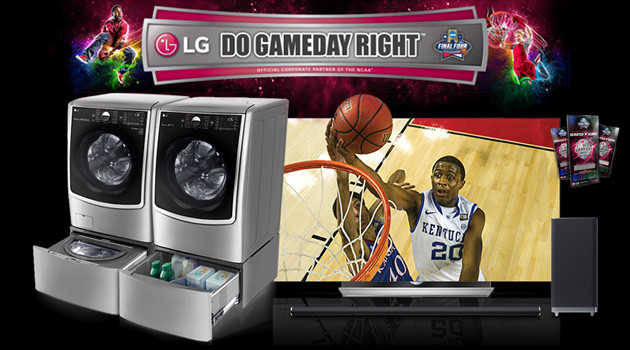 A few weeks ago, we told you about the LG + hhgregg Play For Keeps Sweepstakes that our good friends at hhgregg are hosting in celebration of March Madness. If you missed it, they've got both an in-store and online sweepstakes going on right now, with some pretty awesome prizes up for grabs.
The in-store prizes include an awesome LG OLED TV, LG Surround Sound System, LG Twin Wash System, and hhgregg gift cards, while online prizes include an LG 4K TV and hhgregg gift cards.
To enter the online sweepstakes, head on over to the LG + hhgregg Play For Keeps Sweepstakes page and fill out the form. To enter the in-store sweepstakes, follow the instructions below:
Go into your local hhgregg
Get a demo of the OLED TV or Twin Wash System
Receive a scratch-off ticket
Enter your ticket's code online to reveal instant prizes and be entered to win the grand prize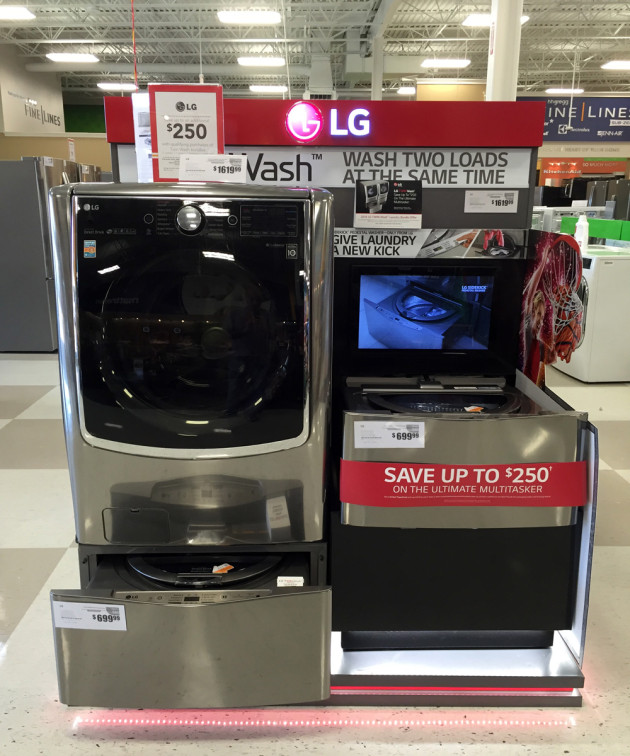 With my laundry machine finally calling it quits, I figured there was no better time to visit my local hhgregg to check out that sweet LG Twin Wash System that they were giving away. If I won, I would be able to get the laundry done in half the time, as it can do two loads of laundry at the same time!
Just think about it. You can do a large load of laundry in the front-loading washer, while doing your whites (or delicates, undergarments, workout gear, etc) in the smaller pedestal washer. I am all about efficiency, and if this helps me get through my laundry faster, I'm all for it. Seriously, why didn't anyone think of this sooner?!
While I was at it, I couldn't help but check out the LG OLED TV they had on display, as it just drew me in like a tractor beam with it's incredible picture quality and intense color. I don't really need a new TV right now, but damn if it wasn't tempting to plunk down my credit card after seeing it in person.
How sweet would it be to win that LG OLED TV and watch the Big Game on it? Trust me, you'd be the envy of all of your friends. So head over to your local hhgregg, watch a demo of either product, get your lucky scratch-off ticket, and enter the code online to see if you won.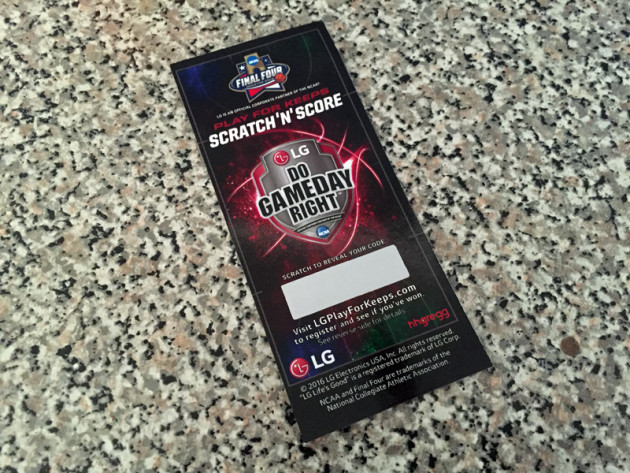 Good luck!