Review: Korg Kaossilator 2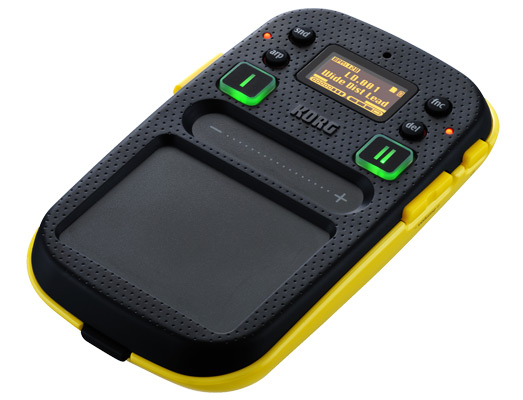 The Korg Kaossilator 2 is a palm-size phrase synthesizer that can be played by anyone, at any place, and at any time. And boy is this thing fun!
Simply tap or slide your finger across the X-Y touchpad to access 150 built-in sounds covering every style of music. They're divided into categories for easy-access; Synth Leads, Basses, Acoustic Instruments, Chorded Sounds, SE, Drum Kits and Rhythm Patterns.
The Kaossilator 2 combines PCM drums, modeling synthesis and two crossfade-able Loop Recorder banks for spectacular pocket power! The Kaossilator 2's Dual Loop Recording Banks can overdub your touchpad performances as many times as you like. By adding layer upon layer to a simple phrase, it's easy to create amazingly intricate tracks, and save it all using the microSD data slot. You've got to get your hands on one!
The video below shows you what the Kaossilator 2's capable of:
Where the KO1 was a toy disguised as a tool, the KO2 is one of the sleekest and sexiest portable musical tools available to producers today! And it's a steal at just $159.99.
Here are the specifications for the Korg Kaossilator 2:
Programs: 150
Program Categories: Lead (25), Acoustic (10), Bass (30), Chord (25), SE (20), Drum (15), Drum Patterns (25)
Scales: 35
Key Range: ±12
Gate Arpeggiator: 50 patterns
Sampling Frequency: 48 kHz
AD/DA Conversion: 24-bit linear
Input connectors: Mic Input (stereo mini jack type)
Output connectors: Headphone Output (stereo mini jack type)
Data Storage: microSD card (512MB – 2GB) microSDHC card (2GB – 16GB)
*SDXC card cannot be used.
Power Supply: AA batteries (alkaline battery or Nickel-Metal Hydride battery) x 2 Optional AC adapter-ready (DC4.5V – available from Korg)
Battery Life: Approx. 5 hours (Power Saving : On, with Nickel-Metal Hydride battery)
Dimensions (W x D x H): 76 mm x 128 mm x 25 mm / 2.99" x 5.04" x 0.98"
Weight: 105 g / 3.75 oz. (without batteries)
Visit www.korg.com for more information about the Kaossilator 2.