'Shameless: The Complete Third Season' Hits Stores Tomorrow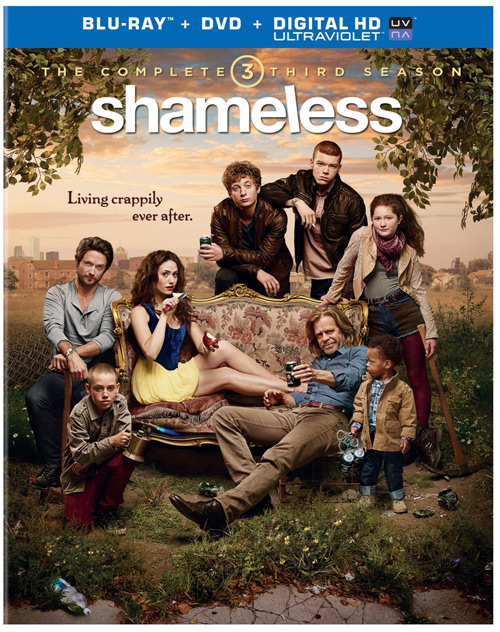 Shameless is without a doubt one of my favorite shows on television! So when Warner Bros. asked if I'd like to check out the new Shameless: The Complete Third Season on Blu-ray, I jumped at the chance.
I had already watched Season 3 of Shameless when it first aired on Showtime back in January, but with the fourth season scheduled to premiere next month, I figured now would be a good time for a refresher. Plus, the DVD set has over 60 minutes of bonus content including six behind-the-scenes featurettes and deleted scenes that are a must-watch for any Shameless fan.
If you haven't seen the series before, the show stars William H. Macy as Frank Gallagher, an alcoholic single father of six clever and resourceful kids who live together on Chicago's South Side. He's a selfish alcoholic and a complete narcissist who has done nothing for years but collect disability checks (illegally) and drink heavily. While he spends his days drunk, his kids have to fend for themselves, thanks in large part to the eldest daughter Fiona (Emmy Rossum), who was forced to drop out of high school in her junior year so that she could raise and support her five siblings.
The third season of Shameless picks up 137 days since viewers last spent time with the Gallaghers. Fiona is scrounging for cash and finds herself in a succession of jobs, including club party promoter, grocery store cashier, and office worker. Lip is sentenced to community service after stealing a laser, while Ian struggles to prevent Mickey from marrying a woman his father is forcing him to wed. Jimmy contemplates returning to medical school; Veronica and Kevin are determined to have a baby; Carl becomes part of a scheme to cheat a children's foundation; and Frank, after partying harder than usual, wakes up in Mexico without the papers or cash to get back home. As if their daily struggles weren't enough, Fiona and her siblings have to deal with Child Protective Services threatening to take away the kids.
Shameless: The Complete Third Season will be released on December 17th 2013, and it will be available in a Blu-ray combo pack (which includes the Blu-ray and standard DVD, plus UltraViolet) that retails for $49.99, as well as in a standard DVD edition that retails for $39.98.
Fans love Shameless for the superb acting, writing, and complex characters, and Season 3 gives these fans even more of what they love. Give it a shot, and see why Shameless is one of Showtime's top three series!