The Top 10 Cars At The Geneva Motor Show
The 2015 Geneva Motor Show was bigger and better than ever, with exhibitors and manufacturers bringing their A game to the biggest car show in the world. We decided to highlight the top ten vehicles on display at the show this year. There were some truly amazing cars to choose from, but these ten had everyone talking:
1) Koenigsegg Regera

The Koenigsegg Regera was the clear winner of the Geneva Motor Show, and for good reason. The Regera is a true technological feat, with performance numbers that shatter pretty much every record on the books. It has 1500HP, does 0-249MPH in less than 20 seconds, and has a single-speed transmission. 'Nuff said.
The newest 911 GT3 RS arrives packing 500HP and 338 lb-ft of torque, courtesy of a naturally aspirated 4.0L flat-six. Porsche pegs the 911 GT3 RS's 0-60 time at 3.1 seconds, with it sprinting through the quarter-mile at 11.2 seconds, on it's way to a top speed of 193MPH. Sure, it's only available with a seven-speed PDK (for now), but it shifts PLENTY fast!
The Bentley EXP10 Speed 6 concept dropped jaws when it was unveiled in Geneva. Bentley hinted that the Speed 6 is a "potential future model line" and a "bold vision for a brand with a bold future." We see it as the perfect sports coupe to go up against cars like the Audi R8 and Jaguar F-Type Coupe.
4) Lamborghini Aventador LP750-4 SV

The Lamborghini Aventador LP750-4 SV gets the "Superveloce" treatment, giving us a more powerful, lighter, and, yes, even more extreme-looking than the car on which it's based. The 6.5L V12 engine gets a modest power boost of 50HP, together with a weight reduction of 110lbs. Top speed is now 217 mph and the 0-62 MPH time drops by 0.1 second.
5) Aston Martin Vulcan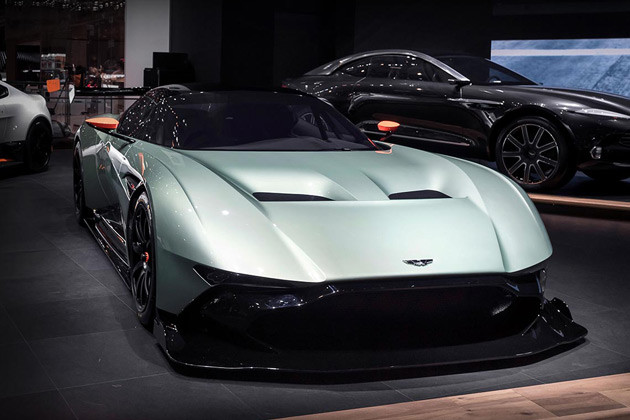 We told you all about the Aston Martin Vulcan last week, and our mind is still reeling from it. Who would have thought that Aston Martin would put out an 800+ HP limited edition supercar made entirely of carbon fiber and only legal for the track?! This is the British brand's most intense and exhilarating creation to date!
Another surprise at Geneva was the McLaren 675LT. This limited production supercar is faster, lighter and more efficient than the McLaren 650S, blasting from 0-60 in 2.9 seconds, on it's way to a top speed of 205 MPH. Only 500 cars will be built, with a starting price of $349,500. We'll take ours in Chicane Grey.
No list is complete without at least one Ferrari on it, and Geneva was no exception. The new Ferrari 488GTB is the successor to the 458 Italia, and with it comes a turbo. Despite a 0.6-liter reduction in displacement, the new engine makes more power, with 661HP and 561 lb-ft of torque at a low 3000 rpm. Styling is evolutionary rather than revolutionary, but we'll take it.
The Mercedes AMG GT3 is a bulging, aero-kitted, stripped-out track car that was designed to comply with the FIA GT3 rules, and it's powered by the same M159 engine as the outgoing SLS AMG GT, that beastly 6.2L naturally aspirated engine. It's a gorgeous car, and we can't wait to see what it's on-track performance is like!
The Lexus LF-SA Concept might just be the cutest thing that was revealed at Geneva this year. This "ultra-compact sub-B-segment" vehicle was designed for maneuverability and agility on congested city streets, and I'd take this over a SMART car any day!
Last but not least is the Audi R8 e-tron, the fully electrified version of the second-generation R8. The electric R8 can go a full 280 miles on an electric charge, and the rear-mounted electric motors produce 456HP and 679 lb-ft of torque. 0-60 takes just 3.9 seconds, with a top speed of 155 mph.
Which of these cars is your favorite?