Win 2015 Final Four Tickets In Enterprise's 'Ultimate Pick Up Moment' Challenge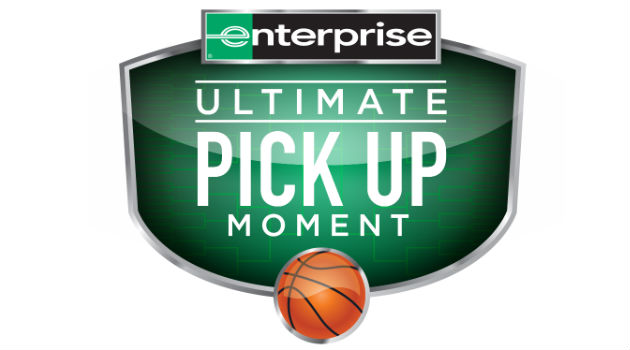 In 1963, Andy Williams wrote a song titled "It's The Most Wonderful Time of the Year." He wrote this gem about the holiday season that sweeps our stores empty and baron. Now, it's hard for me to disagree with a music icon Andy Williams, but to me the most wonderful time of the year happens during the middle of March.
Enterprise Rent-A Car has partnered with the NCAA® for the Ultimate Pick Up Moment Challenge, which features 16 of the best moments in March Madness® history, paired up in a 16 team bracket. Four popular Men's Interest and sports sites (Guys Gab, Bullz-Eye.com, Next Impulse Sports, and The Hoop Doctors) are taking an in-depth look at these moments, and now it's up to you to decide what moment truly rules the Madness of March.
In order to truly decide what is the "Ultimate Pick Up Moment" in college basketball, make sure you visit the sites mentioned above, watch their videos, and decide which video reigns supreme. Once you've made your choice, head over to the Enterprise Ultimate Pick Up Facebook App, which after weeks of preparation has finally launched TODAY, and cast your vote now. Every vote matters, and you'll be entered for a chance to win a trip to Indianapolis, along with tickets to the 2015 NCAA® Men's Final Four®! How cool is that?
We're also hosting a live Twitter chat on Wednesday March 19th at 1pm ET, and we encourage all of our readers to engage with us on Twitter using the hashtag #EnterpriseNCAA, as 4 lucky fans will receive an Enterprise March Madness Pack which includes:
Mini Basketball & Hoop Set
$25 NCAA e-gift card
Fans have the opportunity to score even BIGGER with the Finals Party Pack that will be given away during the Elite Eight. To better your chances to win, you must actively engage in Bullz-Eye.com and Next Impulse Sports' live tweeting of epic Elite Eight coverage. Also, Guys Gab and The Hoop Doctors will be giving away another Finals Party Pack to one lucky reader who leaves an engaging comment on our blog posts released during the same time. The Finals Party Pack is valued at $350 and is essential to hosting the most epic finals jammer.
The Finals Prize Pack includes:
$200 AMEX Gift Card
Mini Basketball & Hoop Set
Bamboo Wood Lap Table Tray
2 Basketball Table Cloths
40 Green 12oz. Cups
40 Green Plastic Forks
40 Green Plastic Knives
40 Green Napkins
Enterprise Duffel Bag
Enterprise Game Day Seat Cooler
Enterprise Stress Reliever
Enterprise Can Koozie (10 pack)
Enterprise 24oz Tritan Waterbottle
Now that we've gotten all of the logistics out of the way, let's check out 4 of the 16 best "Pick Up Moments" in March Madness® history, narrated by Enterprise's official spokesmen and former NBA player Kenny Smith.
The Buzzer Beater

Bryce Drew's game winning three pointer with time expiring against #4 Ole Miss is one of the most memorable shots in NCAA history, and it's an obvious choice for the "Ultimate Pick Up Moment." If you ever have a chance to read about Bryce Drew, I suggest you do. He played high school ball at Valparaiso and decided to stay local and attend Valparaiso University. He currently coaches the Crusaders to fully complete the package. What makes this shot amazing is actually the pass that allowed Drew to get the shot off. Bill Jenkin's tipped pass to Drew provided an incredible one-two punch that would forever go down in history of March Madness®.
Mario's Miracle
When the stakes are raised, no one has the gall like Mario Chalmers. 2008 saw another incredible game, this time for all of the marbles during the championship game between Kansas and Memphis. Down 63-60 with a little over seven seconds remaining, Chalmers saved KU's chance at winning it all with one of the most clutch three pointers in the history of March Madness®. Chalmers' game tying three helped lead the Jayhawks to an overtime victory against Memphis. Chalmers would go on to win 2 NBA championships as well to add to his mantle, and this Alaska native would have his jersey retired by the Jayhawks in 2013.
#12 – Seed Magic
Western Kentucky's Ty Rogers runs full court with only 5.7 seconds remaining to hit the game winning three-pointer with Western Kentucky down by one. Rogers quickly became a hero at WKU and even won an ESPY for "Best Finish" in 2008. What I love about this "Pick Up Moment" is that it cements the underdogs who mainly attend smaller schools as legends on their campus. Rogers had three Drake defenders in his face and still made the three pointer look easy. I also love his reaction to making the shot, he was in awe of himself and his teammates couldn't believe it either.
Danny's The Man
During the 1988 National Championship Game, 6'10" Danny Manning dominated the court against #1 seed Kentucky. Manning dropped 31 points, grabbed 18 boards and stole the ball 5 times. Now that is efficient work from your big man! Manning would win the championship for Kansas, and he'd later win another one, this time as the assistant coach for the Jayhawks in 2008. Manning's incredible performance is one of the greatest in National Championship History and is surely an "Ultimate Pick Up Moment." Currently, Danny is dancing into March, this time with Tulsa as the head coach for the Golden Hurricane.
(You can watch the other three videos on the Ultimate Pick Up Facebook App)
Those are our four incredible "Pick Up Moments" in the history of March Madness®. Make sure you visit the other sites and check out their "Pick Up Moments" as well. Then you can vote on which of these moments truly exemplifies March Madness® using the Enterprise Ultimate Pick Up Moment Facebook app.
Also, be sure to be actively engaged via Twitter using the #EnterpriseNCAA hashtag, which allows you to win incredible prizes. And be on the lookout for more blog posts to come for your chance to win the Finals Party Pack. Remember that March Madness® is the "hap-happiest season of all" and the "parties for hosting" could be yours.
And finally, if you've been wondering why the pick up is so important for Enterprise, it all goes back to their famous slogan – "We'll pick you up!". Use Enterprise for any of your rent-a-car needs, and get prepared for the Madness!
Disclosure: Guys Gab was compensated for our participation in this campaign, however the opinions expressed here are my own.