Win A Copy Of Anchor Bay's Upcoming Horror Film 'Muck' On Blu-ray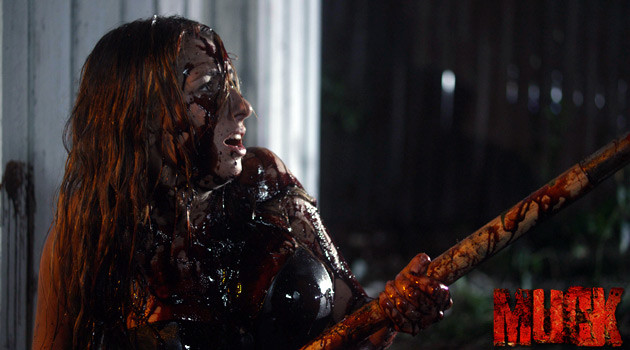 If you're a fan of backwoods horror and slasher flicks, you need to check out Steve Wolsh's fright flick Muck, which Anchor Bay is releasing on DVD & Blu-ray on March 17th. Muck is one of those throwback horror films that comes complete with the scary and sexy one-two punch of horror legend Kane Hodder (Friday The 13th) and 2012 Playboy Playmate of the Year Jaclyn Swedberg.
For those unfamiliar with the movie, here's the official synopsis for Muck:
This throwback horror film just raised the hacked-up bar: Horror legend Kane Hodder and Playboy Playmate of the Year 2012, Jaclyn Swedberg star in this scary, sexy, indie shocker that joins a group of friends just as they emerge from the thick, murky darkness of the marshes tattered, bloody, and lucky to be alive. But they will soon find out that the lucky ones are already dead. MUCK is packed with old-school gore effects and brutal stunts, without any CGI or apologies. Lachlan Buchanan ("Pretty Little Liars") co-stars in writer/director Steve Wolsh's searing directorial debut that unfolds like a blood-stained love letter to horror fanatics everywhere!
And here's the trailer for the movie:

The movie looks pretty sweet, right? Well you're in luck, as we're giving away a copy of Muck on Blu-Ray to one lucky Guys Gab reader.
To enter, simply e-mail us and put "I want to win Muck on Blu-ray!" in the body of your e-mail. We'll pick a winner at random next Wednesday.
Good luck!