Ford's Flat Rock Plant Celebrates One Millionth Mustang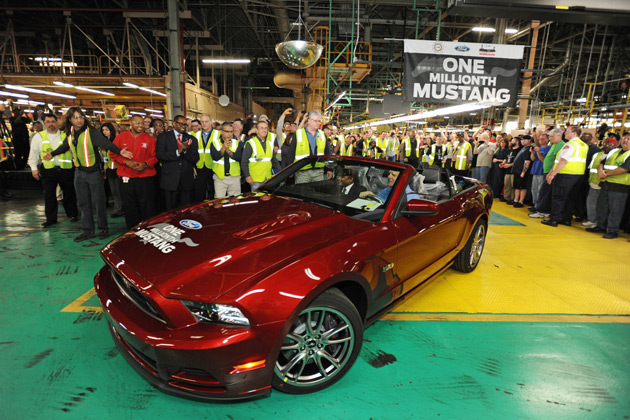 Nine years after Mustang production began at Ford's Flat Rock, Michigan plant, they're now celebrating one million of the iconic cars being built there. The millionth Mustang rolled off the line yesterday, driven by Ed Salna, material planning and logistics manager at the plant, with Ford Group VP for product development Raj Nair riding shotgun in the Ruby Red 2014 Mustang Convertible.
The Mustang has been in production for 49 years and has had more than 8.5 million hit the streets since its introduction. The millionth Mustang at Flat Rock came off the line just in time to celebrate the sports car's forty-ninth birthday as well – April of 1964 was the Mustang's debut. Production moved to the Flat Rock plant in 2004 from the Rouge production plant near the company's Dearborn headquarters. In its lifetime, the Mustang has been built at three Ford facilities.
When it first hit showrooms in 1964, enthusiasm was heavy and the car sold far faster than Ford had anticipated. Production lines were hurriedly added to Ford's plants in Metuchen, New Jersey and San Jose, California. Two years later, the millionth Mustang rolled off the line in Dearborn. On its fifth-generation, which began production in 2004 for the 2005 model year, the Mustang's production was moved to Flat Rock.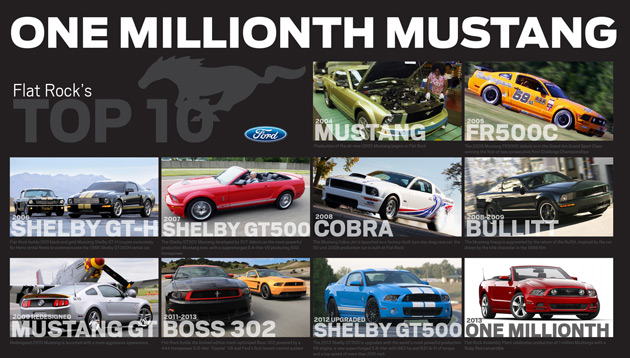 That plant has built many of the most iconic of the last decade's Mustangs, including the limited edition Shelby GT-H coupe in black and gold for Hertz rental, the supercharged Shelby GT500 SVT with its 500 horses, the 2008 and 2009 Bullit special editions commemorating the classic Steve McQueen film, and the track-optimized Boss 302 edition of the Mustang in 2012 and 2013.
The Flat Rock plant began as Ford's Michigan Casting Center in 1972, where it produced engine blocks for Ford's V8 engines. Problems at the plant and a lack of demand for the V8s caused it to close in 1981. In 1985, Mazda entered an agreement with Ford and constructed a new vehicle assmebly plant on the site in 1987. Ford held co-ownership and produced some of its own cars there as well. Last year, Mazda pulled out of the plant after rolling off the last of the 2013 Mazda6 models and production went entirely to the Ford Mustang. Ford will be adding the Fusion to the plant's line this summer after completing the retooling of Mazda's former production lines.
A million Ford Mustangs in nine years is over 111,000 of the popular sports car per year. No wonder Ford plant employees were so enthusiastic: