Ed Sheeran Has A Seriously Impressive Watch Collection
You might not have pegged Ed Sheeran as a watch collector, given that he normally dresses in a T-shirt and jeans. But the English singer-songwriter has a luxury watch collection that will have you drooling!
With four Grammys, seven BRIT Awards, and plenty of other awards under his belt, there's no question that English singer-songwriter Ed Sheeran is one of the most renowned musicians of his generation. Despite your musical tastes, you've likely found yourself tapping your toes to one of his infectious songs, which are played on the radio on constant rotation.
At first glance, you might not peg Ed Sheeran as a watch collector, given that his defacto outfit of choice is a T-shirt and jeans. But the former GQ Worst-Dressed Man (2013) has a seriously impressive watch collection, and the singer is never seen without a luxury watch on his wrist.
So where did his fascination with watches start? In a 2022 interview with Hodinkee, the artist revealed that it all began with a ToyWatch timepiece that he bought before signing a record deal. He had made around $600 doing a gig, and he went out and bought the watch, along with a green strap, a black strap, a white strap and an orange strap.
Naturally, as his popularity and success grew, so did his appetite for luxury watches. Today, the 32-year-old British singer-songwriter has a seriously impressive watch collection that experts estimate to be worth $6 million or more, which include limited editions by Patek Philippe, classics by Rolex, and more.
"I have bought watches for big occasions or momentous things that have happened in my life and career. I can pinpoint each watch to a special moment in my life. An IWC Big Pilot for my 22nd birthday, or a Patek Philippe 5004 for being nominated for my first Grammy (in 2012). Many memories and many watches, but they are all just as special and hold just as much meaning," said Sheeran in an interview with Hodinkee.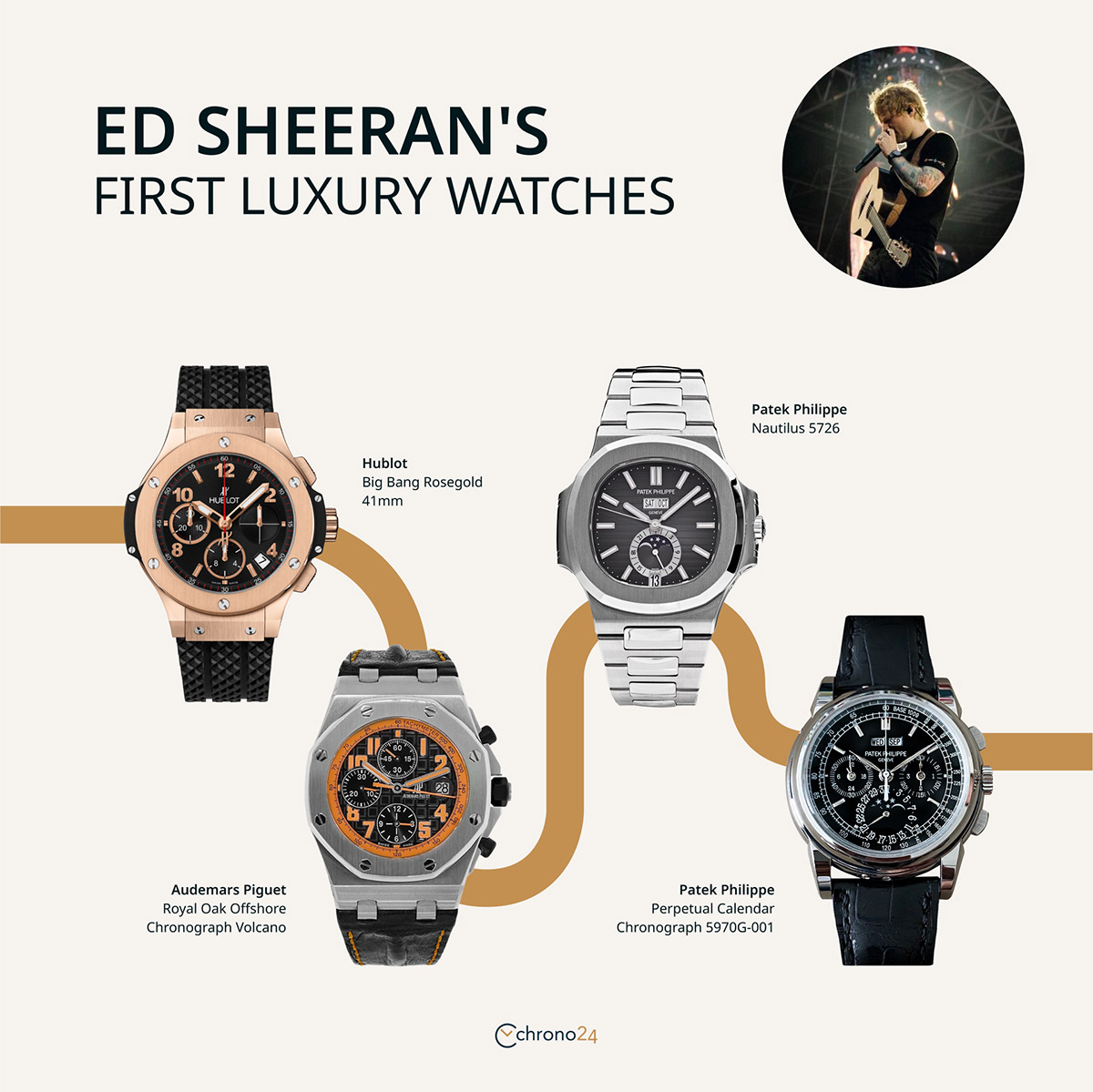 The first luxury watch Ed Sheeran acquired was the Hublot Big Bang Rose Gold 341.PX.130.RX. To this, he added the Audemars Piguet Royal Oak Offshore Volcano 26170ST.OO.D101CR.01, Patek Philippe Nautilus 5726/1A-001, and one of my favorites, a Patek Philippe Perpetual Calendar 5970P-001 with a fantastic black dial and white inscriptions. All of these watches have appreciated in value considerably, making these rather wise investments.
If you want to see photos of Ed Sheeran's various watches, be sure to check out the feature in Wrist Enthusiast, which showcases his various timepieces, including stunning watches from Patek Philippe, Rolex, Richard Mille, and even an Omega x Swatch Speedmaster MoonSwatch, which shows that he's not just about high-dollar watches.
While Ed Sheeran went for pretty legendary watches right from the start, with a net worth of around $200 million, he could afford to come out guns blazing. For the rest of us, our journey to watch collecting typically starts a little more modestly.
According to the Chrono24 Watch Collection Study, on average, 37% of collectors choose a Rolex, regardless of whether it's their first watch or their 20th. Patek Philippe and Audemars Piguet appeal more to experienced collectors: only about 2% of collectors start with these brands. However, by the 10th watch, the percentage of AP acquisitions doubles. Patek Philippe shows an almost linear growth and reaches a share of 7.5% by the 20th watch, which is the third-highest share of all brands (after Rolex and Omega).
TAG Heuer is a popular first watch, with almost 6% of collectors and strongly represented. But this percentage drops by half by watch number four, and by two-thirds by watch ten. Both Tissot and Breitling also show negative rates of change over time, losing much of their appeal by watch 20 (-1.8% and -2.1% respectively). Hublot, IWC, and Cartier are among the so-called "universally loved brands."
It's hard to believe, but even in 2023, luxury watches are still a hot commodity. Impressive craftsmanship, technical innovations, and timeless elegance (not to mention the considerable investment potential) are just a few reasons that watch lovers are so keen on collecting them.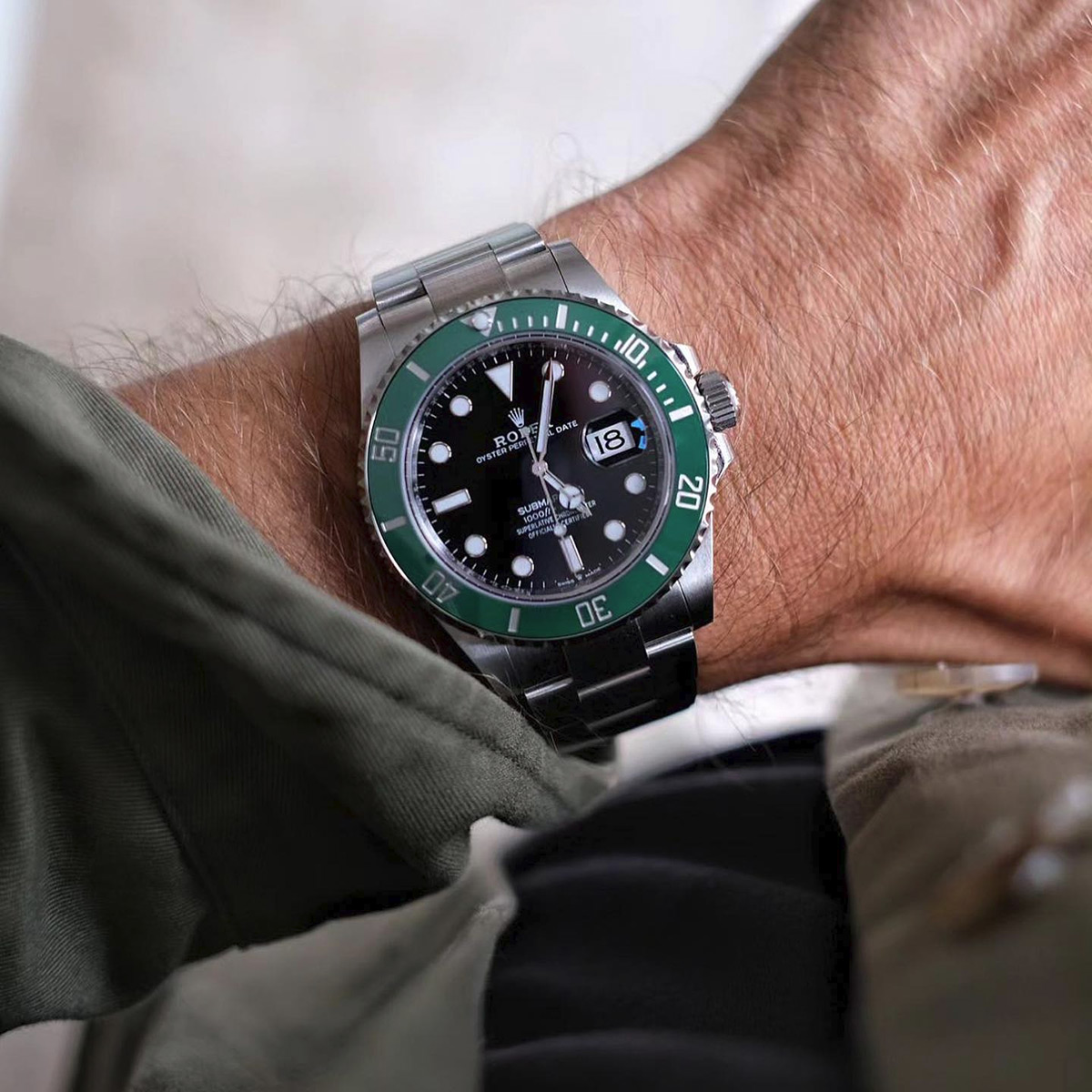 Which watch would you choose to start off your collection?