On The Hunt For Plantation Brownies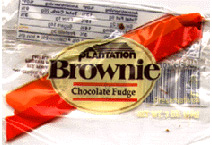 Does this wrapper look familiar to anyone else? At my old job, we had a vending machine that sold these brownies for $0.25! The company I worked for subsidized the cost of the snacks, one of the perks of the job. During one late night at work, I bought eight of 'em!
For some reason, I had a craving for these last week. Now, I have only ever seen these sold in vending machines, and I haven't worked in an office in over 5 years. So started my search.
Here's what I have found so far: Plantation Brownies were manufactured by President Baking, which was acquired by Keebler. Then Kellogg's later bought out Keebler, and supposedly killed the Plantation Brownie.
Now, rumor has it that Mrs Freshley's has come out with a Chocolate Fudge Brownie that is supposed to be very similar to the old Plantation Brownie.
I haven't been able to find anyone that sells them though, so now I'm on the hunt for that. (In the meantime, I tried Tastycake's overpriced fudge brownie – Close, but no cigar)
If anyone has any info on this, please let me know. 😀
EDIT: Wow, thanks to Steve for discovering this post and filling in the blanks for us in the comments section below!