Spirit Based Snacks & Sips For Super Bowl Bashes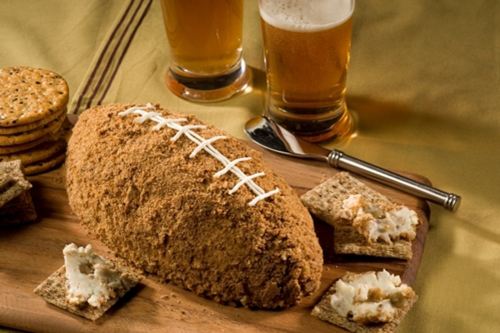 We've got several unique recipes for crowd pleasing Super Bowl bites infused with the perfect ingredients to spice up any football get together. We've also included a couple drink recipes that will really bring out the flavors of the dishes. These concoctions will be sure to keep the party rocking, from kickoff to the trophy presentation, and provide hosts and hostesses everywhere a fun twist on their standard offerings.
---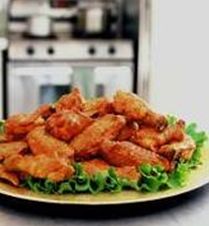 What it is: Crown Wings
What's in it:
Prep 10 minutes 
Grill 12 minutes 
Stand 30 minutes
Marinate 3 hours 
Makes 4 servings
⅓ cup Canadian whiskey, Crown Royal®
⅓ cup honey, SueBee®
¼ cup soy sauce, Kikkoman®
2 tablespoons Thai chili sauce
1 packet (0.75-ounce) stir-fry seasoning, Sun Bird®
2 teaspoons crushed garlic, Gourmet Garden®
4 pounds chicken wing drumettes
3 scallions (green onions), finely chopped (optional)
¼ cup chopped peanuts, Planters® (optional)
How it works:
1. In a large bowl, combine whisky, honey, soy sauce, chili sauce, stir-fry seasoning, and garlic. Add drumettes, tossing to coat. Cover with plastic wrap and marinate in refrigerator for at least 3 hours, preferably overnight.
2. Set up grill for direct cooking over medium-high heat. Oil grate when ready to start cooking. Let drumettes stand at room temperature for 30 minutes. Place on hot, oiled grill. Cook for 12 to 18 minutes or until cooked through, turning occasionally. Transfer chicken to a platter. Sprinkle with chopped scallions and peanuts (optional).
Why it works: Is there a better way to kick off the first quarter then bringing out a batch of Crown Wings? These mouthwatering drumettes will be the ultimate savory treat to start the party off right! Load up on napkins now, trust us.
---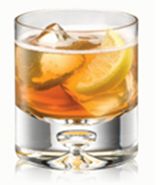 What it is: Crown Royal Press
What's in it:
1.5 oz Crown Royal Deluxe (25 oz. per bottle)
2 squeezed lemon wedges
3 dash(es) bitters
1 splash(es) lemon-lime soda
1 lemon wedge
How it works: Serve on the rocks and top with lemon-lime soda. Garnish with a lemon and serve.
Why it works: For those that can't miss a second of the big game, the Crown Royal Press is a speedy solution for a quick time-out or an in between quarters refill. With just three ingredients, this cocktail concoction can definitely beat the clock and have you back in front of the TV in no time!
---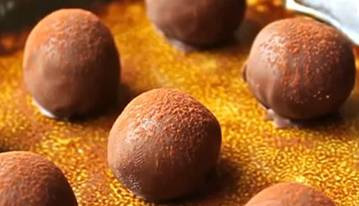 What it is: Spicy Rum Footballs
What's in it:
Prep 20 minutes
Bake 14 minutes per batch
Cool 5 minutes
Makes 30 cookies
1 ½ tablespoons dark rum, Captain Morgan
1 pouch (17.5-ounce) sugar cookie mix, Betty Crocker®
½ cup all-purpose flour
¼ cup packed brown sugar, C&H®
2 teaspoons pumpkin pie spice, McCormick®
1½ teaspoons ground ginger, McCormick®
¼ teaspoon ground cloves, McCormick®
¼ teaspoon black pepper
1 stick (1⁄2 cup) butter, melted
1 egg
1 tablespoon full-flavor molasses, Grandma's®
¼ cup granulated sugar
1 tablespoon ground cinnamon, McCormick®
How it works:
1. Preheat oven to 375 degrees F. Line 2 cookie sheets with parchment paper. In a large bowl, stir together cookie mix, flour, brown sugar, pumpkin pie spice, ginger, cloves, and pepper. Add butter, egg, and molasses, stirring with a wooden spoon until dough forms.
2. Combine granulated sugar and cinnamon. Roll a heaping tablespoon of the dough into a ball. Roll dough ball in cinnamon-sugar.
3. On a lightly floured surface, use a rolling pin to roll dough to 1⁄8-inch thickness. Use 2- to 3-inch football cookie cutter to cut out cookies.
4. Place 2 inches apart on prepared cookie sheets. Bake for 14 to 16 minutes or until edges are golden brown. Cool on cookie sheets for 5 minutes. Transfer to wire racks; let cool.
Why it works: These delicious small bites can get anyone through a nail biting fourth quarter. They are also the perfect comfort dessert in case your team falls short in the big game.
---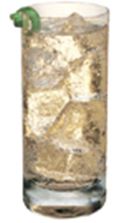 What it is: GMEN and Ginger
What's in it:
1.5 oz Captain Morgan Original Spiced Rum
6 oz. ginger ale
Splash of amaretto
How it works: Add Captain Morgan Original Spiced Rum and cola in ice-filled glass. Top with a splash of Amaretto.
Why it works: A GMEN and ginger is the perfect cocktail to sip on during the legendary half-time show. The spiced rum kick will make you feel like you are standing in the front row!
---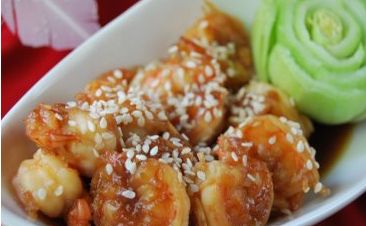 What it is: Jumbo shrimp with sesame seeds and Bulleit bourbon
What's in it:
Jumbo shrimps, peeled and deveined, about 1/2 pound per person
Bulleit bourbon
Sesame oil
Soy sauce
Sesame seeds
How it works:
1.Marinate jumbo shrimps in a marinade of equal parts Bulleit bourbon whiskey, sesame oil, and soy sauce for 1 1/2 to 2 hours.
2. Grill or broil for about 3 to 4 minutes on each side.
3. Dip cooked shrimp into marinade, roll in sesame seeds to coat, and return to grill or broiler to cook until seeds are lightly browned, turning once.
Why it works: This is a perfect recipe to add diversity to your menu. The jumbo shrimp covered in a Bulleit bourbon-based sesame sauce is a good alternative to the wings and perfect for popping after extra points!
---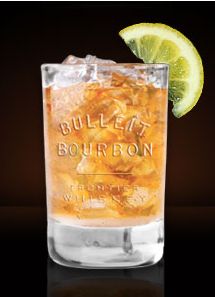 What it is: Beantown Bulleit
What's in it:
1 1/3 oz Bulleit Bourbon
Lemon wedge
Tonic
How it works: Serve over ice in a rocks glass. Garnish with a generous wedge of lemon.
Why it works: If the Pats are down going into the half, try a refreshing Beantown Bulleit to revitalize your spirits and cheer for No. 12 to throw a few bullets of his own during the second half!