B.J. Baldwin & Black Rifle Coffee Co. Team Up For 'Recoil Reloaded: Sand & Sky'
B.J. Baldwin is probably known for his high-flying action video series Recoil, but the eight-time off-road racing champion and Black Rifle Coffee Company driver hasn't put out a new video in ober five years. That ends now, with the trophy truck maestro deciding that "it was time" for the return of his famous video series. And when he asked Black Rifle Coffee Company (BRCC) about the project, the answer was simple: ABSOLUTELY!
Recoil Reloaded: Sand & Sky is finally here, and it's a must-see combination of "Ballistic" B.J. Baldwin's high-speed, desert-dust-flinging action and BRCC's signature sense of irony and comedic genius. Baldwin not only shreds in his 900-horsepower Black Rifle Coffee trophy truck, which he piloted to last year's Best in the Desert Trophy Truck Championship, but also his personal 2019 Porsche 991.2 Turbo S. Both are featured on the road…and in the desert.
"Yes, we took the Porsche into the desert, and it was frickin' awesome," said Baldwin, the original creator of the viral You Tube series. "Recoil Reloaded was only limited by imagination and the 'all-in' attitude of Black Rifle Coffee Company." hanks to the talents of film director MacGregor and Sweatpants Media Production – and only revealed at the end of the movie – Baldwin actually pilots both vehicles in the production, highlighting Black Rifle's latest brew, which is "so powerful, it's like cloning yourself."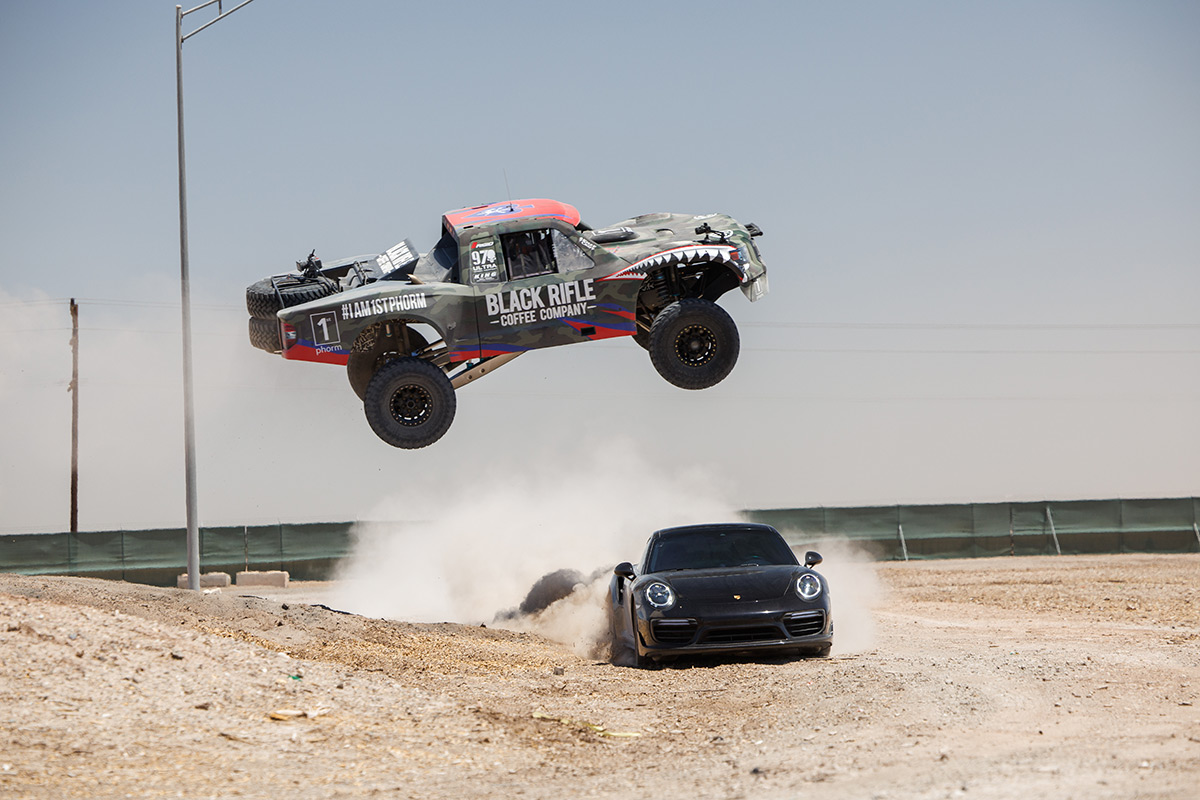 The video combines action footage with Black Rifle Coffee Company's comedic flair, beginning with Best and Baldwin driving his Porsche Turbo S through the streets of El Centro, CA at 100+ mph chasing down a stolen load of Black Rifle Coffee. After narrowly escaping an 18-wheeler – by sliding underneath it in a shower of metal-on-metal sparks – the wick is lit when Baldwin's trophy truck appears – piloted by a mysterious adversary hidden behind a tinted visor and determined to beat the Porsche as they both pursue the highjacked java.
It's like Michael Bay meets Fast and The Furious, with power slides, dust clouds and serious incendiary devices punctuating the race through an abandoned powerplant, narrowly missing structures and clipping a gas line that sets off a fiery explosion. Faced with the predicament of a passing train, the Black Rifle Coffee Company trophy truck takes the path of least resistance – up and over the train cars, reaching the height of a three-story house and flying the length of nearly a football field. So far in the air, in fact, that he missed the landing.
The high-flying, sand-slinging race concludes in the iconic dunes of Glamis, California, where both sports car and trophy truck find the stolen Black Rifle Coffee truck with fresh brew ready and waiting. Baldwin's mysterious nemesis removes his helmet to reveal that he was actually racing against himself the whole time, fulfilling the promise that Black Rifle Coffee's new brew is so powerful, drinking it makes you feel like there are two of you.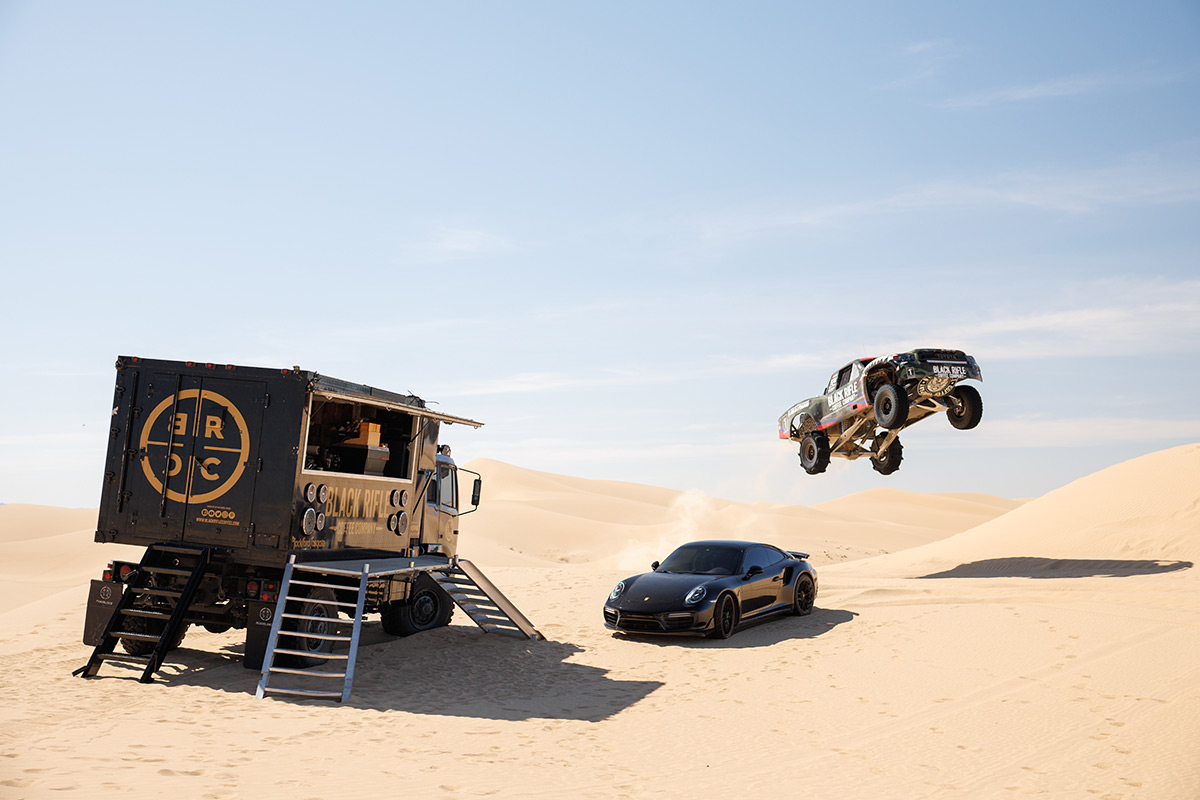 "Being a fan of the Recoil series, it was an honor and a no-brainer to bring it back with B.J.," said Jarred Taylor, co-owner of Black Rifle Coffee Company. "B.J. was totally open to our comedic approach alongside wild-and-crazy driving. I truly believe our unique take on Recoil Reloaded will spawn a new form of entertaining motorsports action videos."
Baldwin joined the Black Rifle Coffee Company motorsports team back in April 2021 and has returned to his winning ways. The eight-time off-road racing champion is the only back-to-back Baja 1000 Ironman champion in history (2012 and 2013), driving the entirety of both races. Last year, Baldwin won the Best in the Desert Trophy Truck championship winning three events, and podium finishes in five of the six events.
This video is just pure adrenaline-fueled chaos on four wheels, so sit back and enjoy this six-and-a-half minute display of vehicular insanity!