This Omega x Swatch 'MoonSwatch' Collab Delivers Speedmaster Looks For $260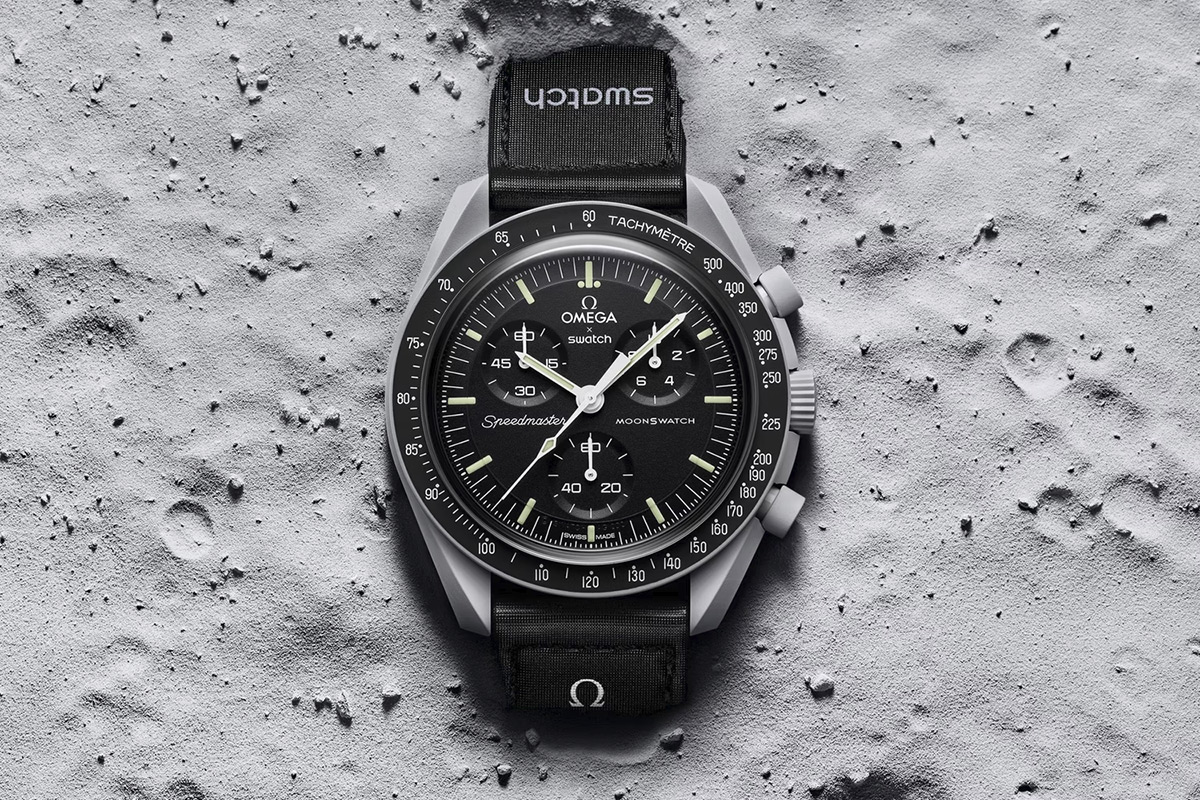 Watchmakers Omega and Swatch have come together to deliver an innovative (and affordable) version of the legendary Speedmaster Moonwatch, and the cleverly named MoonSwatch has taken the Internet by storm, what with its great designs and super low price!
The Swatch x Omega Bioceramic MoonSwatch collection is essentially an Omega Speedmaster Moonwatch that's been Swatchified. But instead of a stainless-steel case, the MoonSwatch is made from Swatch's patented BioCeramic, a unique mix of ⅔ ceramic and ⅓ material derived from castor oil. It uses a quartz chronograph movement. The collection of 11 models is offered in unique colors. And a spacesuit-ready Velcro strap adds a final touch of astronaut chic.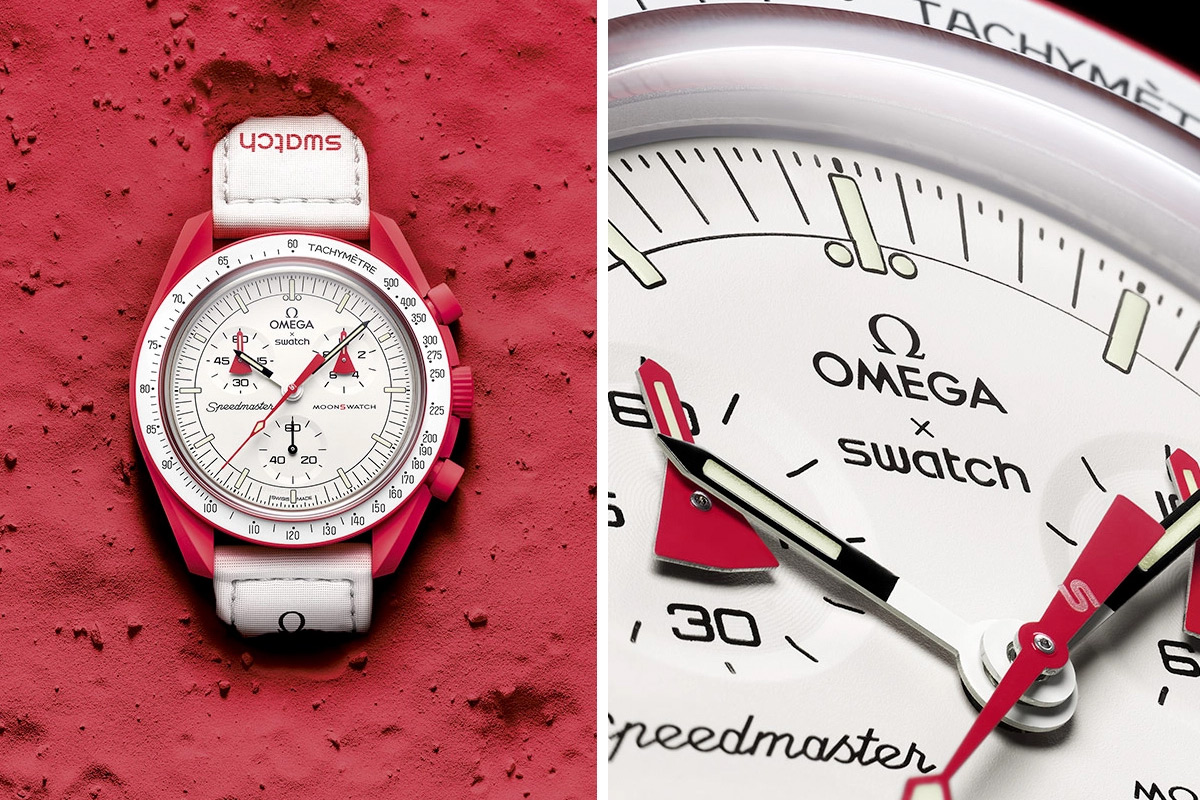 At first glance, it's easy to confuse this watch for an Omega Speedmaster Moonwatch ($6,400), and that's obviously a big part of the appeal, as the MoonSwatch costs a mere fraction of that, coming in at just $260. At this price point, the watch is attainable for all.
Visually, the MoonSwatch measures the same 42mm as the Speedmaster with all the details intact, from the case contours to the "stepped" subdials. But those with a keen eye will spot the differences, like the quartz movements that dictate a certain dial layout with subdials evenly spaced on the dial as opposed to the Speedmaster's layout which bunches the subdials toward the lower half. Plus "Swatch" and "MoonSwatch" are printed right there on the dial.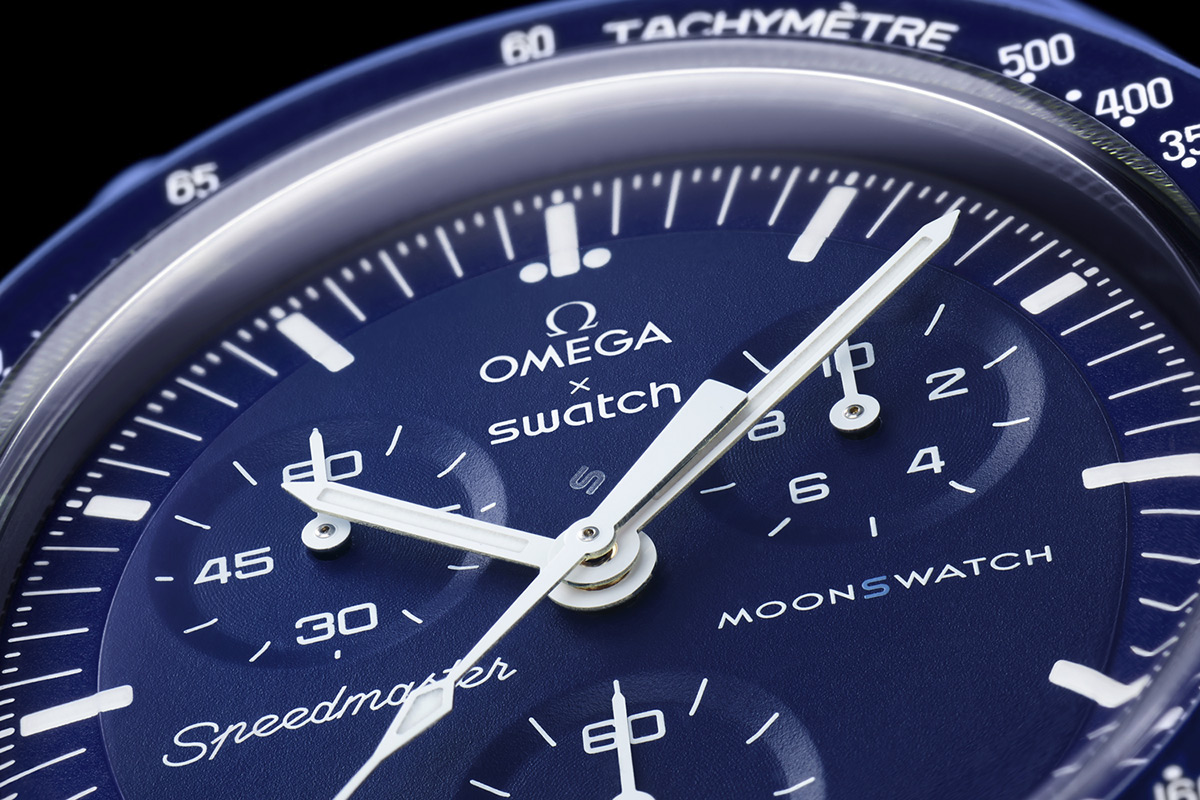 Unlike the original Speedmaster, the Swatch x Omega MoonSwatch is offered in 11 variations, each corresponding to a specific planetary object. Each version is called a "Mission," so there's Mission to Mercury, Mission to the Moon, Mission to Mars, etc. Each combination is unique to the heavenly body it represents.
Here's a breakdown of the different MoonSwatches being offered: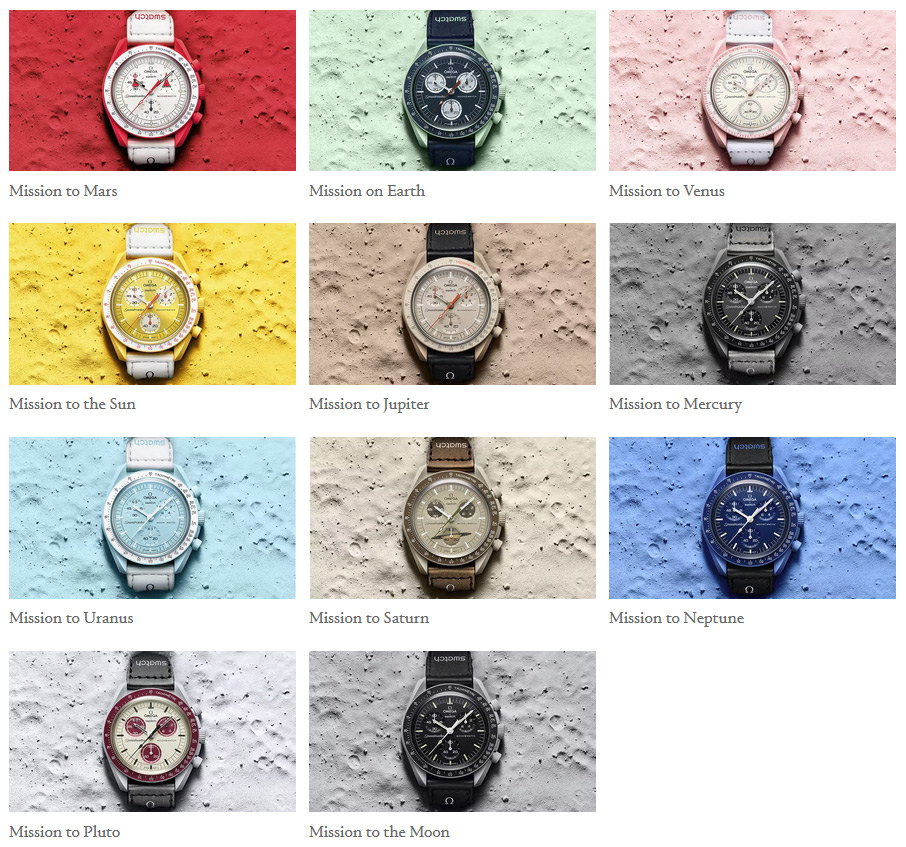 Mission to the Sun – Bright yellow case, golden/yellow brushed dial, white Velcro strap and index/bezel
Mission to Mercury – Deep gray case and dial, black index/bezel, metallic grey Velcro strap
Mission to Venus – Pastel pink case, white dial and Velcro strap
Mission to Earth – Navy blue dial and Velcro strap, mint green case, white sub-dials
Mission to the Moon – Black dial and Velcro strap, light grey case
Mission to Mars – Bright red case, white dial and white Velcro strap
Mission to Jupiter – Beige case and dial, black Velcro strap
Mission to Saturn – Sandy beige case and dial, brown dial/index, brown Velcro strap
Mission to Uranus – Pastel blue case and dial, white Velcro strap, white bezel/index
Mission to Neptune – Deep navy blue dial and index, light blue case, black Velcro strap
Mission to Pluto – Light grey case, cream color dial, burgundy sub-dials and index, black Velcro strap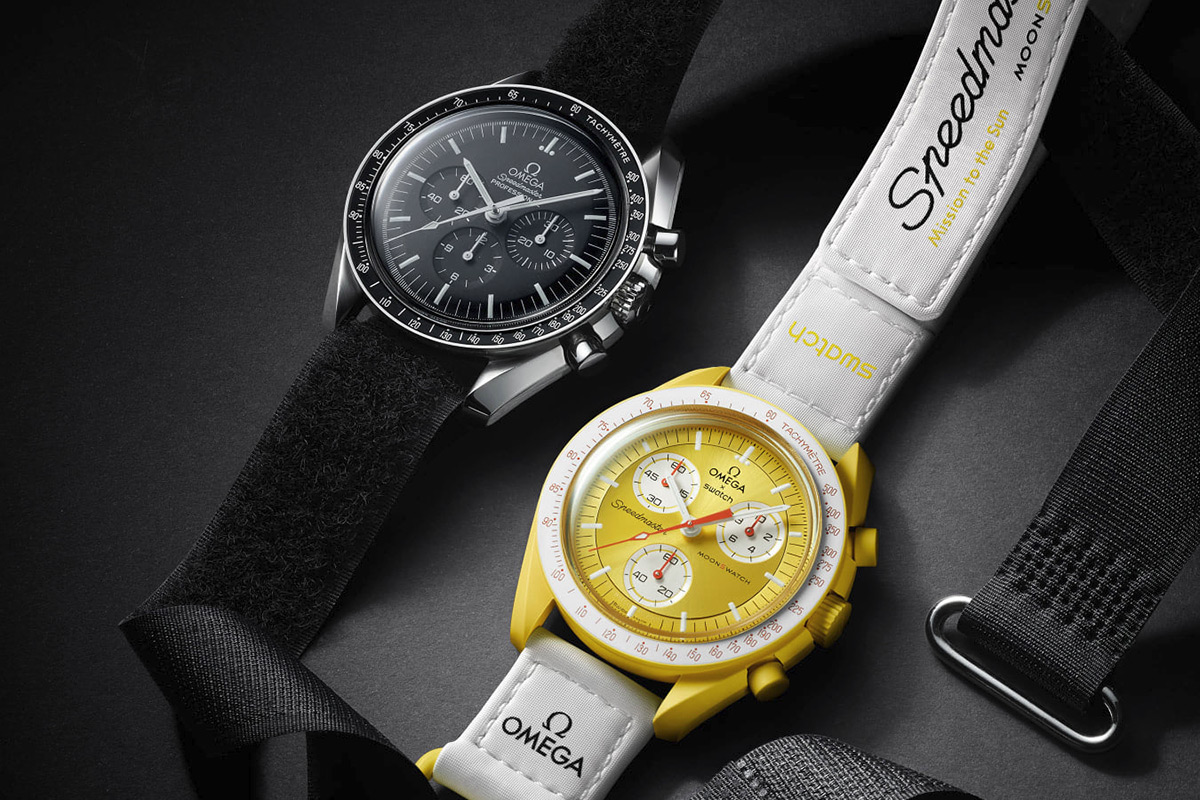 Personally, I'm going to get the Mission to the Moon model, because it's almost a 1:1 copy of the real thing. Though if I can't get that one, the Mission to Mercury model is pretty slick too.
So, how can you get your hands on one? For now, they're only going to sold in select Swatch stores starting this Saturday, March 26th, and each customer will be limited to two watches.
Needless to say, if you want to get your hands on one, you'd better line up now at your local store, because these interplanetary collaborations are going to sell at the speed of light!