WeWOOD – Watches Made Out Of Wood!
For those of you who haven't heard of WeWOOD before, they're a watch company based out of Los Angeles, and they are manufacturing and selling wooden watches! The wood used in the watches is recycled; all comes from pre-consumer flooring planks. The wood is free of toxic chemicals or any stains/finish, making them safe to wear next to your skin.
Feather-light, smooth and made of 100% natural wood, WeWOOD is the eco-chic way to tell time. Born in Florence, the city of art, beauty and creativity, WeWOOD consolidates the Italian ability to architect unique items and the necessity to care for the environment.
In addition, WeWOOD has partnered with American Forests, the oldest nonprofit conservation organization, recognized as the world leader in environmental restoration because of its dedicated tree-planting efforts. When you buy a WeWOOD watch, you're also helping the planet by planting a tree!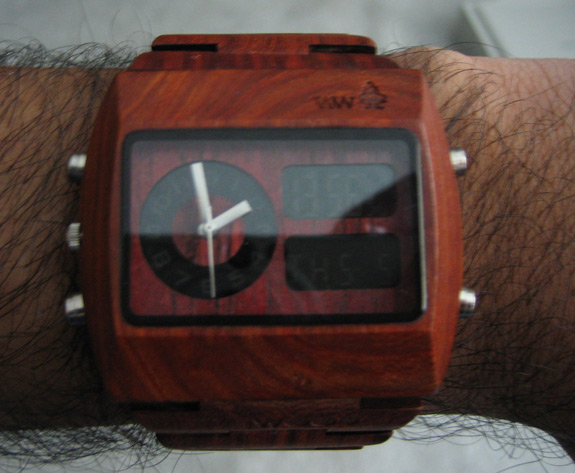 A bunch of my "green" friends have been raving about them, so I decided it was high time to see what all the fuss was about. WeWOOD currently sells two styles of watches, the Date and the Chrono. Pick a style, and then pick your color. I opted for the Chrono in Brown, as you can see from my Chewbacca-like picture above.
When I first pulled the watch out of the box, I was amazed at how light it was! Coming from my MASSIVE 54mm Sonbol watch, it's really quite a dramatic difference. My Sonbol gets lots of attention, and I have no doubt that the WeWOOD will receive the same kind of attention.
The watch clasp had me stumped for a good 20 minutes, and my wife was equally confused by it. It took me awhile, but I finally figured it out (I was trying to open the clasp from the wrong end). Some directions would have been helpful, as I couldn't be the only one confused. 🙂
From the moment I put on the watch, I fell in love with it! It's comfortable, looks great, and it's a conversation starter. The watch is not waterproof (but it is water resistant), but that's to be expected since it's made of wood.
Specs:
100% Natural Wood
Hypo-allergenic
Completely free of toxic chemicals
Miyota movement
The WeWOOD Date sells for $119, and the WeWOOD Chrono sells for $139. It's a bargain at that price, and you're doing your part to help save the environment!
Learn more about the WeWOOD collection of watches, or order your own watch today at the WeWOOD website.