First Drive: 2016 Ford Explorer Platinum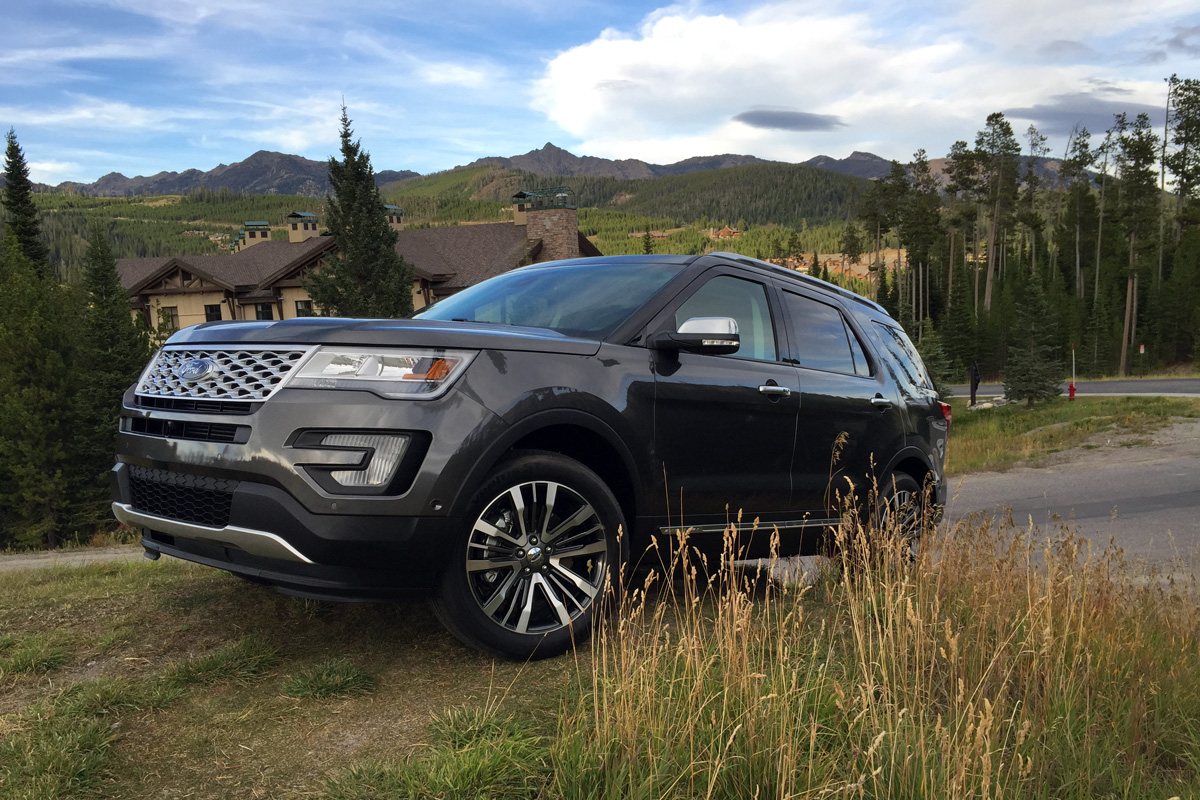 A few weeks ago, we told you that we were participating in the Explorer Platinum Adventure Tour, with our leg taking us from Bozeman, Montana to Jackson, Wyoming. Our route took us through Yellowstone National Park and Teton National Forest, and this amazingly scenic route left us speechless at every turn.
Our chariot for this epic journey? The all-new 2016 Ford Explorer Platinum. The Explorer Platinum is Ford's new top-of-the-line trim level, combining the performance of the popular Explorer Sport with new levels of comfort and craftsmanship inside, offering customers the most well-appointed Ford SUV yet.
While it might seem a little strange for Ford to offer a more upscale SUV, 90% of Explorer Sport buyers were purchasing the most expensive package available, signaling that customers were ready for Platinum. And after spending a day behind the wheel of this luxurious off-roader, I could definitely see the appeal.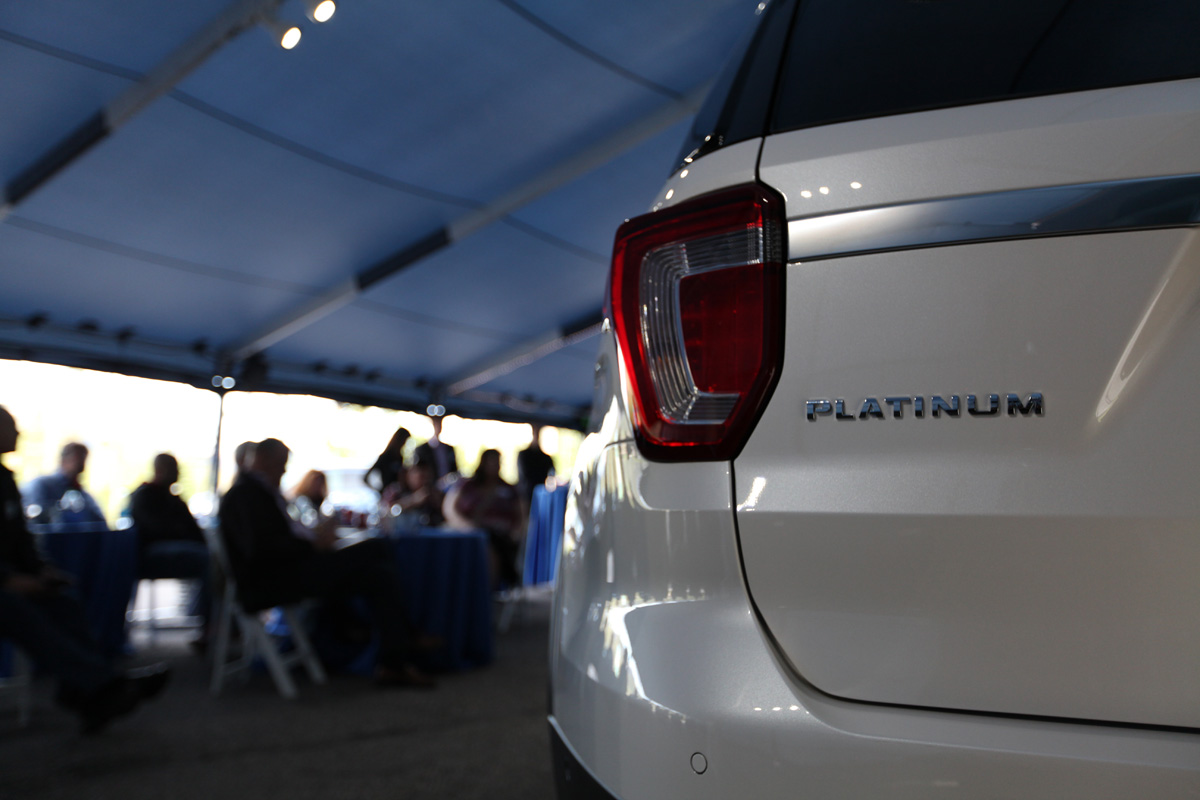 Open the door of the Explorer Platinum, and you're greeted by multi-contour front seats wrapped in Nirvana leather with micro-perforation, and special quilted stitching used throughout. There's real aluminum and real ash wood multi-piece appliqués on door panels and instrument panel. A wood and leather-wrapped heated steering wheel showcases unique stitching that matches the stitching used throughout the interior. It's not a bad place to call home.
The Explorer Platinum also sports an all-new 500-watt Sony Audio System that is pretty mind blowing, with Live Acoustics technology that re-creates the sound dynamics of some of the world's greatest concert halls for more enveloping, more realistic sound.
There's also a slew of new technology added for 2016, including enhanced active park assist, front and rear 180-degree cameras with washers, a hands-free liftgate, smart-charging USB ports that charge 2x faster than conventional ports, and more. In addition, you get a number of carry-over features, including adaptive cruise control, lane-keeping system, blind spot monitoring, cross-traffic alert, and rain-sensing wipers.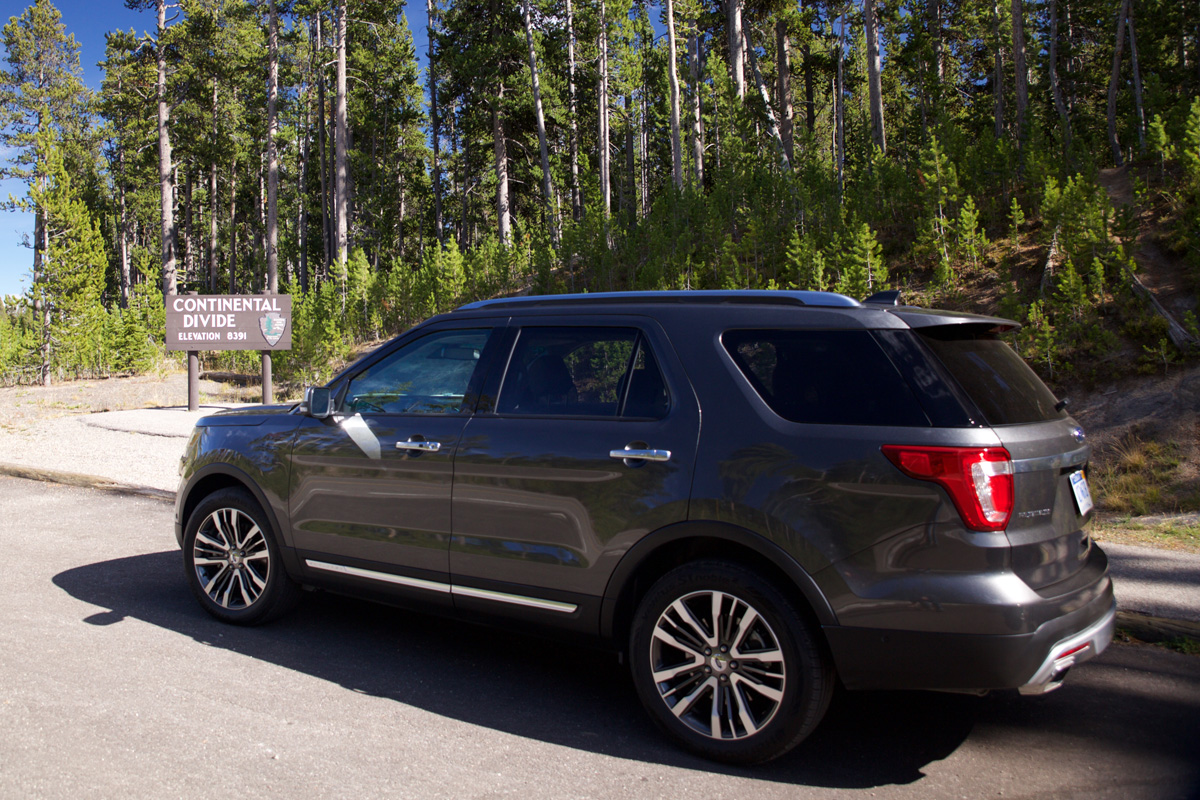 The Explorer Platinum is powered by a 3.5-liter twin-turbocharged EcoBoost V6 engine that makes 365HP at 5,500 rpm and 350 lb-ft of torque at 3,500 rpm. Power is routed to the wheels through a six-speed SelectShift transmission, and Explorer's intelligent four-wheel drive with Terrain Management System helps keep the vehicle sure-footed on virtually any terrain.
As far as exterior styling goes, the one word that immediately came to mind when I first saw it was Rugged. It's amazing just how different the Explorer looks with the grille and headlamps positioned higher. It's almost begging you to take it off-road, which is exactly what we did.
Now unlike other media events we've been on in the past, this trip didn't have a set route. Instead, Ford gave us a map showing some points of interest along the way, and told us to go explore the area. I teamed up with Dave Taylor from Go Fatherhood for the 200+ mile drive, and we headed out on our adventure.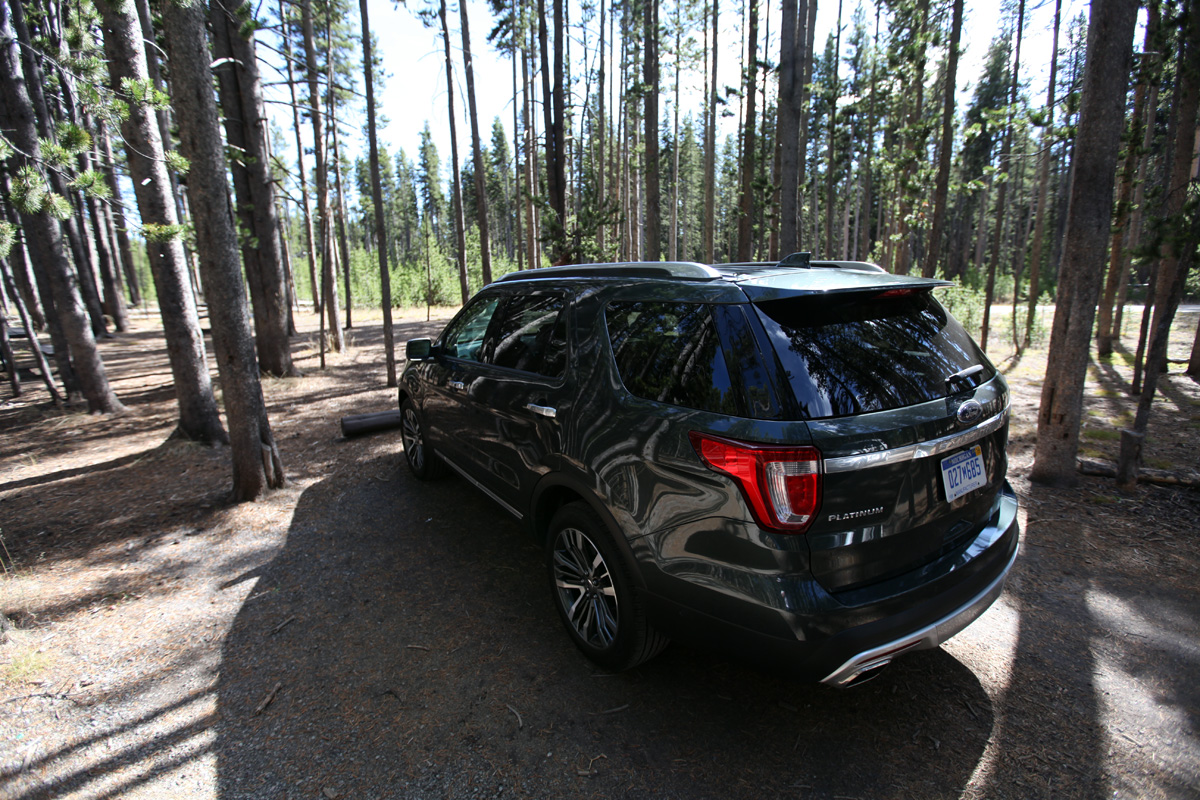 While most people seemed to head right for Yellowstone National Park, we took a quick detour to check out Ousel Falls along the Gallatin River. Had I known that it would require a 2-mile hike at high altitude, I might have reconsidered, but it was definitely worth the effort.
From there, we made the trek to Yellowstone National Park, which gave us a chance to play with the various features of the Explorer and stretch it's legs. First impressions? The 3.5L EcoBoost has got some SERIOUS power, propelling the 5000lbs SUV with ease. And the adaptive cruise control is pretty sick – It automatically slows down and speeds up depending on traffic up ahead. This system also lets you control how much of a gap you want to leave in front of you, which is pretty nice.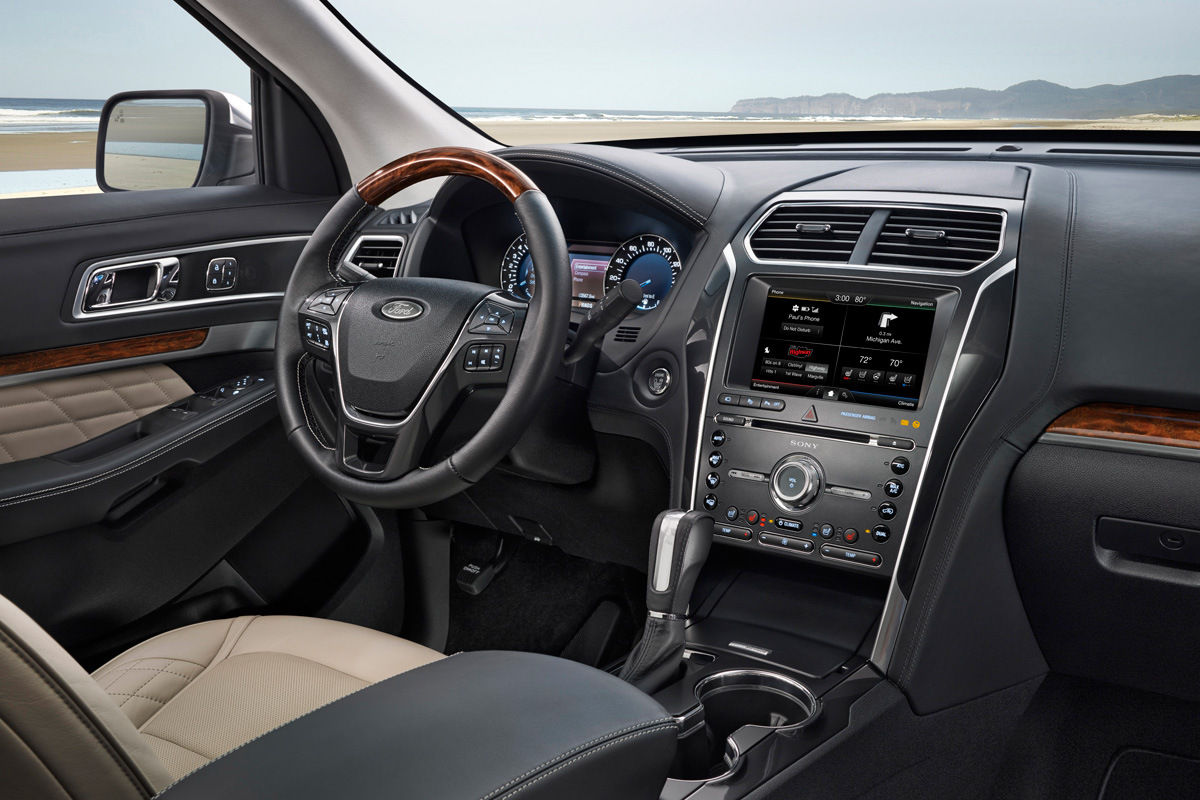 But for me, the real stand-out feature was the massaging seats. This feature was first introduced in the new F-150, and it's an absolute godsend on long trips where your back gets all stiff after long periods behind the wheel. Once you experience it, you'll never want to go back to "regular" seats again.
We finally arrived at Yellowstone, and I was blown away by the sheer beauty of it. If you've never been to this part of the country before, I highly recommend spending a few days out here. We crammed as much as we could into a single day, but I would definitely love to come back and #ExploreMore. As it was, we stopped at Firehole Falls, Midway Geyser Basin, Old Faithful, and West Thumb Geyser Basin, before making our way to Teton National Forest to take in some of the gorgeous scenery there.
As we were leaving Old Faithful, a lone buffalo decided to cause a little traffic jam by crossing the road like he owned the place. It was incredible seeing this majestic beast just a few feet from us, and everyone whipped out their cameras to grab a shot.
Leaving Grand Teton, the GPS had us taking a shortcut to avoid the traffic in downtown Jackson Hole. But to our surprise, the road was closed due to "excessive bear activity". That was a first for this city slicker.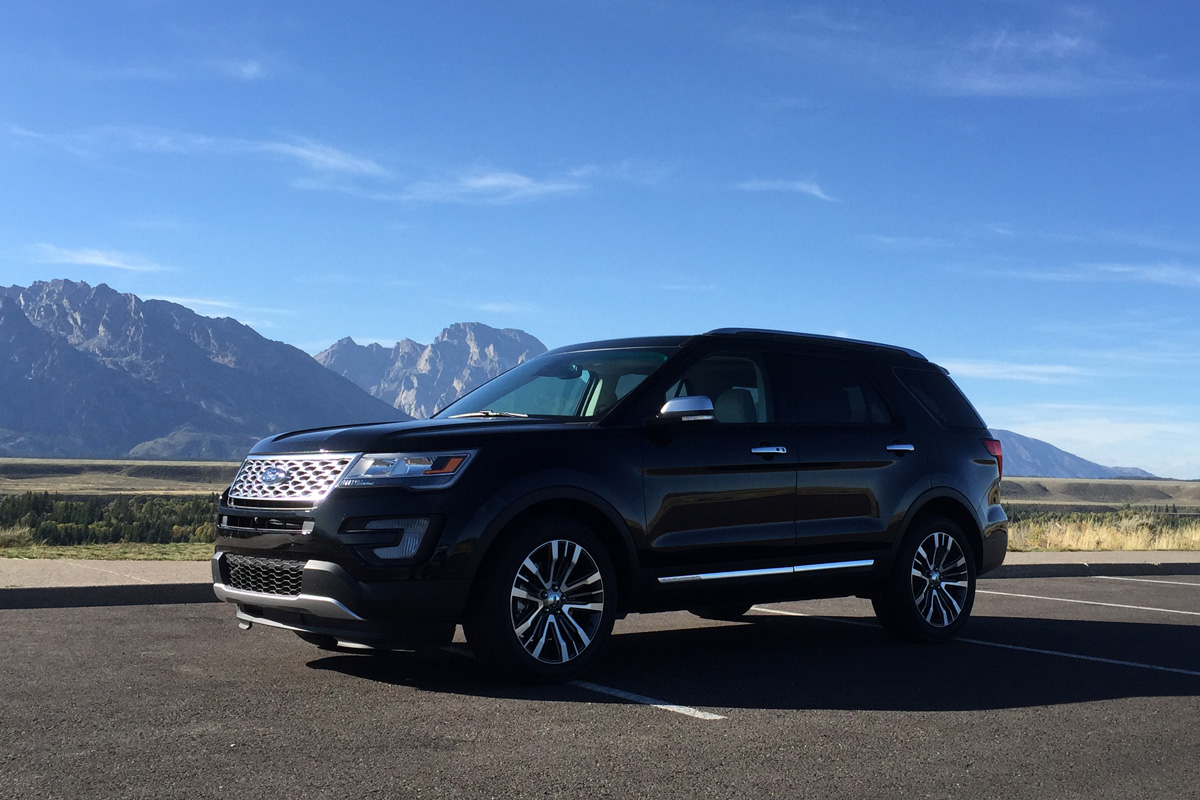 Despite that slight detour, we arrived at Snake River Lodge in time for dinner, where we were eager to recount the day's adventures with our fellow Explorer Platinum Adventure Tour drivers. It was an incredible experience for sure, and we walked away thoroughly impressed with the new 2016 Ford Explorer Platinum.
If you're in the market for a luxurious SUV that can go anywhere and do virtually anything, the Explorer should be on your short list. With a starting price of $52,970, it's not exactly cheap, but you get a lot of bang for your buck!