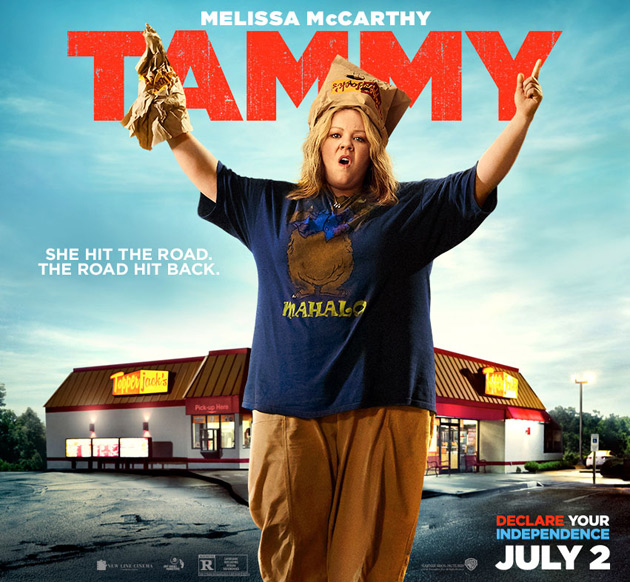 The premise of the new Melissa McCarthy movie Tammy is one that has been seen over and over. Two family members on a cross-country trip full of comedy hijinks that brings them closer together. The last movie that had the premise was the Seth Rogan-Barbra Streisand flick Guilt Trip, and while that movie wasn't all that well received by critics and fans, this 96-minute flick built around McCarthy also appears to be well on its way to getting raked over the coals by fans and critics alike.
McCarthy, known by many for her role in the hit TV show Mike and Molly, has had some solid movie roles – known for her supporting role in Bridesmaids as well as her co-starring role in the comedy Identity Theft with Jason Bateman, and last summers cop comedy The Heat with Sandra Bullock. This time, though, she has a lot at stake, having done the screenplay as well as being the producer of the film. While she's been out doing a media blast to try and get people to like it, it's going to be a tough road, as it's not nearly as good as Bridesmaids and Identity Theft.
First off, the choice of Susan Sarandon as the grandmother who takes the trip with McCarthy, seems odd at best. While Sarandon has a lot of comedy in her, this role seems not to suit her. The character of Tammy can be described as a down on her luck recently fired fast food worker who seems to have nothing going in her life. She walks in on her husband having an emotional affair with her neighbor, and turns to her mother (Allison Janney) and then Sarandon for help.
Sarandon, playing the grandmother, is all for the pair going on a trip to Niagara Falls, and has a couple thousand dollars to support the trip. The hijinks ensue from there, with a string of wacky moments between the two. Sure there's some laughter to be had with both McCarthy and Sarandon, but all in all the movie just doesn't have that spark that McCarthy had with Bateman in Theft or her co-stars in Bridesmaids.
The heartwarming storyline with Tammy and her grandmother coming back together after years of strife is one of the highlights of the film. There's added laughter and a very good role played by Oscar winner Kathy Bates, playing a cousin of Sarandon (Leanor) who turns out to be gay and has a partner in Susan, played by Sandra Oh. There's a memorable scene at Leanor's house during a party in which Tammy and her grandmother come to a crossroads and finally realize where all the strife over the years stems from.
Tammy has its moments, and from the trailers and even the first 10-15 minutes of the movie it has potential. McCarthy tries hard to do her best to make this a winner, but in the end it falls short, way short of where her last few movies have ended up.