Portable Power Off The Grid: The ArkPak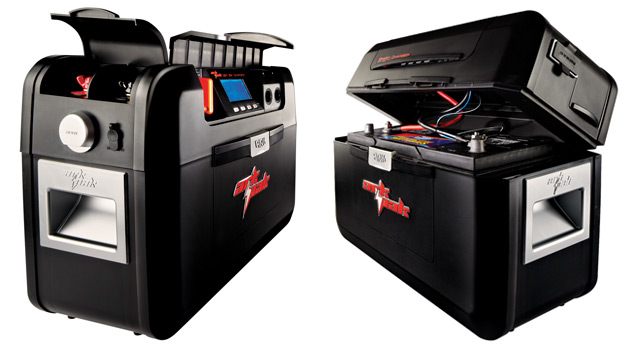 The ArkPak is a portable power pack made by an Australian company. Available in Australia for a couple of years, the ArkPak is a popular unit with Australian adventurers. Recently made available in the USA and Canada, I finally had a chance to review it.
While the unit can be used for a variety of purposes (from camping to boating to tailgating), I've reviewed it as an emergency preparedness or "off-grid" power device. Here's a brief review of the device's capabilities and features.
Battery Set-Up
The heart of any portable power pack is the battery, and the ArkPak's battery setup is unique. Unlike off-grid power units from Goal Zero – or small portable power units from companies like Black & Decker or Duracell – the ArkPak's battery is not included. Instead, Ark designed the unit to work with any standard 12V lead-acid deep cycle battery (group 31 or smaller). The advantages in this approach are:
You can add a very large capacity battery (100ah or more)
You can replace or swap out batteries quickly and easily
Comparing the ArkPak's maximum battery capacity of 130ah (using a flooded cell that's often used in solar energy storage setups) to the Goal Zero Yeti 400 (33ah battery capacity) or Yeti 1250 (100ah battery capacity), the ArkPak offers more maximum energy storage capacity.
Installing the battery is no more involved than just dropping it into the box, securing the battery strap, and connecting the terminals to the included cables. Then, the ArkPak is plugged in (either to the wall or a standard vehicle 12V power outlet) and the unit's battery charger/conditioner goes to work.
Charging and Use
Once the box is activated, the instrument panel illuminates and a quiet fan for cooling is engaged. The display shows the charging level of the installed battery, and then the ArkPak automatically begins to condition and boost the battery charge to both a) maximize power levels and b) maximize battery life.
The charging system is the heart of the ArkPak – it's rated at 6A, which is considerably more than most battery charging/conditioning systems. The typical $20 battery charger you find at your local department store (for example), is typically only rated at 500ma. This higher amperage means that the battery inside the ArkPak can be recharged quickly.
However, for off-grid users, the charger lacks a key feature: the ArkPak does not have a built-in solar charge controller, which means your solar panel(s) will need to be hooked up to an external solar charge controlling unit.
Another usage limitation is the ArkPak's 150W 120VAC inverter. At only 150W, most standard electrical appliances can't be powered by the ArkPak. While 150W is more than adequate for charging cell phones, tablets, and can even power most computer systems, it's not enough "juice" for anything larger. Thus, if you want to power a coffee maker or hotplate with the ArkPak, you'll need these appliances to have a standard 12V automotive power plug.
Still, the 150W rating is a blessing in disguise. With a 100ah marine battery installed, the ArkPak could provide a full 150W of power at 120VAC for 7-8 hours. That makes the ArkPak a great tool for powering small electronics for days at a time (most small electronics can re-charge in an hour or two, and rarely use a full 150W to do so).
Other features/benefits of the ArkPak:
It's relatively portable. The unit is about the size of a small toolbox, and weighs 60-75lbs with a battery installed (depends on how big your installed battery is). It's easily hauled around in a vehicle.
It's capable of charging/powering multiple devices at one time. USB power plugins make it easy to recharge all sorts of electronics while the dual 12V outlets and 120V plug can be used for heftier power needs.
It's considerably less costly than a generator or similar products from Goal Zero – the ArkPak is $399 and includes car and home chargers. A deep-cycle battery is another $100-$150…that's $500-$550 total for 100ah+ of power storage capacity.
If the ArkPak is used as an emergency power source for a remote cabin – and recharged with solar panels – it could keep a limited number of appliances and electronics running indefinitely.
Summing up, the ArkPak is a great toy for campers and hunters, tailgaters (it could easily power a small TV for hours), and boaters. However, as a "power center" for off-grid living, it's a decent low-cost and low maintenance power option when paired with a solar charging setup.
You can learn more about the ArkPak at ArkPortablePower.com.