Infiniti Reveals First Image of Q50 Eau Rouge Concept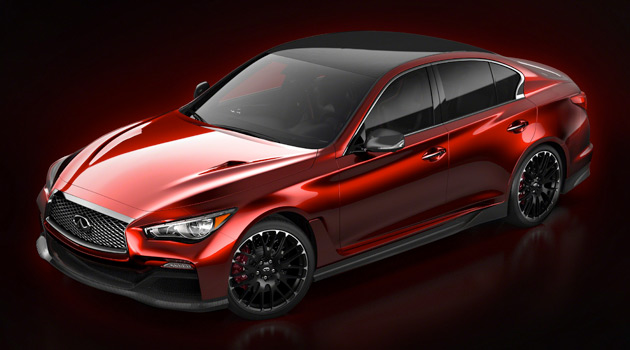 Infiniti has revealed the first image of the Q50 Eau Rouge concept, which will have its world premiere at the 2014 North American International Auto Show in Detroit on January 13th.
The Q50 Eau Rouge, a high-performance design concept based on Infiniti's Q50 premium sports sedan, draws inspiration for aerodynamic design from the technical collaboration between Infiniti and four-time Formula One World Champions Infiniti Red Bull Racing.
Major bodywork components have been redesigned with aerodynamics in mind and manufactured carbon fiber. Q50 Eau Rouge is lower and wider – only the roof and door profiles remain unchanged from the production Q50. This striking design is inspired by muscularity, refinement, and understated performance intent.
Infiniti Q50 Eau Rouge highlights include deep and detailed carbon fiber front splitter, rear diffuser and side sill skirts; carbon fiber roof and door mirror casings; 21-inch lightweight forged alloy wheels; and a dual-exit exhaust sports system below a large integrated rear spoiler.
The Infiniti design team was influenced by the aerodynamic styling approach taken by their colleagues at Infiniti Red Bull Racing, and they make this apparent in the following video:
"From our shared passion for performance with Infiniti Red Bull Racing grew a collective desire to produce a vision of what a high-performance Infiniti Q50 could look like," said Executive Design Director Alfonso Albaisa.
"The design has a number of distinctive Formula One inspired touches. In particular, the sculpted front wing assembly and the rear aerodynamic packaging take their cues from the RB9 race car," added Albaisa.
More information about the Q50 Eau Rouge will be revealed during a press conference at the North American International Auto Show at 9:20am on January 14th.