2022 Infiniti QX55 Brings Sexy Back With Sporty Coupe Treatment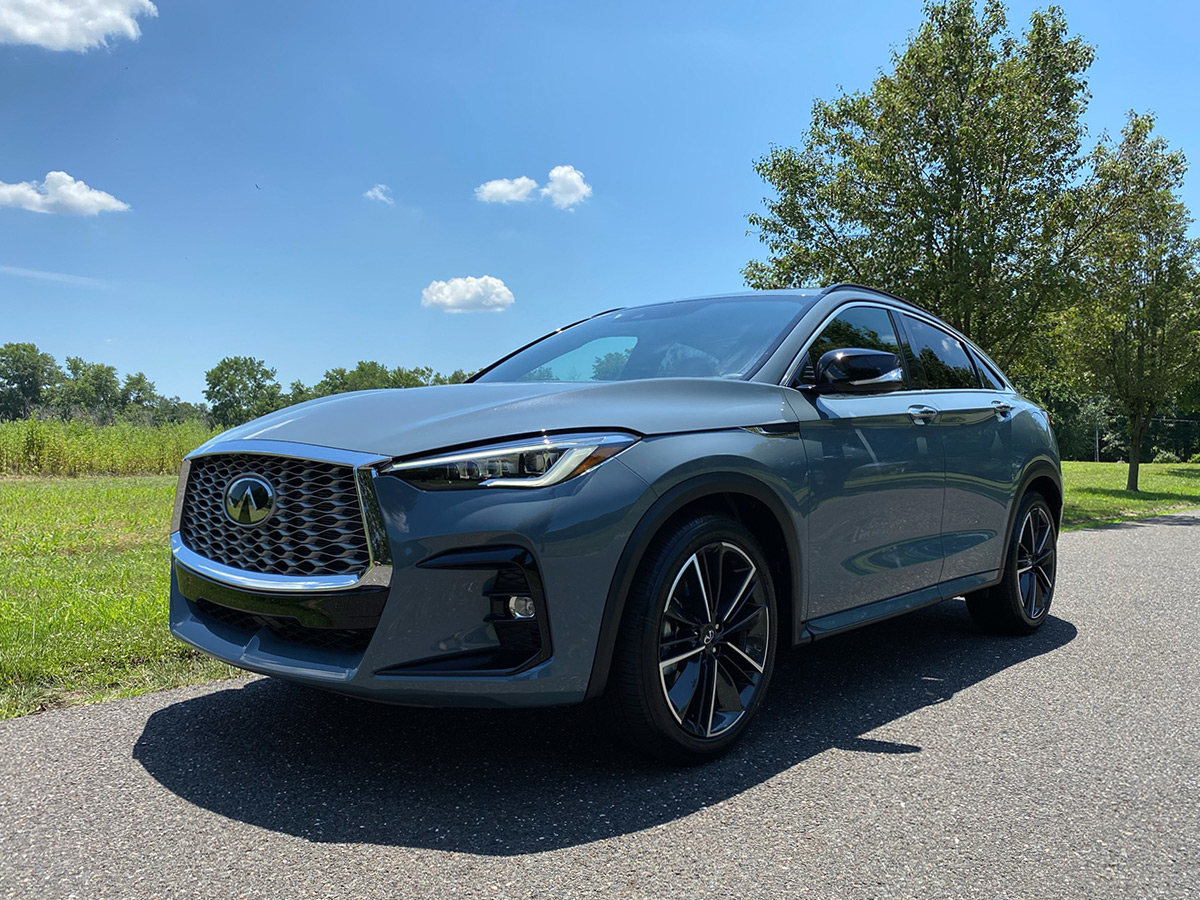 When BMW first introduced the X6, the "sports activity coupe" with its aggressive sloping rear roof design, people weren't sure what to think. But as we saw in the years that followed, there was indeed a market for these coupe-like SUVs, and others like Mercedes-Benz, Audi, Porsche, Lamborghini and others all followed suit.
But Infiniti was actually the first car company to offer such a vehicle, nearly a decade earlier.. Of course, I'm talking about the FX, which was a total game-changer, delivering Nissan 350Z type performance in a more practical, family-friendly package that still looked nice and sporty. For years, FX fans have been asking for a replacement. Now their wish has come true. Kind of.
The 2022 Infiniti QX55 is the "spiritual successor" to the FX, harkening back to the OG with a sleeker roofline and shape than the QX50 SUV that it shares its platform with. Infinity calls it a "crossover coupe", competing against the likes of the BMW X4 and Mercedes-Benz GLC300.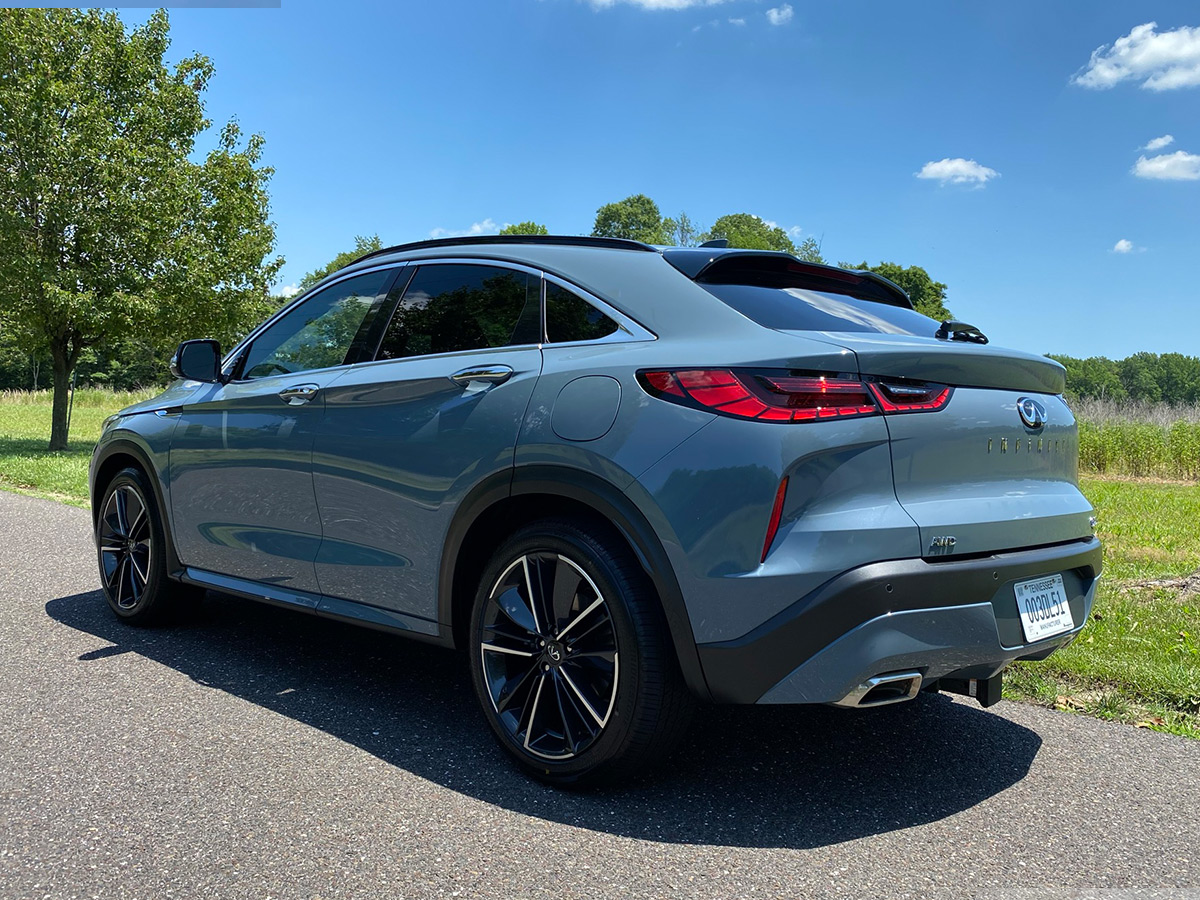 Exterior Styling Is Sleek And Sexy
Honestly, the regular QX50 isn't really turning any heads with its generic design. But the 2022 Infiniti QX55 is absolutely gorgeous, with its dramatic crossover coupe stance, detail-oriented finishes and tapered, performance-inspired rear. It's easily the best-looking of the sporty SUVs on the market, and one of the few that manages to get the proportions just right.
The elegant and flowing lines of the vehicle reach from the hood, over the front fenders, across the doors, and over the rear wheels. 20-inch dark painted & machine finished wheels fill the wheel arches and assert the SUV's dynamic presence.
One of my favorite design elements is the digital "piano key" taillights, which have 45 separate LEDs in a single housing to create an elegant light signature. It's very eye-catching, perfectly punctuating the QX55's sloping coupe-back design. Given that this is the best angle for the car (in my opinion), it makes sense to draw attention to it.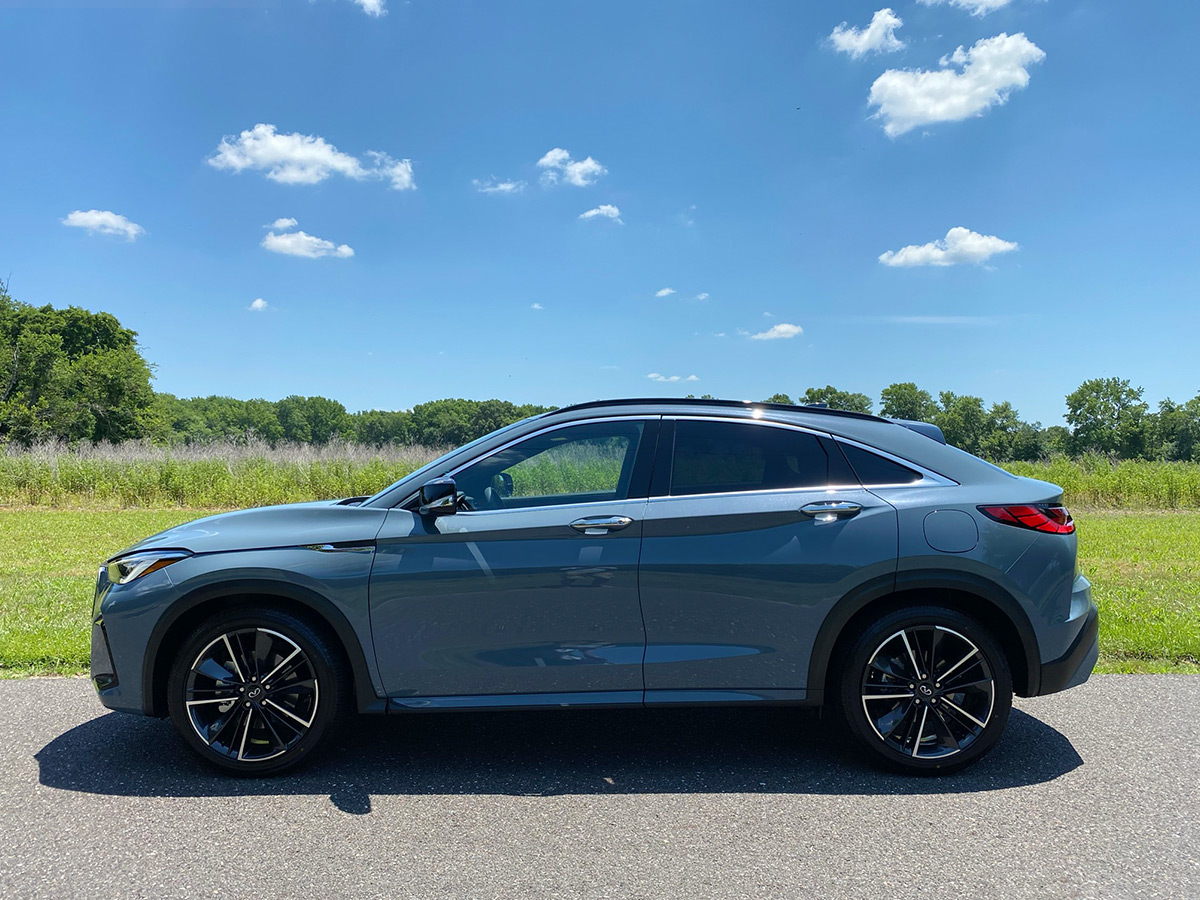 Performance Leaves Much To Be Desired
Under the hood of the new Infiniti QX55 is a variable compression 2.0-liter turbo four-cylinder engine that puts out 268 horsepower and 280 lb-ft of torque. In theory, this should have been a rather engaging engine, with its variable compression technology and such. Sadly, its mated to a continuously variable transmission (CVT) that struggles to keep up with the dynamic engine, resulting in very noticeable lag when you floor it.
It's a shame, because the variable compression technology sounded very promising, the engine imperceptibly changing its compression and displacement to deliver better efficiency or more power on the fly, based on the driver's needs. But once up to speed, the ride is very quiet and composed (even with 20-inch wheels w/ run-flat tires), making for a nice highway cruiser.
The other complaint we had was regarding the QX55's steering feedback, or lack thereof. Their steer-by-wire system doesn't provide much in the way of road feel, something that Infiniti has been struggling with for awhile now. Not a huge issue for "regular" cars that aren't meant to be driven hard, but if you're trying to sell the sporty narrative, it needs to deliver the goods. Sport mode stiffens up the steering (maybe too much), but it doesn't feel natural in the least.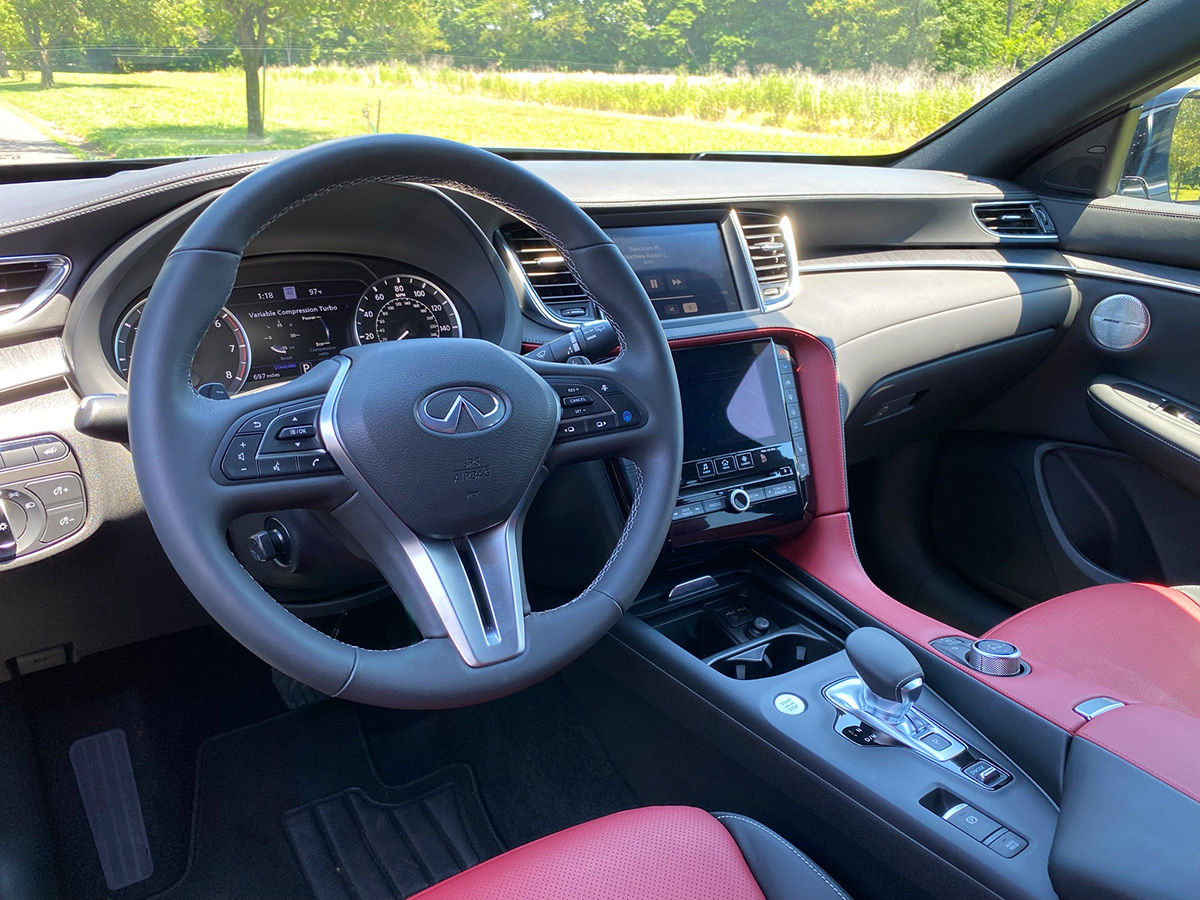 Interior Is Very Nice.. With One Exception
The cabin of the QX55 features a unique asymmetrical design, bending the interior space and all of its accommodating performance-minded luxuries conveniently around the driver. Our car came equipped with a contrasting Graphite and Monaco Red semi-aniline leather interior, with black natural maple wood trim, and it felt exceptionally premium.
On the tech front, you've got Infiniti's dual-screen infotainment system with wireless Apple CarPlay, and multiple USB inputs for Android Auto compatibility and charging. A Bose audio system delivered through up to 16 speakers provides a concert like acoustic experience. And of course, there are a plethora of safety and driver assist features that come standard.
As I've mentioned in other Infiniti car reviews, I'm not a fan of the dual-screen infotainment system. Yes, they've updated it to support Apple CarPlay on the upper screen. But it's just not cohesive at all, harder to use, and the system just feels terribly dated (as it should, since it debuted in 2014). Needless to say, a larger single screen system is long overdue.
My only other minor complaints are that your rear view is slightly compromised thanks to the shape and slope of the rear end, and rear seat passengers have 3 inches less of headroom. That said, I'd gladly make those concessions for the much sexier silhouette of the QX55.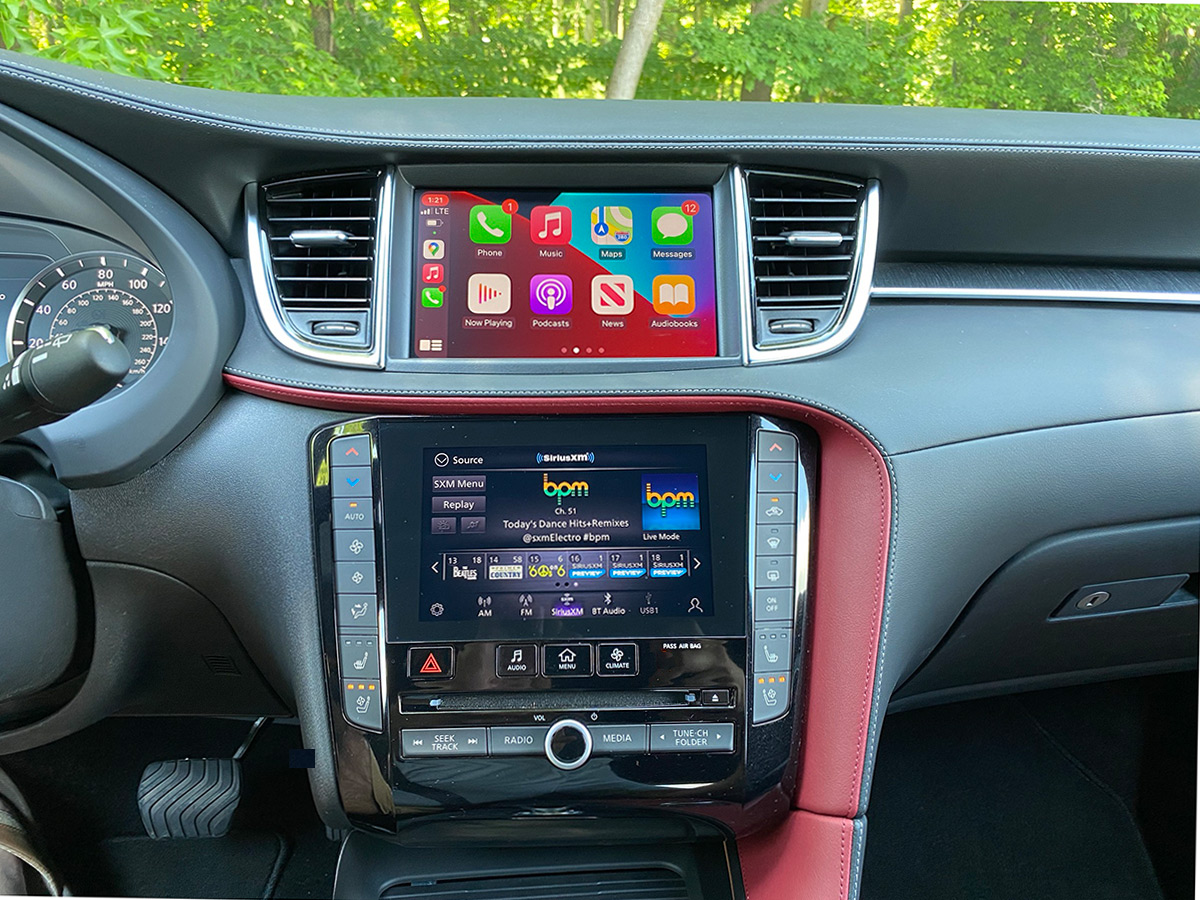 In Conclusion
Pricing for the 2022 Infiniti QX55 starts at $46,500, while our loaded QX55 Sensory clocked in at $60,495. Personally, I think the mid-range trim (Essential) is the sweet spot for this car, and it saves you roughly $6,000 to boot. But I would spend the extra $695 for the Slate Gray paint, it really looks great in person, photos don't do it justice.
I really love the way the QX55 looks, they really nailed the sporty SUV look better than anyone else. If they can just get the powertrain to work together cohesively, they'd have a real winner on their hands. But since not everyone cares about raw power, I think we're going to be seeing a lot of QX55's on the road in the near future.
Needless to say, if you're in the market for a sleek, sporty SUV, you should test drive the 2022 Infiniti QX55 and see what you think of it!