Is The 2022 Maserati MC20 Better Than The Ferrari 296 GTB?
Italian v Italian. Maserati and Ferrari both deliver art on wheels, with their gorgeous designs being able to captivate anybody. Although, they cannot be put on the same pedestal, since both their philosophies and their products have widely differed from each other in terms of utility and target audience.
But with the reveal of Maserati's first-ever true 'super sports car', the hailed MC20; we can draw a few comparisons to their Italian compatriots, who have been the masters at this game for decades. But next time when you go to CarIndigo to compare them, you might not find a direct comparison between the MC20 and the 296 GTB. Why? Because the 296 GTB is a hybrid sports car, whereas the MC20 uses a combustion engine only. That won't stop us from comparing them here, so let's break down each section.
Engine
The MC20 uses Maserati's new patented engine, which uses a brilliant mechanism, found in F1 cars; named the "Nettuno". It utilizes a "passive pre-chamber" – a small chamber above the actual cylinder, where a spark plug ignites the air-fuel mixture, as it enters the small chamber during the compression stroke of the piston.
Allowing for faster combustion and more power, both port and direct injection can be utilized. Additionally, there is another spark plug directly connected to the cylinder. At low loads, both the spark plugs work to offer low load stabilization and at high loads, only the pre-chamber is used for the maximum power. Maserati's 3.0L V6 beast produces 630 horses and 538 lb-ft of torque.
Paired with an eight-speed auto, power is delivered to the rear wheels only. Meanwhile, the engineers at Ferrari made use of a 120-degrees "Hot V" configuration where the cylinders are spaced 120-degrees, allowing the turbos to be placed centrally and allowing for a much more compact and space-efficient unit.
This 3.0L V6 produces 654 horses, but the electric motors in combination produce 165 horses more, for a total power of a mind-numbing 819 horses and 546 lb-ft of torque. It is paired to an eight-speed DCT. The GTB's hybrid unit massively overpower the MC20, but how does it translate to real life?
Performance and Handling
The MC20 can complete a 0-60 MPH run in 2.9 seconds as claimed by Maserati. The Ferrari GTB, too, can complete the same sprint in 2.9 seconds as claimed by the manufacturer. Both these cars are absolute beasts with mind-numbing acceleration, but despite the power overhead, the 296 GTB falls in line with the MC20 in terms of acceleration. The Trident claims that their new sports car can climb to a top speed of around 202 MPH, but the Prancing Horse does a little faster, at 205 MPH. Both of these claims must be taken with a grain of salt, but the MC20 looks more impressive with lesser power.
The MC20 has been test-driven and gets a seal of approval from many. It offers linear power delivery, with a beautiful RWD system that offers exceptional grip on the road. The steering is extremely precise and communicates the front wheel feeling in every scenario. It also offers a surprisingly comfortable ride with adaptive suspension. On the other hand, the GTB has not been driven by critics yet, but Ferrari claims it lies in tandem with their "Fun to Drive" philosophy.
It has an 8,500 RPM redline and also features an active rear spoiler to come to a halt quicker. It is very compact and light, and we have absolutely zero doubt that a Ferrari will not be fun to drive. It's difficult to call a winner here, but we reckon the 296 GTB might get the slightest nudge ahead due to their reputation and experience.
Interiors and infotainment
The MC20 comes loaded with sports bucket leather seats and a combination of carbon fiber and Alcantara throughout its interior. With a minimalist and driver-focused interior, the car embodies sport luxury.
It is beautiful and we loved Maserati's approach here, but the GTB utilizes a more stylish approach and an even more driver-focused interior. With contrast stitching, the seats are leather and carbon fiber interior trims are used for weight reduction. The MC20 sports a 10.3" centrally mounted infotainment system, running on Google's Android Automotive OS, and is very quick to respond and highly intuitive.
A large 10.3" gauge cluster displays all the information for the driver. The Ferrari uses no dedicated infotainment system and forces the driver to use the big gauge cluster for navigation and other features. Surely, the GTB is more track-oriented but if you want a Grand Tourer, the MC20 is the one that serves that purpose.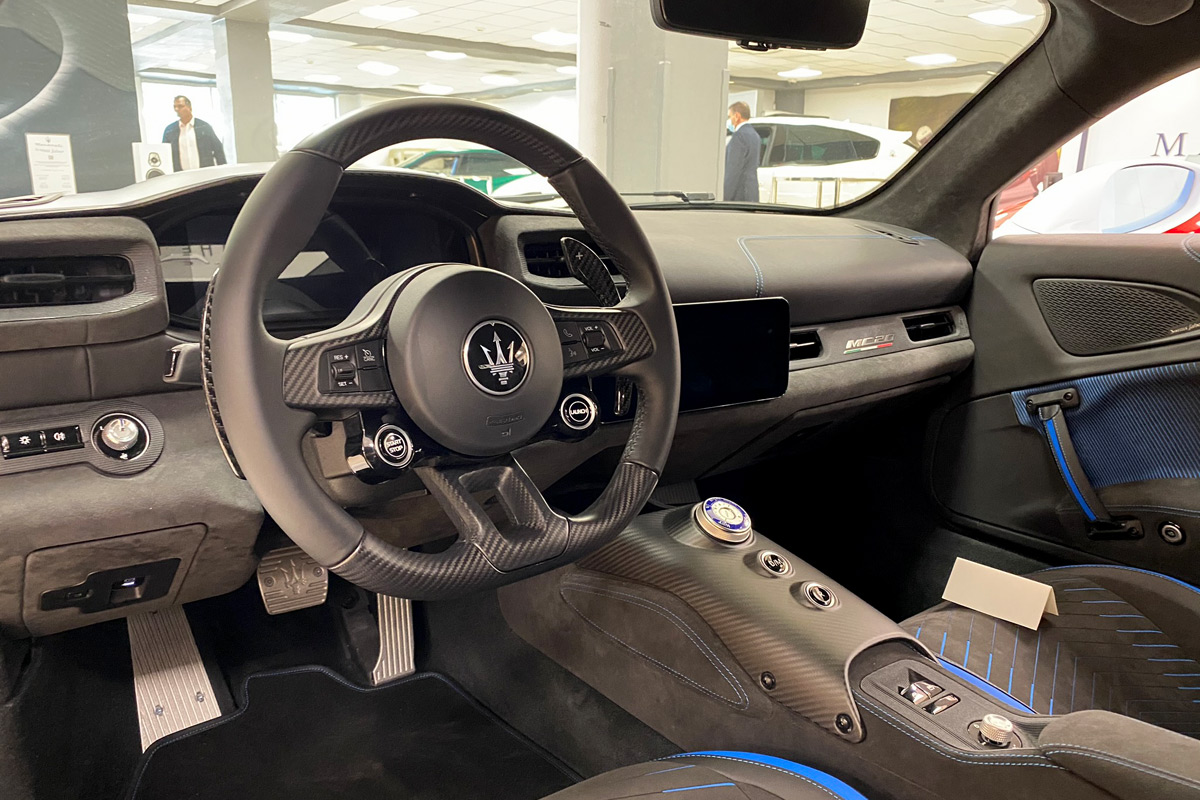 Styling
The Italians know how to create art. We would be wrong in choosing one over the other since beauty is subjective, but both the MC20 and 296 GTB are gorgeous in their own ways. The MC20 features a mid-rear engine that is placed pretty low. This allows it to have a lower center of gravity, which greatly improves handling. With a carbon-fiber structure and aluminum subframes, the MC20 comes to just under 3300 lbs. Featuring long side skirts, it also has dual-tip exhausts and features Maserati trident cut-outs on its rear glass.
Meanwhile, the GTB looks like a smaller version of the SF90 Stradale. It features stylish, sharp, and highly angular headlights with cut-outs on their side to allow for air intakes. The side profile is aerodynamic and it features a 50 mm smaller wheelbase than the SF90, which makes it highly compact and light, coming in at around 3,240 lbs. This makes it slightly lighter than the MC20. It also features a slightly smaller wheelbase than the MC20.
The GTB also features a massively wide central exhaust at the rear with carbon diffusers below. The available Assetto Fiorano package adds a unique color scheme with stripes and employs numerous weight reduction techniques to bring down the overall weight. It also increases aerodynamics and handling. Both the Italian cars are embodiments of a true sports car design. While the Ferrari is more compact and sleeker, the MC20 has its own charm. Which is better? We will let you decide.
Pricing and Release Date
Only those with extremely high bank balances will entertain this section. Though solid pricing figures have not been revealed yet, the MC20 is expected to start at a staggering $213,000, with a convertible version priced around $250,000. Ferrari has not revealed the pricing, but it's not going to be anything less than $250,000. Both are expected to be available in early 2022.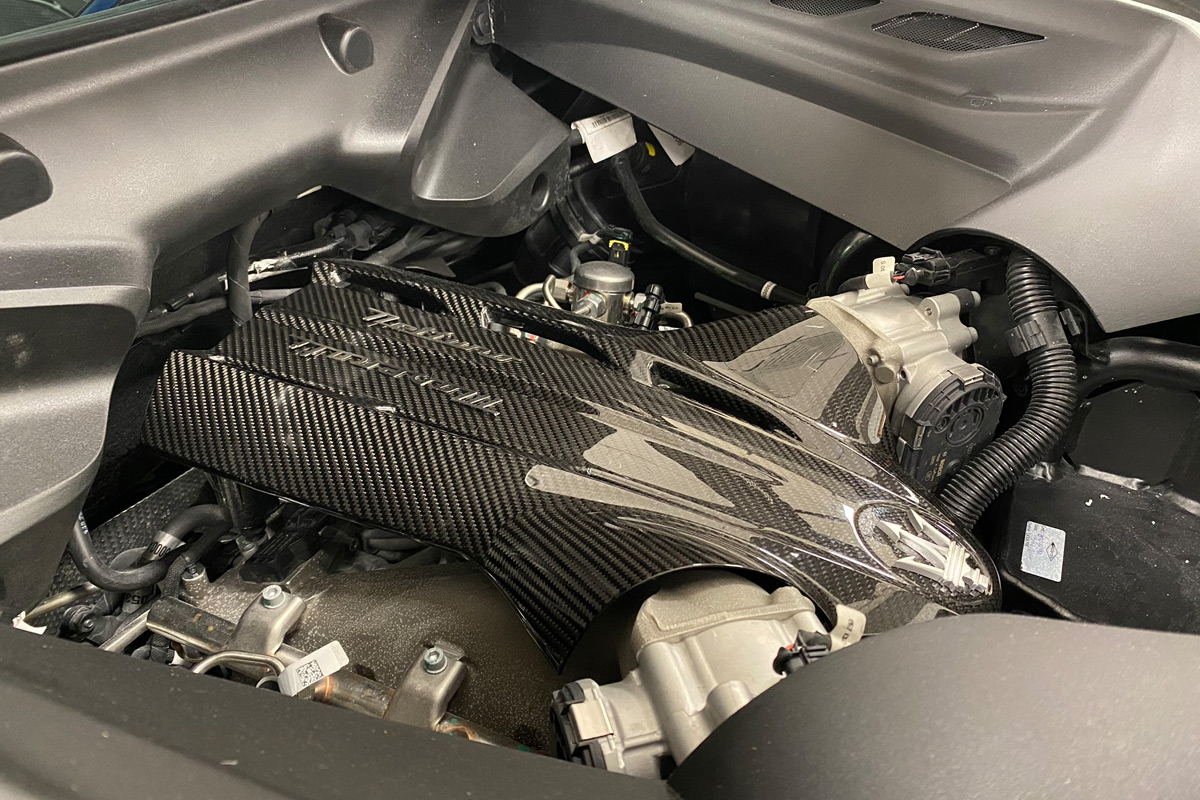 Is the Maserati MC20 better than the Ferrari 296 GTB?
It's a tough call with no conclusive answer, as of yet. They don't compare directly, but both the cars represent the respective companies' venture into a new direction. Maserati with a new sports car and Ferrari with a new hybrid V6.
The MC20 is more suited for those who want to take it out on the track, but also cruise along and use it as a Grand Tourer. But the 296 GTB is much more track-oriented and less daily drivable than the Maserati. The hybrid powertrain will offer the best of both worlds, but the MC20's new patented V6 engine will offer a raw driving experience.
What Maserati has achieved with way less power is highly commendable and exciting for their future. Both are created thinking of the future – Maserati's new F1 tech in road cars, and Ferrari's concern for the environment with a hybrid powertrain. Is one better than the better? No. Both are great in their own rights.