2021 Kia K5 GT Brings A Lot Of Fun To The Midsize Segment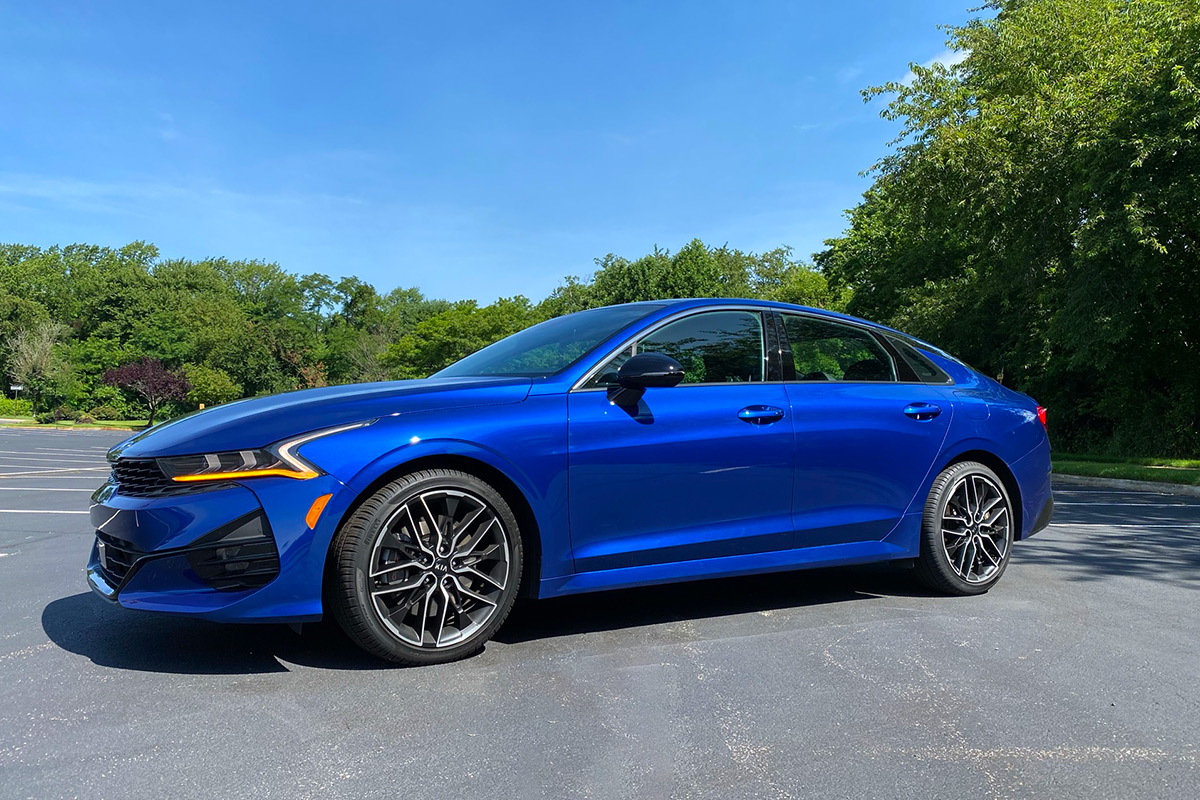 Last summer, Kia introduced the all-new 2021 KIA K5, the replacement for the Optima, which trades in its conservative styling for a more powerful and bold look that shares some DNA with the sexy Stinger. For me, it was love at first sight, and I've been eager to get some time behind the wheel of it, particular the GT model, which is packing some serious heat!
While traditional sedans are being replaced by SUVs at an alarming rate, there are still plenty of car companies offering midsize sedans, including the Honda Accord, Toyota Camry, Subaru Legacy, Nissan Altima, Chevrolet Malibu, Volkswagen Passat, Hyundai Sonata, Kia K5, and its corporate counterpart, the Hyundai Sonata, not to mention some luxury offerings.
Needless to say, this is a competitive segment. But after spending a week with this gorgeous sapphire blue 2021 Kia K5 GT, I'm going to make a bold statement and say that the Kia K5 beats them all out in terms of looks, performance (in the GT model), technology, and price.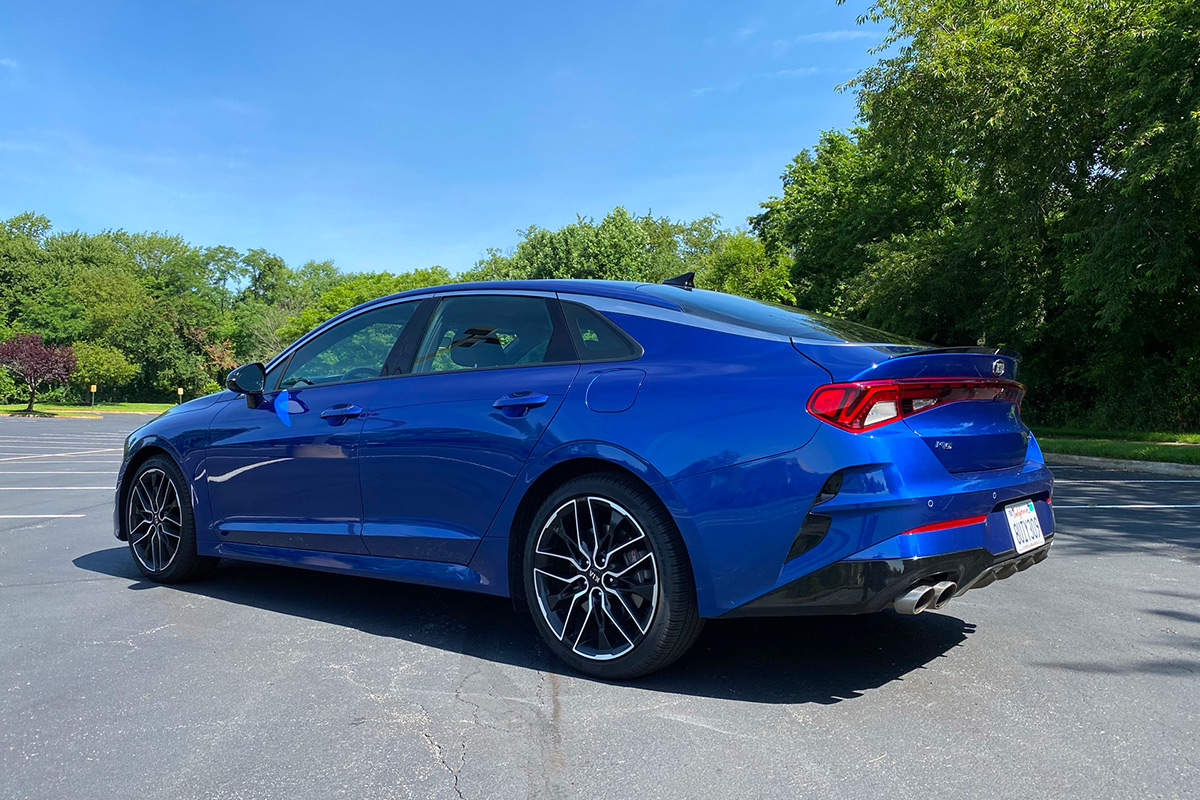 Visually, the Kia K5's powerful and angular design language represents another chapter of boldness and passion for the brand. The centerpiece is Kia's modernized "tiger face," with the wide and thin front grille extending into the headlight and hood structure. From the side, the K5 has a low-slung, fastback silhouette that's highlighted by a chrome garnish that spans the roofline and wraps around the rear glass.
The rear of the car is a bit more restrained, with taillights that run the length of the decklid, a sporty gloss black diffuser, and quad exhaust tips to let people know that this is no ordinary run-of-the-mill K5. Bold 19-inch wheels wrapped in Pirelli P-Zero all-season tires complete the sporty look.
Compared to its predecessor, the Kia K5 sits longer, lower and wider, resulting in its aggressive profile and deeper center of gravity for a more exciting driving experience. The car measures in at 193.1 inches long (+2 inches), 73.2 inches wide (+1 inch), 56.9 inches high (-0.8 inches), and has a wheelbase of 112.2 inches (+1.8 inches).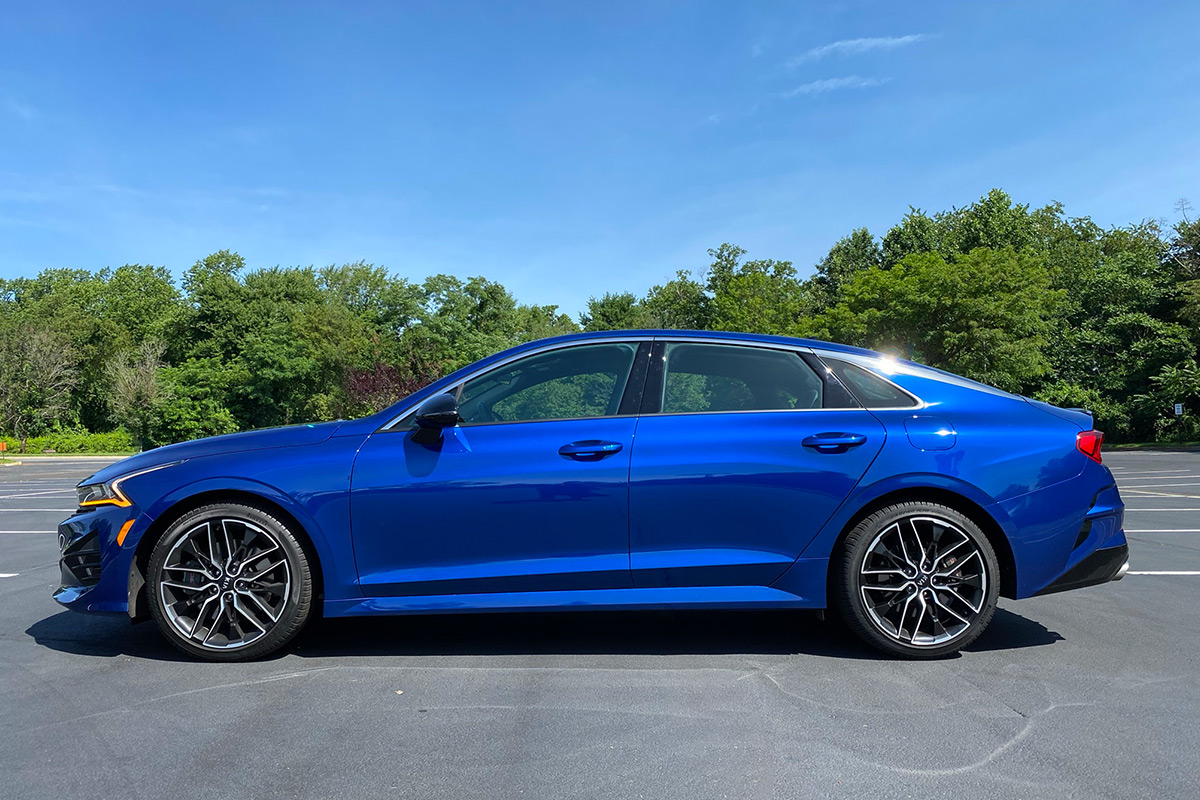 Buyers can choose from two powertrains. The 1.6-liter turbocharged four-cylinder engine puts out 180 horsepower and 195 lb-ft of torque, and it's mated to an eight-speed automatic. You can also get the 1.6T with available all-wheel drive (front-wheel drive is standard), providing all-weather capabilities and enhanced driving performance. I recently drove a 2021 Hyundai Sonata with this same engine, and it was painfully slow. If you're more about show than go, the Kia K5 GT-Line gives you that GT look but with the smaller engine.
Step up to the Kia K5 GT though, and you'll find a 2.5-liter turbocharged four-cylinder engine under the hood that makes an impressive 290 horsepower and 311 lb-ft of torque, paired with a 8-speed wet Dual Clutch Transmission. It's ridiculously fast, and hitting the gas aggressively from a stop usually results in wheel spin. As such, it takes a bit of finesse to pull off a clean 0-60 run (which happens in 5.8 seconds according to Kia).
Curiously, all-wheel drive is only available with the smaller engine. If they offered the K5 GT with AWD and stickier summer tires, this sucker would hook and book like nobody's business. That said, once you're rolling and have traction, the car pulls ferociously all the way into triple digits. The engine isn't silky smooth like a BMW, but it's hard to argue with the performance that it delivers.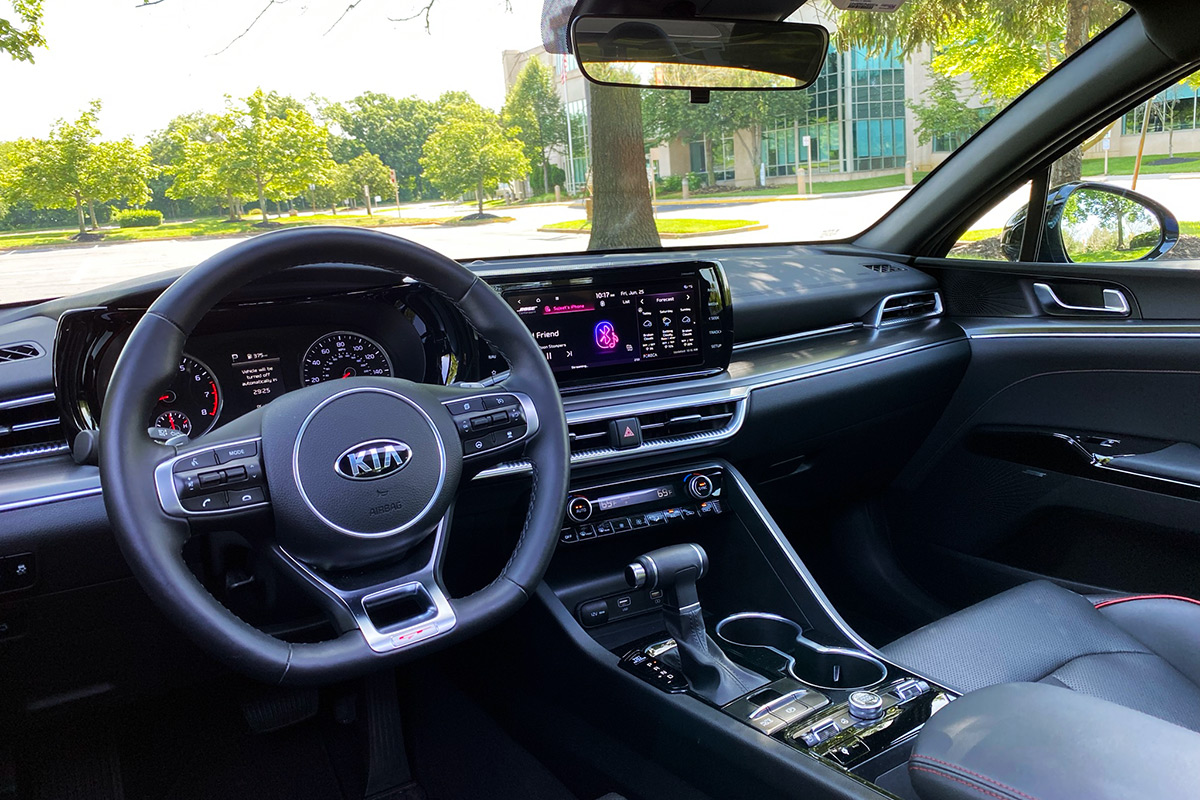 Handling is also rather impressive, with a suspension geometry optimized for sporty handling, responsiveness and stability, and 19-inch wheels wrapped in Pirelli P-Zero all-season tires. I'm not sure why they decided on all-seasons rather than a high-performance tire like the Sonata N-Line comes with, but it does sacrifice some handling prowess for all-weather performance.
The K5 GT's ride is on the firmer side, with sport-tuned bushings, struts, and shock absorbers, but it's still comfortable enough for your daily commute. We took it on some twisty back roads, and the car proved to be surprisingly fun, with a touch of oversteer when pushed hard, and minor body roll in the corners. It's a proper sports sedan through and through.
It's great to see Kia (and Hyundai) not abandoning the sedan market like many others, instead delivering an engaging, fun-to-drive car car that you actually look forward to driving each day.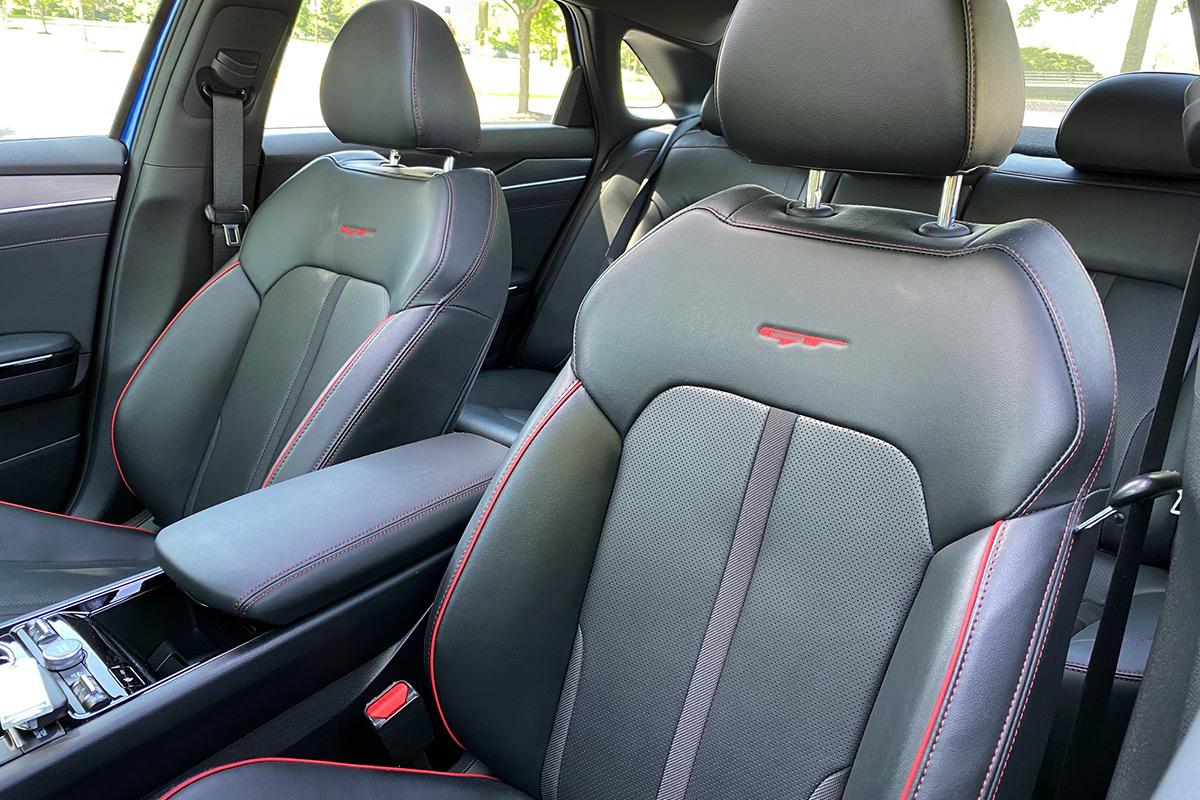 As you can see, the interior of the K5 GT is a huge improvement over the outgoing model, with a 10.25-inch touchscreen infotainment system, heated and ventilated leather seats, a Bose 12-speaker premium sound system, wireless Apple CarPlay and Android Auto, and a host of other goodies. Being the "sports" model, it comes with sport bucket seats, flat-bottom steering wheel (which is heated), and numerous GT logos. It's a very premium interior.
Kia also loaded this car with a plethora of safety and driver assistance systems, like forward-collision warning with pedestrian detection, lane-keeping assist, lane-departure warning, rear cross-traffic alert and adaptive cruise control to parking sensors, blind-spot monitoring, and more. But perhaps my favorite feature was their Highway Driving Assist, their version of "self driving". The system works amazingly well, and it makes a long drive that much easier.
With an as-tested price of $35,705, the 2021 Kia K5 GT offers some serious bang for the buck. It's a great looking car inside and out, offers great handling and performance, plenty of room for the whole family, and technology galore. Needless to say, if you're shopping for a sporty midsize sedan, you definitely need to go check out the Kia K5 GT!
What do you think of the 2021 Kia K5 GT?