The 2021 Hyundai Sonata Limited Offers A Decidedly Upscale Experience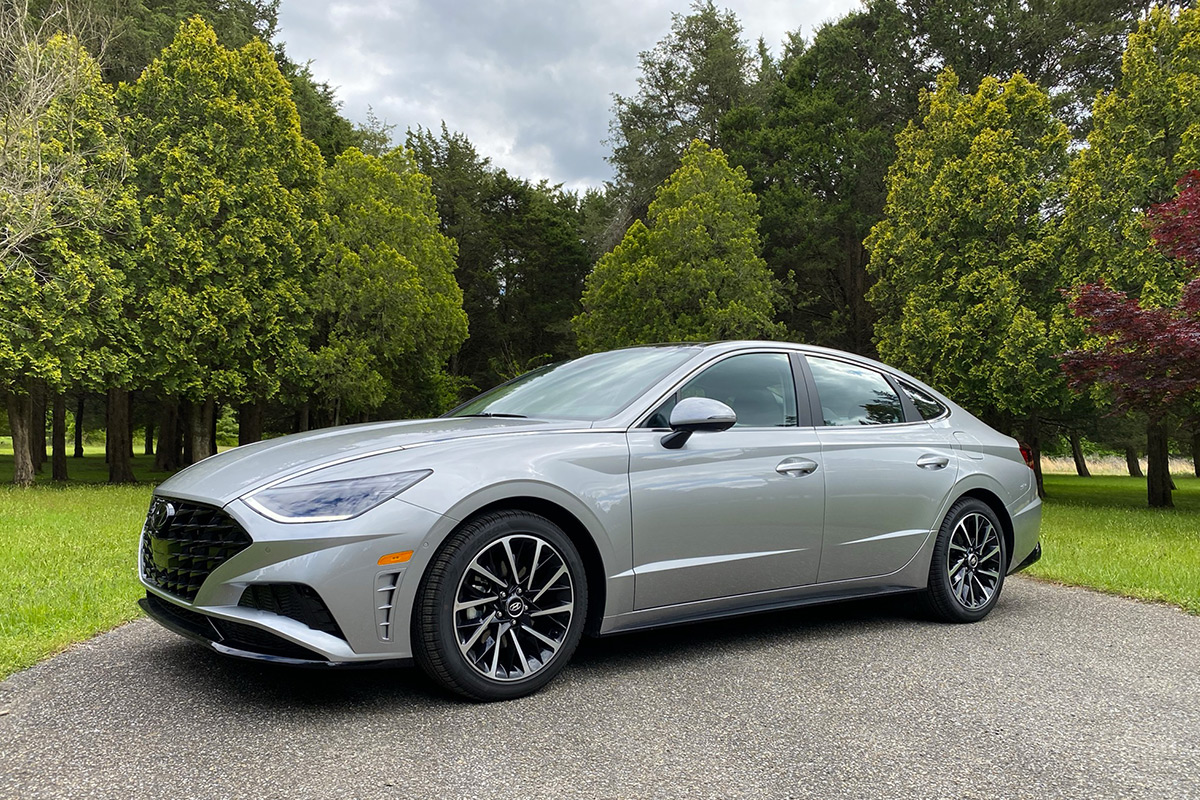 When you about the Hyundai Sonata, "upscale" likely isn't the first word to come to mind. But the Korean brand pulled out all the stops for the eight-generation Sonata, delivering a car that can go toe-to-toe with other luxury brands (at least in Limited trim) at a fraction of the price, and styling that stands apart from competitors like the Malibu, Accord and Camry.
Looking back at previous generation Sonatas, the styling has always been rather safe. But the new model feature's Hyundai's new design language, Sensuous Sportiness, and it's something you either love or hate. I know a lot of people who really like the way it looks (proven by the number of them you see on the road), while others like me can't get past the fishy front-end and rear taillight treatment. Regardless, it's a distinctive looking car.
The 2021 Hyundai Sonata Limited that I recently spent a week with is their top-of-the-line model, loaded with every option you could possibly imagine. The interior features a nice mix of luxury materials, technology, and modern design. Cover the Hyundai badge on the steering wheel, and you'd honestly be hard-pressed to tell what kind of car you're riding in.
Bold Exterior Styling
With sedans taking a back seat to SUVs, Hyundai wanted something that would stop people in their tracks. So they designed the new Sonata as a four-door coupe rather than a traditional boxy sedan, with styling inspiration taken from the gorgeous Hyundai Le Fil Rouge concept that was introduced at the 2018 Geneva Motor Show.
You can definitely see a number of similarities between the two vehicles, but unfortunately the gorgeous front-end of the concept was somehow lost in translation, and try as I might, I just couldn't warm up to the fish-face grille or the strange lighting strip that runs all the way up the outer edges of the hood. The rear end does stay faithful to the concept, but the choice of tail light design they went with isn't particularly flattering to me.
That said, the Sonata's coefficient of drag (Cd) is just 0.27, with a flat underfloor covering and a range of body enhancements—including small fins across each taillight—that help keep the car fuel efficient, as well as stable. And as we came to discover, fuel efficiency is clearly where the focus is on this car.
Luxurious, Tech-Laden Interior
The interior of the 2021 Hyundai Sonata Limited is unlike any Hyundai I've been in before, it is beautifully appointed and rivals that of some luxury vehicles. Power leather seats (heated and ventilated) are nicely padded, supportive, and comfortable. A large 10.25-inch infotainment screen graces the center of the dash is touchscreen and super easy to use, with Apple CarPlay and Android Auto functionality included. In addition, there's a 12.3-inch digital instrument cluster that's customizable for different driving modes and such. It even has a Blind Spot View Monitor, so you can see objects in your blind spot right in your dash.
Hyundai and Bose engineers collaborated on the 12-speaker Bose Premium sound system, and it sounds pretty fantastic. One pet peeve I had is that there's only a single knob on the radio, which controls the volume. But if you want to tune the radio, you have to push the Seek / Track buttons. It seems like an odd oversight, as there's plenty of room for a second knob.
Given how spacious and roomy the interior is (so much so that this 6'2″ driver had to move his seat up considerably), I was surprised to see Hyundai do away with a traditional shifter and replace it with their new Shift by Wire gear selector. While it may be "sleek and technologically advanced", it's also a pain to use, especially when trying to parallel park or do a K turn, forcing you to look down repeatedly to put the car in the correct gear. Keep it simple, people.
One of the features I was most eager to test out was the Remote Smart Parking Assist, which was famously featured in a Super Bowl commercial a few years back. As you might remember, this Smart Park feature lets you maneuver your car into or out of a tight parking spot simply by using your smart key. It works exactly as advertised, and it makes for a fun party trick as well.
Another invaluable features on the 2021 Sonata Limited is their Highway Driving Assist, which is their version of "self driving". While not nearly as technologically advanced as Tesla's FSD or GM's Super Cruise, it uses its 3 radar sensors, 12 ultrasonic sensors and 5 cameras to keep the car in the center of the line, at a preset speed, while keeping a safe distance between you and the car in front. I used this on a 90-minute drive to NYC, and it made the drive so effortless.
You can also use your (Android) smartphone as a key with Hyundai Digital Key. Working in much the same way as Tesla and Lincoln does, this allows you to leave your traditional keys at home and use your smartphone to access and drive your Sonata. In addition, this allows secure sharing of keys with family and friends, which could come in handy if you're somewhere with your keys in your pocket, and a family member needs to move your car out of the driveway, or borrow it for a quick errand.
Performance Leaves A Lot To Be Desired
If there's one area where the Sonata really falls short, it's in the performance department. Our car was equipped with a 1.6-liter turbocharged 4-cylinder engine that puts out 180 horsepower and 195 lb-ft of torque, mated to an 8-speed automatic transmission. While it delivers great mileage (27mpg city / 37mpg highway), it is painfully slow on the road, especially if you need to quickly pass someone.
It's a curious problem, as the Hyundai Sonata N Line has way more power (290 HP and 311 lb-ft of torque), but it lacks a lot of the bells and whistles that you get with the Limited trim. And they're priced within a few hundred dollars of one another. So you basically need to decide what's more important to you – raw power or convenience features.
As this wasn't the N Line, we didn't go out of our way to find a crazy twisty road and push its handling to the limits. But around town, where most people will be driving these, it offered a perfectly comfortable ride, with quick steering and decent handling.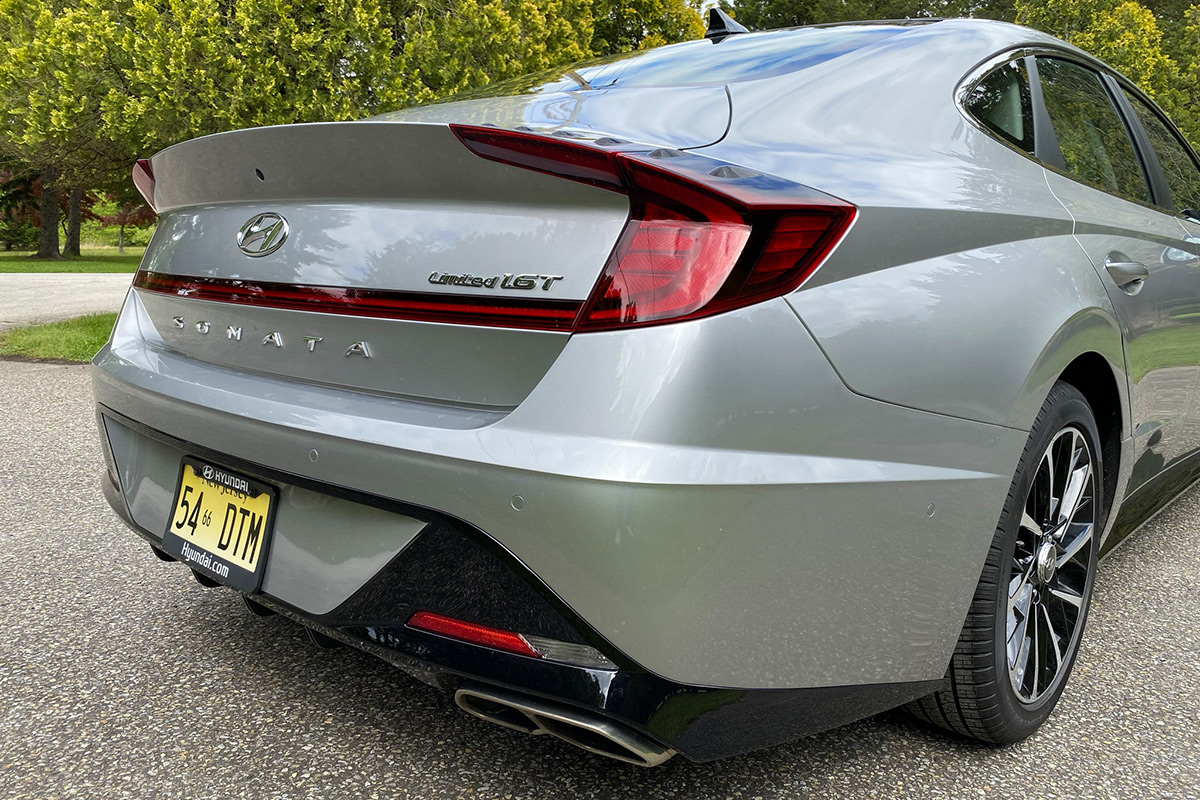 The Verdict
Hyundai proves once again that they're here to stay, delivering a world-class car that can hang with the best of them. The amount of technology in this car is pretty amazing, and the interior is very upscale, a very nice place to call home on your daily commute. I do wish this car offered more power, but same token, that 37mpg highway is pretty great.
With an as-tested price of $35,000, the 2021 Hyundai Sonata Limited isn't the cheapest option out there, but it definitely has a lot to offer. If you don't need all of the bells and whistles, you can get into an SEL Plus for quite a bit less while still getting a lot of the desirable features. My advice, go compare the various trim levels in person and see what you really need/want.
For more information on the 2021 Hyundai Sonata Limited, visit hyundaiusa.com/sonata.