2021 Mazda CX-30 Turbo Delivers Some Serious Zoom-Zoom!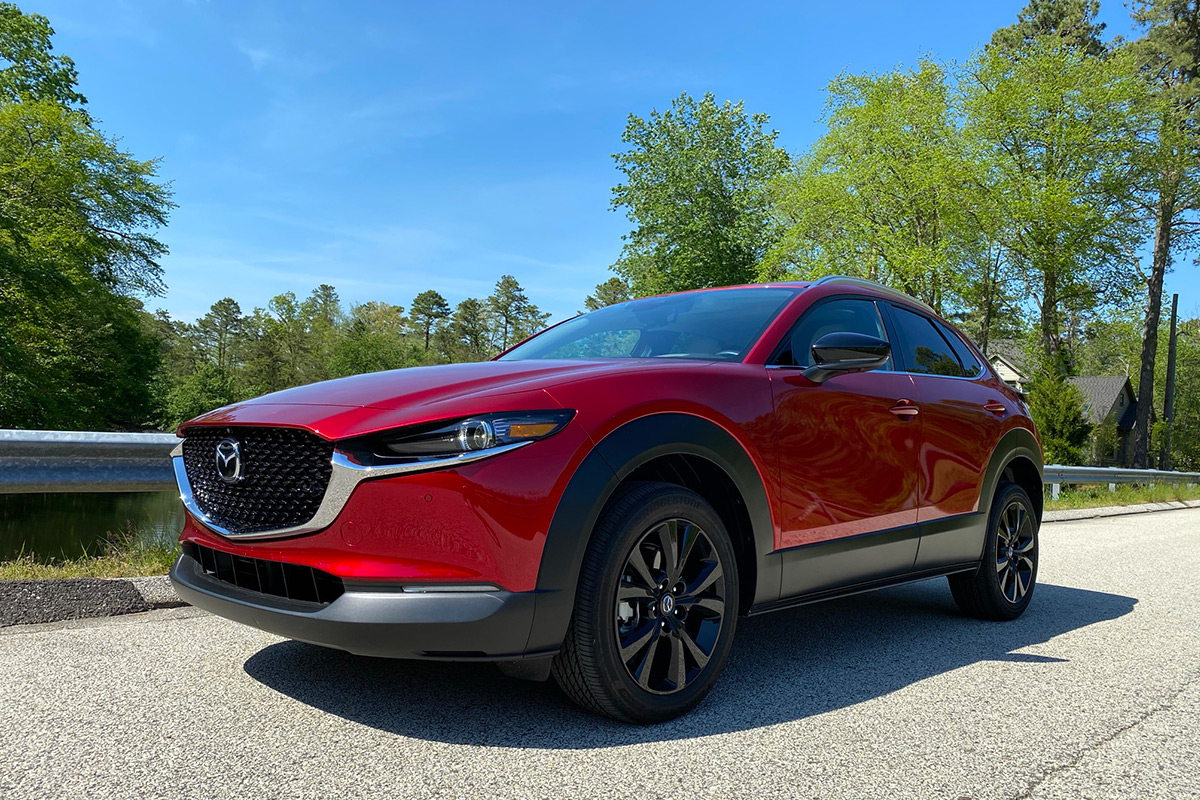 When the Mazda CX-30 was first introduced in late 2019, I was invited on the first drive event, driving the sporty crossover from San Diego to Palm Springs, skipping the highway route and taking the long way through the mountains, driving on roads that were full of twists, turns, and elevation changes.
Let me tell you, the CX-30 really blew me away with its sporty handling. I remember telling my driving partner Michael that I just wish this cute-ute had was more power, as 186 horsepower wasn't enough to show off its full potential. But it was competitive for the segment, delivered respectable mileage, and it was priced right. And it's been a strong seller for the brand.
Still, Mazda never forgot it's sporty "Zoom-Zoom" roots, rewarding its enthusiasts with a new turbo model that boosts its appeal. The 2021 Mazda CX-30 Turbo is powered by a 2.5L inline four turbocharged engine that delivers an impressive 250 horsepower and 320 lb-ft of torque with premium gas (or 227 HP and 310 lb-ft on regular). And with standard all-wheel drive, it has no trouble putting that power to the ground.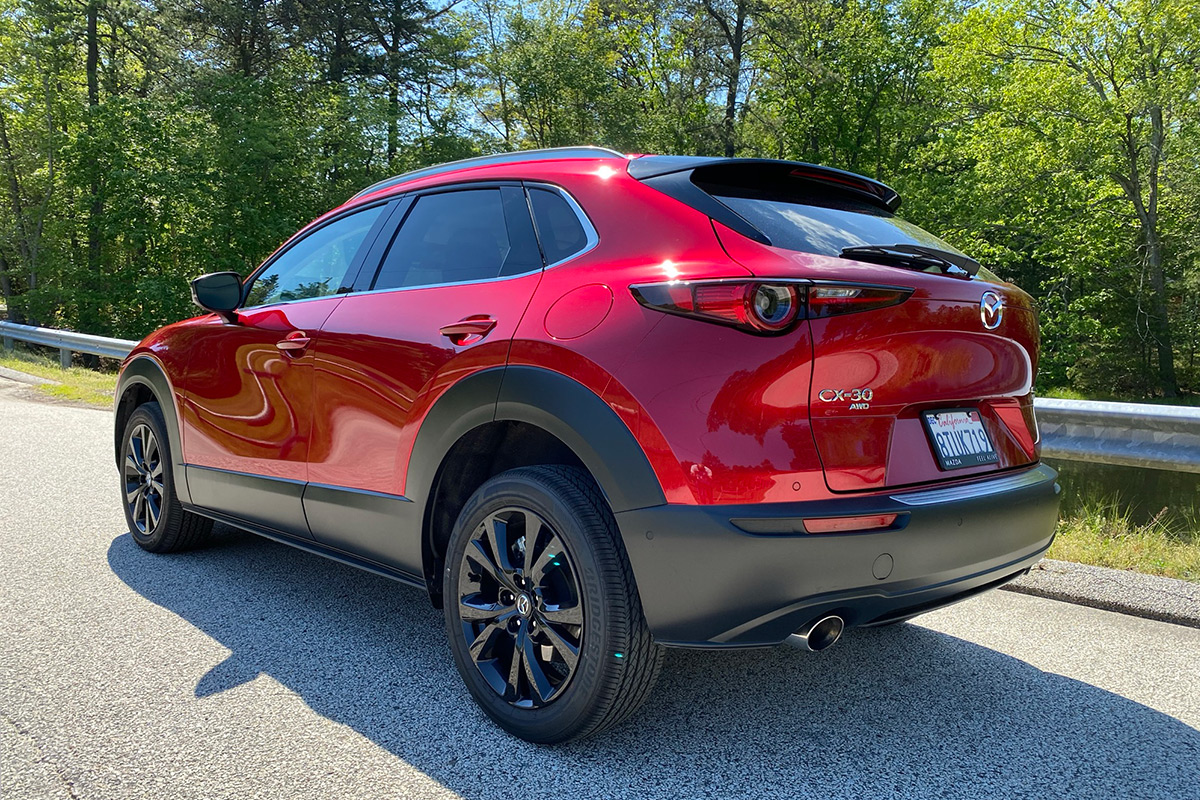 Unlike the Mazdaspeed models from back in the day, the Mazda CX-30 Turbo is a total sleeper, with black wheels and side mirror caps, roof rails, slightly larger exhaust tips, and a tiny Turbo tailgate badge the only visual cues that this is no "ordinary" CX-30. Otherwise, the styling is pretty much the same, polarizing black plastic cladding and all.
The interior of the CX-30 Turbo is best described as simple yet sophisticated. Unlike the car I had the week before which had a dizzying amount of features, the CX-30 keeps things simple, using high-quality materials everywhere to deliver a more upscale feel. The leather seats are soft and supportive, controls are easily within reach, and the upgraded 12-speaker Bose system sounds amazing. And it's loaded with safety features.
With that said, Mazda's non-touchscreen, rotary knob-controlled infotainment system is not a favorite of mine, with a cumbersome UI that makes the most basic of things (like changing the radio station) unnecessarily complicated. Apple CarPlay and Android Auto functionality is included, but they are equally challenging to navigate using the knob. They made the decision to move the screen high on the dash so you wouldn't have to take your eyes off the road, but I would happily glance down for a second to touch the screen versus this setup.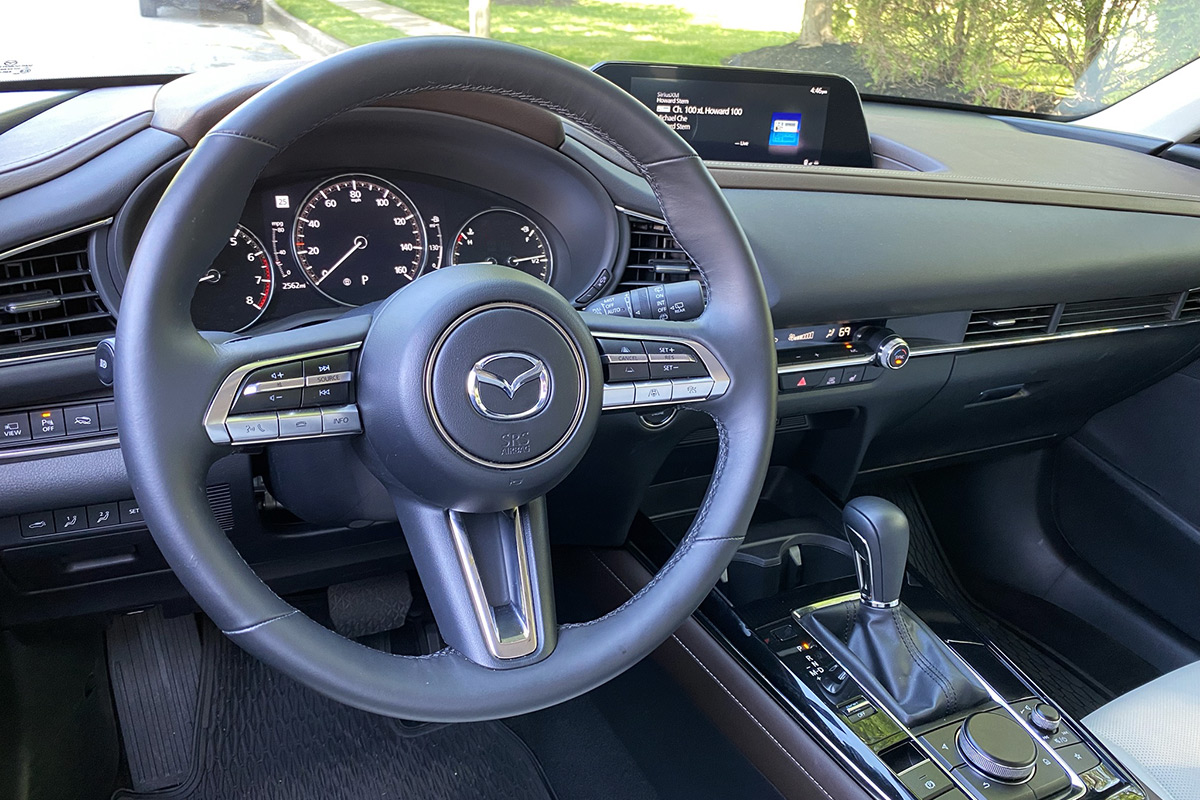 But enough about that, lets talk about the performance, since that's what you're really buying the Turbo model for in the first place. The 2021 Mazda CX-30 Turbo is noticeably faster than the regular model, sprinting from 0-60mph in 5.8 seconds and completing the quarter mile in 14.3 seconds. The naturally-aspirated CX-30 is about 2 seconds behind on both fronts.
This looks good on paper, but unless you're flooring it from a light, you don't really feel that extra power when driving around town. Sport mode adds a little pep to your step, holding gears for longer and keeping you in the juicy part of the powerband. But it's not suitable for normal driving, as it keeps the RPMs too high and buzzy.
Where the Mazda CX-30 Turbo really shines is when you find a wonderful twisty road where you can really push this car to its limits and see what it's capable of. Here, the car attacks the corners with vigor, offering just a hint of oversteer before the all-wheel drive system brings things back in line, with plenty of power on tap. I ran through this stretch of road at least 3-4 times, with a big smile on my face throughout. SO. MUCH. FUN.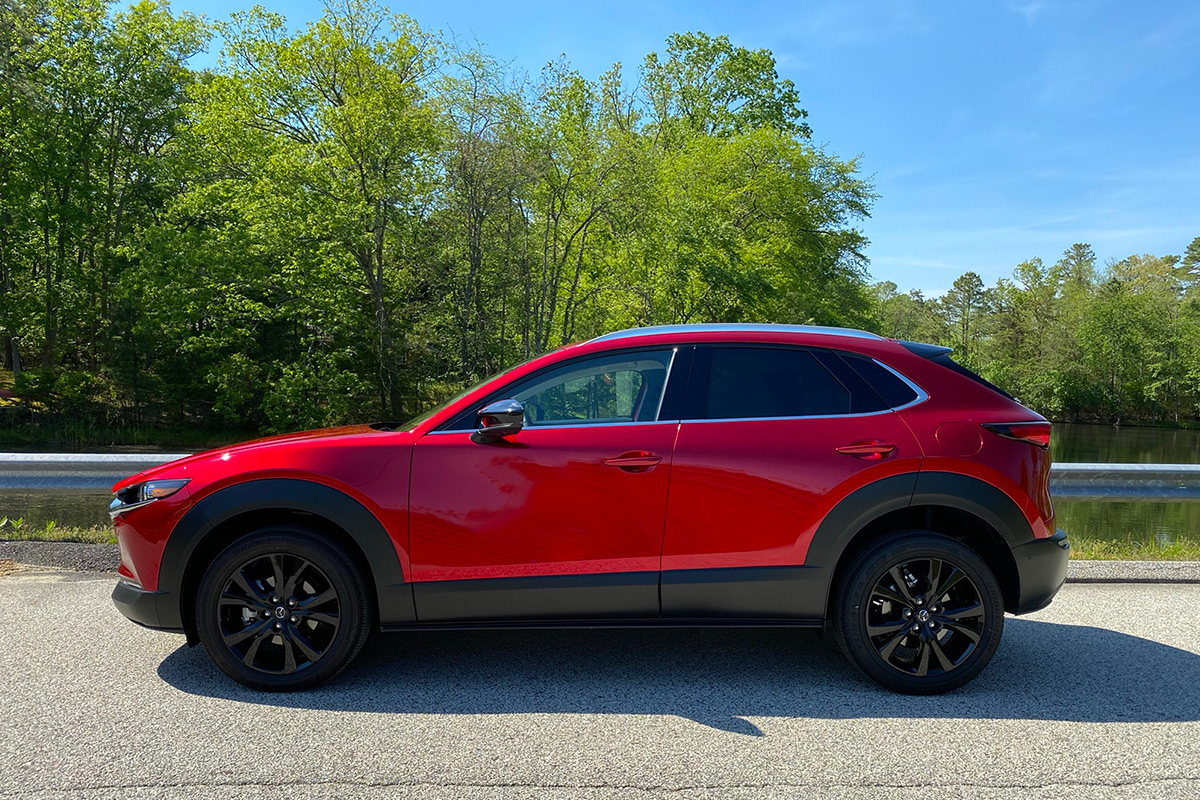 It's a rather curious situation. While there's no doubt that flogging the Mazda CX-30 Turbo in the twisties was a ton of fun, 99.9% people aren't going to be doing that. Where I would have liked to felt more of that power is in normal around-town driving. But sadly, you didn't really feel that extra power at all unless you're flooring it at every traffic light.
Add then there's the price. The Mazda CX-30 Turbo starts at $30,050, while my Premium Plus tester came in at $35,995, which is moving into another price bracket altogether. As one of my friends asked, why not just get a CX-5 with the same turbocharged AWD powertrain, a bunch more space, and arguably better looks for roughly the same price? A good question indeed.
While I'm thrilled to see Mazda offering a sportier offering of the CX-30, I wish that it was a bit more rambunctious like the old Mazdaspeed models used to be, where a heavy foot would send the front tires up in smoke. Instead, they refined the car a bit too much, and that fun factor is lost except in the most extreme of situations.
Of course, that's just my opinion. If you've been excited about the new Mazda CX-30 Turbo, I encourage you to take one for a test drive and see what you think about it for yourself.