We Spent A Week With The All-New 2021 Ford Mustang Mach-E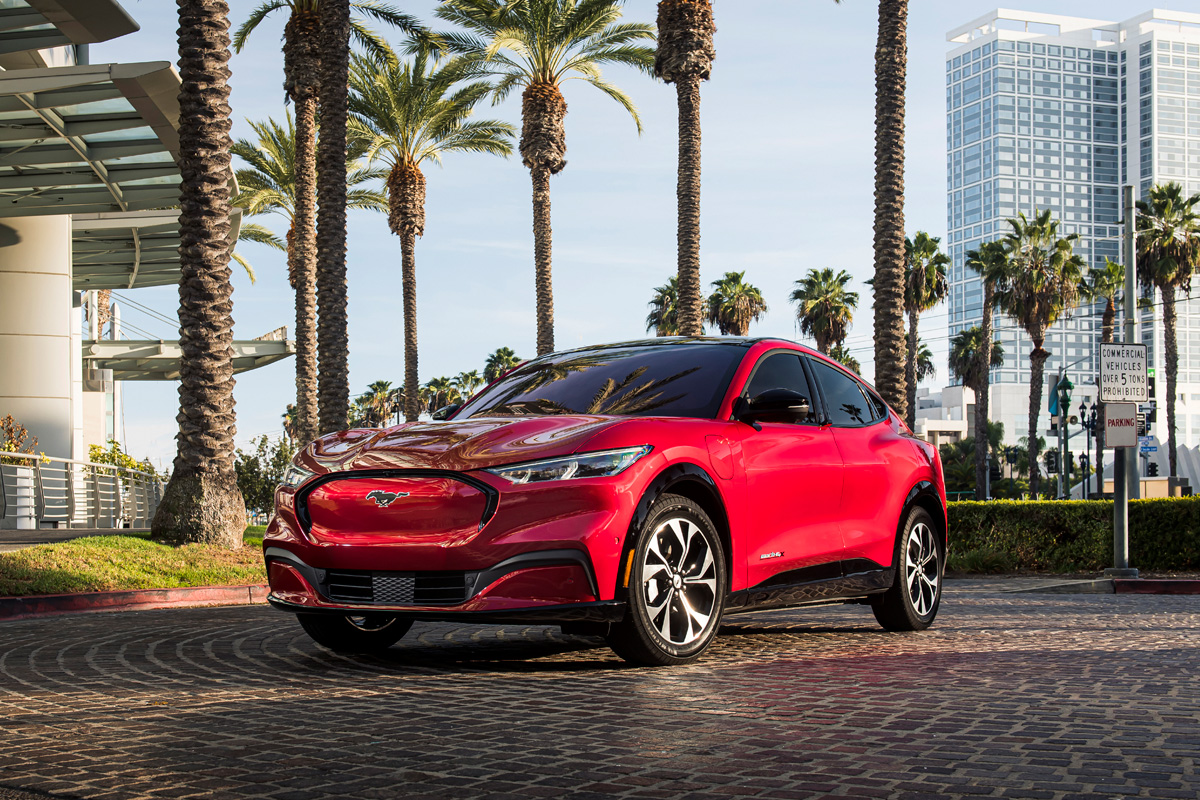 Last year, Ford surprised everyone at the LA Auto Show with the introduction of the Mustang Mach-E, an all-new, all-electric SUV that would go head-to-head against the Tesla Model Y. Could the Blue Oval really deliver a better electric vehicle than the 800-pound gorilla that is Tesla, a company that's been in the EV space for over a decade now?
Furthermore, Ford's decision to attach the "Mustang" name to their new EV had purists up in arms almost immediately. And as a former Mustang owner myself, I have mixed feelings about this as well. As someone commented on my Instagram post when I shared some photos of the Mach-E, "Mustangs are supposed to scream and yell and grunt….not sound like a vibrator!"
Do I get why Ford went with the Mustang name? Sure, Ford wants to turn the Mustang into a sub-brand of sorts, with a portfolio of different models, merchandise, and such. It's much like what they're doing with the Bronco. But it's a risky move, one that threatens the brand equity that the Mustang spent the past 56 years cultivating, especially if the all-electric SUV doesn't live up to the sporty expectations associated with the name.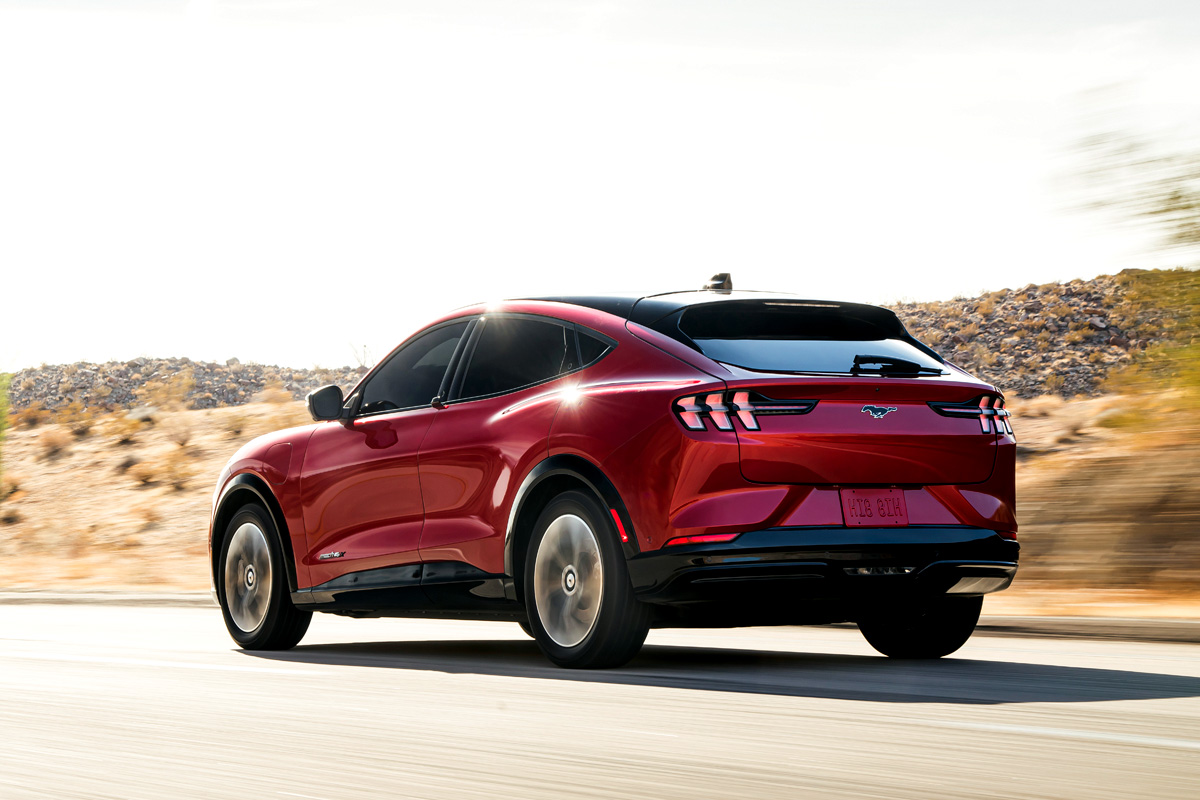 Over the past month, you might have seen some reviews of the Mach-E posted online, as Ford brought out a handful of journalists to Michigan to drive the car for a day. Most of the reviews were fairly positive, but unfortunately none of them could really speak about range, charging times, and other EV-specific issues / concerns, as they only drove the car for a few hours in a controlled environment.
So when Ford asked if I would be interested in borrowing the Ford Mustang Mach-E for 5 days over the Christmas weekend to test out, I was pretty stoked. And having just spent some time with my Dad's Tesla Model 3 a few weeks earlier, and being well-versed in Tesla's in general, I had a good baseline in which to compare it to.
Visually, the Mustang Mach-E is a looker, with a sporty, beautiful silhouette that turned heads everywhere I went. And seriously, who could blame them? With its long, powerful hood, rear haunch design, aggressive headlights and trademark tri-bar taillamps, it's got curves in all the right places, and it makes for one distinctive looking vehicle among a sea of boring SUVs! It definitely gives off a sort of Mustang vibe, with the pony badges the icing on the cake.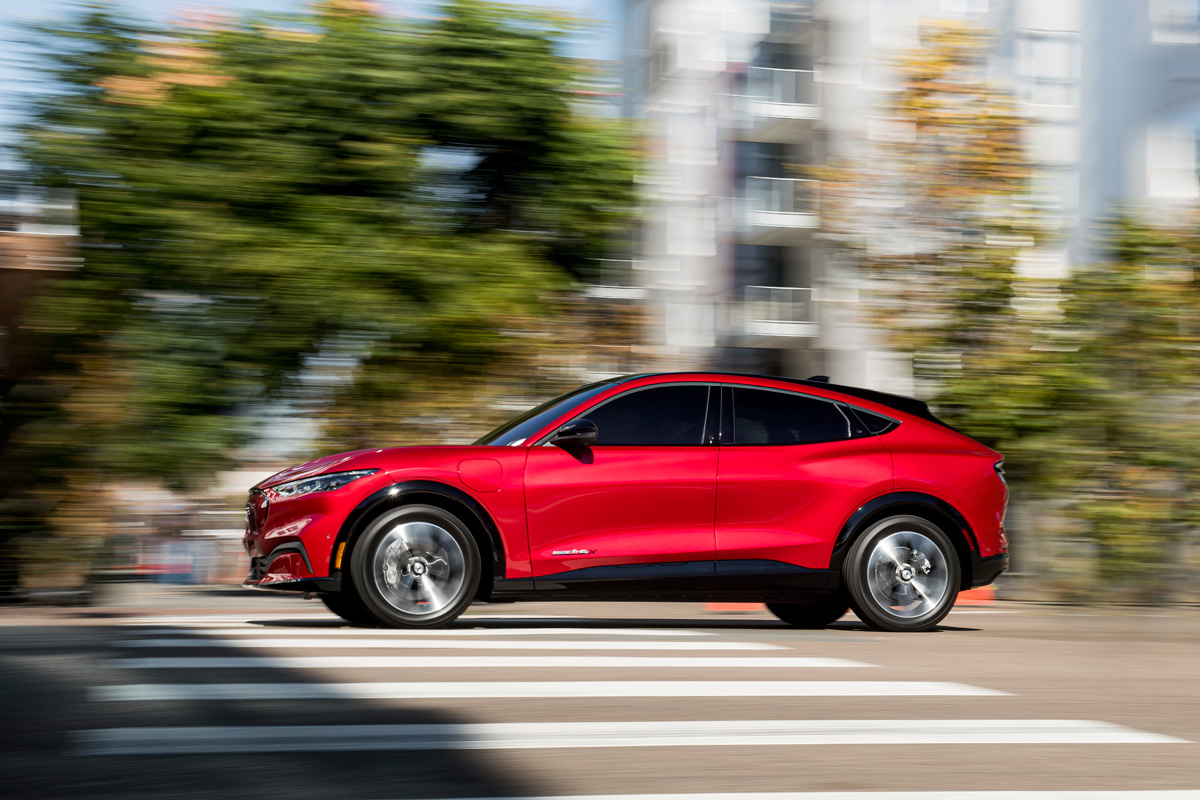 When you step inside the Mustang Mach-E, your eyes immediately fixate on the massive 15.5-inch screen that dominates the dashboard area. Much like Tesla, this is the heart of the beast, controlling virtually every aspect of the car. But where Tesla went ultra minimalistic, Ford left some physical switches and knobs for the most frequently used items, like a nice large volume knob to crank up the tunes on that kickin' 10-speaker B&O system.
One thing they overlooked were physical HVAC controls, with all of those functions controlled through the touchscreen. The only problem? You can't use the screen without removing your gloves, something I quickly discovered while driving in 30-degree weather. Anytime I wanted to adjust the temperature, fan speed, or seat warmers, I had to pull off one of my gloves to do so. More than a little annoying, to say the least.
As you can see from these photos, in contrast to Tesla's minimalistic interior, Ford added a few touches to give their car's interior a bit more warmth. Instead of a sea of black, you're greeted with a mixture of cloth, leather with contrast stitching, brushed metal strips, and carbon-fiber-look plastic trim pieces, and everything feels really polished and well put together. Ford also added a second screen behind the steering wheel that shows your speed and other important info, so you don't have to look away from the road. It's a nice touch.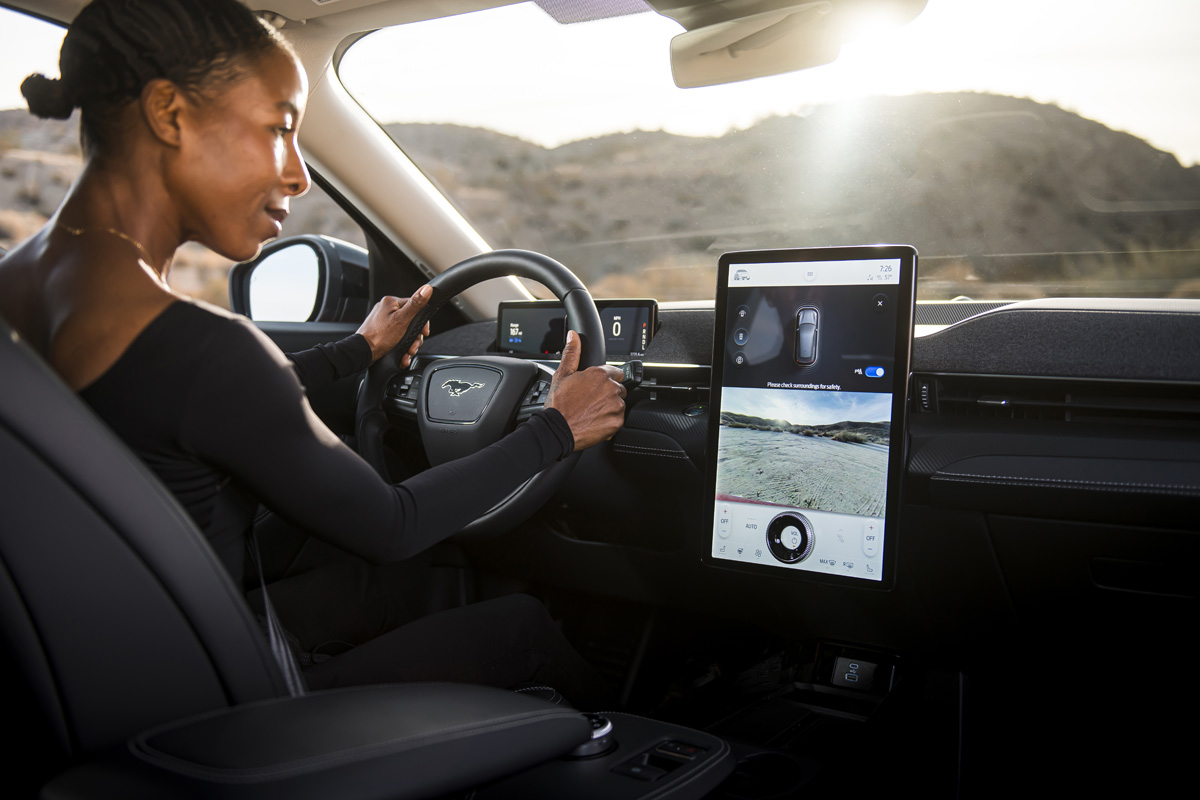 Telsa's user interface is pretty hard to beat, but Ford's new SYNC 4A system is right up there as well. The UI is very intuitive to use and the placement of everything is well thought out, except for the charging screen, which is buried a few levels deep. Wireless Apple CarPlay is included as well (something Tesla doesn't offer), though I found it to be a little sluggish at times, giving navigation directions after I passed the turn I was supposed to make. Hopefully that issue can be addressed with a software update.
Speaking of updates, Ford has outfitted the Mustang Mach-E with the ability to continuously improve through over-the-air updates, a game-changing feature Tesla first brought to market years ago. These over-the-air-updates are capable of enhancing vehicle performance, offering maintenance updates, and even adding entirely new features to keep things fresh. It should be interesting to see how Ford chooses to use this new capability.
Furthermore, Ford claims that the SYNC system actively starts adapting to you as soon as you start using it, using machine learning to quickly learn your preferences and make personalized suggestions. I didn't notice anything of the sorts, but I only had the car for a short period of time. I'm guessing that it might move more frequently used functions to the forefront of the screen for easier access, which sound interesting in theory.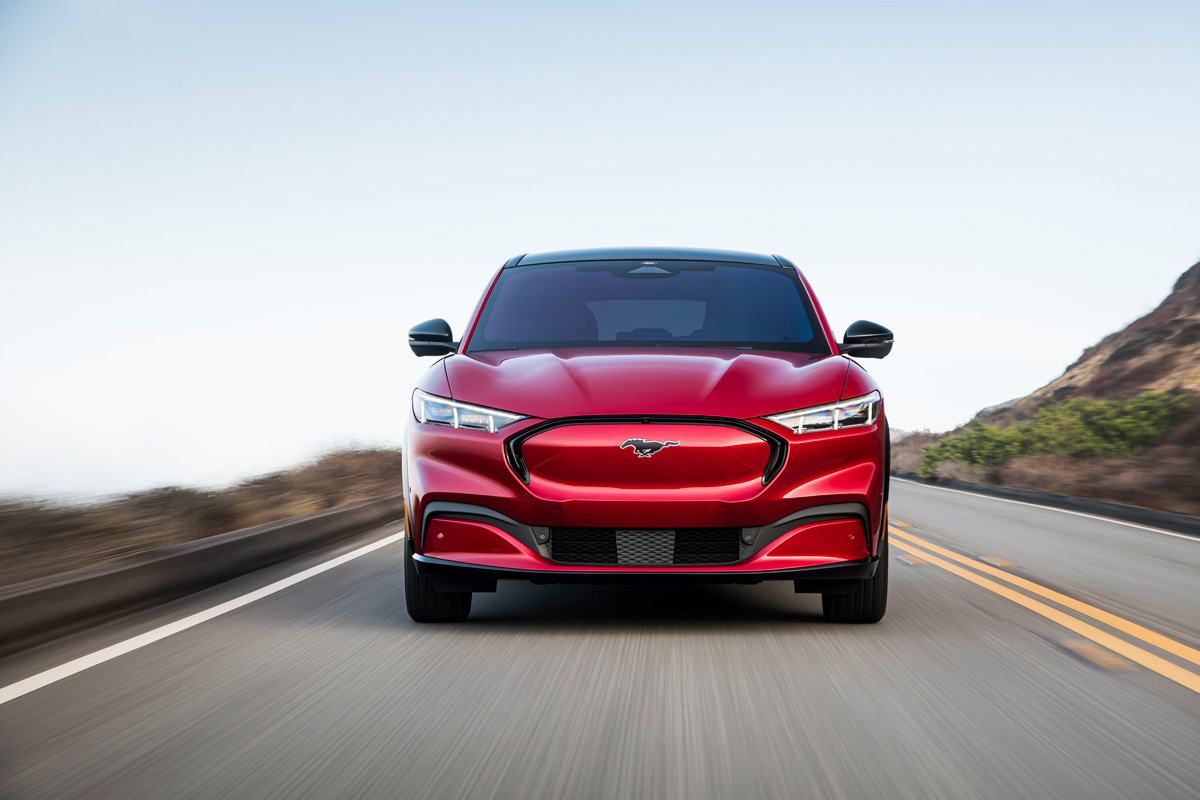 Now lets talk about performance. One thing that people don't realize about electric vehicles is that they can be seriously fun to drive, since EVs can deliver 100% of their torque right off the line without any build-up. In the case of the Mustang Mach-E, it delivers 346 HP and 428 lb-ft of torque, with a 0-60 time of 4.8 seconds for my AWD tester. While it didn't exactly pin me in the back of my seat, it was suitably quick for its size. (The real fun will be had in the upcoming GT Performance Edition, which delivers true Mustang numbers)
Where the Mach-E really surprised me was in the handling department. Despite the fact that I was piloting a 4,800-pound SUV, it felt positively sports car like, staying nicely planted in the corners with very little body roll, thanks in part to the placement of the batteries underneath, which gives the car a lower center of gravity and improves the handling. I pushed the car way beyond reasonable limits on some offramps, and it didn't miss a beat.
Ford dialed in the suspension nicely as well, offering a smooth and supple ride that is more comfortable than any Mustang I've ever driven. In most modes, steering felt great, not overly boosted and well connected to the road. But in Unbridled mode, it was actually a bit too stiff for my tastes. Braking is strong, and and the car's regenerative braking can be adjusted to your liking. I kept it on the normal brake setting, but you can set it for One-Pedal Driving if you prefer, where the car comes to a complete stop if you let off the gas.
Drivers can choose from 3 drive modes: Whisper ("Seamless drive, calm and quiet"), Engage ("Balanced drive, fun and engaging"), and Unbridled (Exhilarating drive, machine, and road align as one."). Naturally, I went for Unbridled mode, as it sharpened acceleration, reduced electric assist in the steering, delivered some artificial "engine" sounds, and added dynamic cluster animations tied to driving behavior.
When range started to become an issue for me (more on that below), I switched to Whisper, only to learn later that these modes have no effect on energy consumption. So it is strictly a preference thing, unlike gas-powered cars where you may have Eco, Normal, and Sport modes, which do affect mileage accordingly. I hope Ford will let you customize the settings for each mode in the future, as not everyone will want everything that goes along with each mode.
One thing a few people asked me about was that artificial "engine" sound in Unbridled mode. For whatever reason, this wasn't working in my tester. But judging from the few clips I saw on YouTube, that was probably a good thing, as it essentially pipes in some fake V8 engine noise into the cabin when you're accelerating. Now if someone could hack the system and make it sound like a Lamborghini, that I'd be into. 🙂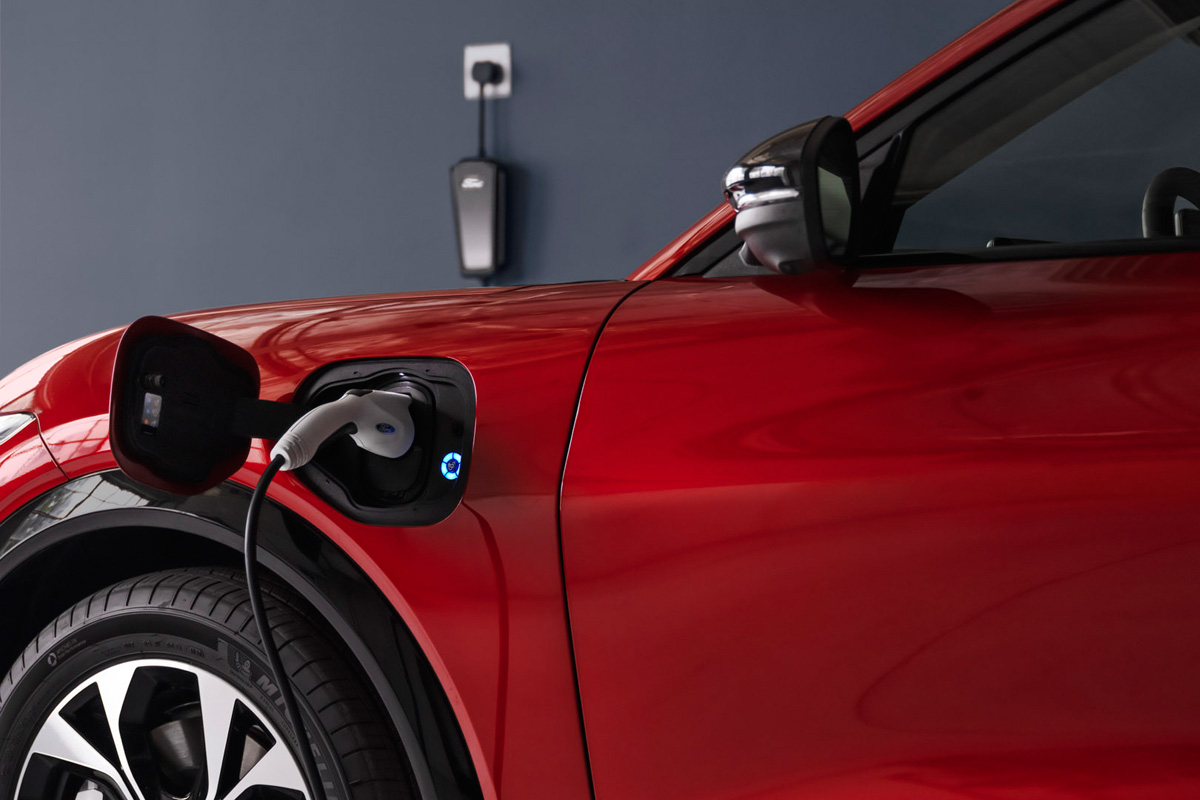 So far my review has been pretty positive, and that's how I felt for the first two days that I had the car. Until it came time to charge the car. Now Ford has touted some solid range & charging figures for the Mach-E, with my Ford Mustang Mach-E First Edition AWD tester advertising an EPA-estimated range of 270-miles, and the ability to add around 52-miles of range in approx. 10-minutes at an Electrify America DC fast charging station.
Unfortunately, my real-world experience numbers didn't come anywhere close to these! First off, the car was delivered to me with a 100% charge, yet the battery gauge on the dash showed just over 200-miles of range. Weather wasn't an issue (yet), as it was 62-degrees on the day I received the car. Over the next day, I put about 60 miles on the car, and the dash told me that I had 110 miles of range left. So I fired up the FordPass app and went in search of a charging station so I could "top it off", as I live in a condo and have nowhere to plug in.
Despite living in a pretty populous area, all the charging stations near me were slow-chargers that would require me to spend hours and hours there, and in inconvenient places that offered nothing to do while you waited. I remember reading that Ford had charging stations at their dealerships, but since it was Christmas Eve, my local dealership was already closed, and with the gates closed, offered no way for me to access their chargers (which I later found out were slow chargers as well, strange as that is).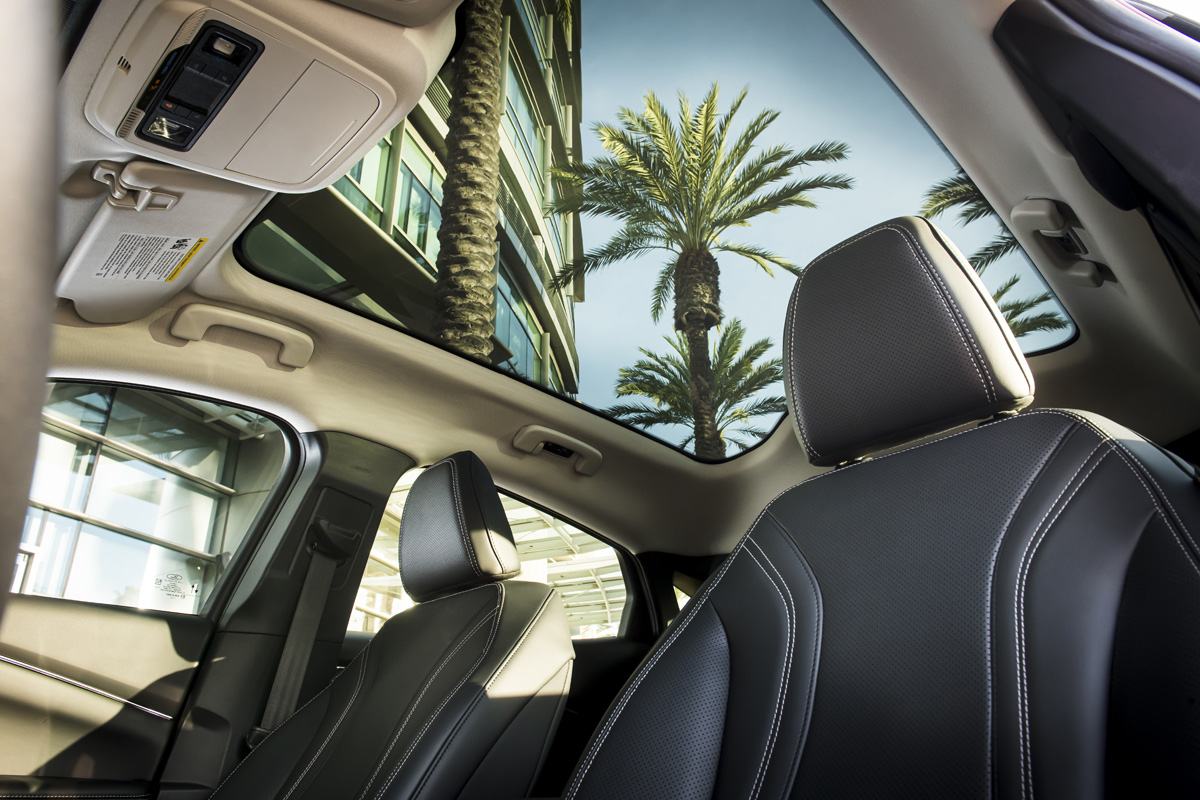 Running late for Christmas Eve dinner at a friend's house, I abandoned my charging plans and figured I would deal with it the next morning. I did some research and discovered an Electrify America fast-charging station about 10 miles away in a Target parking lot, so I made my way there on Christmas Day, expecting to spend 10-15 minutes to quickly charge the car back up to 80%, per Ford's marketing claims.
For whatever reason, it took nearly 3x as long to charge the Mach-E, with the charging station only delivering juice at 63kW, even though the sign said it was capable of up to 150kW, and me being the only person there. It's hard to say if the problem was with the station, with the car, or with the two communicating with one another, but regardless, I ended up spending over 30 minutes to get the car back up to 80%, and then went on my merry way.
Over the course of Christmas, I put on another 40 miles or so, taking friends for rides in the car and such. The following morning, I went back out to the car and saw that I had lost 30 miles of range overnight, likely due to the weather turning cold (around 30 degrees). In fact, the car had displayed a warning telling me to park indoors and plug in the night before, but that wasn't an option for me given my housing situation. Ugh!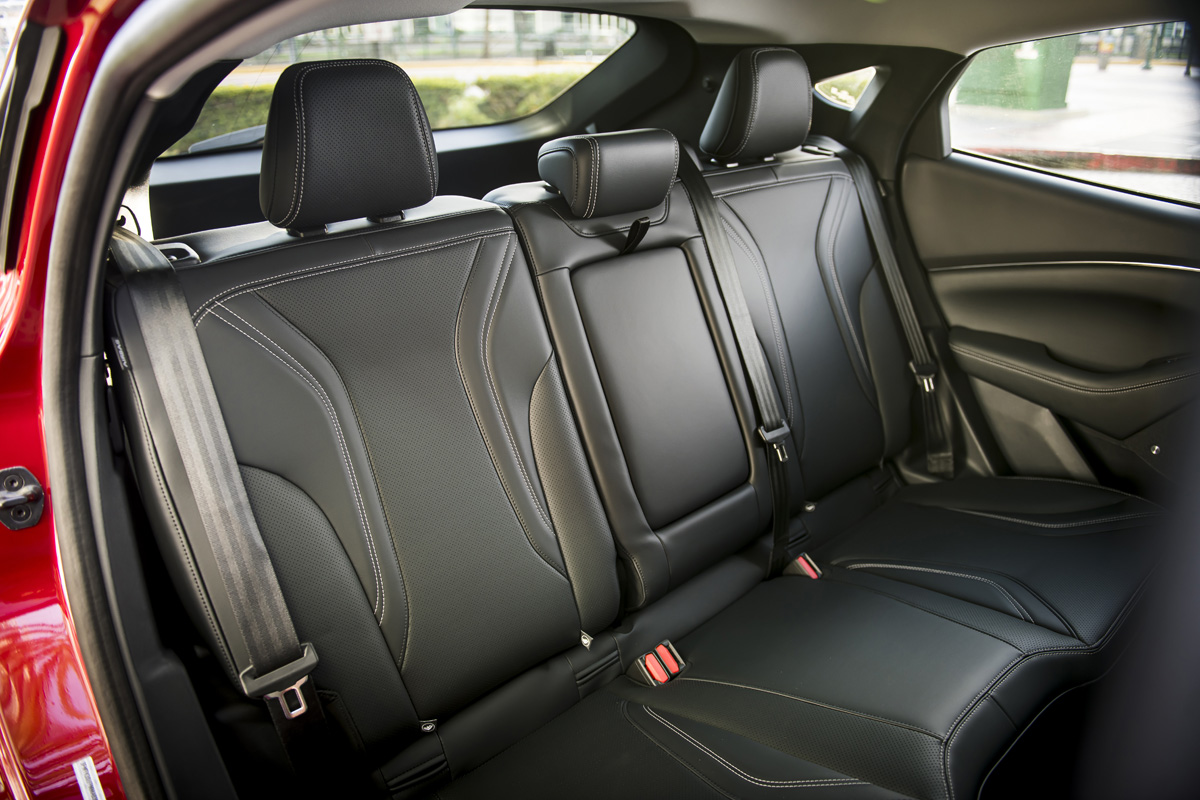 Even driving much more conservatively than before, the battery range on the Mustang Mach-E was dropping at an alarming rate, and I was forced to go back to that same EA fast-charging station a few days later to again power up. And this time, it took twice as long to charge, with the cold temperature slowing down the charging process even more. This time, I spent a full hour and change to get back to 80%. Thankfully, Target was open this time around, so I was at least able to kill some time indoors and warm up.
Up until this point, I was very excited about the Mustang Mach-E. The looks, performance, and fit-and-finish were all second to none. But the fact that the cold had such a profound effect on the battery range (with interior heating eating up 35% of energy at times) was a real buzzkill. Tesla got around the heating problem in the Model Y by outfitting it with a heat pump, as does the Nissan Leaf, Kia Soul EV, and others. Clearly, Ford needs to consider this as well.
And then there's the (non-Tesla) public charging infrastructure, which honestly leave a lot to be desired. It's easy for Ford to advertise access to "the largest public charging network in the country with more than 13,500 charging stations", but when the majority are slow chargers, it's less comforting. Slow chargers serve no real purpose to EV owners, unless they're staying at a hotel overnight and want to charge up while they sleep.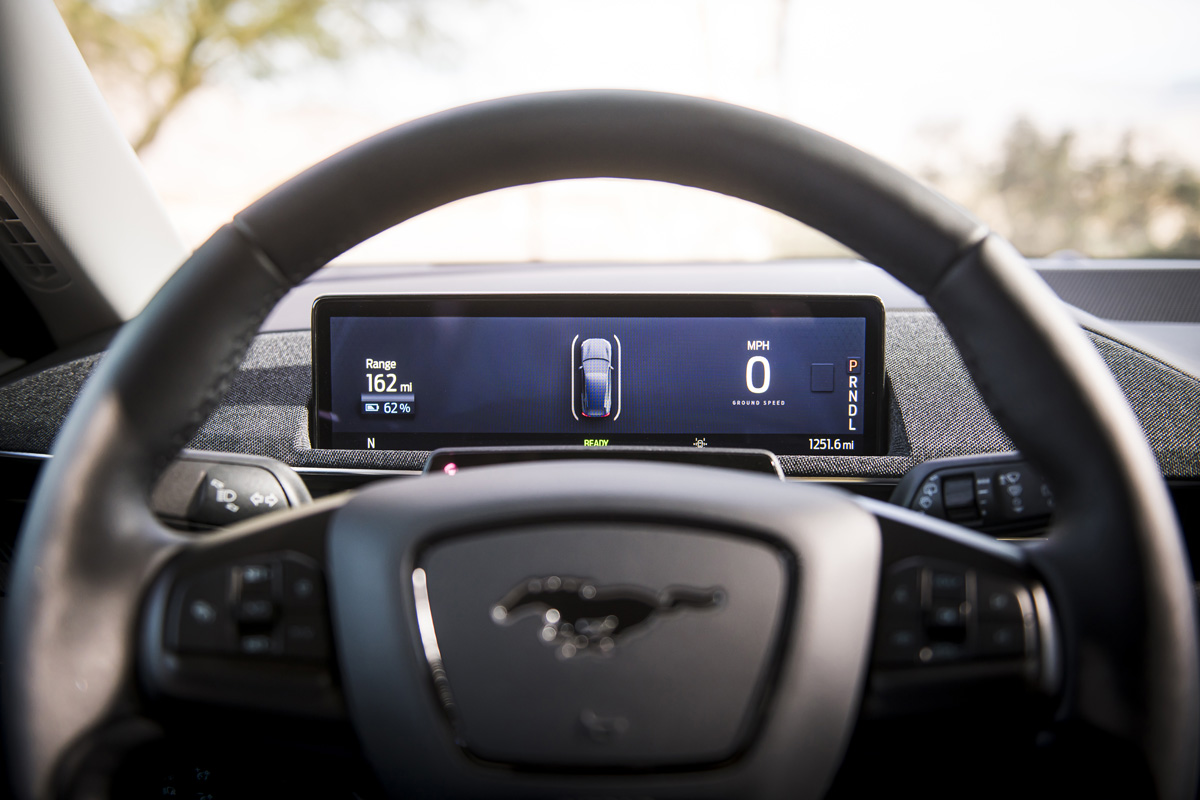 Honestly, I couldn't even fathom doing a long-distance trip in a Mach-E due to these charging issues. Not the case with my Dad's Tesla Model 3, which can do a 1,000+ mile trip from Florida to New Jersey without a problem, thanks to their robust Supercharger network. And therein lies the rub. While any of the automakers can make a great EV to compete with Tesla, they're still at the mercy of the haphazard charging infrastructure, which just isn't there yet.
Now if you are just looking for a car to drive around town, to and from work, and the likes, the Mustang Mach-E will get the job done just fine. But on a longer trip, range anxiety would still be a real concern of mine until fast chargers are more readily available, and those charging speeds become more reliable and consistent.
Overall, I really think Ford knocked it out of the park with the Mustang Mach-E. Should they have called this a Mustang? Hell no. But after spending nearly a week with the car, I've got to admit, they delivered a solid car on all accounts.. provided that you have a garage at home to charge the car overnight, a normal commute, and that you don't plan on doing any long road trips with it in the near future.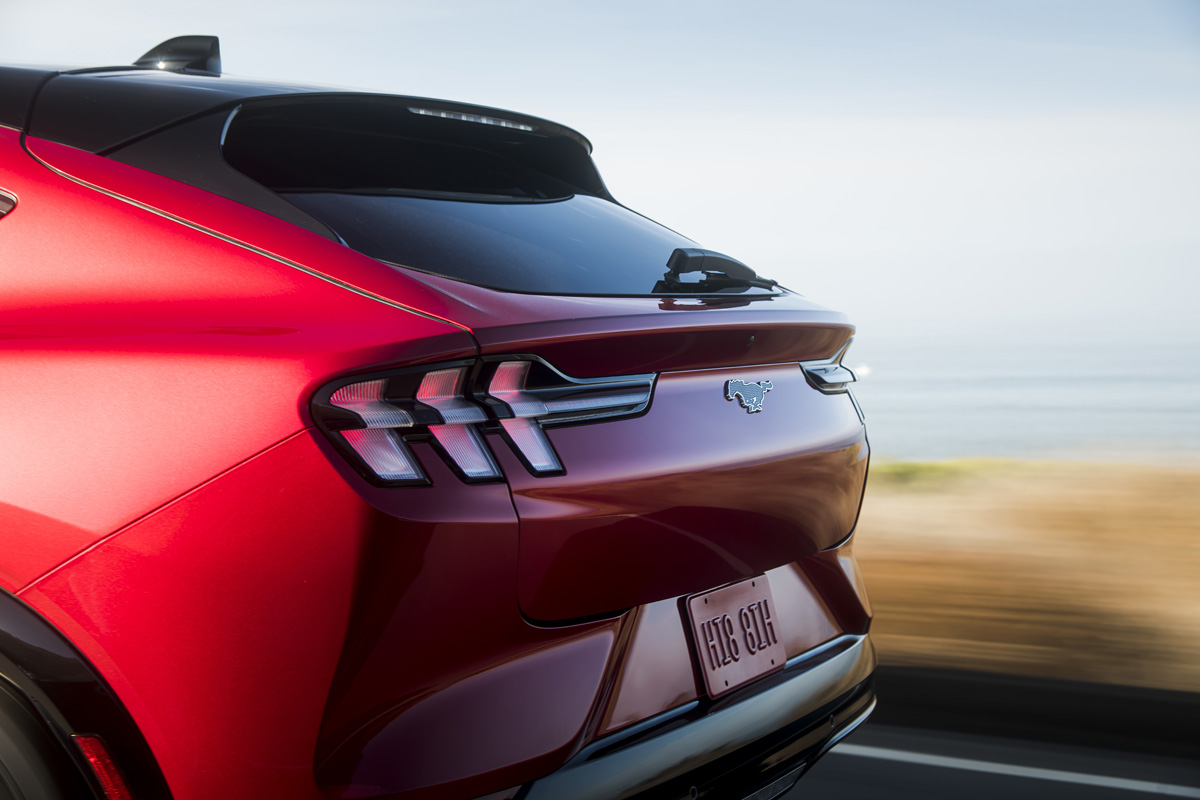 If that's the case, and you like the sounds of Ford's new all-electric SUV, the Mustang Mach-E might be just the ticket for you. The first batch of Mach-E's are headed to dealerships around the country as we speak, so if you're interested in checking one out for yourself, contact your local Ford dealership to see when they'll be getting one in.
Pricing for the 2021 Ford Mustang Mach-E starts at $42,895 (before eligible $7,500 federal tax credit) for a SELECT model, with our fully-loaded Mach-E First Edition AWD model tipping the scale at $58,300. As for the GT model (which will be available in late summer), that will have a starting price of $60,500.
If you've got any specific questions about the Mustang Mach-E that I can answer for you, be sure to leave a comment below!