2021 Lexus IS 350 F SPORT Proves That You Can Teach An Old Dog New Tricks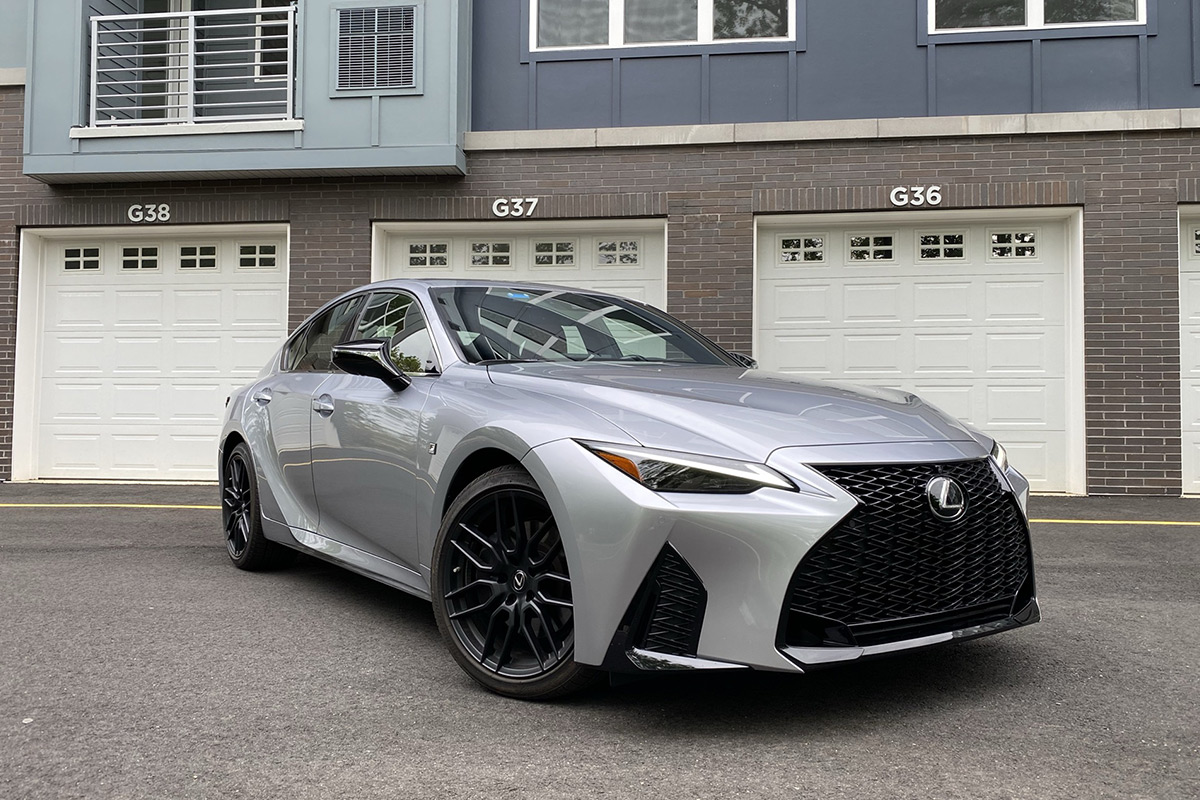 When the 2021 Lexus IS was revealed last June, I was more than a little let down, as they didn't introduce an "all-new" model as most had expected, but rather a second mid-cycle refresh for the third-generation IS, riding on the same platform from 2013. Sure, it's sporting some sleek new sheet metal and mechanical upgrades, but would that be enough to remain competitive?
To find out, we recently spent a week with the 2021 Lexus IS 350 F SPORT AWD. And let me tell you, it really exceeded our expectations on all fronts, with Lexus engineers working their magic to breathe some new life into this old dog. While it may not be perfect, it's damn close. The same can't be said for the Infiniti Q50, which hasn't changed much in 8 years.
Visually, the 2021 Lexus IS 350 F SPORT is quite the head turner, with designers smoothing out the profile, normalizing those quirky headlights, and introducing a larger grille. Out back, a singular taillamp runs the full length of the vehicle. Add in some more dramatic character lines, along with the F SPORT gloss black trimmings, and it really delivers an aggressive look. When it pulled up to my house, I was just blown away by its good looks.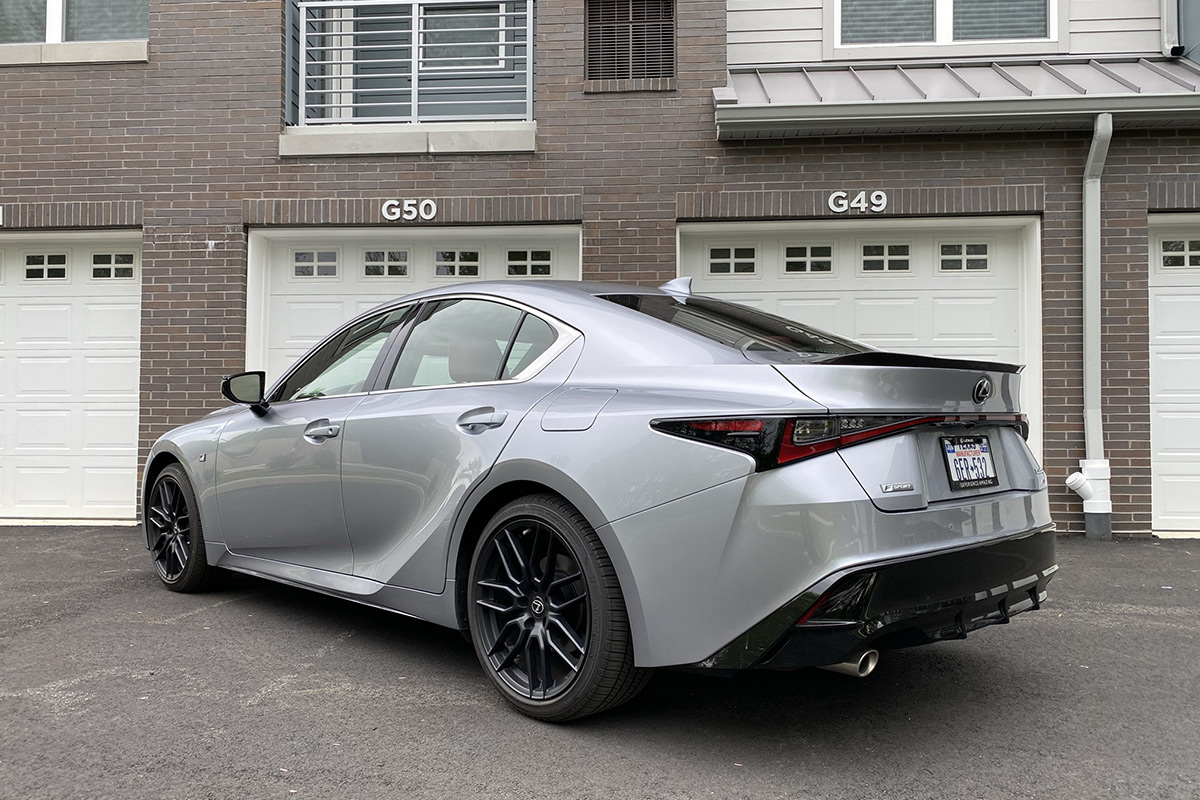 Sadly, Lexus didn't feel the need to give us anymore power, with the IS 350 F SPORT powered by the same naturally-aspirated 3.5-liter V6 engine from before, which puts out a respectable 311HP and 280 lb-ft of torque. With a 0-60 time of 5.6 seconds and a quarter-mile time of 14.2 seconds, it's decently quick, but those numbers pale in comparison to some of the competition, and the acceleration doesn't really pin you in your seat like you'd hope. The phrase "all show and no go" is how one friend described the car after getting a ride.
And therein lies the rub, as the Lexus IS 350 is the most powerful of the three engines offered, while the the 2021 BMW 430i / 330i offer similar performance numbers from its base models, with two more powerful offerings above that. In addition, the Genesis G70, Acura TLX Type-S, Infinti Q50 Red Sport 400 and others offer significantly more power at similar price points.
If I had to guess, I'd say Lexus purposely left things alone, as they didn't want the performance to encroach on their upcoming 472-horsepower Lexus IS 500, which comes out later this year. While that may be the case, an extra 25-50HP would have helped even the playing field a bit and made the car more competitive. But what's done is done.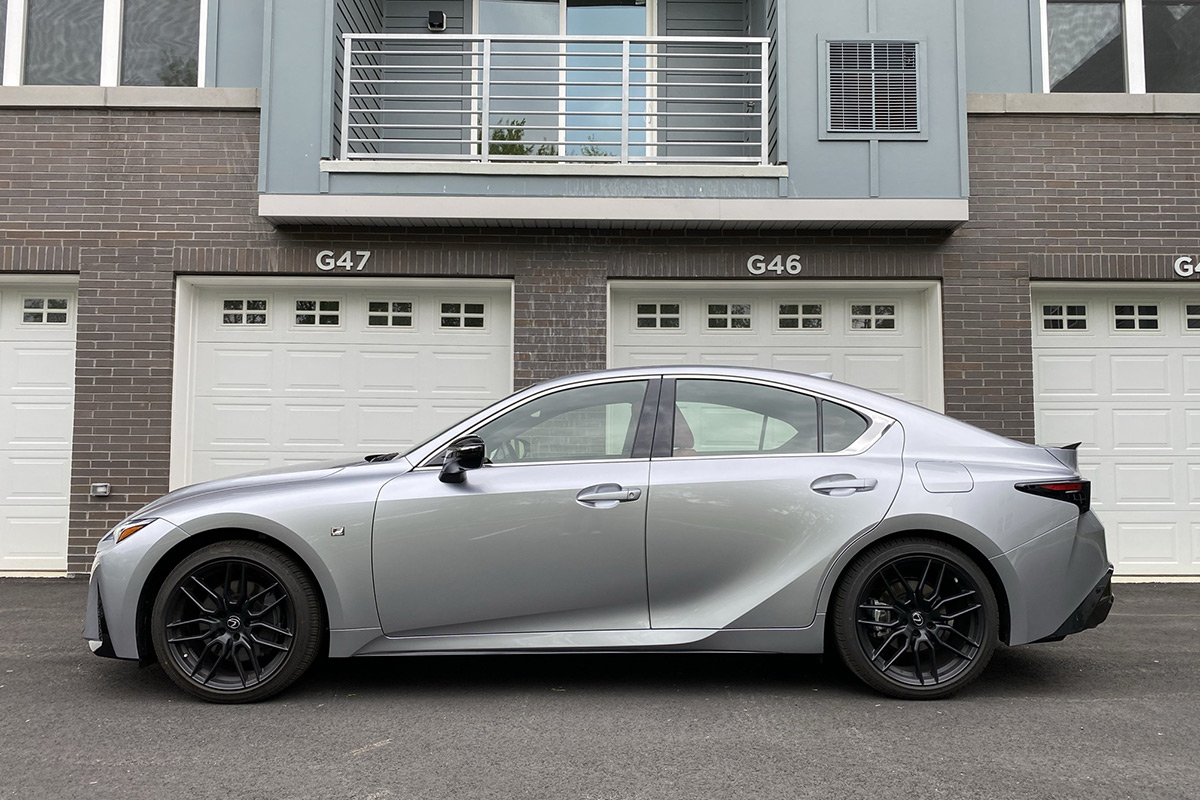 Where the 2021 Lexus IS 350 F SPORT really shines is on the road, with Lexus investing a lot of time and resources to improve the car's performance and handling. Rather than just throwing power at the problem, they instead focused on things like enhancing body rigidity, reducing unsprung weight and more. And let me tell you, these changes were immediately noticeable, so much so that what started out as a quick 15-minute drive to shoot some photos turned into an hour-long drive on some twisty back roads, a huge smile plastered on my face.
And if that weren't enough, our car was equipped with the $3,800 Dynamic Handling Package, which includes lightweight 19-inch BBS wheels, adaptive dampers, and a Torsen limited-slip rear differential, which just dialed up the fun another notch. Find your favorite twisty canyon road, throw this bad boy into Sport S+ mode, and get ready for some fun! (Just ignore the fake piped in engine noise that you get in S+)
My only knocks on the car is that the transmission is a bit sluggish (possibly exasperated by the six-speed automatic that comes in the AWD models, versus the eight-speed in the RWD models), and that it could really use some more power. But otherwise, this is one of the most engaging Lexus cars that I've ever driven, and I can only imagine what the IS 500 will be like with this brilliant setup and all of that extra power under the hood.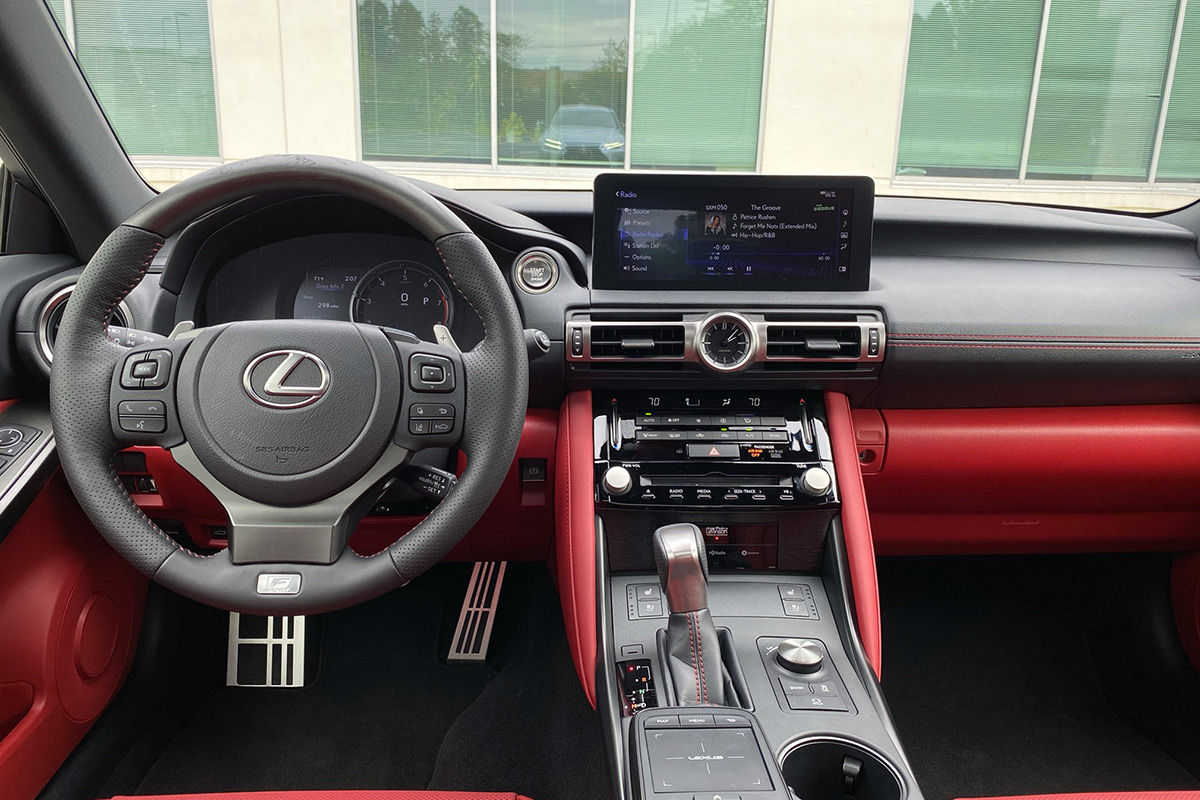 Step inside the Lexus IS and you're greeted by a familiar sight if you've driven one before, as it is essentially a carry-over from the old model, complete with the maddening touchpad for the infotainment system. Thankfully, the optional 10.3-inch touchscreen (8-inch screen standard) lets you bypass the touchpad entirely, and it's located closer to the driver for ease of use.
With Apple CarPlay, Android Auto, and Amazon Alexa functionality included standard on the IS, you have access to everything you need.. assuming you have your charging cable with you, as wireless CarPlay isn't available. There's also not a great place to place your phone up front, as the center stack layout is a little cluttered. So I just put my phone in one of the cupholders.
Our car's Circuit Red interior and ash wood-trimmed heated steering wheel definitely gave the interior a sporty vibe, and the 10-way F SPORT seats (heated/ventilated) were nicely bolstered, keeping me in place during spirited driving while still offering great comfort. The 17-speaker Mark Levinson audio system sounds amazing as always, and I was rocking out to my favorite tunes all week. All in all, a nice place to spend your daily commute.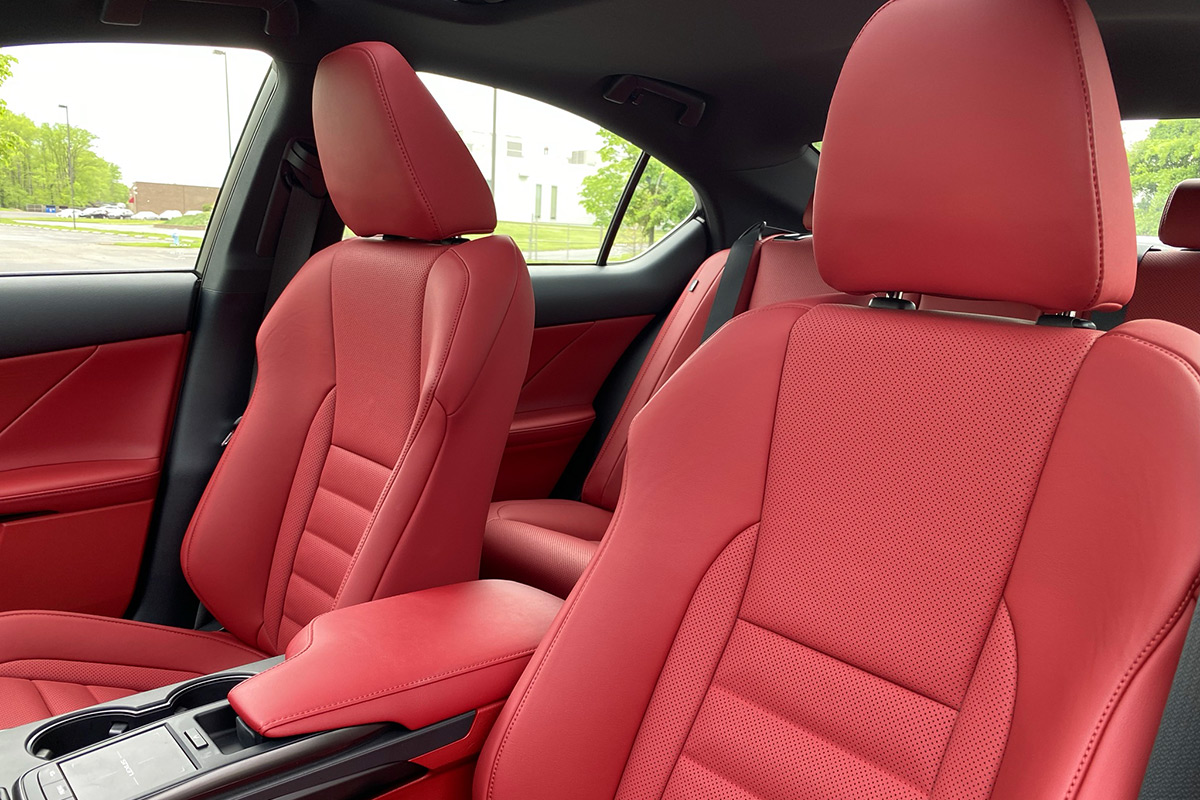 Overall, there's a lot to like about the new 2021 Lexus IS 350 F SPORT. Lexus did a great job in delivering a car that offers comfort and luxury when you want it, and sporty performance with the simple twist of a knob. I've been a big fan of the IS since the model first launched, and I'm thrilled to see it finally getting back to its roots.
If there's but one shortcoming with the new IS, it's the price. The 2021 Lexus IS 350 F SPORT AWD has a starting price of $44,900, while our well-optioned car came in at a hefty $56,790. There's a lot of competition at that price point, so it should be interesting to see how it fares over the coming months.
The 2021 Lexus IS 350 is at dealerships now, so if you're in the market for a fun-to-drive sport sedan, you should definitely take one for a test drive and experience amazing for yourself.
What do you think of the 2021 Lexus IS 350 F SPORT?