2021 BMW 430i xDrive Coupe Is An Amazing Car.. If You Can Get Past That Grille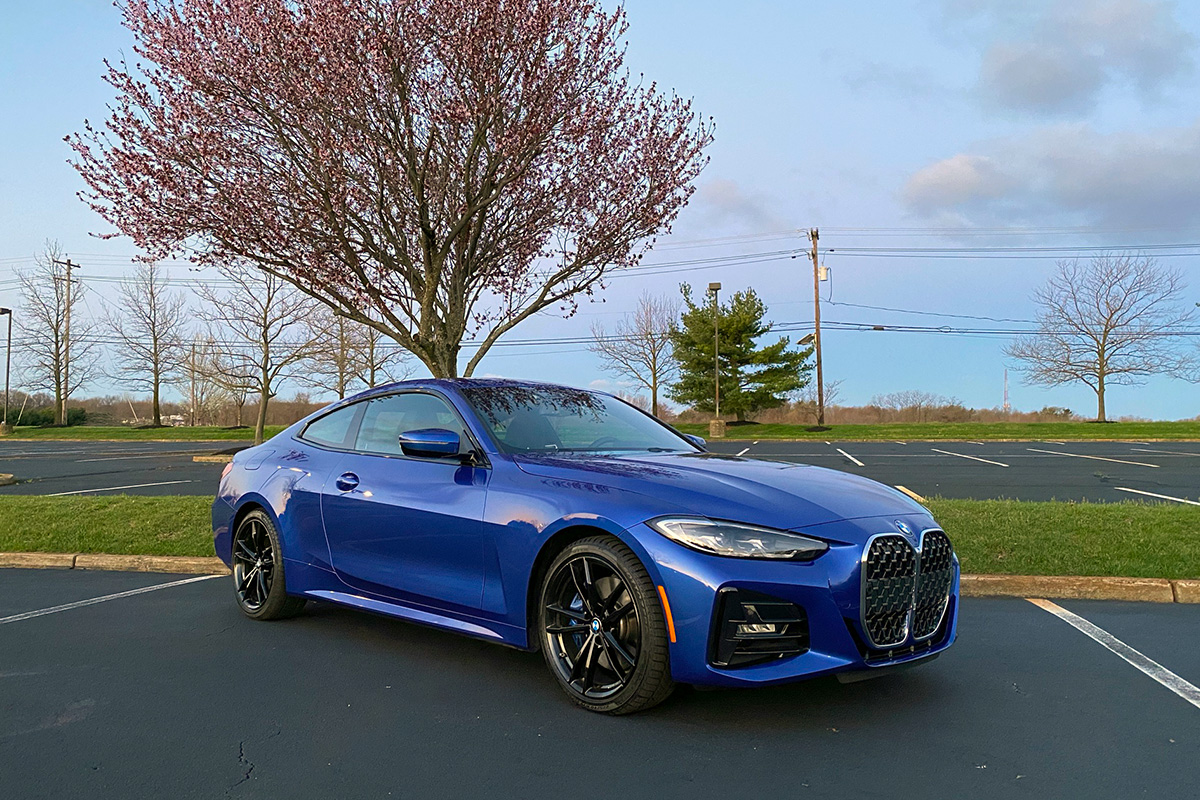 When the new BMW 4 Series Coupe was revealed last year, I was more than a little taken back by the giant kidney grille that the new model was sporting. And I wasn't the only one who had strong opinions about the new look, with BMW enthusiasts and automotive journalists alike blasting the German automaker mercilessly over this atrocity. But the company didn't waiver, claiming that the "striking front end" of the car was needed for cooling purposes.
Regardless, I was willing to look past the grille to see how the rest of the car measured up, as I've always been a fan of BMWs. And after spending a week with the 2021 BMW 430i xDrive Coupe, I can tell you that they absolutely knocked it out of the park, delivering one of the best sports coupes that I've driven in a long time.. so much so that I'm considering buying one for myself in the near future.
Ironically, when I heard that I was getting the BMW 430i and not the more powerful M440i, I was expecting a poser car with ho-hum performance, as 255-horsepower doesn't really sound like much power in this day and age when you can buy a Toyota Camry V6 with 300 HP. But I have to give the engineers at BMW credit, as they worked their magic and delivered a gem of an engine that feels waaaaaaay more powerful than its numbers might suggest.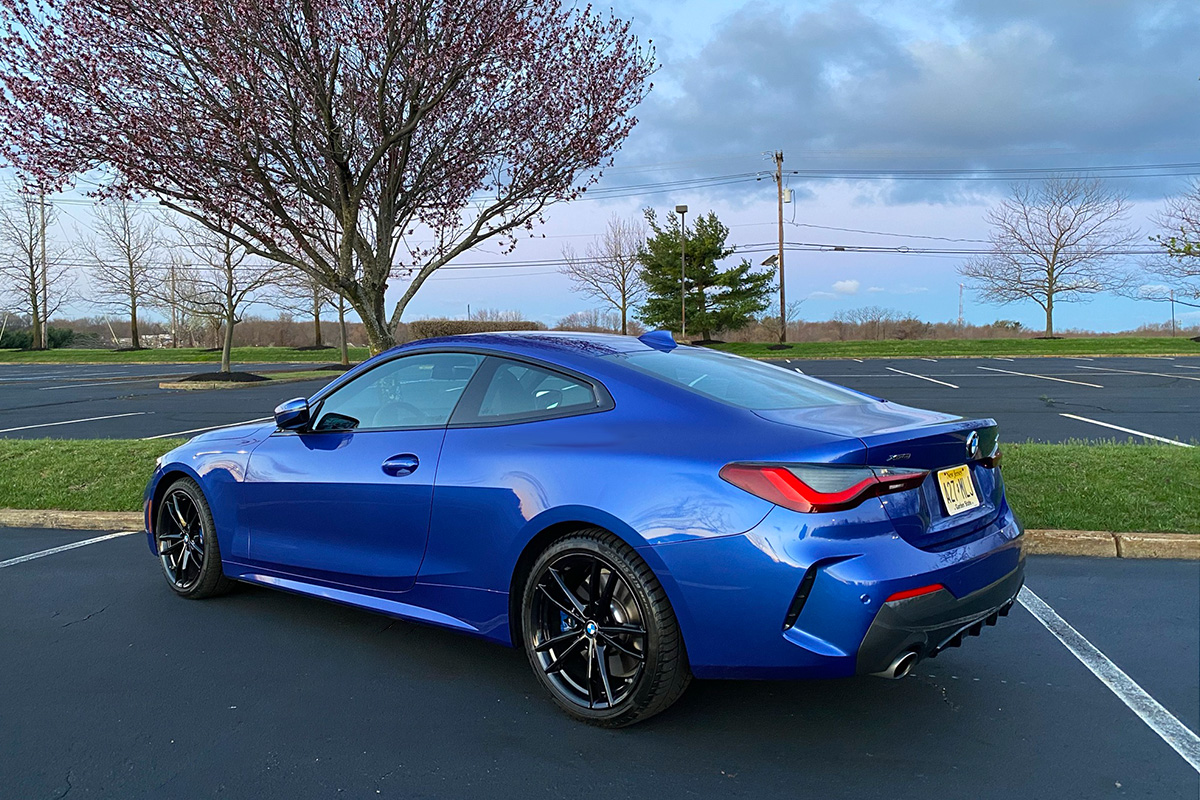 Powering the 2021 BMW 430i xDrive Coupe is a B46 2.0-liter 4-cylinder turbocharged engine that delivers 255HP (an increase of 7HP over the outgoing model) and 294 ft-lbs of torque (an increase of 36 ft-lbs), good for a 0-60 time of 5.3 seconds. What's more, that torque kicks in at just 1,500 rpm, so power delivery is pretty much instantaneous. Boost lag is non-existent. Just mash down the gas pedal and hold on tight as it effortlessly races towards triple-digit speeds.
The 430i xDrive sends that power to the ground through a standard 8-speed sport automatic transmission with launch control (you've got to step up to an M4 if you want a manual), and our car was optioned with the M Sport differential (standard on M440i), which helps improve traction by equalizing drive torque between the left and right rear wheels under acceleration. It also works with the DSC Stability control system to reduce unwanted understeer.
As someone who lives in the Northeast and sees their fair share of inclement weather, the fact that you can get the BMW 430i with xDrive all-wheel drive is a godsend, making it a truly all-weather car. The xDrive system offers rapid, precise and fully variable distribution of torque between the front and rear wheels. But in clear driving situations where all-wheel drive isn't needed, all the power is directed to the rear wheels, giving you the best of both worlds.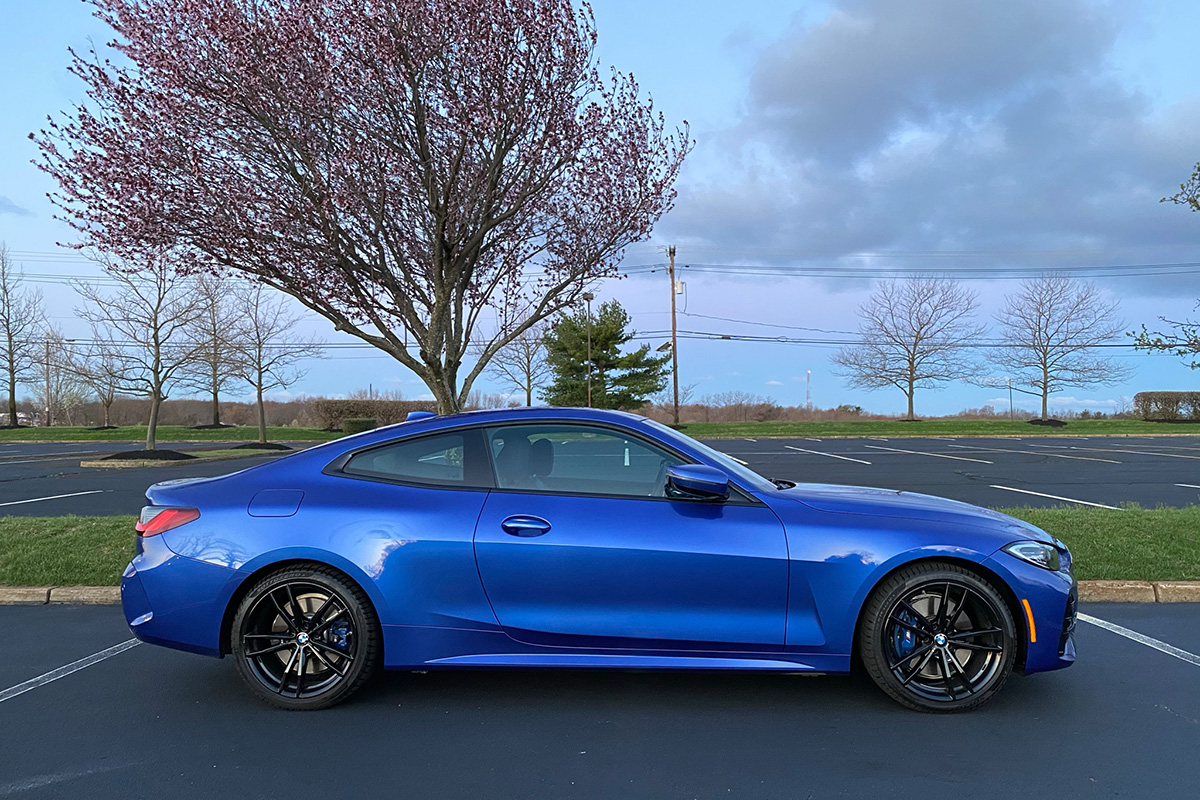 Handling wise, the 2021 BMW 430i xDrive isn't quite as razor sharp as some enthusiasts would like, but it's still very agile and precise – just without the punishing ride that you find in the M models. Given that this car is being marketed to regular people who are looking for a fun daily driver, I think they found the perfect blend of sporty and compliant, with the optional Adaptive M Suspension letting you vary the dampening on the fly, from the well-balanced long-distance comfort of COMFORT mode through to the highly dynamic set-up activated in SPORT.
For those looking for an even more engaging drive, the optional M Sport suspension (standard on the BMW M440i xDrive) features firmer spring settings, stiffer bushings and mounts, firmer anti-roll bars and a greater negative wheel camber. While our car wasn't equipped with this, it sounds like these parts should address the complaints people have about the softer ride.
Steering feel on these cars is fantastic, with plenty of feedback from the road despite being an electric power steering system, and the Variable Sport steering makes it easy to maneuver at low speeds without much effort. The optional M Sport Brakes feature vented disks with four-piston front fixed and single-piston floating rear calipers, and they stop on a dime. As for the tires, my car should have had 19″ performance non-run-flat tires, but my tester came wearing winter tires due to the time of year and such.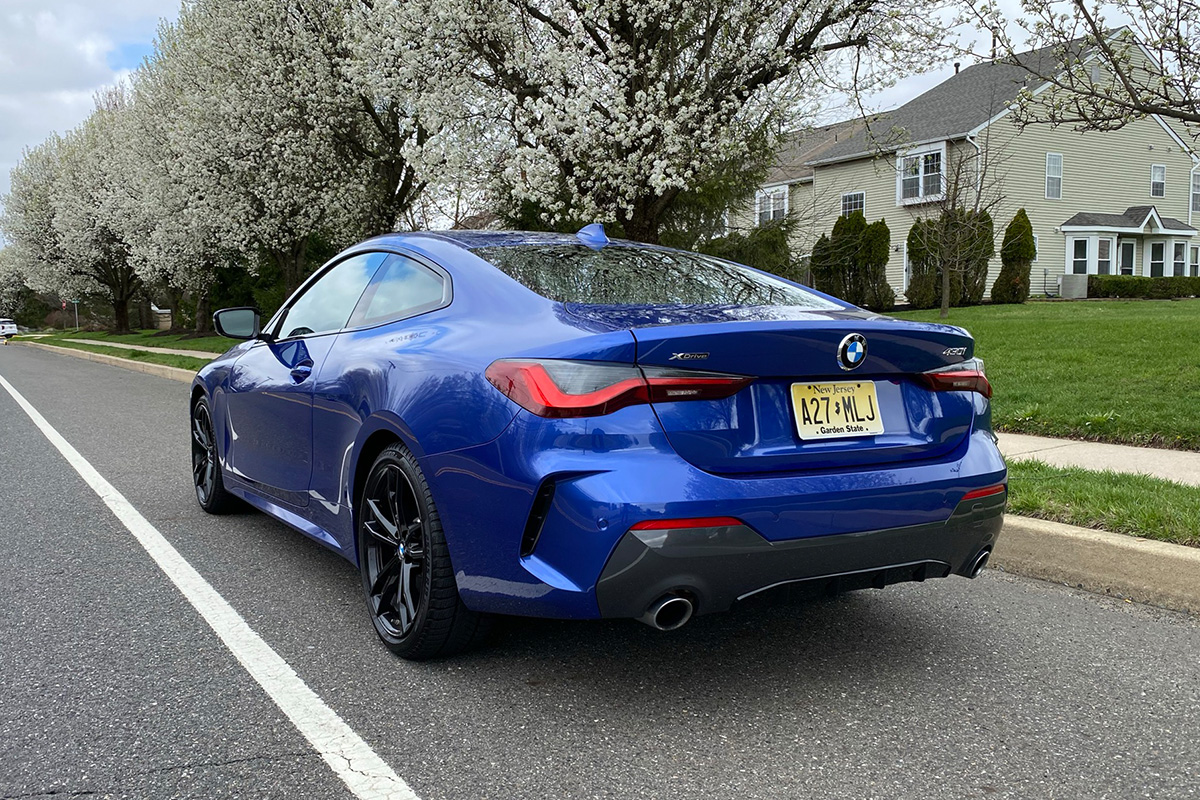 Visually, BMW took a big chance on the new 4 Series, as they'd gotten a ton of pushback when they released the Concept 4, and many thought they would reconsider the controversial grille. But they stuck to their guns, and I got a wide variety of reactions during my week with the car. Surprisingly, many of my friends actually liked the car's looks, drawing comparisons to Alfa Romeo, Maserati, and others. Guess what all those cars have in common? Large grilles.
But the reaction was vastly different at my local Cars and Coffee, with people up in arms over the new styling. As for me, I really didn't like the front-end treatment initially… but by Day 5, it had really started to grow on me, as much as I hate to admit it. Or maybe it's just because I loved how it drove that I started to get over the looks, I'm not really sure.
That said, the rear of the car is a little confusing to me, looking less like a BMW and more like an Acura TLX or Lexus RC. It's not bad looking per se (though it's pretty heavily stylized with the diffuser and vents and such), it's just quite a departure from the previous model.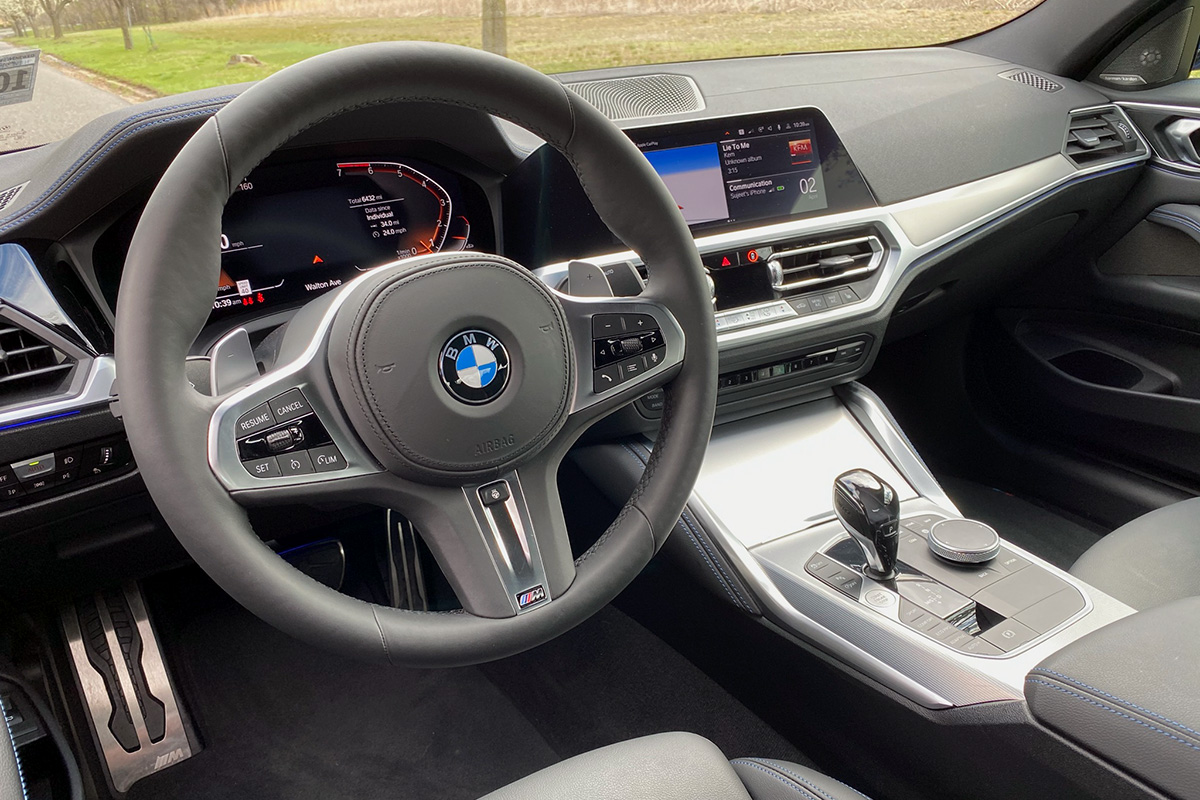 The interior of the 2021 BMW 430i xDrive is very driver-focused, with everything well within reach and easy to navigate. While the cabin isn't quite as fancy as the competition, it's still a nice place to call home. 10-way power sports seats hold you in place during spirited driving, while still being super comfortable over long distances. The Premium Plus package adds a heated steering wheel, keyless entry, lumbar support, heated front seats, ambient lighting, a head-up display, and Live Cockpit Pro.
BMW's iDrive 7 infotainment system is very easy to use, and you can interact with the system in a variety of ways, either using the iDrive controller, touchscreen, multifunction buttons on the steering wheel, or by saying "Hey BMW" and using BMW's Intelligent Personal Assistant. With Live Cockpit Pro, you get an upgraded 10.25 inch center touchscreen control display and a fully digital 12.3 inch instrument display, along with navigation.
Wireless Apple CarPlay and Android Auto are included, though ironically wireless charging is a $500 option. SiriusXM with 360L and WiFi Hotspot are also standard. As you might expect, there's a ton of safety features that also come standard, including Active Guard, Active Driving Assistant, and Active Protection.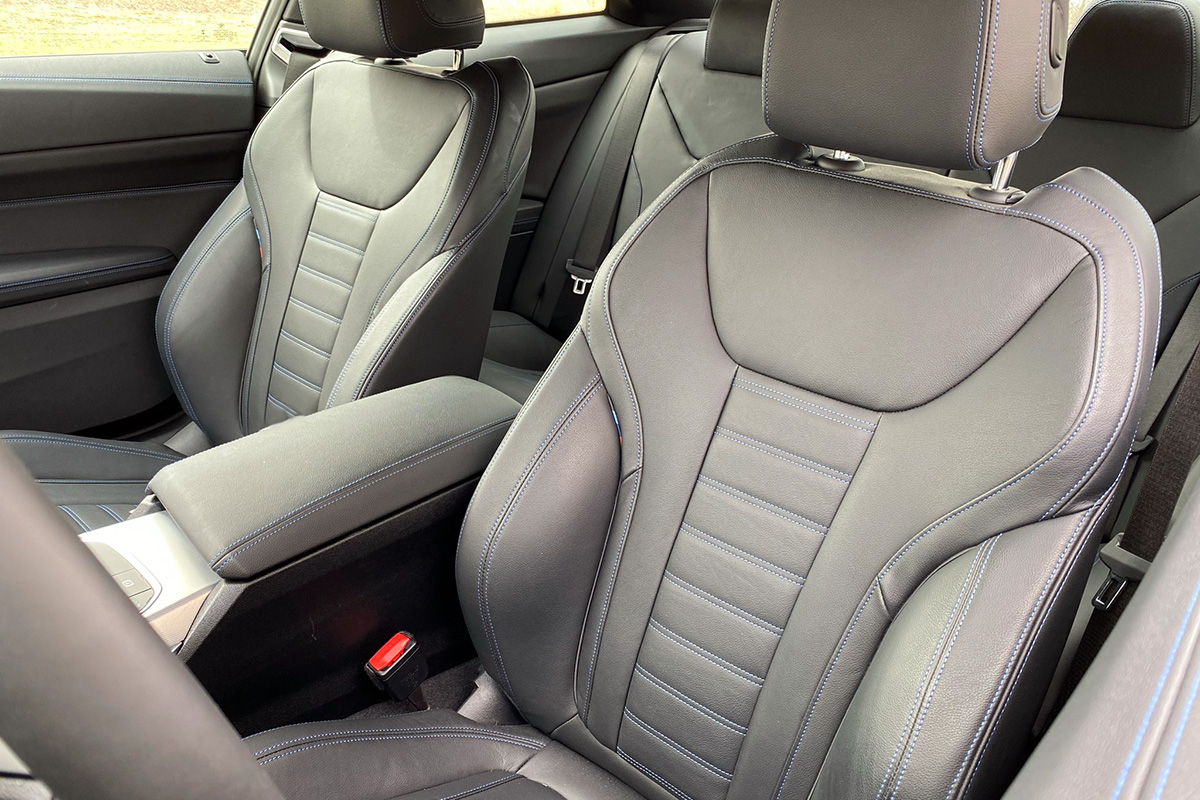 Overall, I was really impressed with the 2021 BMW 430i xDrive Coupe during my week with it, and it improves on the outgoing model in every way. While I understand that the new styling might not be for everyone, as a former naysayer myself, I encourage you to drive the car before writing it off, as it's just a terrific little car that checks off all the boxes.
My one big issue with the car is the price. While the 2021 BMW 430i xDrive has a base price of $47,600, our well-optioned tester came in at a whopping $61,220. That's a lot of money for a "base model" 4 Series, considering that the M440i xDrive Coupe starts at $58,500 and it comes with way more power (382HP and 364 ft-lbs of torque), along with a ton of standard features. Something to think about if you start checking off option boxes and see the price ballooning.
The 2021 BMW 430i competes in a crowded space, facing off against the likes of the Mercedes-Benz C-Class, Audi A5, Lexus RC, Infiniti Q60, and more. But even against all of those, I feel like this BMW is truly the Ultimate Driving Machine.