2021 Mercedes-AMG E63 S Wagon Delivers Supercar Fun For The Whole Family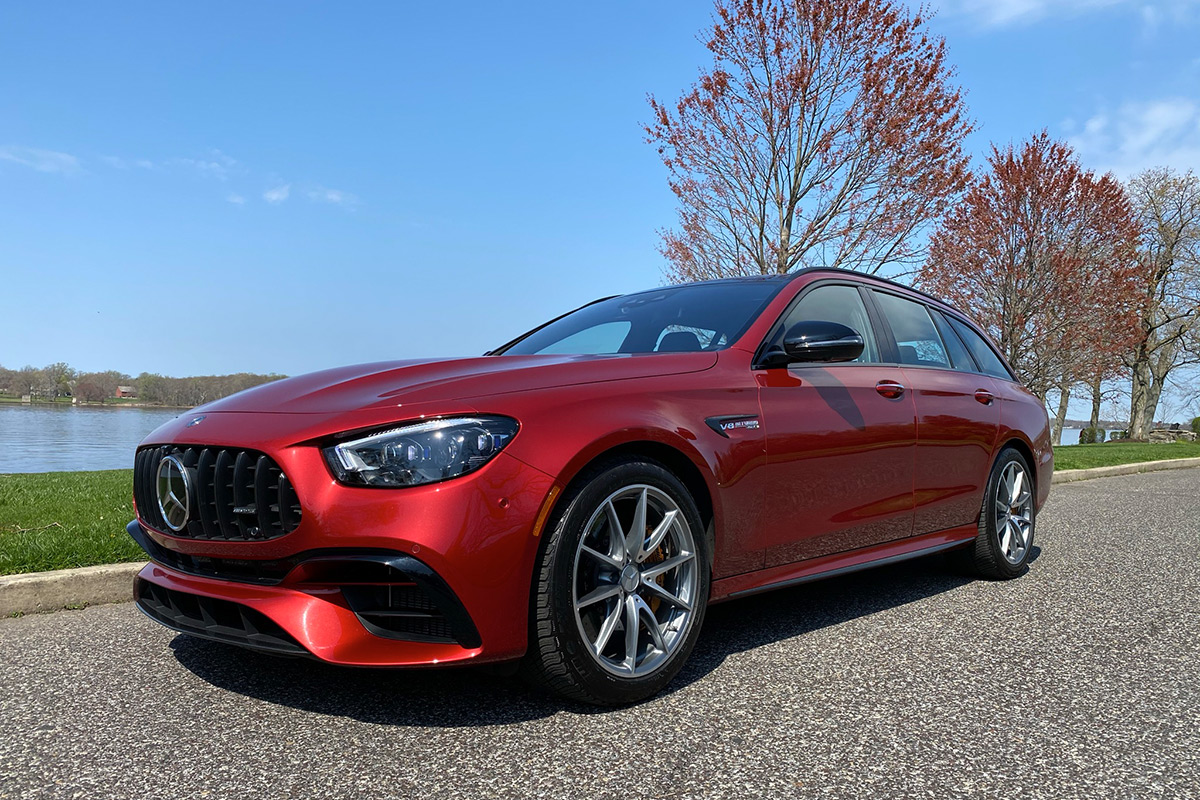 At first glance, the 2021 Mercedes-AMG E63 S Wagon might look like your ordinary, run-of-the-mill station wagon. But if you look closer, you'll notice a few things that stand out, like its hunkered down stance, those 20-inch forged wheels, quad-exhaust tips out back (that emit a menacing note), and tons of carbon fiber. Yes, this isn't an ordinary wagon, not by a long shot.
Beneath this "responsible" exterior lies a supercar in sheep's clothing, with a twin-turbo 4.0L V-8 engine under the hood that puts out an incredible 603 horsepower and 627 pound-feet of torque, mated to a fast-shifting AMG-tuned 9-speed automatic transmission. AMG's 4Matic+ all-wheel-drive system deliver that power to all four wheels for optimum traction. Talk about the ultimate sleeper, am I right?
The idea of a station wagon that can rocket from 0-60 mph in 3.4 seconds and can top out at 180 mph (electronically limited) might seem absolutely ludicrous. But it's really no different than super SUVs like the Lamborghini Urus, Range Rover Sport SVR, or Jeep Grand Cherokee Trackhawk, which all deliver similar performance numbers. But driver engagement, handling, and all of that fun stuff? That's a whole other story.
When you're behind the wheel of the 2021 Mercedes-AMG E63 S Wagon, it's easy to forget that you're driving a wagon unless you look in the rear view mirror. It drives like a proper super car, low to the ground, with breakneck acceleration, lightning-quick shifts, carbon ceramic brakes that stop on a dime, handling like you wouldn't believe, and a rhapsodic exhaust note.
But unlike your traditional Ferrari, Lamborghini or McLaren supercar, which only have seating for you and a passenger, the Mercedes-AMG E63 S Wagon has room for the whole family! Not to mention how practical it is. This "superwagon" can smoke a Dodge Challenger Hellcat at a red light, take the kids to soccer practice (where you'll be the envy of every Dad), and it has enough room in the trunk for 20+ bags of mulch from Home Depot.
Honestly, after spending a week with this car, I couldn't understand why wagons went the way of the dinosaur when SUVs came around (save for the Subaru Outback and Volvo V60/V90), as they offer the best of both worlds, delivering that car-like driving experience, with the cargo space of a sports utility vehicle. And they get better gas mileage to boot.. unless you're driving a 600HP wagon like this, in which case mileage goes right out the window. 🙂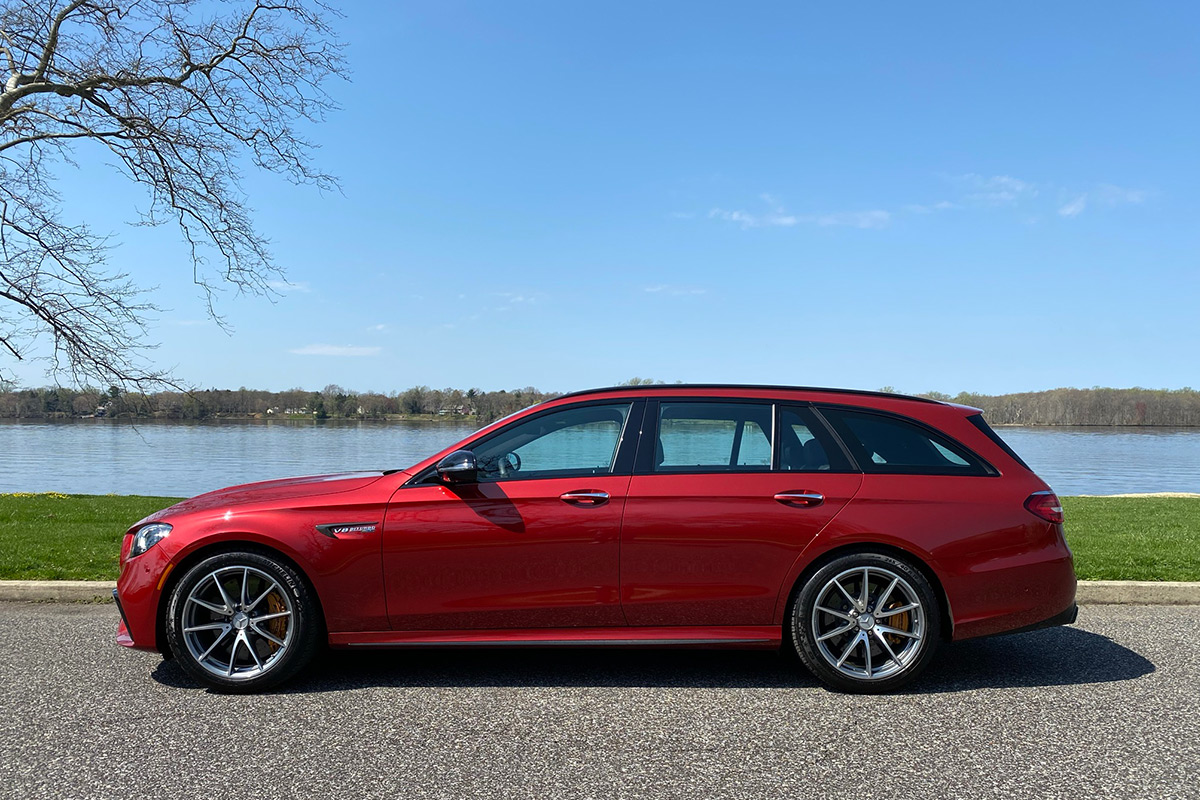 While the current-generation E63 S Wagon first arrived in 2018, it's received extensive updates for 2021 both inside and out. Up front, there's a completely restyled front fascia, with vertical slats and a larger central star, along with flatter, LED multibeam headlamps, aggressive flared wheel arches and a rounded-fit hood with twin power domes. The reshaped front bumper in a jet-wing design with three large, functional air intakes and a front splitter not only enhances the overall proportions and also significantly reduces lift at the front axle.
Out back, two new, flatter tail lights immediately catch the eye, now extending into the trunk lid, where they are visually linked with a trim strip in high-gloss chrome on top. The spoiler lip on the lift gate of the Wagon is painted in the color of the vehicle or is available in carbon fiber with the optional AMG Carbon-Fiber Package II.
The reshaped rear bumper emphasizes the broad width of the Wagon and also has a positive effect on aerodynamics. The lower part is high-gloss black and is structured with a silver trim strip running along the entire width of the car, taking up the contour of the reshaped twin-tailpipe trims. (This trim strip is available in high-gloss black with the AMG Night Package or in carbon fiber with AMG Exterior Carbon-Fiber Package I) The rounded 3.5-inch trapezoidal twin tailpipes have a titanium matte finish with fluting on the inside and outside. The rear section is rounded off by a high-gloss black diffuser, also restyled, with two longitudinal fins.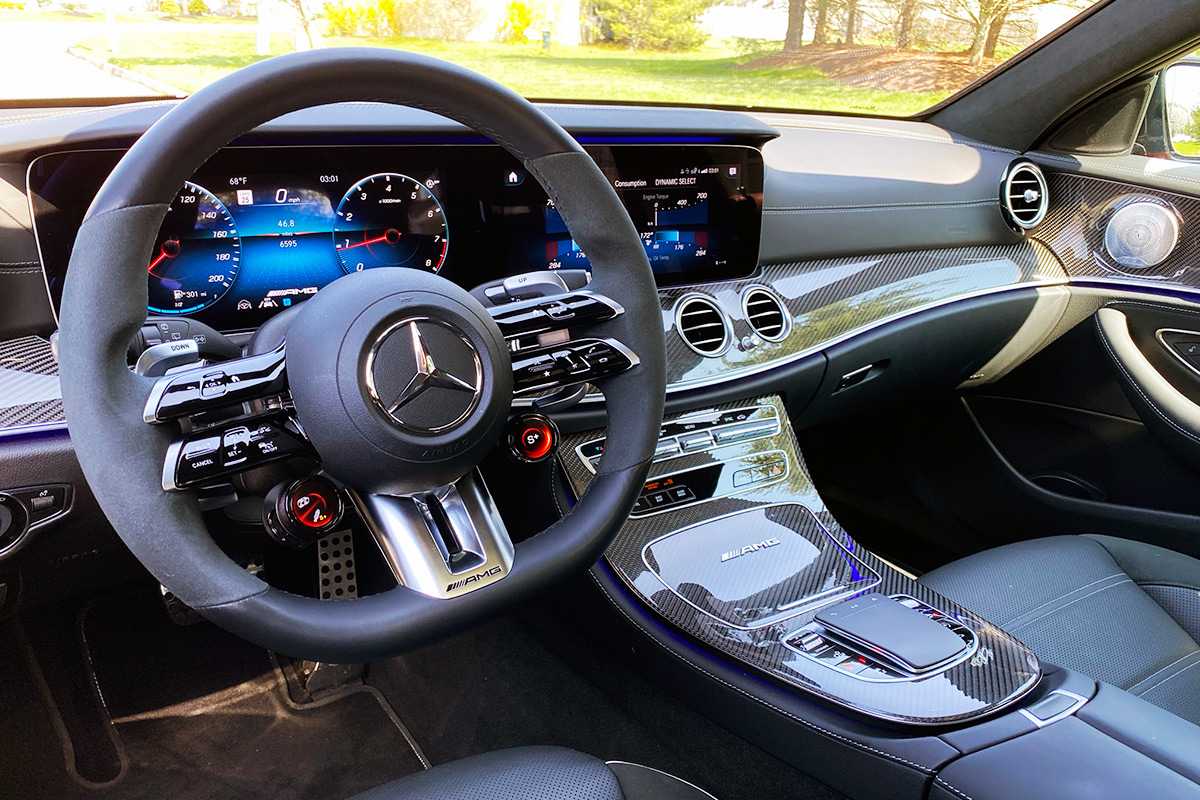 Inside, the E63 S delivers the perfect combination of luxury, technology, and sportiness, with exclusive Nappa Leather w/ contrasting stitching, wood or optional carbon fiber trim, an AMG performance steering wheel with leather and Dinamica microfiber, which have a pair of display knobs for adjusting the car's settings on the fly, and active front seats with a massage feature. Other cool features include active side bolsters that inflate in corners/curves to support you, and heated arm rests, something I've never seen on a car before!
The real star of the show here is the MBUX infotainment system, which can be accessed via a touchpad, touchscreen, thumbpads on the steering wheel, or through a virtual assistant. The instrument cluster and multimedia displays are made up of two 12.3-inch screens, with three gauge cluster displays to choose from (Modern Classic, Sport and Supersport). The Supersport mode is particularly cool, with a central, round rev counter and horizontal displays presented in perspective to the left and right of the rev counter, creating a spatial impression of depth.
While this all sounds good in theory, I found the latest MBUX system to be overly complicated, requiring you to often have to drill down multiple screens to get to the function you're looking for. In addition, the new steering wheel has a pair of sensors to operate the instrument cluster (left) and media display (right), and it's a poor design that leaves a lot to be desired, making something as simple as switching radio stations an exercise in frustration. The Mercedes-AMG GLC 43 we drove last year had better steering wheel controls. Sometimes less is more.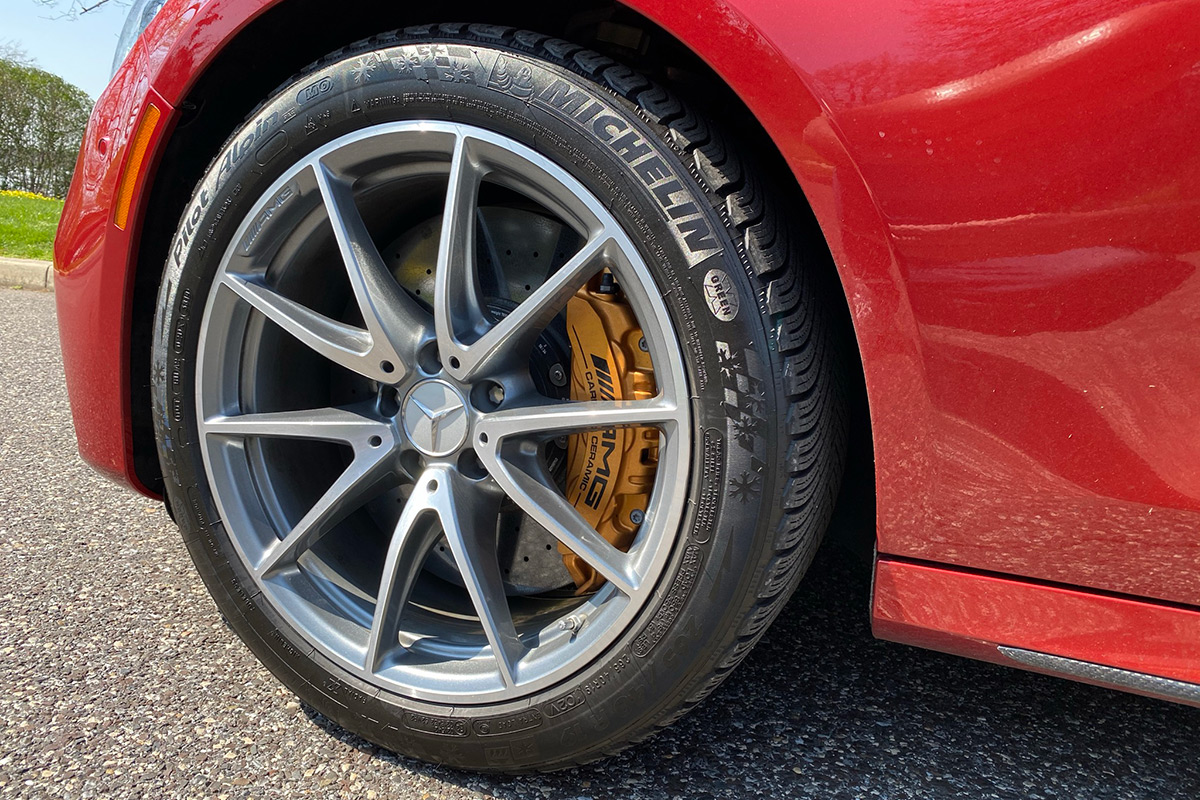 Like I said before, the performance this car offers is just ridiculous, with the hand-crafted AMG 4.0L V8 biturbo engine the star of the show. While it's the same engine as the outgoing model, with 603 horsepower and 627 lb-ft of torque on tap, you can't really ask for more. The car just pulls like a freight train, reaching triple digits in the blink of an eye. Needless to say, if you're not careful, that lead foot of yours could land you in the slammer.
Twin-scroll turbochargers enhance the performance and response of the V8 engine, reducing the exhaust gas backpressure and optimizing the gas cycle, resulting in even higher output, exceptionally quick response and higher torque at low revs. Despite this ridiculous power, the Mercedes-AMG E63 S Wagon gets a respectable 16/23mpg (city/highway), thanks in part to its cylinder shutoff feature. I averaged 18.9 mpg, and I wasn't exactly driving it lightly!
The AMG SPEEDSHIFT MCT 9-speed transmission is specially tuned to deliver extremely short shift times and fast multiple downshifts, while the double-clutching function makes for an evocative shifting experience. A wet multi-plate start-off clutch replaces the torque converter, saving weight and optimizing response, especially when accelerating or coming off the power. If you want to "row your own gears", the paddle shifters respond instantaneously.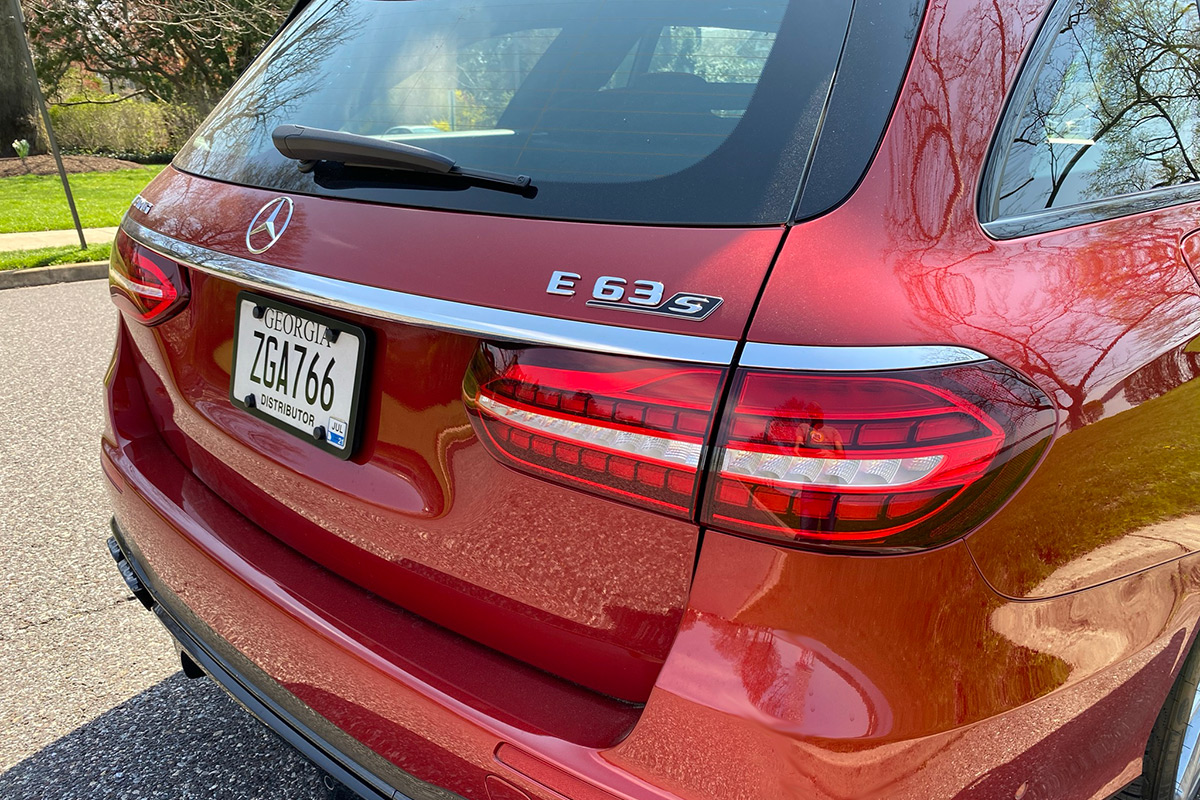 The E63 S Wagon comes standard with the AMG Performance 4MATIC+ all-wheel drive system. This intelligent system brings together the advantages of various drive configurations. Fully-variable torque distribution is available between the front and rear axles and ensures optimum traction right up to the physical traction limit. The driver is also able to rely on high driving stability and handling safety under all road conditions, whether dry, wet or snow- covered. The transition from rear-wheel to all-wheel drive and back again is seamless, because intelligent control is integrated into the vehicle system architecture as a whole.
Amazingly, it's still possible to drift this wagon if you want to, thanks to fully variable torque distribution. There's actually a Drift Mode integrated into the E63 S just for this, which can be activated in the "RACE" drive program using the shift paddles, provided ESP is deactivated and the transmission is in manual mode. When Drift Mode is activated, the E63 S becomes a purely rear- wheel drive vehicle. Drift Mode remains engaged until the driver deactivates it again. As our tester was still on winter tires, I decided not to test this feature. But it sounds like fun!
For improved traction and driving dynamics, E63 S models are equipped with an electronically regulated rear-axle limited-slip differential. This reduces the slip on the inside wheel when cornering, without any control intervention in the braking system, allowing the driver is able to accelerate out of bends earlier and more powerfully. The car remains more stable when braking from high speeds, and the locking differential improves traction when accelerating.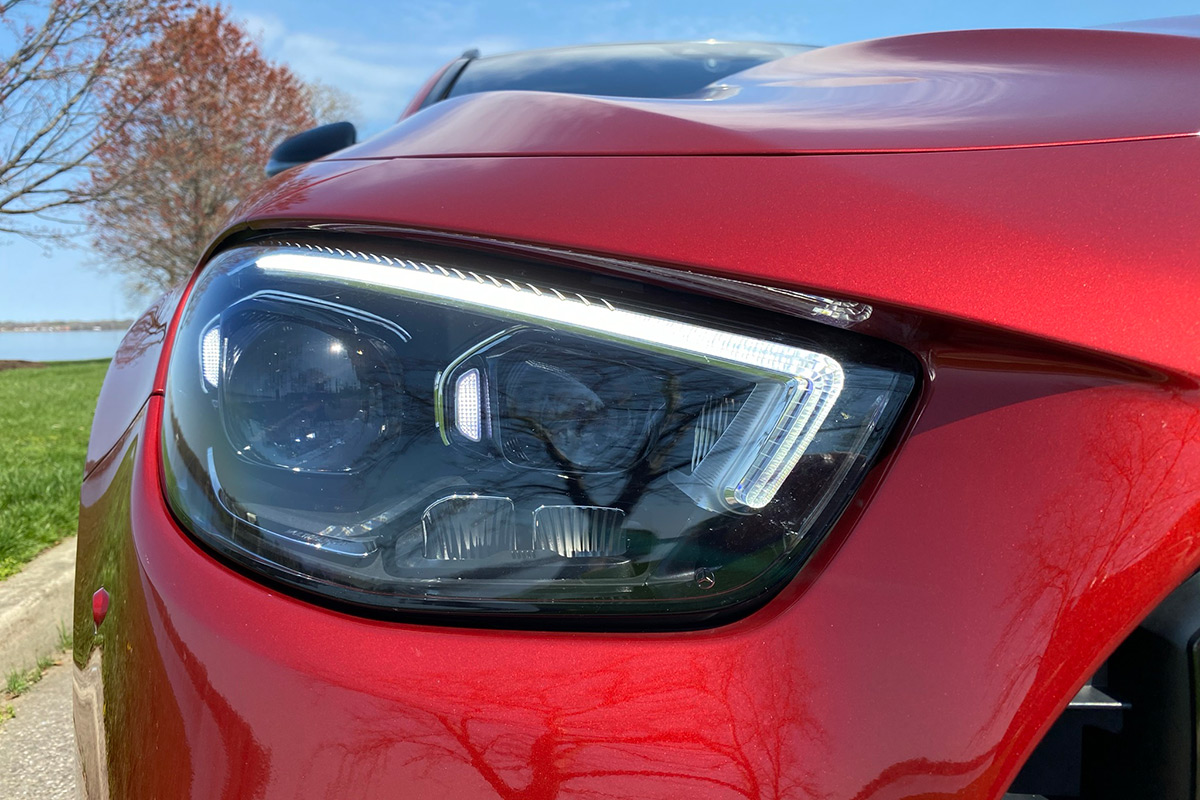 The air suspension setup on this car is nothing short of remarkable, allowing for an absolutely pillowy ride that soaks up any highway imperfections. But switch it from Comfort to Sport or Sport+ and it comes to life, allowing you to pull some serious G forces as you dive into corners, once again defying the laws of physics, as this is a giant station wagon after all.
Complimenting the handling dynamics of the car are 20-inch Michelin Pilot Sport 4S summer tires (265/35R-20 in front and 295/30R-20 at the rear), which should ensure maximum grip in conjunction with everything else above. Sadly, our tester was still riding on winter tires even though it had warmed up, so we couldn't really push the car to its limits in that respect. But Michelin PS4S tires are the gold standard in performance, so I'm sure they rock on this car.
And last but not least, you've got to have some heavy-duty brakes that are up for the task, and that's exactly what Mercedes-AMG has given us. Our E63 S came with the optional AMG Carbon Ceramic brake system, with brake discs measuring 15.8 x 1.5 in on the front axle and 14.2 x 1.3 in on the rear axle. They're not exactly cheap at $8,950, and they're rather squeaky, but they stop on a dime and resist fading.
Pricing for the 2021 Mercedes-AMG E63 S wagon start at $112,450, and our heavily optioned tester clocked in at an eye-popping $140,460. While that might sound like a lot of money, it's pretty much on par with the Audi RS6 Avant, and considerably less than the Porsche Panamera Turbo S Sport Turismo, which has a starting price of $181,700.
A high-horsepower sports wagon is a niche offering for sure, but it's something Mercedes has been offering here in the US since back in 2005. And after spending a week with this wild ride, I can definitely see the appeal of it for the well-to-do family man who's all about that supercar life but has a wife and kids to deal with. The E63 S Wagon gives him the best of both worlds!
What do you think of the 2021 Mercedes-AMG E63 S Wagon?