Review: 2020 Mercedes-AMG GLC 43 SUV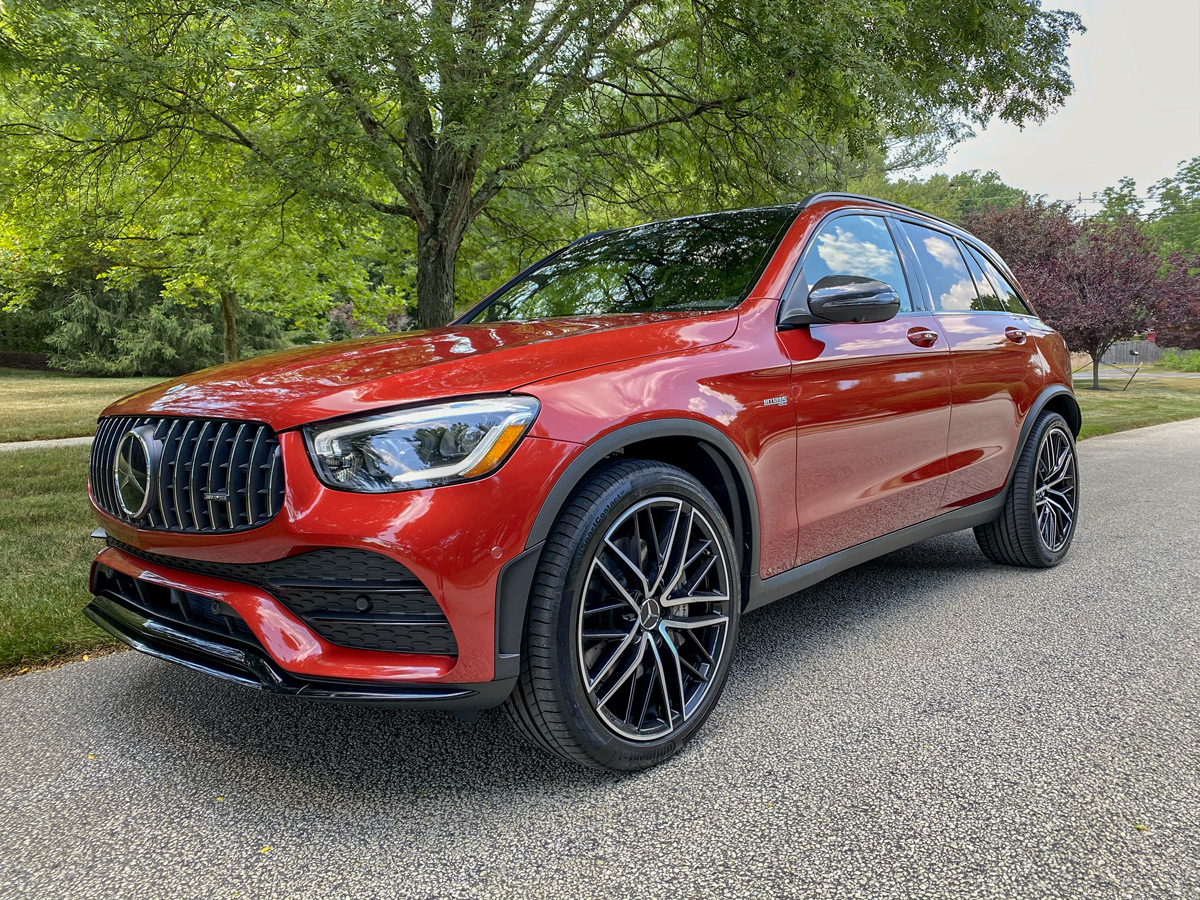 The term "Performance SUV" might sound like an oxymoron, but after spending the past week with the 2020 Mercedes-AMG GLC 43 SUV, I'm here to tell you that not only is it possible to give a 4,000+ pound SUV sports-car like performance that seemingly defies the laws of physics, but it might just make you a sports-utility vehicle convert after all!
When you think about it, this category makes perfect sense. You were a swinging bachelor who loved driving fast sports cars, but now you've settled down, have a wife and kids, and need a "more practical" car. I have a number of friends who fall into this category. Most end up with a boring SUV or (gasp) minivan. But why should you settle for less?
Mercedes-AMG is the high-performance subsidiary of Mercedes-Benz, and they are known for injecting a serious dose of testosterone into their vehicles. If you pull up to a car and see that AMG badge out back, you know that you're not looking at any ordinary car, despite the subtle exterior upgrades. Because the real AMG magic, that's hidden under the hood.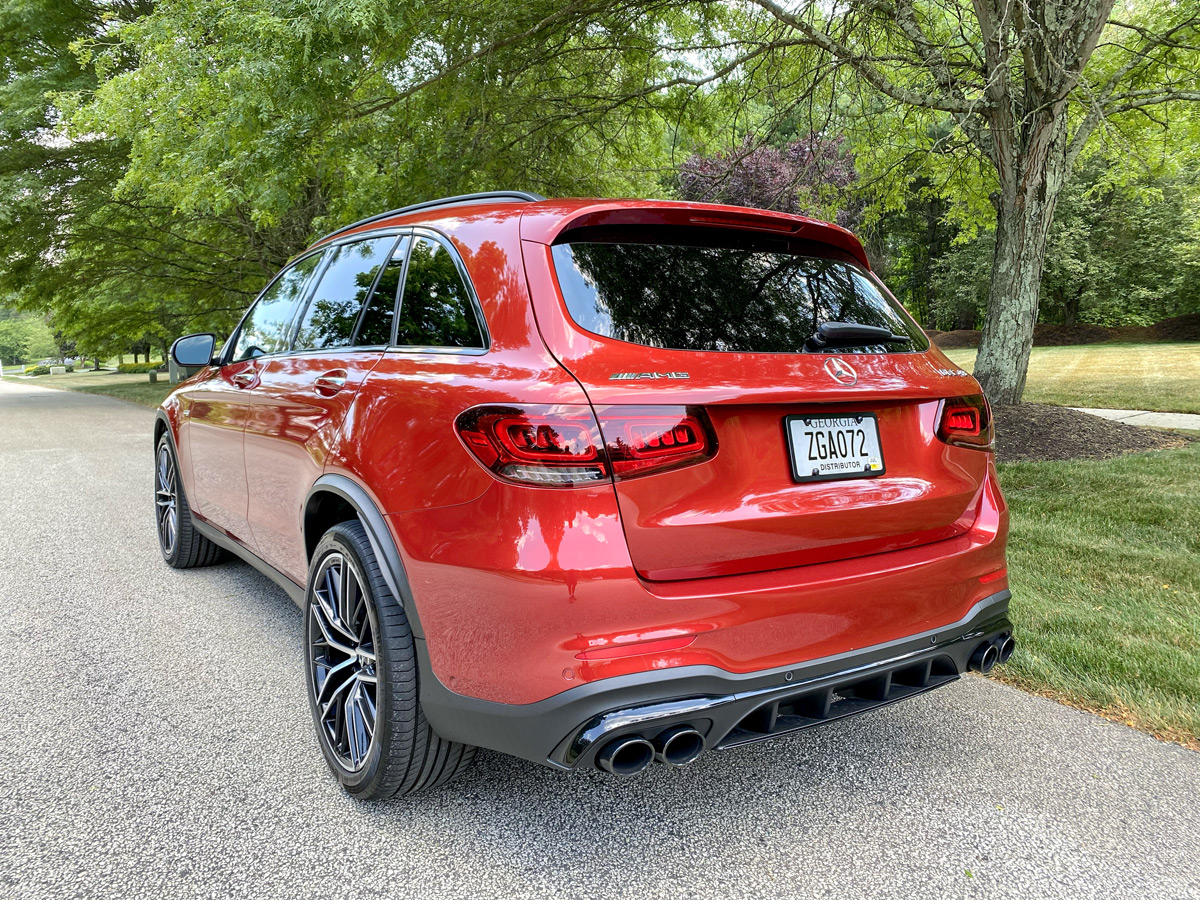 So we popped the hood.. and just saw a bunch of plastic. But beneath that plastic lies the heart of the Mercedes-AMG GLC 43, a 3.0-liter V6 biturbo engine that pumps out 385 horsepower and 384 lb-ft of torque, with 4MATIC four-wheel drive sending that power to to all four wheels through a 9-speed automatic transmission.
From a stop, the 2020 Mercedes-AMG GLC 43 SUV will rocket to 60 mph in just 4.7 seconds, on its way to a top speed of 155 mph (with the optional 21″ summer performance tires). With the standard tires, you're limited to 130 mph. Either way, this car is just stupid fast for its size, and unless you look in the rearview mirror, you'll quickly forget that you're driving an SUV.
Handling is equally impressive, with a choice of 5 drive programs that modify key parameters, such as the response of the engine, transmission, suspension and steering, based on driving preferences. You can choose from "Slippery", "Comfort", "Sport", "Sport+" and "Individual", with the air suspension ensuring both sporty driving dynamics and comfort on long trips.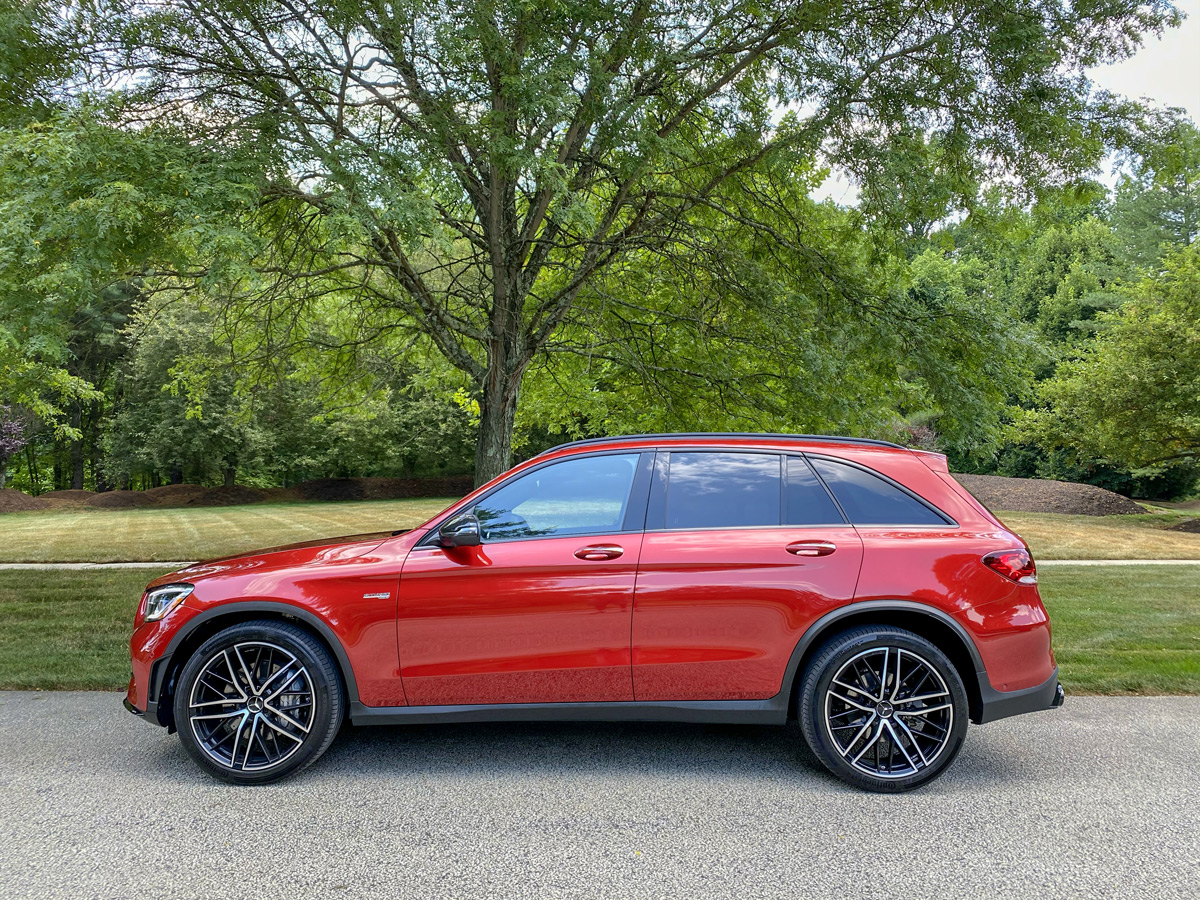 The sporty nature of the vehicle carries over into the interior, with sports seats, black MB-Tex / DINAMICA upholstery with red topstitching, trim elements in aluminum, a flat-bottom AMG steering wheel in Nappa leather, galvanized steering wheel gearshift paddles for manual gear shifting, and plenty of carbon fiber throughout. The red seat belts are a nice touch as well. And the AMG Drive Unit allows you to change drive modes with the turn of a knob. Genius.
For 2020, the Mercedes-AMG GLC 43 gets the latest version of the MBUX infotainment system, which can be operated via the center touchpad, touch control buttons on the steering wheel, or by voice control by simply saying "Hey Mercedes". I found Mercedes infotainment system to be VERY good and user friendly, especially compared to some of the competitions' systems.
Up to five passengers can fit comfortably in the GLC 43, along with a maximum cargo capacity of 56.6 cubic feet. The sleeker GLC 43 Coupe gives up a significant amount of cargo space in the name of style (with a maximum cargo capacity of 49.4 cubic feet), so that's something to consider if you're having trouble deciding between the two models.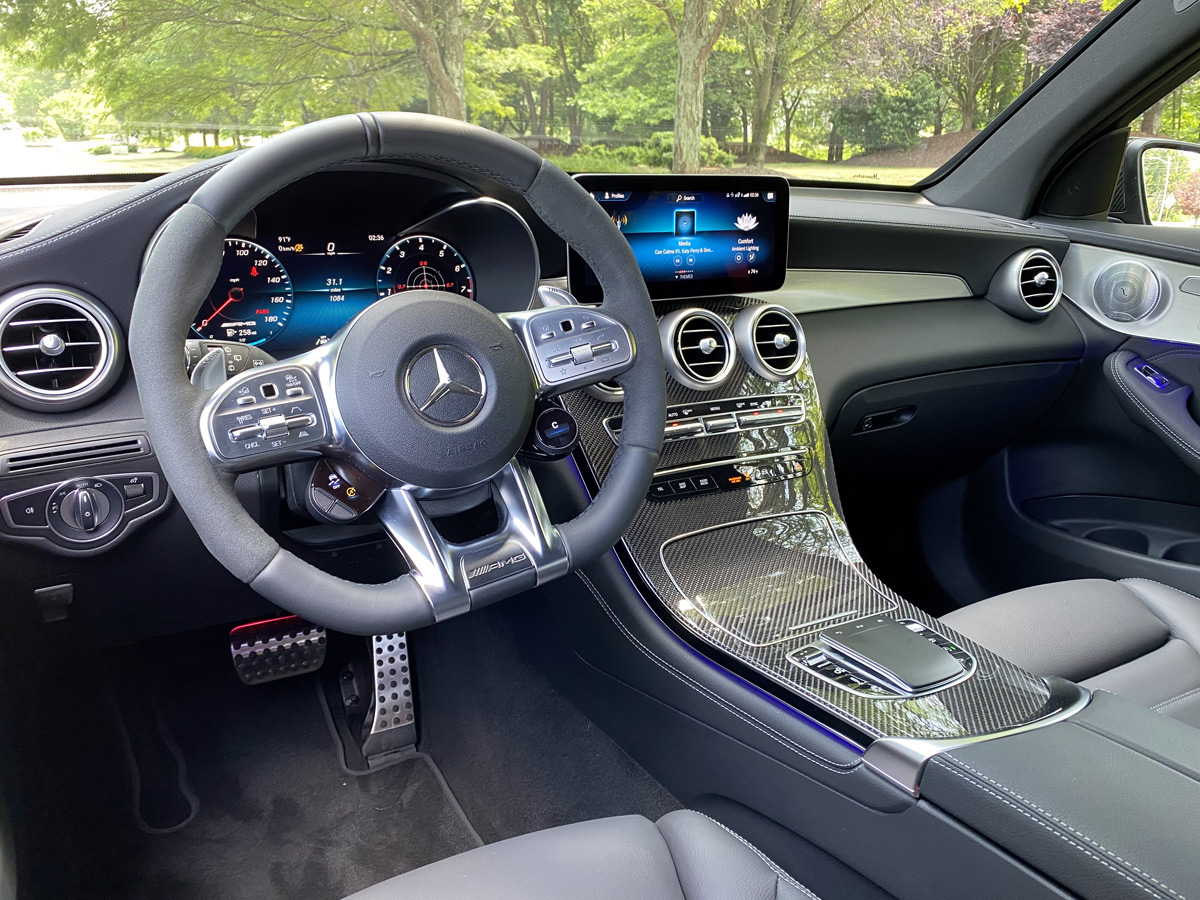 Like I said, the Mercedes-AMG GLC 43 is shockingly fast, with breakneck acceleration, a raspy growl from the engine, and obnoxious exhaust pops coming from those quad black tips as the car shifts gears. But mid-range power seemed to be lacking, especially if I wanted to accelerate quickly to pass someone, with the so-called AMG SPEEDSHIFT TCT 9-speed transmission not really living up to it's "speedy" name.
It was actually quite the opposite, with the transmission dropping gears rather sluggishly, and refusing to go any lower than 4th gear, regardless of how fast or slow I was going. My guess is that this is a calibration issue that needs to be fixed. Thankfully, if you shift with the paddles, you have full control, allowing you to downshift to get into the sweet spot of the powerband. This really transformed the GLC 43 into a monster!
You wouldn't expect an SUV like this to handle the twisties that well, given its weight and high center of gravity. But the GLC 43 felt right at home on these roads, ripping through the corners with nary a squeal from the tires, begging to be pushed harder. Again, the transmission will try to suck the fun out of things, so stick to manual paddle shifting on the back roads.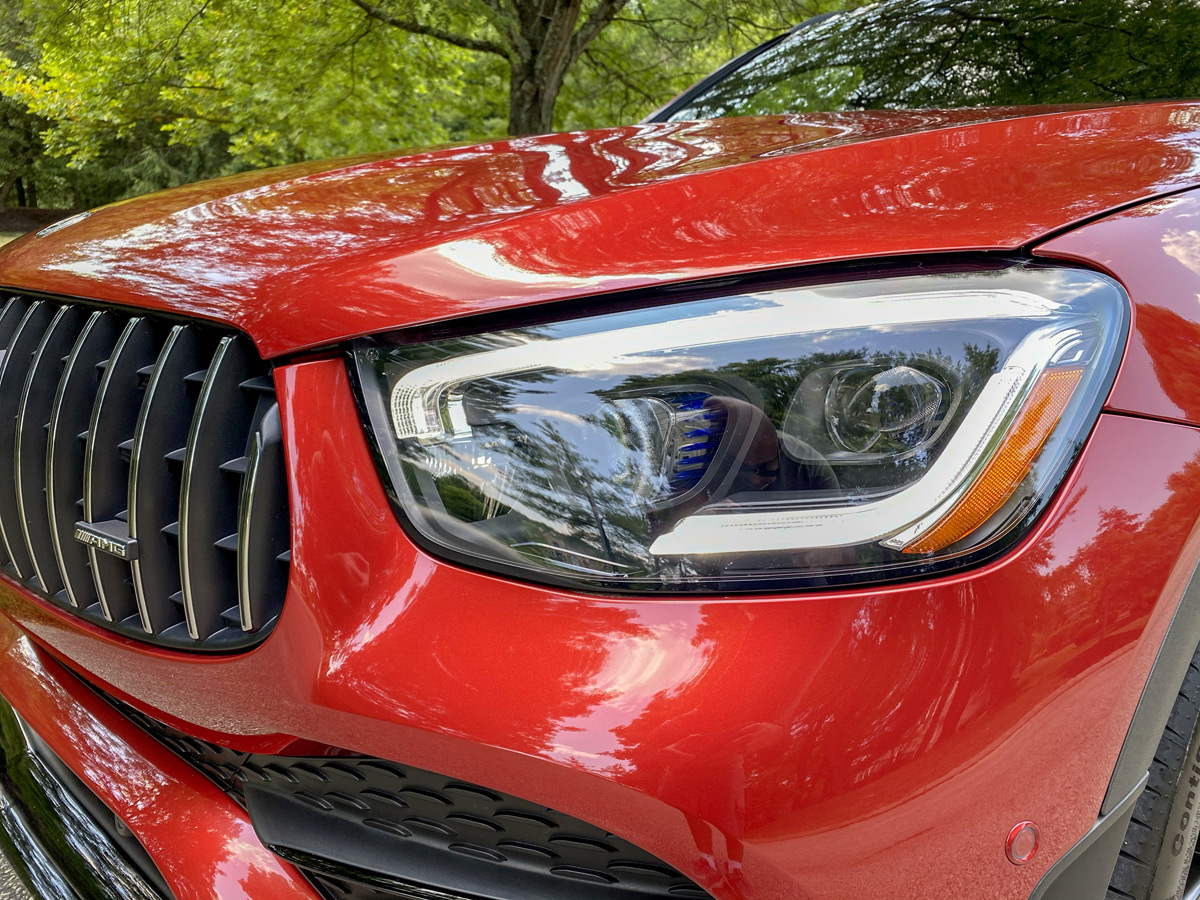 I've never really been an SUV guy, and I always thought the whole performance SUV niche was kind of dumb. But after driving the Mercedes-AMG GLC 43, BMW X3 Competition, Alfa Romeo Stelvio Quadrifolgio, Lamborghini Urus, and a few others in this space, I can definitely see the appeal, as these vehicles are legitimate sports cars, with plenty of room to spare.
Buuuut, this kind of utility does not come cheap. The 2020 Mercedes-AMG GLC 43 SUV has a base price of $59,500, and our loaded tester came in at an eye-popping $79,710. Granted, our car has an insane amount of options, but there's not much I'd want to give up. The 64-color LED ambient lighting is a virtual light show for your cabin. And the directional lighting, while nothing new, is very helpful at night.
Overall, I think Mercedes-AMG really knocked it out of the park, taking your typical "boring" SUV and giving it a new lease on life as a sports car in disguise. If I had $80K burning a hole in my pocket, this would be on my shortlist. But I'll take the GLC 43 Coupe instead, as I just like the aesthetics of it better, cargo space be damned.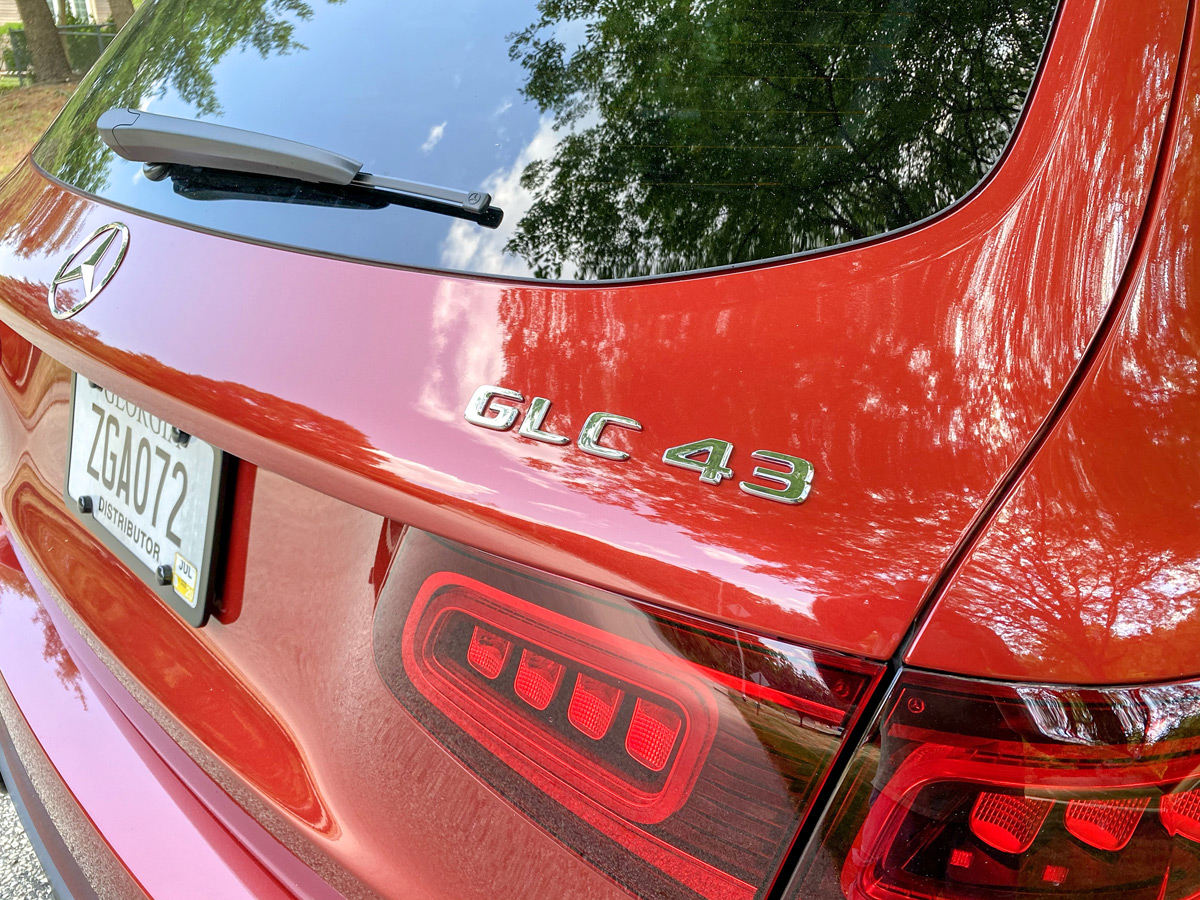 Visit www.mbusa.com to learn more about the 2020 Mercedes-AMG GLC 43 SUV.