2021 BMW M5 Competition Is As Close To Daily Driver Perfection As It Gets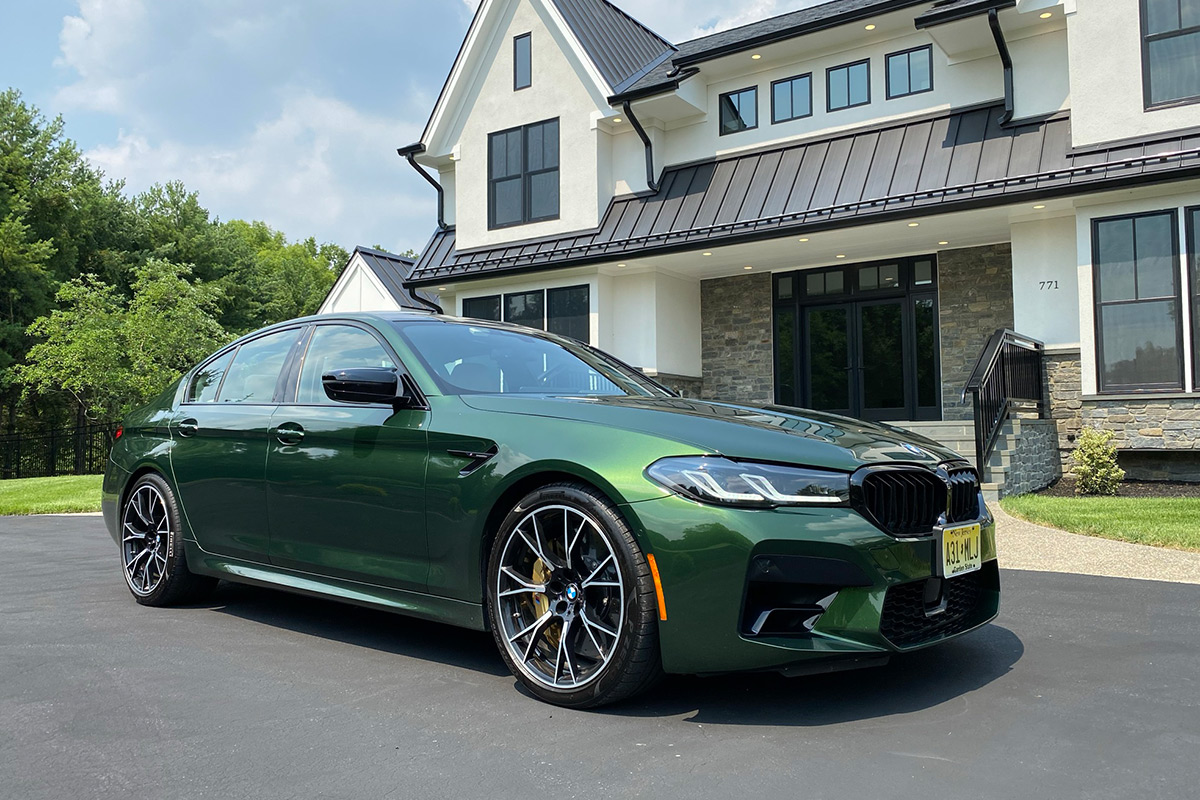 When the current-generation BMW M5 first came out, I was skeptical about it, as I was worried that switching from RWD to AWD would change the dynamics of the car. But after driving this 600HP beast at triple-digit speeds in the rain at the BMW Two Day M School in Spartanburg, South Carolina, my tune had changed. The car drives like a rear-wheel drive car until traction is needed, while still feeling nimble on its feet, despite weighing over 4000 pounds!
For me, the BMW M5 just checked off all the boxes, and I walked away from that experience determined to one day park one in my garage. And while that hasn't happened just yet, I did get the chance to spend a week with the 2021 BMW M5 Competition, which just reaffirmed my love for this ridiculously fast four-door sedan.
Simply put, the BMW M5 Competition is a supercar in disguise, a seemingly normal looking sedan to the untrained eye. But fire up the engine, and that insanely menacing exhaust note lets people know that this is no ordinary BMW. This is the ultimate sleeper.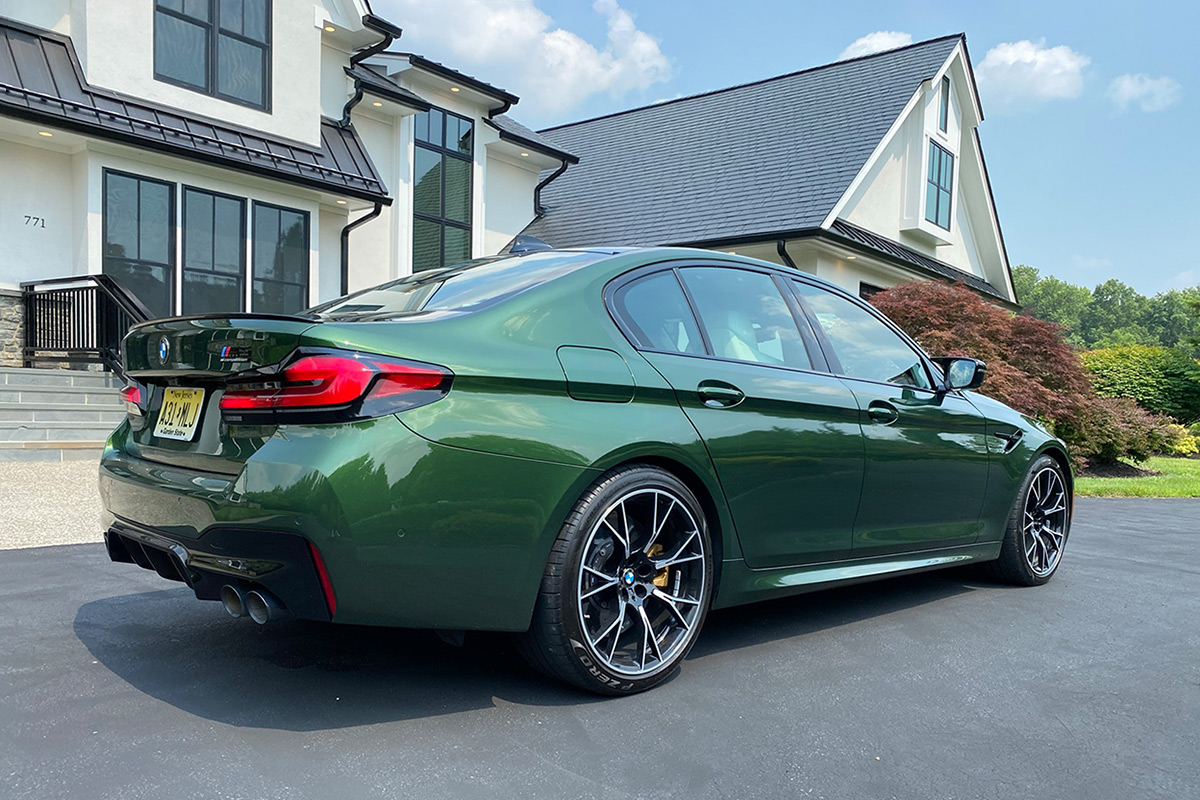 Now you might ask yourself, what makes the 2021 BMW M5 Competition so special? It starts in the belly of the beast, with a 4.4-liter turbocharged V8 engine that puts out 617HP and 553 lb-ft of torque. The rear-biased M xDrive all-wheel drive system puts that power to the ground via an 8-speed automatic transmission, delivering a 0-60 time of 3.1 seconds and a top speed of 190 mph (when equipped with the optional M Driver's Package).
The 2021 BMW M5 received a subtle facelift, with a new, larger BMW kidney grille, redesigned front and rear bumpers, and a few other aesthetic details. The M5 Competition also gets new shocks and a recalibrated damper control system to "enhance ride comfort during high-speed highway driving as well as over bumps," as owners complained that the ride was too harsh. It also sits 0.2-inches lower and features increased front negative camber, a firmer rear anti-roll bar, 10% firmer front and rear springs and toe-link ball joint mounts.
But even with these suspension changes, I still found the ride quality to be on the harsher side, especially compared to the 2020 BMW M8 Competition I reviewed last year. While it wasn't a deal breaker for me, it certainly was very firm and sports car like, something that could get old if you're daily driving it and have crappy roads. That said, my buddy has been daily driving his M5 Competition for 2 years now without issue, so it all comes down to personal preference.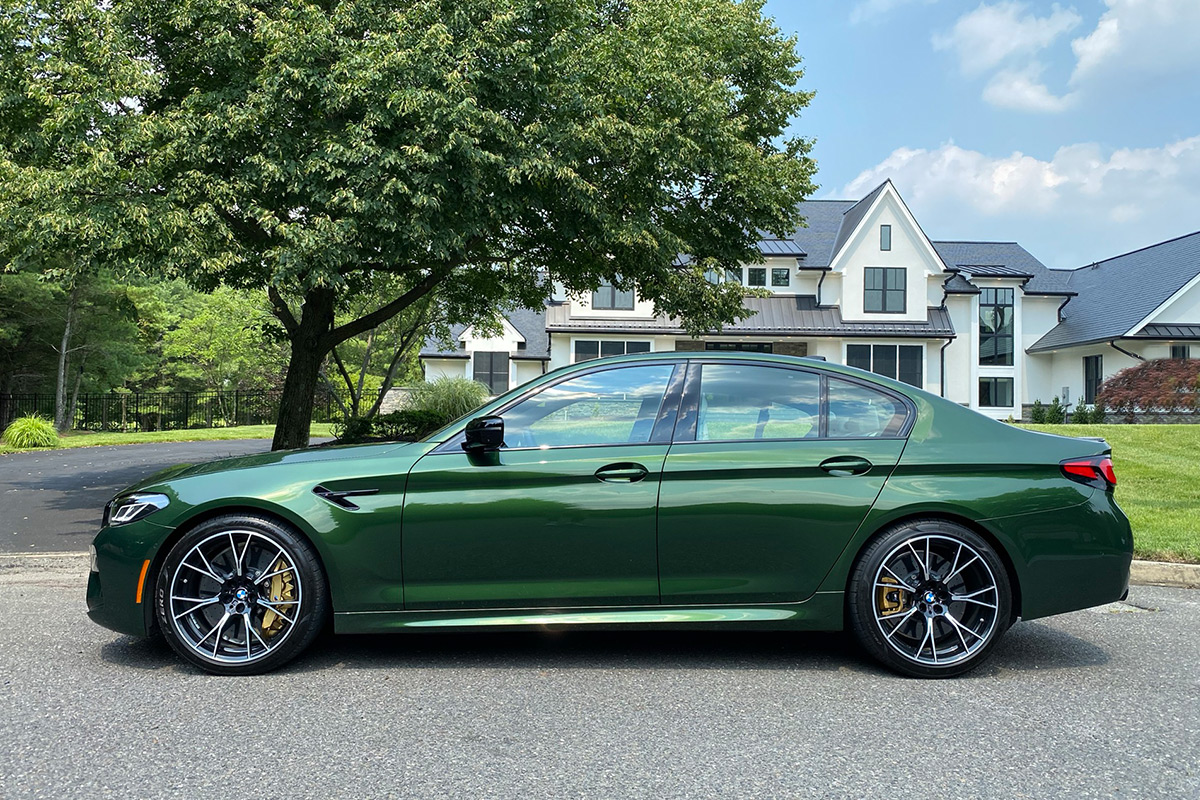 Visually, what can I say, just look at it! The car is pretty gorgeous, with the unique Verde Ermes Pearl Metallic paintjob giving the car a very elegant appearance. But at the same time, it's also very aggressive looking, with that lowered stance, the massive 20″ wheels with the M Carbon Ceramic brakes ($8,500) peaking out from behind the spokes, and all the glossy black trim. It toes the line nicely, looking equally at home whether you're at the opera or the racetrack.
Inside, there's a nice mixture of luxury and sportiness, with M Sport seats, white/black Merino leather throughout, M seatbelts and a light-up M logo in the headrests. Our car was equipped with the Executive Package ($3,350), which added soft-close automatic doors, front seats that are heated, ventilated, and massaging, rear heated seats, surround view, rear sunshades, and a few other goodies.
On the tech front, a larger 12.3-inch touchscreen infotainment display replaces the 10.25-inch screen from last year's model, and it supports wireless Apple CarPlay & Android Auto. Our car also had the Driving Assistance Plus ($1,700) option, which includes Active Driving Assistant Pro (BMW's version of "self-driving") and Extended Traffic Jam Assistant. We tested the former out, and it worked like a charm, making for an effortless drive to the office.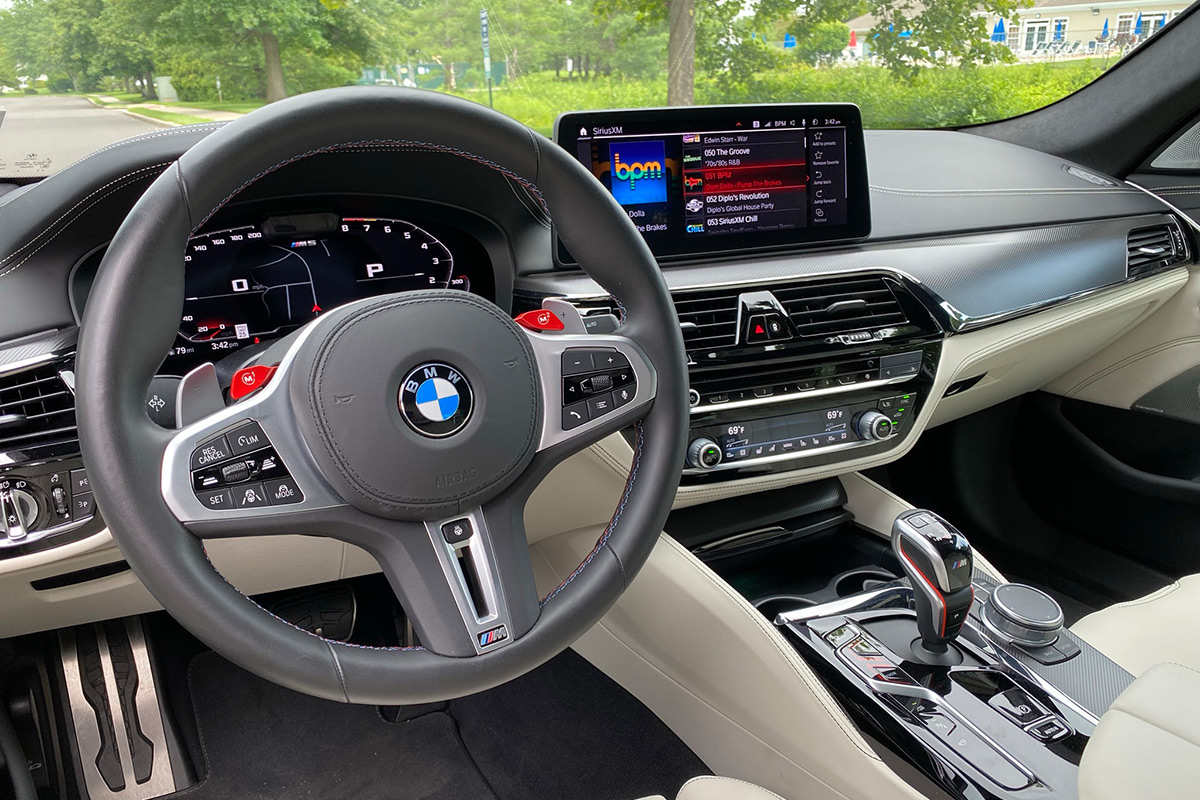 Driving the BMW M5 Competition is an exercise in self control, as it is an absolute line rocket, and you can go from zero to jail in a matter of seconds if you're not careful. We had a chance to really push the car on some private roads, and it just pulls and pulls, with no end in sight. Car and Driver did some instrumented testing when they had the car and saw impressive results: 0-60 mph in 2.8 seconds, the quarter-mile in 10.9 seconds at 128 mph, 1.00g on the skidpad, and a 139-foot stop from 70 mph. My butt dyno concurs. 🙂
Handling is also on point, with the car staying firmly planted no matter how hard you push it, thanks in part to the electronic nannies that help to keep 617 horsepower in check. That said, if you're particularly daring (or on a track), you can switch the car into 4WD Sport, which gives you a little more leeway, or into RWD where you can let it all hang out.. literally.
When it's time to slow down, the M Carbon Ceramic brakes stop the car on a dime. While this is great on a track, I found them to be a little touchy for day-to-day driving. If you don't plan on tracking the car, skip the pricey brakes and problem solved.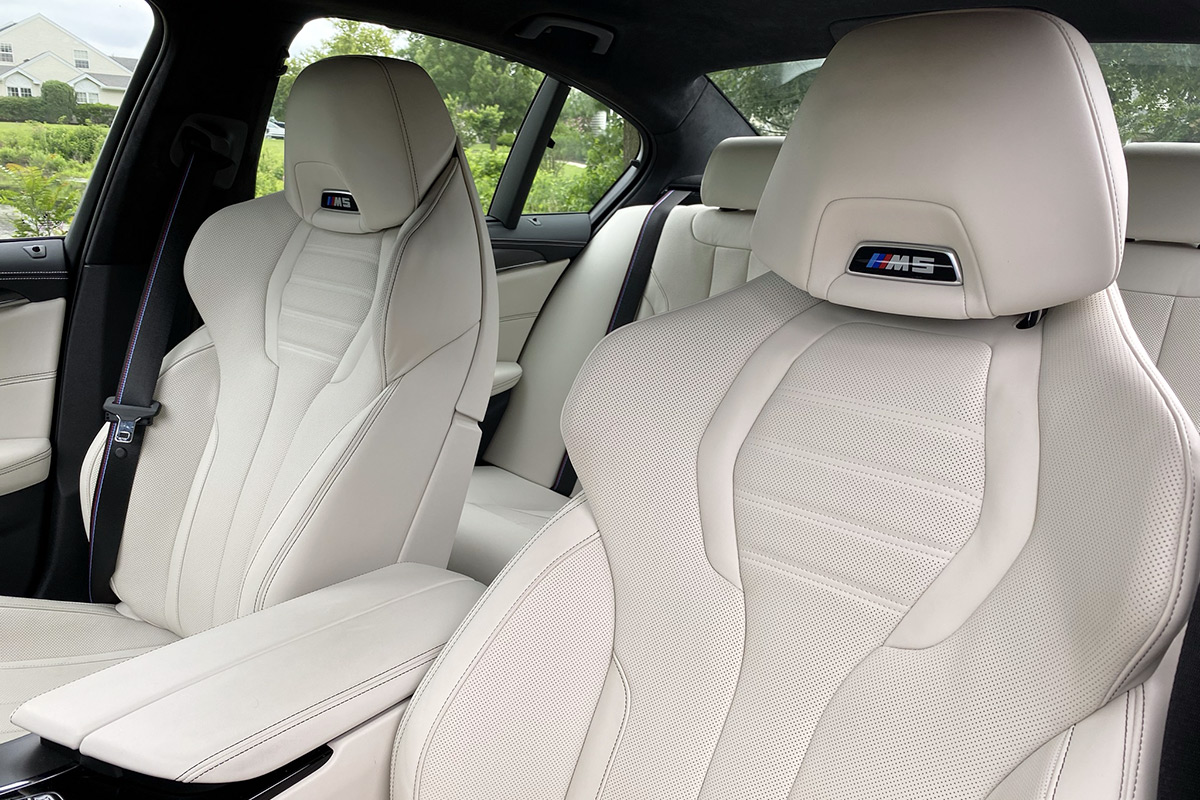 As the title says, the 2021 BMW M5 Competition is as close to daily driver perfection as it gets. The car can be driven "normally" when you're taking the kids to school or commuting to work, and it's a pretty comfortable ride, with all of the creature comforts that you could ever ask for. The ride is firm but not punishing. The exhaust is mellow (at least from inside the cabin). And it's got seating for five, along with a massive trunk that can swallow a week's worth of luggage.
But if you want to have some fun, you can push the M1 or M2 button and switch the ride from mild to wild just like that, turning the car from Dr Jekyll to Mr Hyde. A responsible commuter during the week, a track car on the weekends. It's honestly the best of both worlds.
Only a few cars fit into this supercar daily driver category, including the Mercedes-AMG E63 S, Cadillac CT5-V Blackwing, Audi RS7 and Tesla Model S Plaid. Each are great cars in their own right, and I'd be thrilled to own any one of them, but the Beemer gets top honors in my book.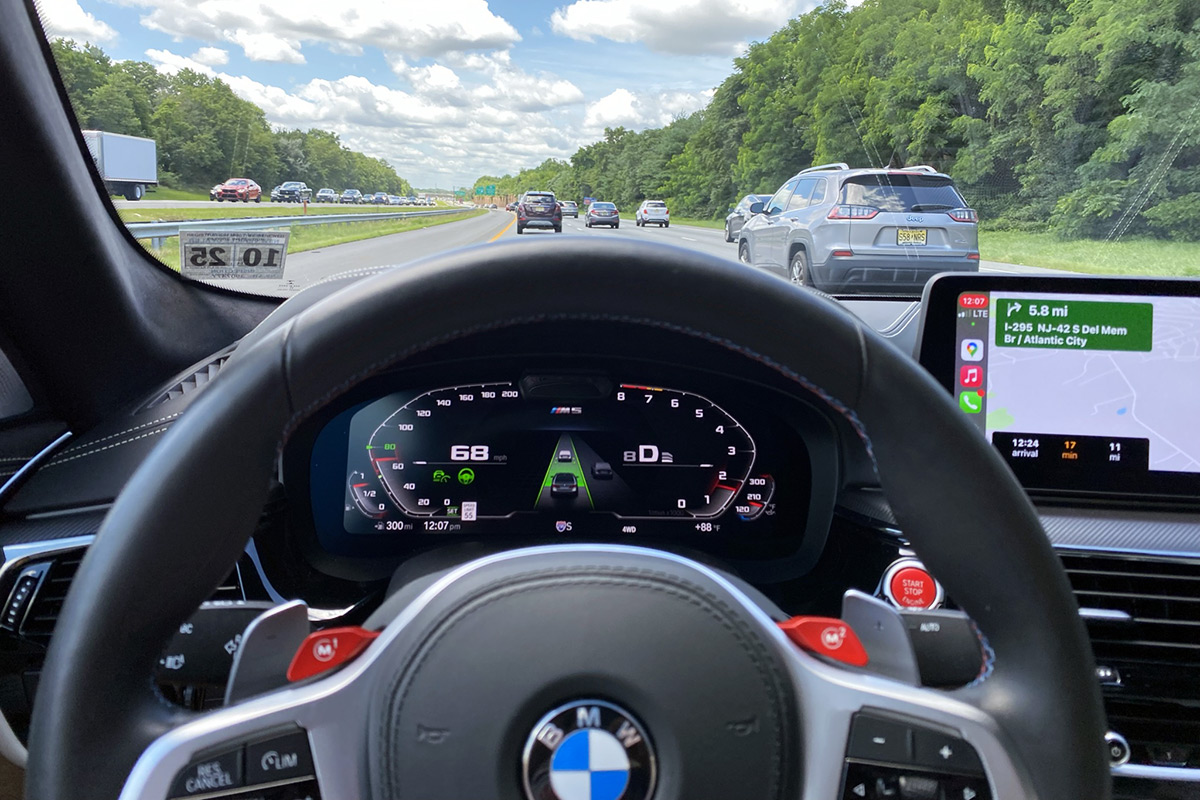 Pricing for the 2021 BMW M5 Competition starts at $103,500, while our well-equipped tester came in at $137,545. Pricing is in line with the competition, and you definitely get a lot of bang for your buck here, with the M5 delivering the perfect blend of luxury sports car and supercar.
So if you're in the market for a car that offers supercar performance with everyday usability for up to five passengers, you owe it to yourself to check out the new 2021 BMW M5 Competition. It truly is the Ultimate Driving Machine.
What do you think of the new 2021 BMW M5 Competition?