The 2020 BMW M8 Competition Coupe Is A Wolf In Sheep's Clothing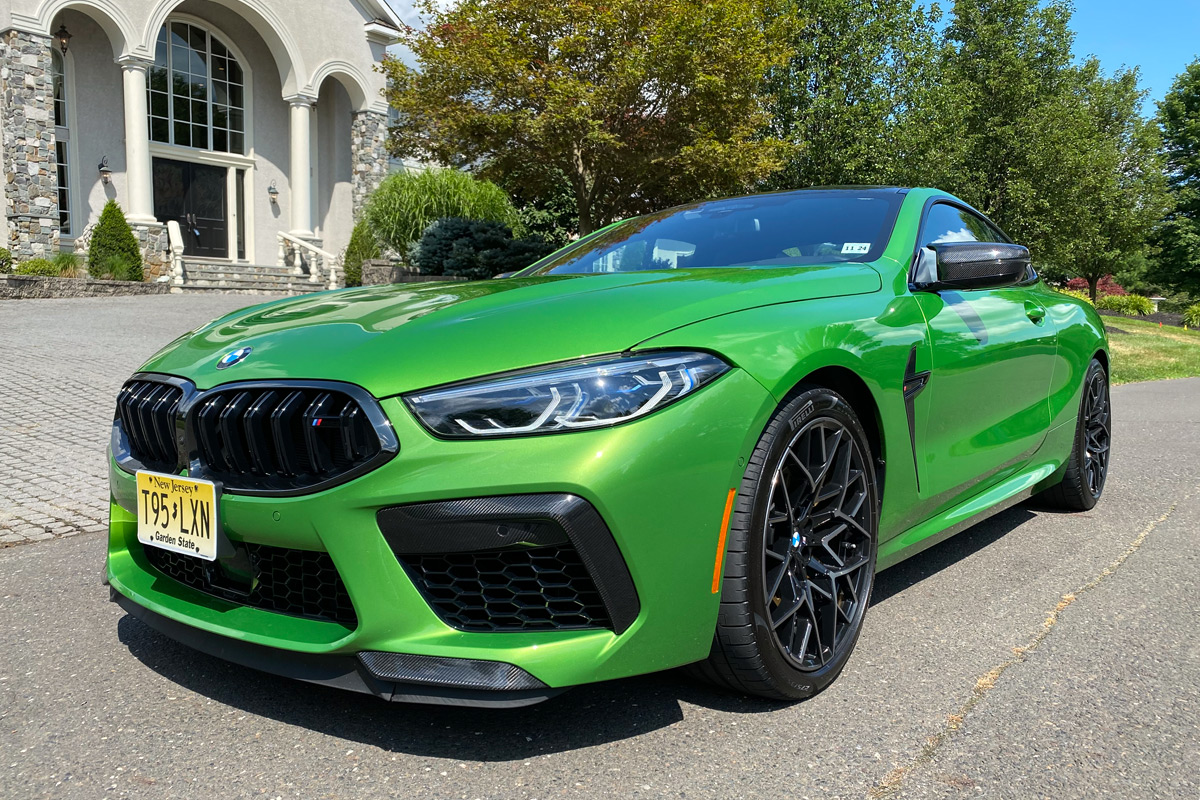 Last year, BMW brought back the 8 Series nameplate after a nearly 20-year hiatus, and it was a modern-day version of BMW's iconic flagship model from the 90's – a luxury grand tourer that delivered outstanding performance, beautiful design and state-of-the-art technology. ready to face off against the likes of the Mercedes-Benz S-Class Coupe, Lexus LC 500, and others.
Now BMW knew that while some customers were thrilled with the idea of a plush touring car, others wanted a true sports car in the spirit of the BMW 850CSi. So they did what they've been doing to nearly every vehicle in their lineup, giving it the //M treatment. Imagine an M5 in a much sexier body.. and with a much higher price tag to boot.
The BMW M8 is powered by a twin-turbo 4.4-liter V-8 engine that pumps out 600 horsepower and 553 lb-ft of torque, with the optional Competition package boosting that number to 617 horsepower. Power is delivered to all 4 wheels via a quick-shifting eight-speed automatic, with an "official" 0-60 time of 3.0 seconds and a top speed of 189 mph (w/ M Driver's Package).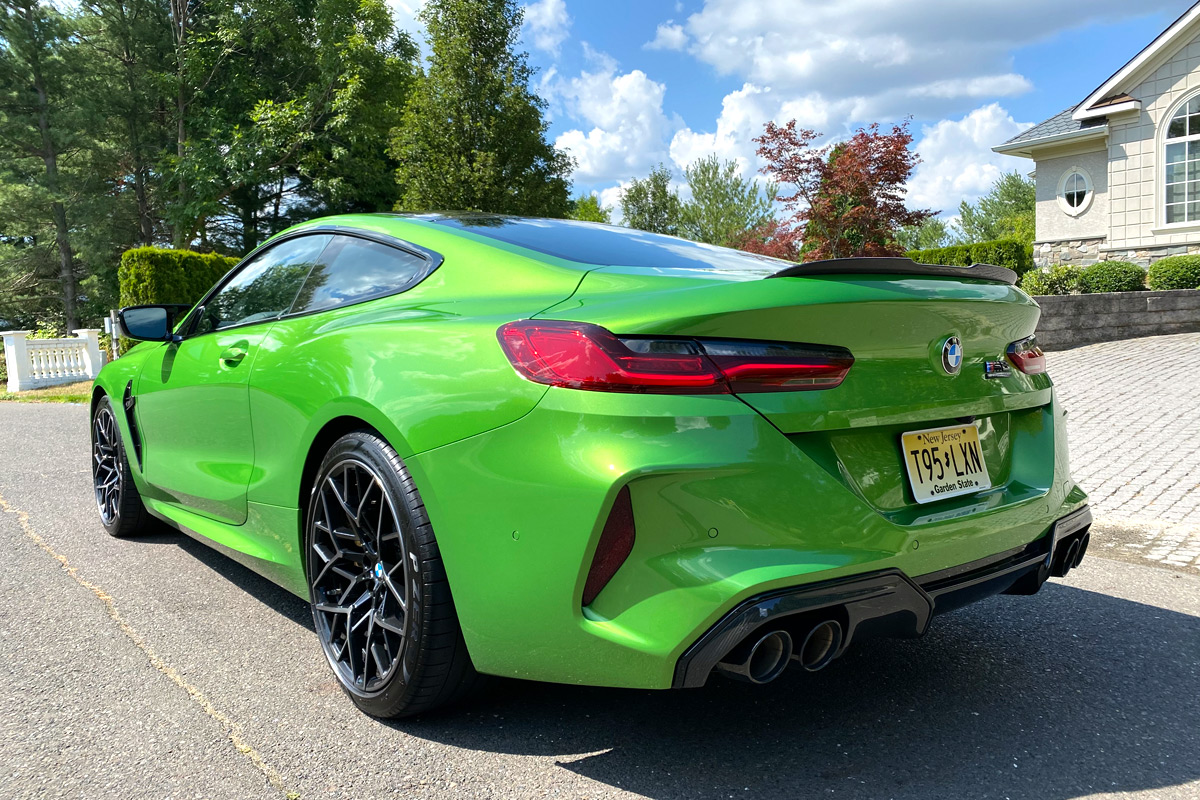 We spent a week with the 2020 BMW M8 Competition Coupe seen here, which was finished in this insane Java Green Metallic color (a $5500 option), and it exceeded my expectations in every way. Honestly, I was expecting a GT with some extra power and aggressive visual tweaks. But this car delivers true supercar performance, despite weighing 4,295 pounds!
Sounds crazy, right? But this is one of those cases where technology really overcomes the laws of physics, much like the Nissan GT-R. The first time I launched this car, I started laughing like a mad man, as the acceleration was just incomprehensible, pinning me to the back of my seat as it rocketed forward with no end in sight. Triple digits came up REALLY quickly.
BMW quotes an estimated 0-60 time of 3.0 seconds, but other magazines have quotes times as low as 2.5 seconds. Having driven some seriously fast supercars over the years, I'm inclined to agree with the sub-2 second times. The car just has a mountain of power and torque, with the all-wheel drive system putting down the power efficiently with no wheelspin at all.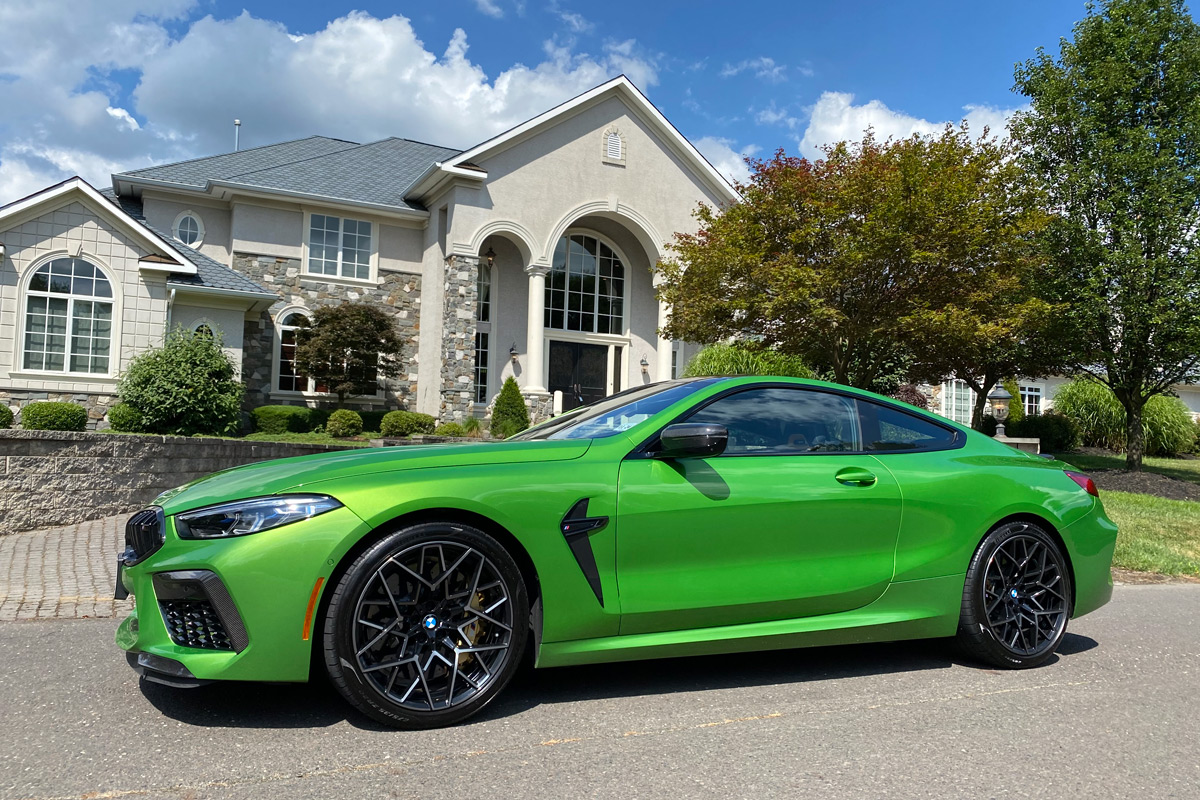 As with the M5, the BMW M8 sports an adjustable, rear-biased all-wheel drive system that can be run in 4WD, 4WD Sport, and 2WD modes. The car defaults to 4WD mode, which focuses on providing maximum traction and controlled handling. 4WD Sport sharpens the M8's response and agility further while sending more power to the rear wheels during dynamic driving. 2WD is seriously sketchy, as you're driving without DSC, so be forewarned.
My advice? Stay in 4WD Sport, which still lets you have a little fun and hang out the rear, but will reign it in if it senses that you're about to get yourself into trouble. But if you're planning on tracking the car and are an experienced driver, 2WD will reward you with faster lap times and better steering feel. On the streets, 2WD is really only good for doing smokey burnouts.
What's more, you can customize the engine, suspension, steering and braking characteristics to get your ride preference just right, storing those custom savings to the M1 and M2 buttons on the steering wheel. In addition, there's a button on the shifter to adjust the transmission's logic and shift speeds. It's great that the car is so configurable, but expect to spend a week or so trying to figure out the ideal settings for you.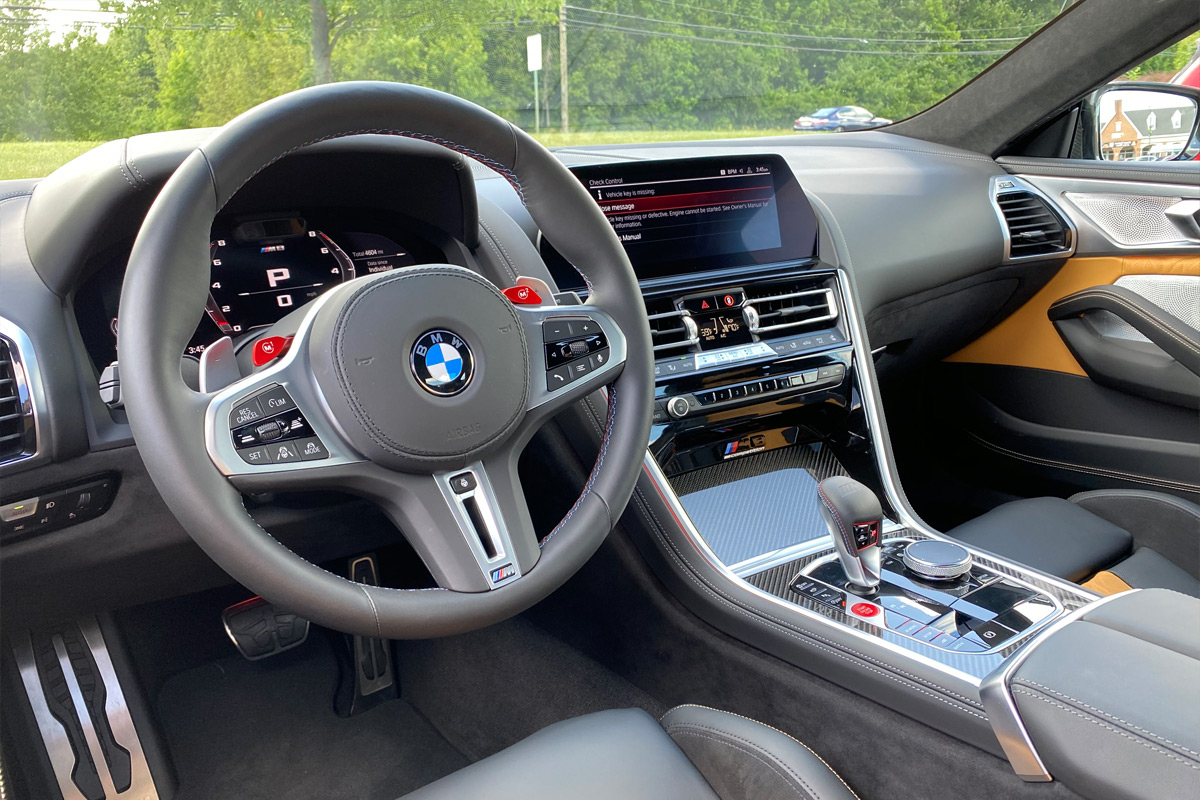 In a straight line, the BMW M8 Competition is a freaking rocket ship. But how does it handle? To find out, we headed out to some of our favorite twisty roads and put the big girl to the test. On these narrow two-lane roads, the M8 was a blast to drive, attacking each corner with vigor as I whipped the car into tight left and right-hand turns, the exhaust valves wide opening and making the most insane sounds that could be heard for miles.
While the M8 Competition proved to be quite the canyon carver, it is equally happy as a daily driver, with the car incredibly comfortable and compliant when you set all of the systems to efficient/comfort settings. A person could conceivably make the M8 their only car, as it's easy to drive around town or commute to work in rush-hour traffic.
The ride is firm but not punishing. The exhaust is mellow. Ride height is high enough that you don't need to worry about speed bumps. The throttle and transmission are relaxed. It's pretty remarkable how you can choose between a mild and wild ride with the push of a button. Not many supercars can make that kind of a claim.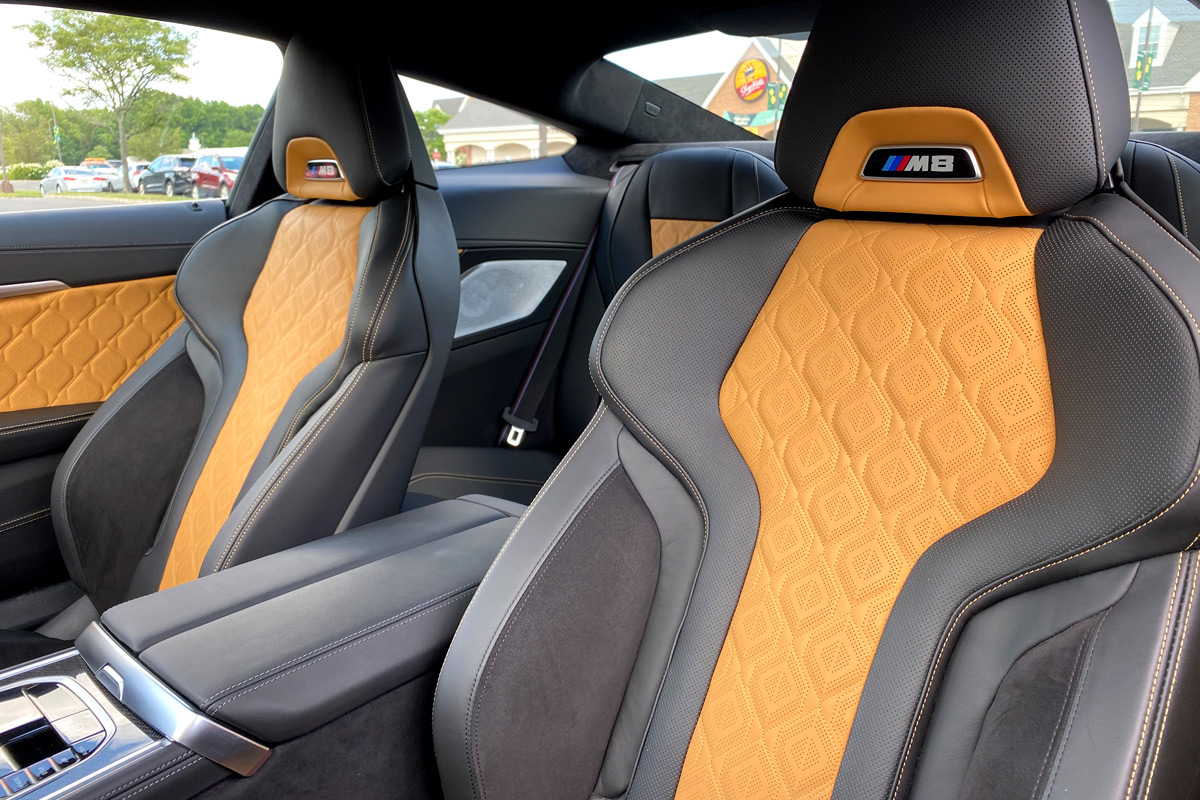 Visually, the BMW M8 Competition looks particularly menacing. It's big, muscular, low slung, with aggressive front air intakes, blacked out kidney grille, side gills, mirrors, rear spoiler and rear diffuser. It's also got a standard Carbon Fiber roof, which not only looks the part, but also reduces weight and lowers the M8's center of gravity. And those 20″ M Star-spoke bi-color wheels are just insane looking.
Our tester took it a few steps further, with the optional M Carbon package (which replaced all of those blacked out pieces with carbon fiber components), along with this eye-popping BMW Individual paint color. While supercars painted in wild shades of orange, green and yellow are nothing new, it's not often that you see a BMW painted as such. It's a pricey option for sure, but as you can see, it really makes the car stand out!
Inside, there's a nice mixture of luxury and sportiness. Heated leather front seats feature 16-way power adjustments with 4-way lumbar support. Complimenting the leather throughout is carbon fiber trim on the dash, doors, and console. A 12.3″ digital instrument cluster displays your tach, speedo, gauges, etc, while a 10.25″ center touchscreen display running iDrive 7.0 is used for everything else. The LED interior lighting is pretty neat at night, it's like you're in a disco. Lastly, while the M8 has rear seats, they're super cramped and best suited for kids.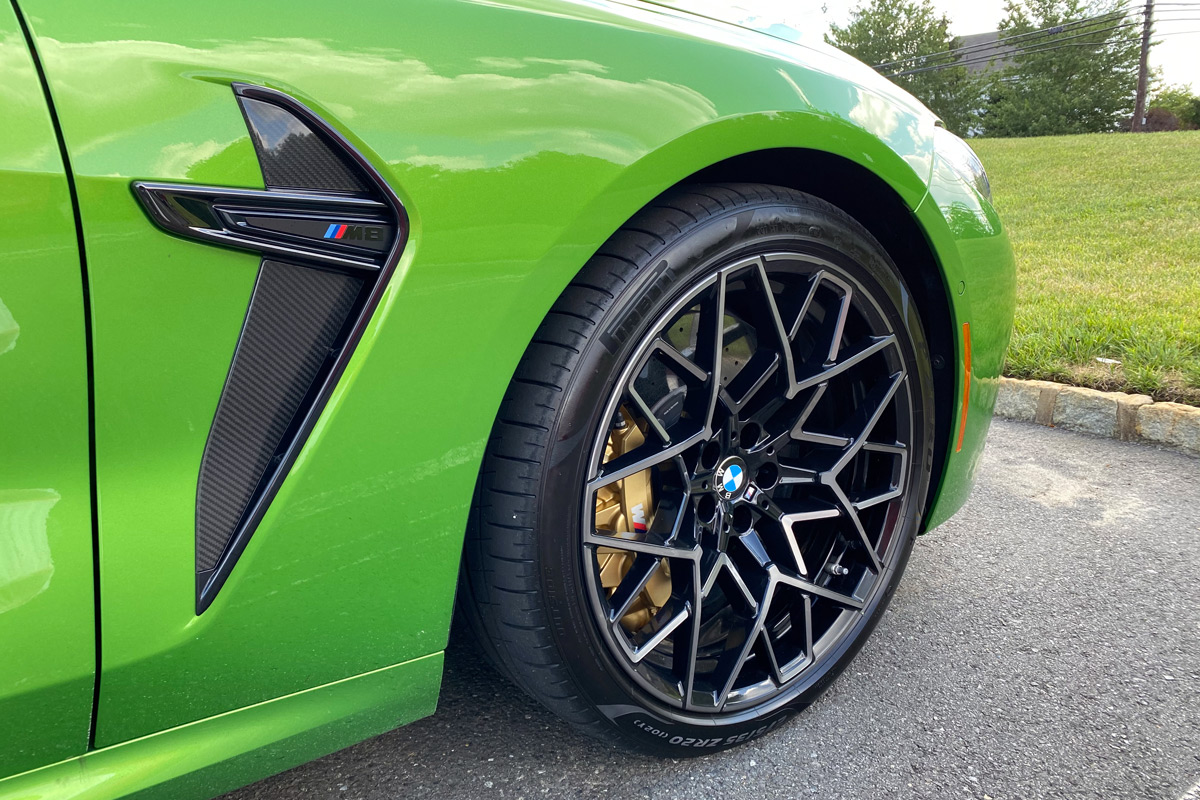 Seeing as how the BMW 850CSi was one of my childhood dream cars, with its sleek, futuristic looks, and that glorious V-12 engine, getting to spend the week with the spiritual successor to that car was a dream come true. And it exceeded my expectations in every way, delivering the perfect blend of luxury sports car and supercar.
With a starting price of $146,000 and an as-tested price of $175,745 (thanks to some seriously expensive options), the BMW M8 Competition isn't exactly cheap, costing $35,000 more than a regular BMW M850i. But the price is comparable to other cars in this segment, like the Acura NSX, Mercedes-AMG GT R Coupe, Porsche 911 Turbo, Audi R8, Aston Martin DB11 and others.
Each of these cars are great in their own right, so it really comes down to personal preference. But for me, if I suddenly won the lottery, the BMW M8 Competition would be on my short list!