Review: 2018 Infiniti QX80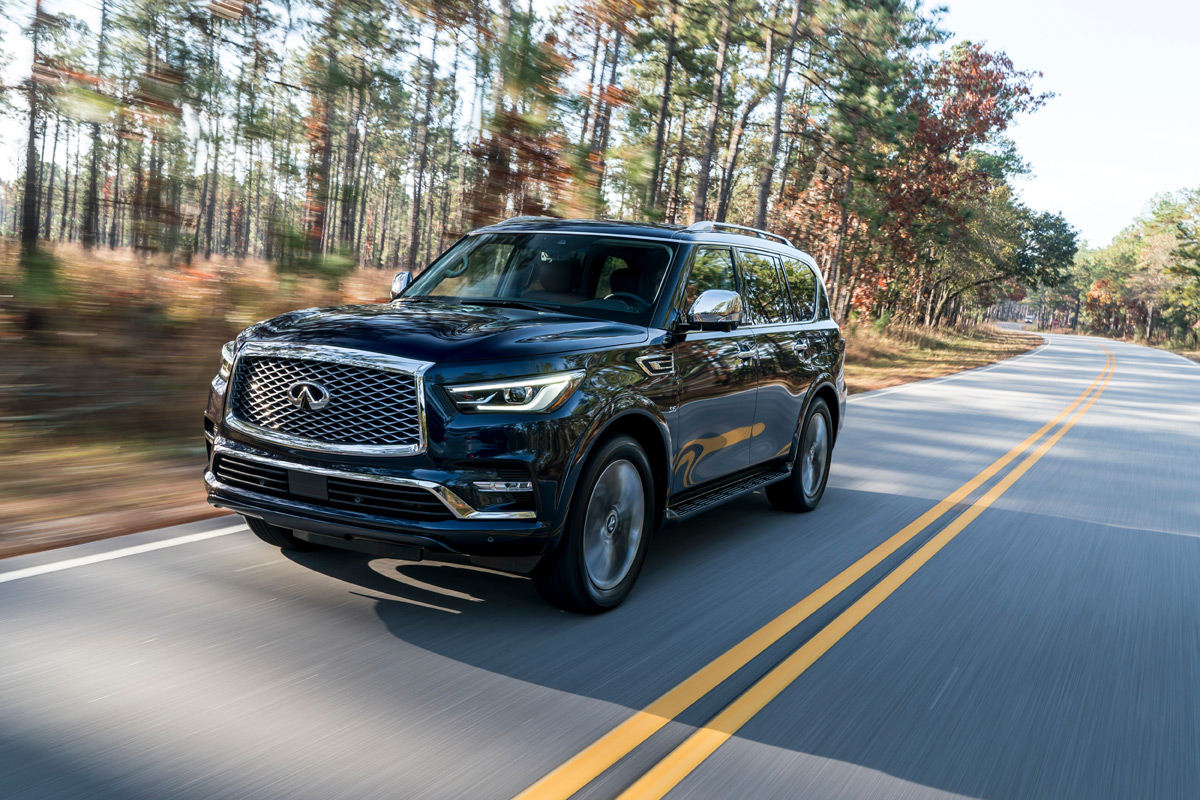 The Infiniti QX80 is like putting John Cena in a tuxedo. It's elegant and ready for champagne, sure, but it's still big and bulky. Which isn't such a bad thing given the great combination of svelte comfort and capability that the 2018 QX80 offers. Luxurious power is kinda nice.
The 2018 QX80 has seen some updating to its design, with both exterior and interior changes for the new model year. This already luxurious SUV has become even more so with these updates, adding some nice modern amenities.
On the outside, changes include a softened front fascia with less bulk and more sophisticated tones. The overbite is gone and bumper thickness is deemphasized to give the big QX80 a refined look. Narrower headlamps help accent this refinement while the bulky fenders remain to keep the muscularity of the 2018 QX80 in place. A few changes to the rear of the QX80 mirror those up front while the tow kit and roof rails are now standard equipment.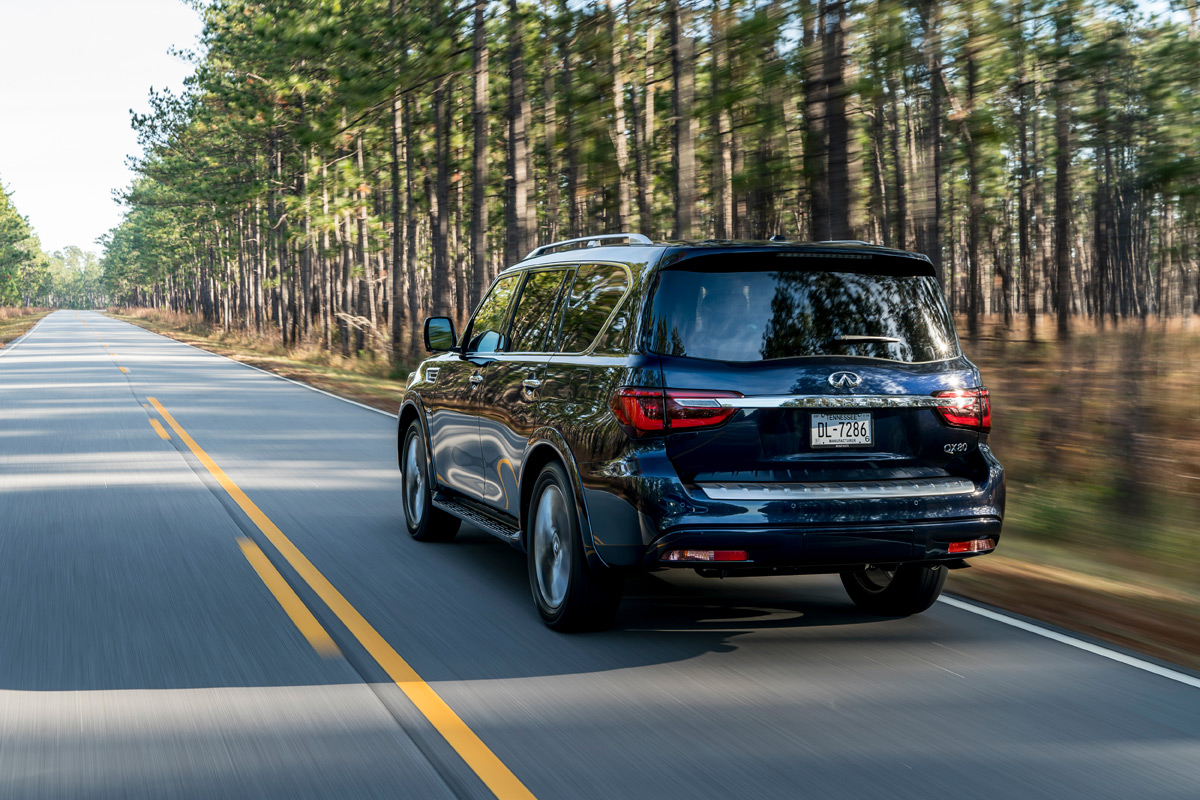 Inside, the 2018 Infiniti QX80 is filled with quality materials and excellent workmanship that notes both luxury and robustness. A new center stack for the console has been designed, adding some small item storage to boost ergonomics. Including a new cell phone pocket ahead of the shift knob. Comfortable seating and excellent design remain the norm in this luxury SUV with spaciousness being key. No matter how big or tall, there's room in the QX80.
The third row is meant primarily for kids, despite this being a big full-sized SUV. It's still good, though, and very usable in that vein. Parents will note how easily child safety seats can be installed and removed from the third row using the rear hatch. The middle row is also good for child safety accommodation. Cargo space in the big QX80 is a massive 95 cubic feet overall with 49.6 cubes behind the second row and 16.6 behind the third. That's a lot of golf bags, luggage, or camping gear.
Technology in the 2018 Infiniti QX80 is also good with the base model of the SUV having a very well-done infotainment setup. The 8-inch touchscreen is standard in the QX80 and offers good usability with plenty of connectivity options such as Bluetooth, voice control, etc. Satellite radio and navigation are also standard equipment. The graphics quality and speed of the base model infotainment is a bit dated, though. The upgrade option adds WiFi in the car as well as some apps and improves that interface some.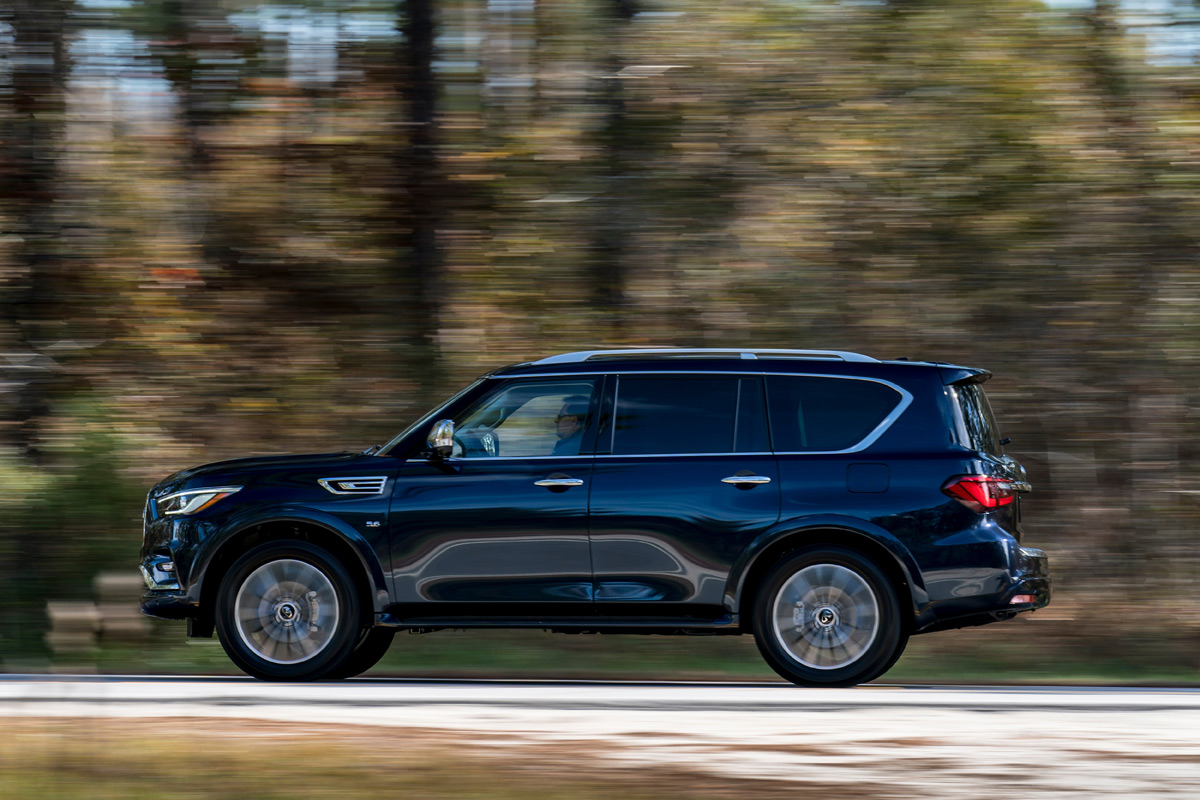 Several driver aids and convenience items are standard in the 2018 QX80. Adaptive cruise control, a 360-degree parking camera, and so forth are standard equipment. Updates include parking assistance, screen casting for infotainment, and so on. A rear seat entertainment package is also an option for the QX80 and includes wireless headphones and a built-in DVD player.
Driving the big 2018 Infiniti QX80 is a lesson on truck-based SUVs becoming far road friendlier thanks to modern engineering. The QX80 is smooth and predictable with a confident gate and excellent road dampening. Despite the serious off-pavement credibility of this big SUV, it's a very comfortable, quiet highway ride. Powering that is a big (sometimes throaty) 5.6-liter V8 that outputs 400 horsepower. A well-done seven-speed automatic transmission is standard, running rear-wheel drive. Four-wheel drive is an option and shifting is seamless. Towing is rated at 8,500 pounds.
Fuel economy is a weak point in the QX80, though, at a mere 13 mpg in the city and 19 mpg on the highway. In the real world, a driver can expect closer to that 13 mpg overall, though, with our week proving out at only a 14 mpg average in all. That low fuel economy wouldn't be a big deal, given the price point and likely lack of interest in MPG returns from the QX80's market, but a small fuel tank means that the low MPGs will become frequent fuel stops.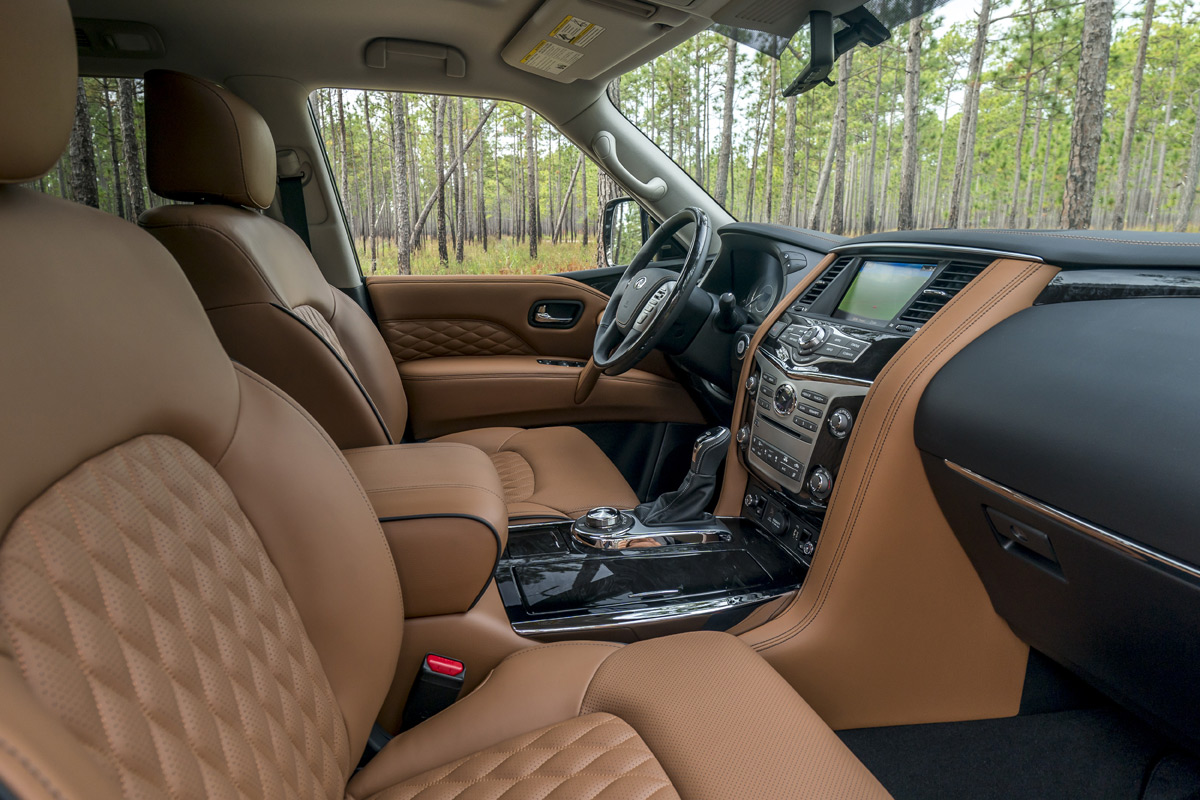 With a big, capable machine like the 2018 Infiniti QX80, though, it's important that the look, feel, and attitude all be there. The QX80 makes no bones about its muscularity or ostentatious nature. It flaunts its luxury and capability to the world. This new, luxury-oriented, and less truck-appearing QX80 brings a great option to the luxury full-sized SUV market.