Hoonigan & Ken Block Present Gymkhana 7
The highly anticipated Gymkhana 7 video presented by Ken Block's brand, Hoonigan has just launched!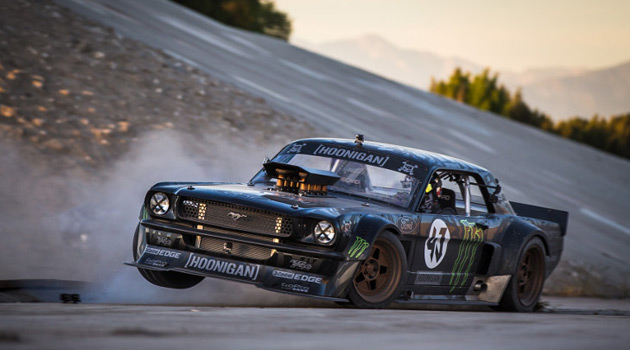 Everyone favorite Hoonigan is back with another one of his epic Gymkhana videos, and Gymkhana SEVEN: Wild in the Streets of Los Angeles brings the franchise back to an urban landscape. Similar to Ken Block's assault on San Francisco in the wildly successful Gymkhana FIVE film, we see the rally racer tear through city streets, but this time in an all new tire-slaying machine—a custom built 845HP all-wheel-drive 1965 Ford Mustang, dubbed the Hoonicorn.
L.A.'s finest, aka the police, provided the route for Block, as they cordoned off intersections and guided the H.H.I.C. and his Mustang in and around Los Angeles. The goal however, was not to for Block to take the fastest route from point A to point B, but to instead fully exploit the question every car guy has asked himself, which is "What would you do if the police shut down the streets for you?" For Block, that meant having the absolute most fun possible and driving in the wildest style imaginable.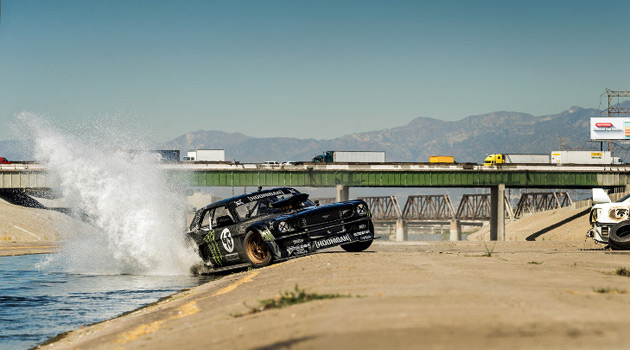 Block and his driving aren't the only stars of the video however. For Gymkhana SEVEN, Block decided that he needed a brand-new, one-of-a-kind vehicle. The car? A completely custom 1965 all-wheel drive Ford Mustang notchback featuring an 845HP Ford V8 from NASCAR's Roush Yates and a Dakar Rally-spec all-wheel drive transmission from Sadev. It's the only performance all-wheel drive Mustang in the world and was built in collaboration with Vaughn Gittin Jr's RTR tuning brand, the car is an absolute beast on the streets of Los Angeles, decimating tires and bursting eardrums as Block lays down some of his most precise and aggressive driving to-date.
"I've done Gymkhana-style driving in quite a few cars over years," said Block. "But by far, this car is hands-down the best I've ever driven for this type of driving. The instant torque and power from that V8 is absolutely intoxicating and it basically vaporizes the tires the moment I get into the throttle. It's also completely insane to me when I see the footage of this car being chained to a wall and doing an AWD burnout. I'm beyond stoked with not only how the car turned out, but also this video. I honestly feel this is my best Gymkhana video yet and I'd like to thank the city of Los Angeles for allowing me to borrow their streets for a few days!"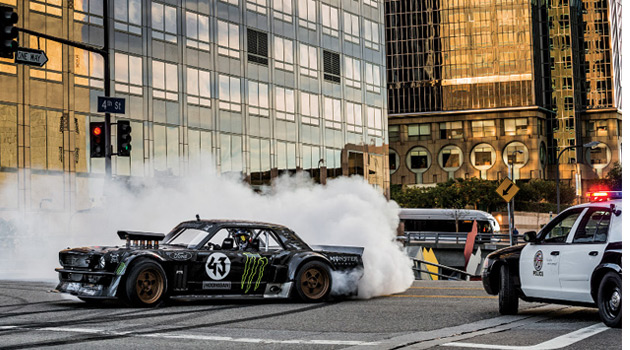 In addition to the all-new car for the video, Gymkhana SEVEN: Wild in the Streets of Los Angeles truly takes the "wild" ethos seriously, with Block absolutely capitalizing on the fact that some of the most congested roadways in America were shut down for him to create his latest video. Featuring some of the most over-the-top, insanely smoky moves yet, viewers will continually have their jaws agape at how absolutely out-of-control it all appears while simultaneously cringing on the edge of their seat as they realize how close some of the proximity tricks are. The video was filmed over five days in early October 2014 and it hits an assortment of iconic Los Angeles locations including Downtown L.A., Randy's Donuts, the L.A. freeways, the 6th Street Bridge, Chinatown, the L.A. River and, perhaps most iconic of all, the Hollywood Sign.
"The access to locations for this project was incredible," said Block. "Obviously the film commission in Los Angeles is quite good and accustomed to working with projects that involve driving all the time. However this was the first and only time that anyone has done actual live-action driving and filming at the top of the Hollywood Sign—some of the permissions we had to obtain from the Department of Homeland Security were intense!"
What can I say? Just when you think these Gymkhana videos can't get any wilder, Block comes along and shatters all expectations. Gymkhana SEVEN is another wild video, so if you haven't seen it already, stop what you're doing and watch it right now. You won't be disappointed!