Introducing The HYT Skull Bad Boy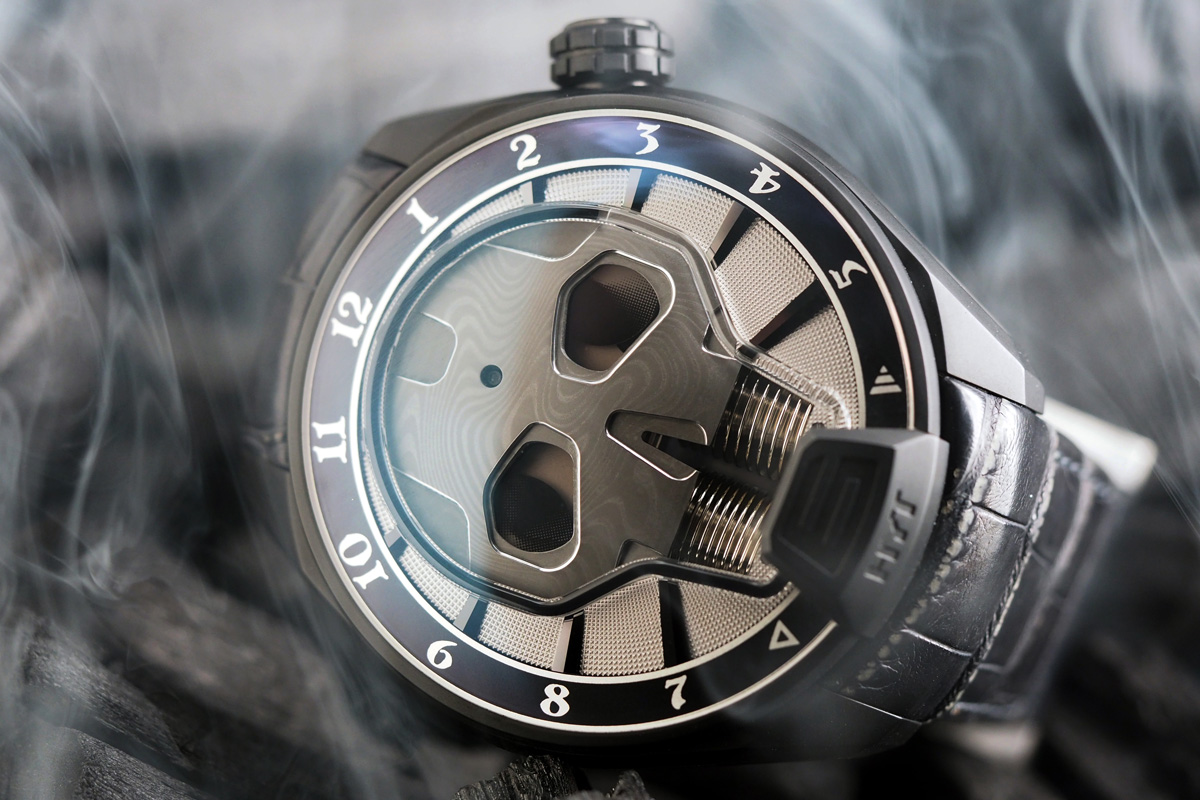 If you're looking to make a statement with your watch, you've got to check out HYT's latest Skull watch, which they just unveiled at Baselworld 2016. The HYT Skull Bad Boy features a new opaque black liquid that, while so simple to look at, took more than 12 months to develop.
Like the four other colors developed by HYT, the black version has its own chemical properties. These affect attributes such as viscosity, expansion coefficient and UV resistance. The goal of its design was to create a fluid able to adapt to the constraints of a HYT movement, which does not adhere to the wall of the capillary, can hold a meniscus and doesn`t interact on a molecular level with the elements it contacts.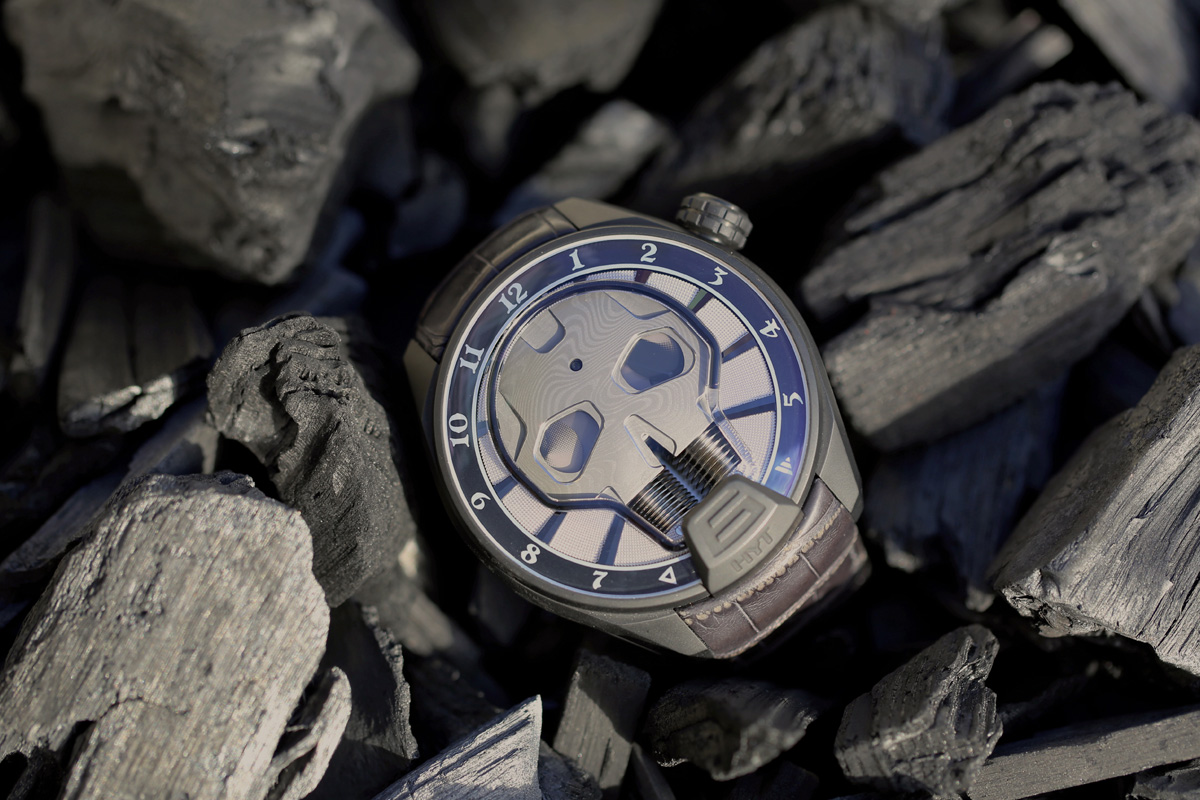 To go with this new black liquid, HYT wanted the skull to have the distinctive appearance of Damascus steel, used for knives and Samurai swords. The skull is coated with a new composite material, and a foundry in the Neuchâtel region created the raw material – multiple layers of steel and carbon are folded in on themselves a total of 256 times! This material is cast in batches of five skulls, meaning that no two will ever be identical.
The dial comprises two half-moons decorated with the Clous de Paris stud pattern. Its indexes are created in a Gothic font, complementing the Skull Bad Boy's hard rock look. Its matte black 51mm case, made from fully microblasted DLC titanium, is attached to a brand new buffed alligator strap with hints of slate grey. It has a Velcro clasp so that it can be adjusted to fit on a leather biker jacket.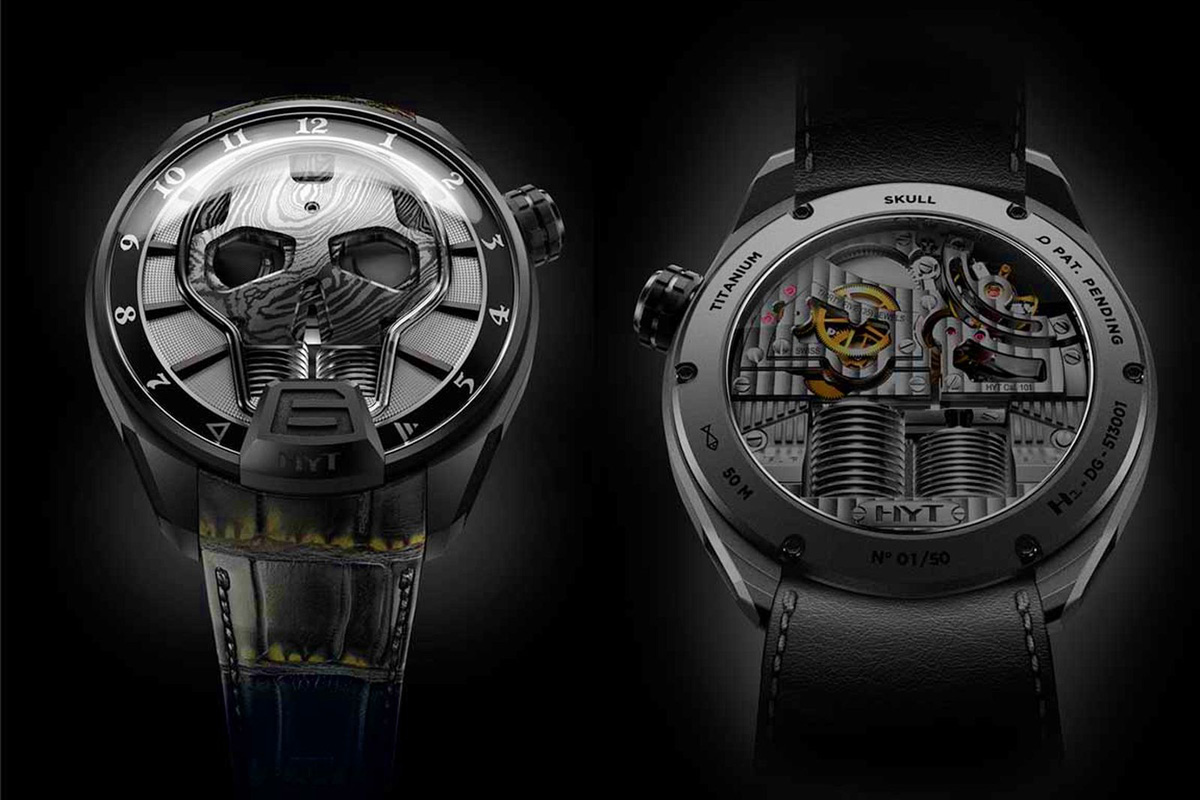 As many have already noted, there's one obvious drawback to the black liquid; the fact that it's impossible to read in the dark. But as Vincent Perriard, CEO of HYT, explains, "It was a deliberate decision. There were other solutions which would have made the piece visible at night. But if we wanted to play with the darkness inherent to the Skull Bad Boy, we had to go all the way. Night is part of the world of shadows and darkness. Perfectly in tune with the spirit of the skull."
The HYT Skull Bad Boy will be available as a limited edition of 50 pieces, with a price tag of $95,000.
For more information, visit www.hytwatches.com/skullbadboy.
I partnered with the brand to write this article but every word is mine.