Review: 2011 Lexus CT 200h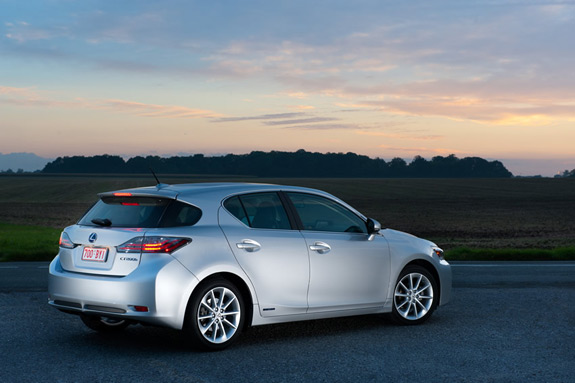 If you have your heart set on a hybrid, but want a dollop of style and a pinch of luxury and sporty tuning, then the 2011 Lexus CT 200h may be just the car you're looking for.
Lexus has been recently running a series of commercials for the new CT 200h, and the promise of 40mpg piqued my interest. It's hard to get a handle on what the car looks like from those commercials, so we decided to head over to the dealership to see one in the flesh.
Now, you might be wondering why we're looking at the Lexus to begin with. We currently have a 2008 Acura TL – We really love the car, but it's gas mileage is another story! In normal city driving, we get around 18mpg. On the highway, we're lucky to see 23-25mpg. And since it requires premium gas, that's another ding against it. Should gas continue it's meteoric rise towards $5/gal and beyond, we wanted to be prepared.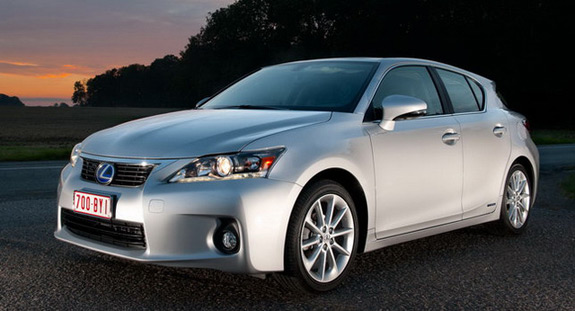 So we drove up to the Lexus dealership, where we saw an endless sea of RX's on the lot. HUNDREDS of them. But not a single CT in sight. So we went in search of a salesman. Turns out, they've sold every CT that came in, and all that's left to look at is a demo car. If you want to buy one, place your order and prepare for a 6-8 week wait.
The demo car they had was Smoky Granite Mica with a Caramel Nuluxe interior. I was surprised to learn that the interior material wasn't real leather (it's available as an option), as it looks and feels like the real thing. As you can see from the picture below, the interior layout is quite a departure from the standard Lexus interior. Some reviewers have blasted Lexus over it, and I myself was taken back by things at first. But after 5-10 minutes behind the wheel, it became second nature to me.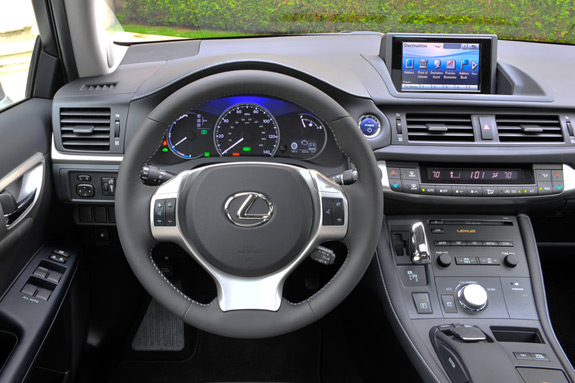 I was really surprised at how small the CT 200h was. You think of a typical hatchback (Mazda 3, Subaru Impreza, etc) and you assume the CT would have similar characteristics. But the CT is classified as a compact car, measuring in at 170.1 inches long, 69.5 inches wide, and 56.7 inches tall. The car is built on a version of the platform that also underpins the Scion tC, Toyota Corolla and the larger Lexus HS 250h. When you look at the side profile of the car, you can see the problem right away. There's no trunk space.
Opening the hatch revealed a really small trunk, barely big enough to fit a set of golf clubs. We asked if a baby stroller would fit without having to fold the seats down, and were told that a customer tested it out with her stroller just a few days earlier. It fit, but just barely!
On the flip side, the compact nature of the car mates nicely with the powertrain. The CT 200h is powered by a version of the Prius powertrain with an efficient Atkinson cycle 1.8-liter four-cylinder engine that generates 98 horsepower and 105 pounds-feet of torque. Combined with an 80-hp electric motor, a generator and a 202-volt nickel-metal hydride battery pack, the series and parallel hybrid system produces a total of 134 hp. A continuously variable transmission (CVT) directs power to the front wheels.
The CT 200h fills a very specific niche, but so far it appears to be working for them. They're targeting people that want the economy of a Prius, with an extra dash of style and luxury. If you keep the options down to a minimum, you can get the car for a hair of $30K, which is a great deal in today's market. Factor in the gas savings (we'd save $150/month), and it's a tempting proposition.
For now we're going to stick with the TL, but should gas prices keep going up, this is one car we'll be sure to keep in mind.