Review: Adidas F50 Adizero TRX FG Cleats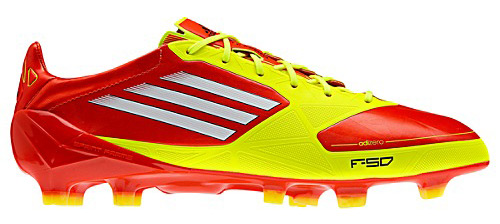 The adidas F50 Adizero TRX FG cleats are adidas' latest super lightweight soccer cleats. adidas sent me a pair to test out, which I wore during my weekly soccer games. I typically play midfield with occasional sprints down field, but mostly interior cuts and ball distribution.
That said, my first impression was "Wow! Light as a feather!" I usually wear kangaroo leather cleats, but this synthetic material is phenomenal. I slipped into the shoe and it fit like a glove. It also has an integrated sock liner to reduce irritation, and while I've played sockless, I'd still recommend a thin pair of protection to prevent small blisters.
I was definitely faster wearing these boots, both in quick dribbles as well as sprinting. But that light weight comes at the price of comfort. The thin/nonexistent insole doesn't provide much cushioning and I played 5 of 7 days until my heel was just aching. Not pain, but just dull throb where I could feel each cleat jabbing into my foot muscle. For most people that won't be an issue, but I had an unfortunate string of practices, games, pick up, etc.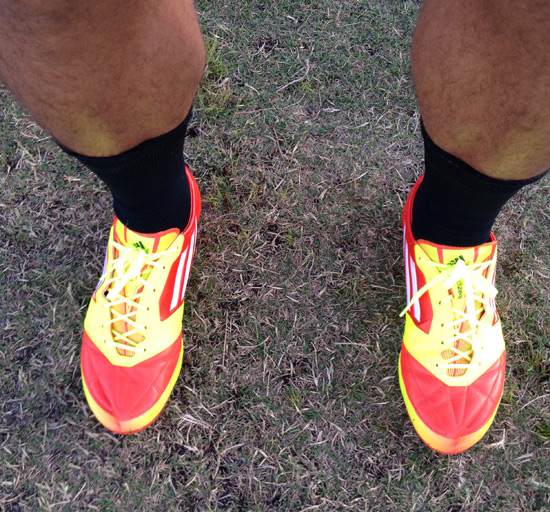 The touch is very supple, comparable to any high end soccer shoe. The shoe seems durable as I have had these for a couple of months and have not noticed any separation or tears. I play pretty aggressively and tend to drag my toe which destroys lesser constructed shoes pretty quickly. The highlighter yellow does show dirt, but it's not a deal breaker like a white or grey shoe.
I wasn't able to test this pair with MiCoach, but reviews on the Internet have been positive, so I'm dying to test out the tracking GPS function.
Overall, I am extremely impressed by this top line production by adidas. For the weekend warrior who maybe has lost a step or two on the pitch, this lightweight boot will be enough to compensate.
Pros: Very lightweight, soft inner toe touch, minimal branding
Cons: Pricey, thin insole
Neutral features: Ultra bright colors, short tongue and laces
Learn more about the adidas F50 Adizero TRX FG at adidas.com