Review: American Muscle Car Challenge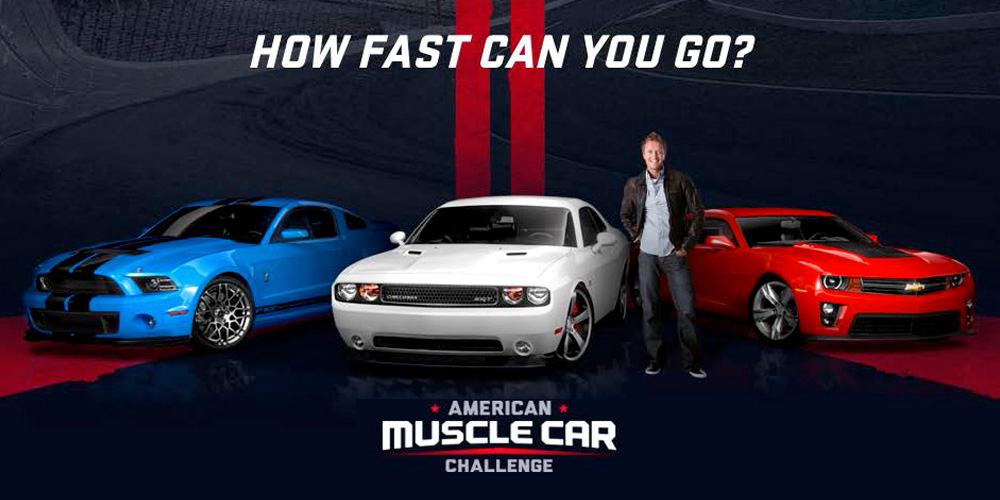 Earlier this year, we told you guys about the American Muscle Car Challenge, a new Richard Petty Driving Experience that recently launched in Las Vegas NV and Charlotte NC which lets YOU settle the dispute over which of these icons is the King of American Muscle.
The American Muscle Car Challenge puts you behind the wheel of three extraordinary American muscle cars: The Ford Mustang Shelby GT500 (662HP), Dodge Challenger SRT8 392 (470HP), and Chevrolet Camaro ZL1 (580HP). You'll drive these magnificent beasts at Las Vegas Motor Speedway, where computers will measure your acceleration, braking efficiency, cornering capability, and top speed.
Top Gear's Rutledge Wood breaks things down for you in this video:

Hey, if it's good enough for Rut, it's good enough for me.. So when we came out to Las Vegas a few weeks ago, one of the first things I signed up for was the American Muscle Car Challenge!
Unlike other "car experiences" take place at Las Vegas Motor Speedway (but are generally done on tracks outside of the actual Speedway), the AMCC actually takes place on the iconic oval that NASCAR's finest drivers race on each year. While I've done a lot of track events over the years, this was the first time that I actually got to drive on a NASCAR track! How cool is that??
The Challenge is broken down into four modules, each designed to demonstrate the specific performance characteristics of the cars. Here's the breakdown of the modules:
ACCELERATION: Capture exactly how quickly you can get each car from a standing start to 60mph.
BRAKING EFFICIENCY: Measure the exact distance it takes to go from 60mph to a complete stop.
CORNERING CAPABILITY: Determine the lateral G force generated in a closed section.
TOP SPEED: HOW FAST CAN YOU GO over a set distance?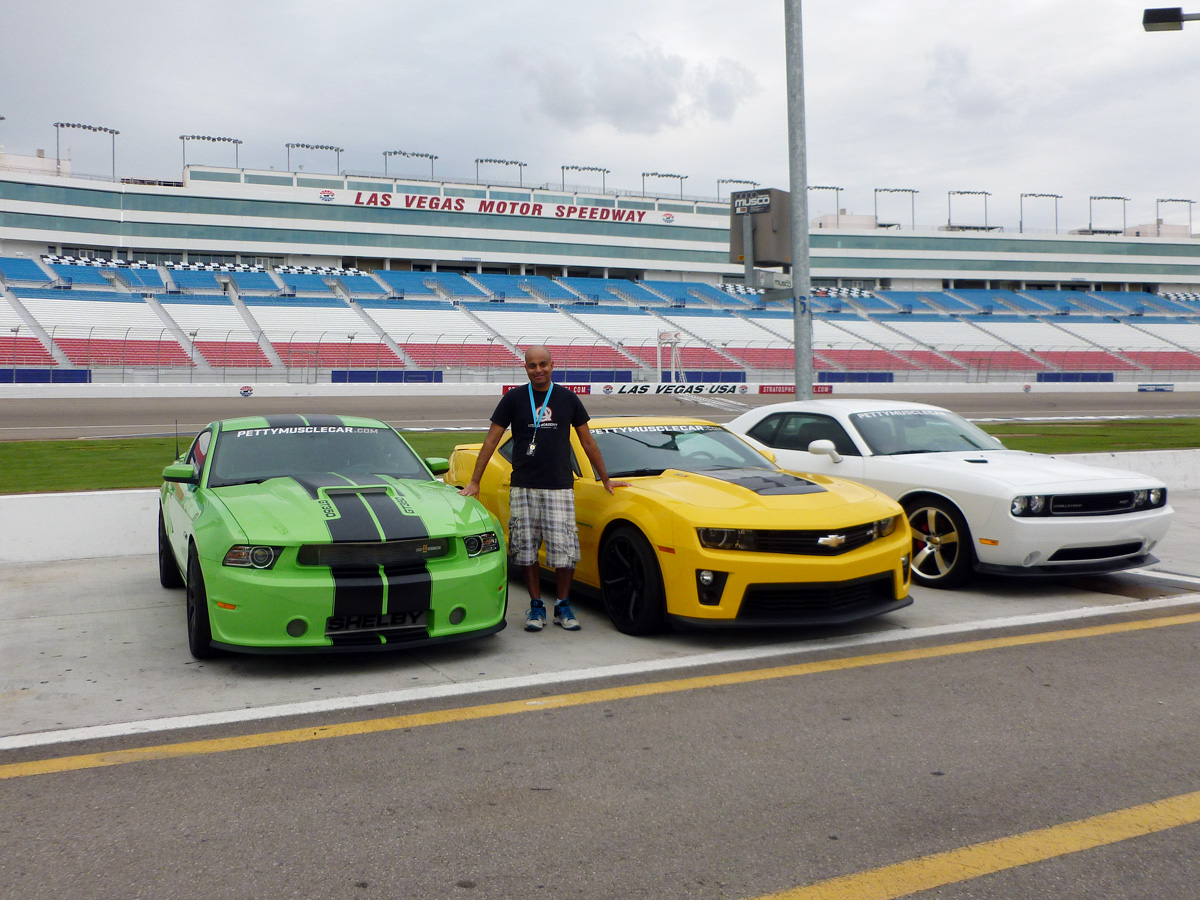 Now when I first heard about the four different segments, I envisioned four separate events, each one testing that particular performance characteristic. Which would be fine if I were doing a review for a car magazine, but it wouldn't be much fun for someone looking for a quick adrenaline rush. Thankfully, the folks at AMCC found a way to record all of these metrics while still dialing in the fun factor.
Here's how it works. You jump into a car, pull up to an F1-style starting line, and drop the hammer when the light goes green. A radar measures your 0-60 time, which is displayed on a screen for you to see. Maintain a speed of 60mph until you pass the braking line, and then slam on the brakes to bring your car down to a stop in the shortest possible distance. After that, you'll accelerate through the first corner (where your lateral G's are being measured) so that you can achieve maximum speed once you hit the straightaway. Put the pedal to the floor as you go for the top speed record.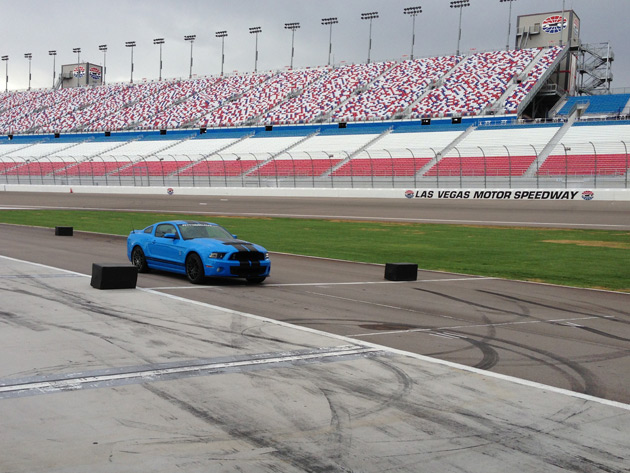 You'll do 6 laps in total: A "practice run" in each car (to get familiar with them), along with a final run in each car. At the end of everyone's runs, they tally up the times and post them for all to see.
The GT500 was an absolute beast, and using launch control (set at 3200rpm), I was able to put down back to back 0-60 times of 3.9s. The ZL1 surprised me, as I was only to do a 5.0s 0-60 in it. One person in our group did it in 4.8s , but everyone else's time was over 5 seconds. How the factory achieved a 3.9s time is beyond me. The SRT8 392 was the underdog in this race (down by over 100HP), so my 5.3s run didn't surprise me.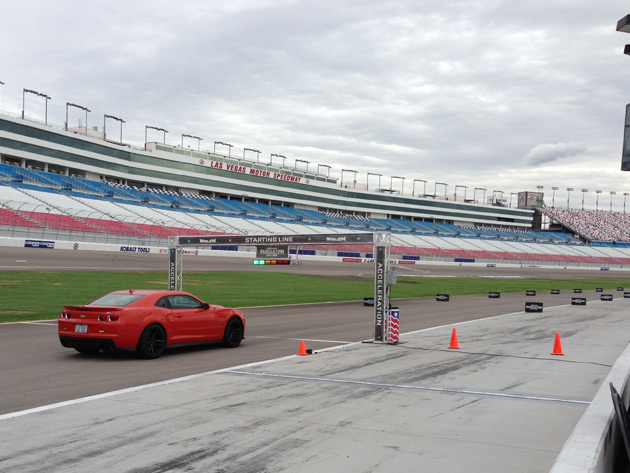 All three cars turned in great braking and cornering numbers, and even the top speeds were within a few miles of each other. In the end, I managed 126mph in the Camaro, while I could "only" hit 125mph in the Mustang. I'm certain that I could have hit 130mph on the straight had I been more aggressive in the corner leading up to it. Next time, I'll have to push it a little harder and see what I can top out at.
Overall, it was a pretty awesome experience, and I'd definitely recommend it to anyone coming to Las Vegas who's into cars. The price ($199 + $25 driver release fee) is very reasonable considering the cars you get to drive, and you're sure to leave with a big smile on your face.
More information:
American Muscle Car Challenge
877-723-3712
www.PettyMuscleCar.com