Lexus Dials Up The Fun With F SPORT Models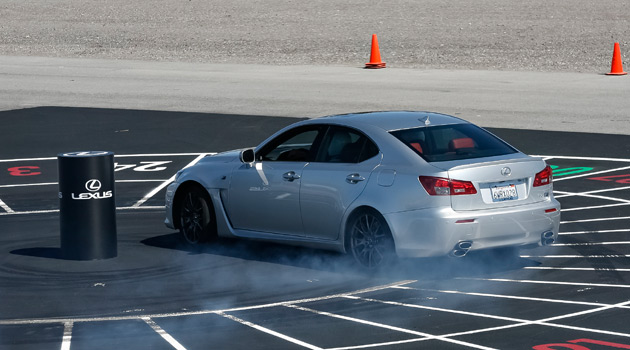 When Lexus launched in 1989, its vehicles were synonymous with luxury, refinement and craftsmanship. And almost 25 years later, Lexus remains a leader in the luxury vehicle space. But for those driving enthusiasts who want a higher level of engagement, Lexus offers factory-engineered performance in three ways.
At the top of the Lexus Performance Pyramid are their two stand-along F models – The 416HP 5.0L V8 IS F and the 552HP 4.8L V10 LFA.
For those who don't need quite that much power (or don't have that much $$), Lexus offers factory-tuned F SPORT models which feature sharper handling and more aggressive factory aesthetics. F SPORT models include the CT 200h, IS 250/350C, IS 250/350, GS 350, LS 460, and RX 350.
And for existing owners who want to do some performance upgrades while retaining their factory warranty, Lexus offers a number of individual F SPORT performance accessories for select models.
Lexus invited us out to Las Vegas last week to experience the spirited nature of the Lexus performance and F SPORT vehicles on two closed-courses at Las Vegas Motor Speedway. I was bummed when Lexus unveiled the new IS 250/350 with an F SPORT model and not a full fledged IS F model, so I was curious to see how they would perform on the track.
In a word: Impressive!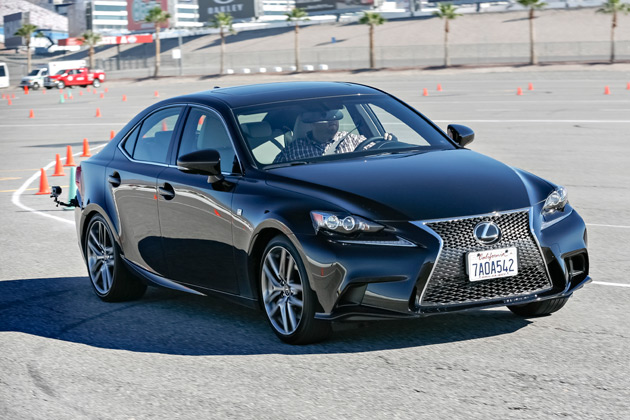 While F SPORT factory packages vary for each model, each dials up the base vehicle to a greater degree of driver engagement. Suspensions are recalibrated, dynamic response is modified, and visual cues like unique grilles, wheels, and sports seats are added to make these vehicles instantly recognizable. And what's great is that the Driver Mode Select knob enables the driver to choose their preferred type of driving experience. It's the best of both worlds, and it works remarkably well.
We drove four of the F SPORT models (CT 200h, IS 250, IS 350 AWD, and GS 350) on a tight autocross track, doing two laps in normal mode, and two more laps in Sport or Sport+ mode. In the Sport modes, the car starts with a firmer ride, with less suspension travel during hard cornering. Suspension adjustments are also made more frequently, ensuring the highest level of balance and stability as the car is put through its paces. Throttle response is also greatly enhanced.
We also got to drive a number of F and F SPORT cars on a performance course, which really let us see what these cars were capable of on the track. I drove the 2014 IS F (which sits on the last-generation IS platform), the new IS 250 and IS 350 F SPORT, the GS 350 F SPORT, and the LS 460 F SPORT.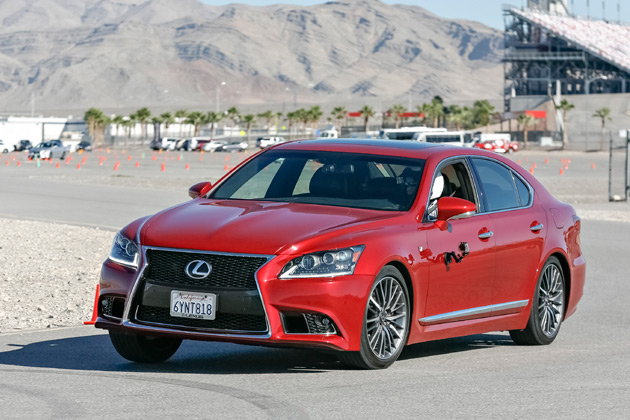 All of these cars performed great on the track, but I've got to give a nod to the LS 460, which defies the laws of physics, throwing around it's considerable heft without nary a complaint. Of course, the 2014 IS F (which rides on the previous generation IS platform) was a ton of fun, with gobs of horsepower at your disposal. When the IS F moves over to the new platform, it's going to be a game changer, and I for one can't wait!
Our trip to Las Vegas Motor Speedway wouldn't be complete without some hot laps in two of Lexus' hottest rides. Pro-driver Scott Pruett gave us rides in the LFA, while pro-driver Ken Gushi took us around the track in the IS F CCS-R. Both cars achieved similar top speeds on the track, but they did so in two decidedly different ways. The LFA was poised and proper, making short work of the track while coddling us in leather seats and keeping us cool with ice-cold A/C. The IS F CCS-R is a racecar with a gutted interior, roll cage, and 5-point harnesses for driver and passenger. No A/C, no satellite radio, it's all business.
Both were rides were amazing, but it was the IS F CCS-R that won over my heart. It's one thing to rip around a track, but it's even more fun when you're doing it sideways. Drifting = fun.
Overall, I came away with a newfound respect for Lexus and their F SPORT line of vehicles. What seemed like incremental changes on paper proved to be so much more when put to the test. If you're in the market for a new Lexus, make sure you consider the F SPORT models, or at least some of the F SPORT accessories to give your new ride some extra attitude. You won't be sorry.