SMS Audio Street by 50 Review
It takes a lot to break into the audio hardware business. Companies like Bose, Klipsch and Koss have built legendary products across the decades, so you need a great product to get anyone's attention.
With new names like Beats Audio and V-Moda making waves, is there room for another name? Rapper 50 Cent is betting on it with a new line of headphones under the company name SMS Audio.
After V-Moda blew me away with quality, I was very excited to see what 50 Cent and SMS Audio would bring to the market. I snagged a set of the Street by 50 – ANC headphones to give them a thorough test.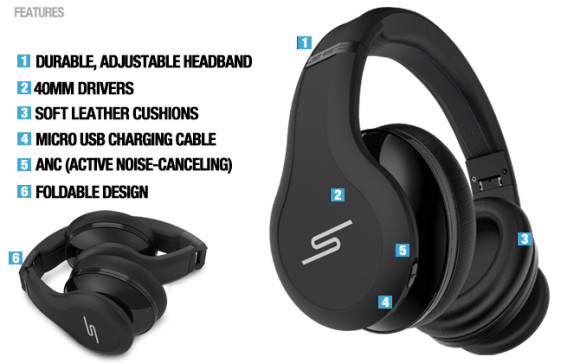 Let's cover the acronyms. SMS stands for Studio Mastered Sound. When you make a statement like that in your company title, you better have the aural goods to match. ANC stands for active noise canceling so that you can enjoy that "studio sound" even if things are a bit noisy around you.
Let's cut straight to the chase. If you don't actually work in a studio setting or feel comfortable with an equalizer, these are not the cans for you. Like true studio units, they exhibit a very flat and even tone that is great for monitor work, but not so hot for jamming to your iPod.
When I first started using the Street ANC, I was a bit worried. But once I moved from my mobile devices and started using them on my PC with my headphone amp, they came alive. It took me a while to get the sound right, but once I nailed the settings down, the Street easily surpassed my expectations. When compared against a set of Beats headphones, they were superior in every way in regards to sound. They have become my go-to cans for desk work, but they have not been able to overtake my travel duties.
With the noise canceling feature, these have huge potential for travel, but it fails in practice. The noise cancelling system does a decent job of cutting out general noise like a room fan, but it doesn't cut the deeper hum from plane engines and tire noise you want to get rid of. If you are searching solely for noise cancelling, head to Bose. In my ownership, the system finds most of its use by cutting some external noise while I am doing video and audio editing.
Another issue with the Street headphones is their size. They are massive. Even when they are "folded" and put in their protective case, they are much larger than my V-Modas which don't fold at all.
The Street also suffers a bit in the build quality and pricing areas. With an MSRP of $280, these are too expensive to be covered in plastic. Not only are these headphones almost entirely covered in plastic, but that plastic feels cheap and slimy. The only saving grace is the leather material that covers the ears cups and inner headband is incredibly soft.
The SMS Audio Street ANC is a very unique offering in the market. The sound is great, but only with dedicated hardware and some time with an equalizer. If you are looking for a great set of cans to jam with your iPhone on the subway, you would be best served by V-Moda or even Beats. Even the ANC offering is not as refined as what Bose offers. All said, if you fit into the right niche, you will be hard pressed to find a better option.
Pros: Great sound if you work for it, noise cancelling technology, soft leather ear cups
Cons: Large and expensive, cheap feeling plastics, not great for MP3 players.
Score: 8/10