Swag Out Your Dorm Room With Target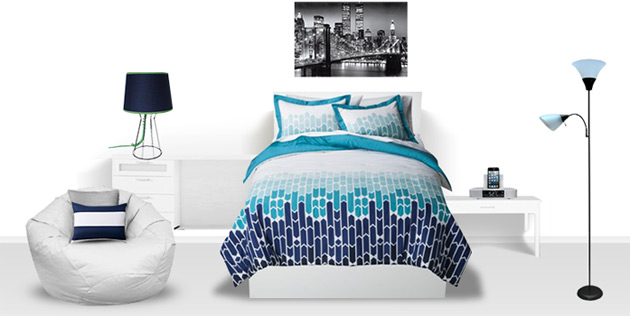 It's back-to-school time, and if you're about to start that new chapter of your life called college, it's important for you to get your dorm room in check. Shopping for school was easy when we were kids, with the hardest decision being which notebook design to go with. But as a college student, it's important to make sure your room is looking good, especially if you're planning on bringing any ladies back to your spot.
You might think that it's hard to personalize a small 15×15 box, especially if you're a poor college student living on a steady diet of Ramen noodles. But Target has pretty much endless options that can make your space your own, all while keeping costs down. Using Target's college uStyler I designed the stylish space you see pictured above, and the whole thing came in at just $150!
As you can see, I went for a more clean and modern look. But you can go crazy with wild prints and eclectic artwork if that's more your personality, don't be afraid to express yourself.
Of course, if you're an incoming freshman, the prospect of dorm life can be a bit overwhelming. Thankfully, Target has a handy checklist to ensure that you're not forgetting anything when you leave for college. Trust me, you don't want to be that guy who forgot to bring a laundry basket and carries his dirty laundry in a trash bag. Plus, it helps you keep your room that much tidier, since Mom won't be around to pick up after you.
As you'll see, it's possible to design a stylish dorm room for yourself without breaking the bank. So visit your local Target store or target.com/college for all your back to college needs.
Target truly has Everything for U this college season.