The Best Destinations For A Bachelor Party Boat Day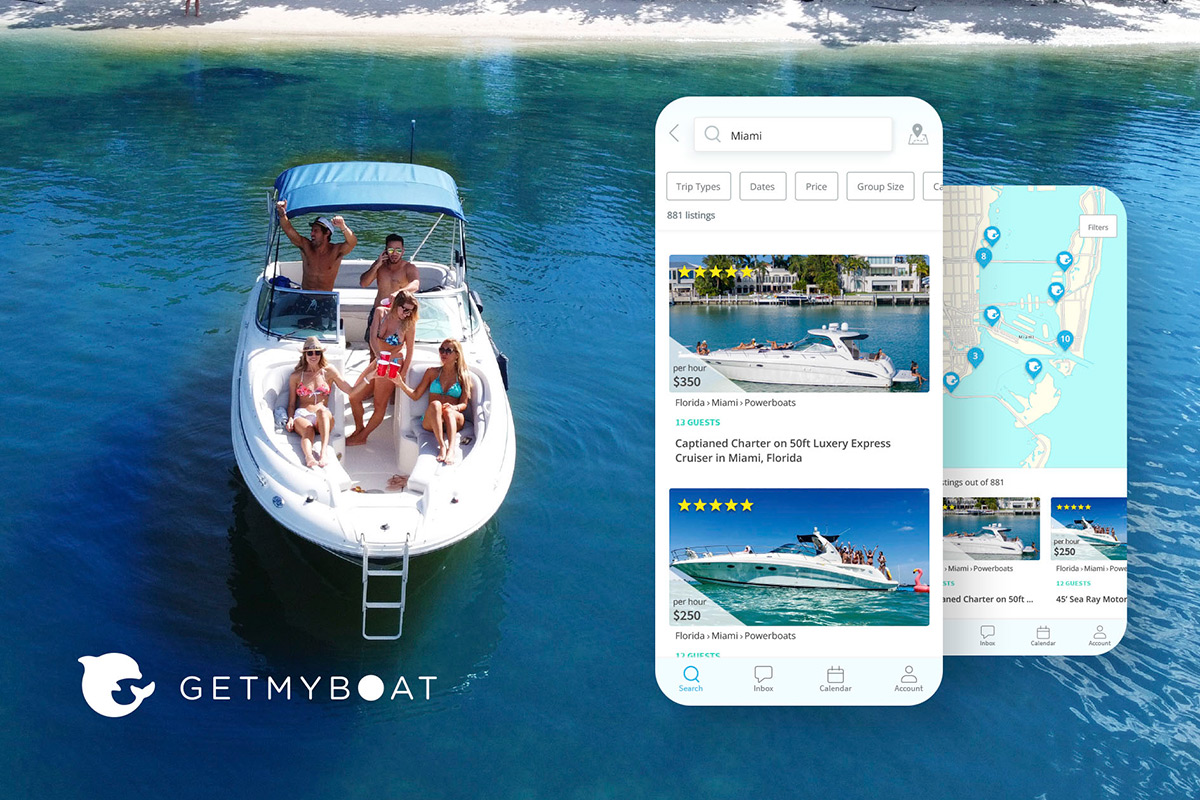 The bachelor party weekend is a time-honored tradition—a chance for the groom and his closest friends to bond, celebrate, and create unforgettable memories before the big wedding day. While every bachelor party weekend is different, some activities are beloved across the board and are a must-add to the itinerary. If you're looking to elevate your bachelor party to new heights, look no further than the world of boating and boat charters. And one great way to find and book a boat charter for a bachelor party is with GetMyBoat, the world's largest boat rental and charter booking platform.
In this guide, we'll dive into your options for epic bachelor party boat charters, highlighting the best destinations and providing expert tips to ensure your bachelor party weekend is nothing short of extraordinary.
Choosing the Perfect Destination for a Bachelor Party Weekend
Selecting the ideal destination is crucial to setting the stage for an unforgettable bachelor party weekend. Here are three remarkable locations that combine scenic beauty with an array of boating opportunities:
Miami, Florida
Known for its vibrant nightlife, stunning beaches, and diverse waterways, Miami offers the perfect blend of excitement and relaxation. Take a break from the busy bars on South Beach and cruise out into the waves for a day. Embark on a boat charter adventure along Biscayne Bay, exploring its pristine waters, luxurious waterfront properties, and iconic landmarks like the Miami skyline and the stunning Stiltsville.
Ibiza, Spain
For an electrifying bachelor party, look no further than the legendary party island of Ibiza. Don't plan on sleeping, this place literally never stops partying. With its world-renowned clubs, crystal-clear Mediterranean waters, and breathtaking coastline, Ibiza offers an unparalleled party atmosphere. There are countless boat parties that leave from the port daily, as well as options for private yacht charters and island hopping adventures to nearby Formentera. Cruise around the beaches, anchoring at secluded coves and indulging in water sports, while experiencing the unforgettable Ibiza vibe.
Nashville, Tennessee
Nashville is an exceptional destination for a bachelor party, offering a unique blend of vibrant nightlife, Southern hospitality, and endless entertainment options. Known as the "Music City," Nashville boasts a thriving live music scene, with numerous bars and clubs featuring talented musicians performing a variety of genres. In addition to its lively atmosphere, the city offers an array of activities to make your bachelor party unforgettable, and one standout experience is renting a boat on the Cumberland River or nearby Old Hickory Lake. With boat rentals readily available, you and your friends can cruise along the picturesque river, enjoying stunning views of the city skyline and indulging in the freedom to create your own party atmosphere on the water. Whether it's a leisurely afternoon sail or an energetic dance party, a boat rental in Nashville adds a memorable touch to your bachelor festivities, making it an ideal destination for an unforgettable celebration.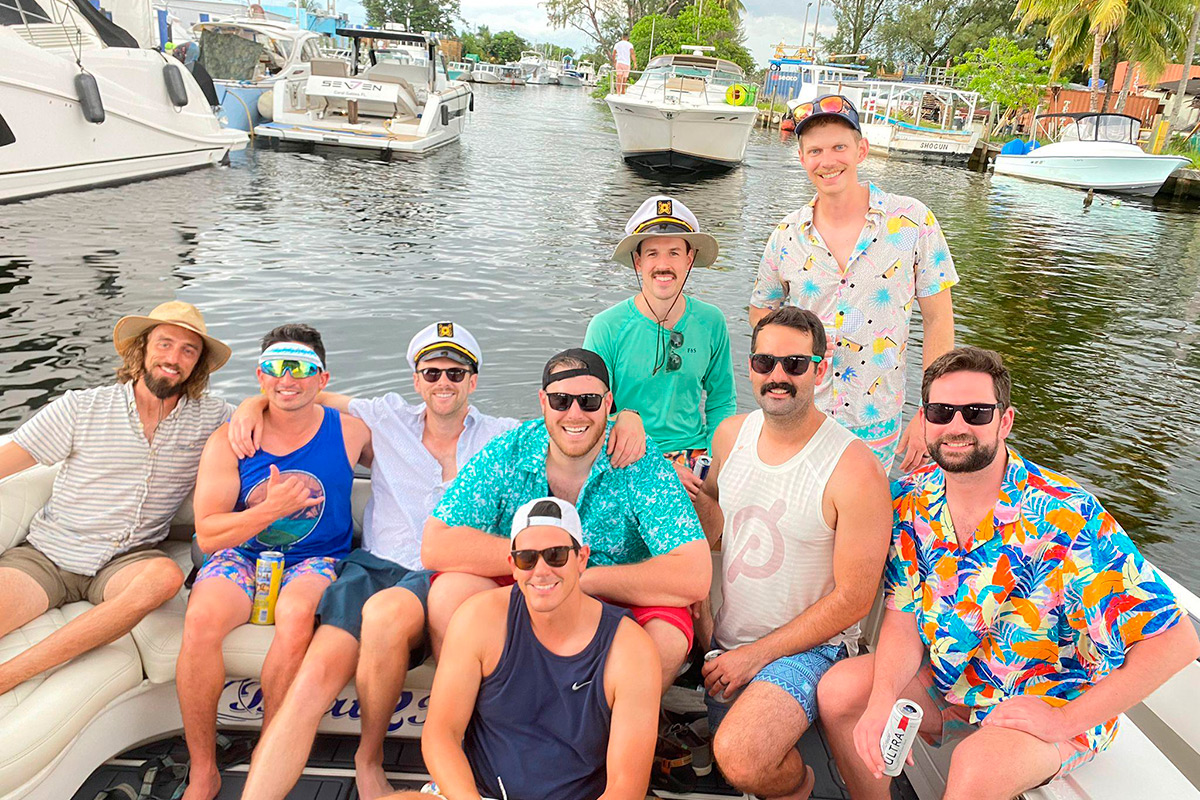 Planning Your Bachelor Party Boat Day
Once you've chosen your destination, it's time to select the perfect boat charter. Here are some key considerations:
Boat Type:
Depending on your group's size and preferences, you can choose from a range of options, including luxury yachts, catamarans, sailboats, or speedboats. Consider the amenities, capacity, and features that align with your bachelor party vision.
Crew and Services:
To fully enjoy your weekend, consider hiring a professional crew to handle navigation, safety, and catering. This allows you and your friends to relax and enjoy the festivities without worrying about the logistics.
Activities and Equipment:
Make sure your boat charter offers a variety of activities and equipment, such as snorkeling gear, jet skis, paddleboards, and inflatable toys. These add-ons will enhance the adventure and keep everyone entertained throughout the weekend.
Unique Boat Day Experiences
To make your bachelor party weekend truly exceptional, consider incorporating these additional experiences into your boat day. Ask the boat owner or captain before you book what sorts of activities are possible with their watercraft. They can often provide equipment or special experiences for your crew, as long as you coordinate ahead of time. Here are some ideas to get you started:
Host On-the-Water Parties
Transform your boat charter into a floating party hub by hiring a DJ, creating a custom playlist, and setting up a well-stocked bar. Dance the night away beneath the stars, savoring the unique ambiance of your private party on the water.
Engage in Water Sports
Satisfy your thirst for adrenaline by engaging in thrilling water sports activities. Whether it's wakeboarding, tubing, or diving, these activities provide an exciting break from the festivities and create lasting memories. Learn how to wake surf, enjoy waterskiing, or see marine life while snorkeling during your boating adventure.
Enjoy a Fishing Trip
Fishing charters provide an exciting and unique experience for a bachelor party, making them an excellent choice for an unforgettable celebration. A fishing charter not only allows you and your friends to embark on an adventure together but also offers a chance to bond and create lasting memories. Whether you're seasoned anglers or beginners, fishing charters cater to all skill levels, providing expert guides who will ensure a successful and enjoyable fishing trip. The thrill of reeling in a big catch, the camaraderie of sharing fishing stories, and the serenity of being out on the water create a perfect environment for bonding and relaxation. Additionally, fishing charters often offer spacious and well-equipped boats, making them an ideal setting for a bachelor party. With ample room to socialize, enjoy some drinks, and soak in the natural beauty surrounding you, a fishing charter adds a unique and adventurous twist to your celebration, making it an exceptional choice for an unforgettable bachelor party.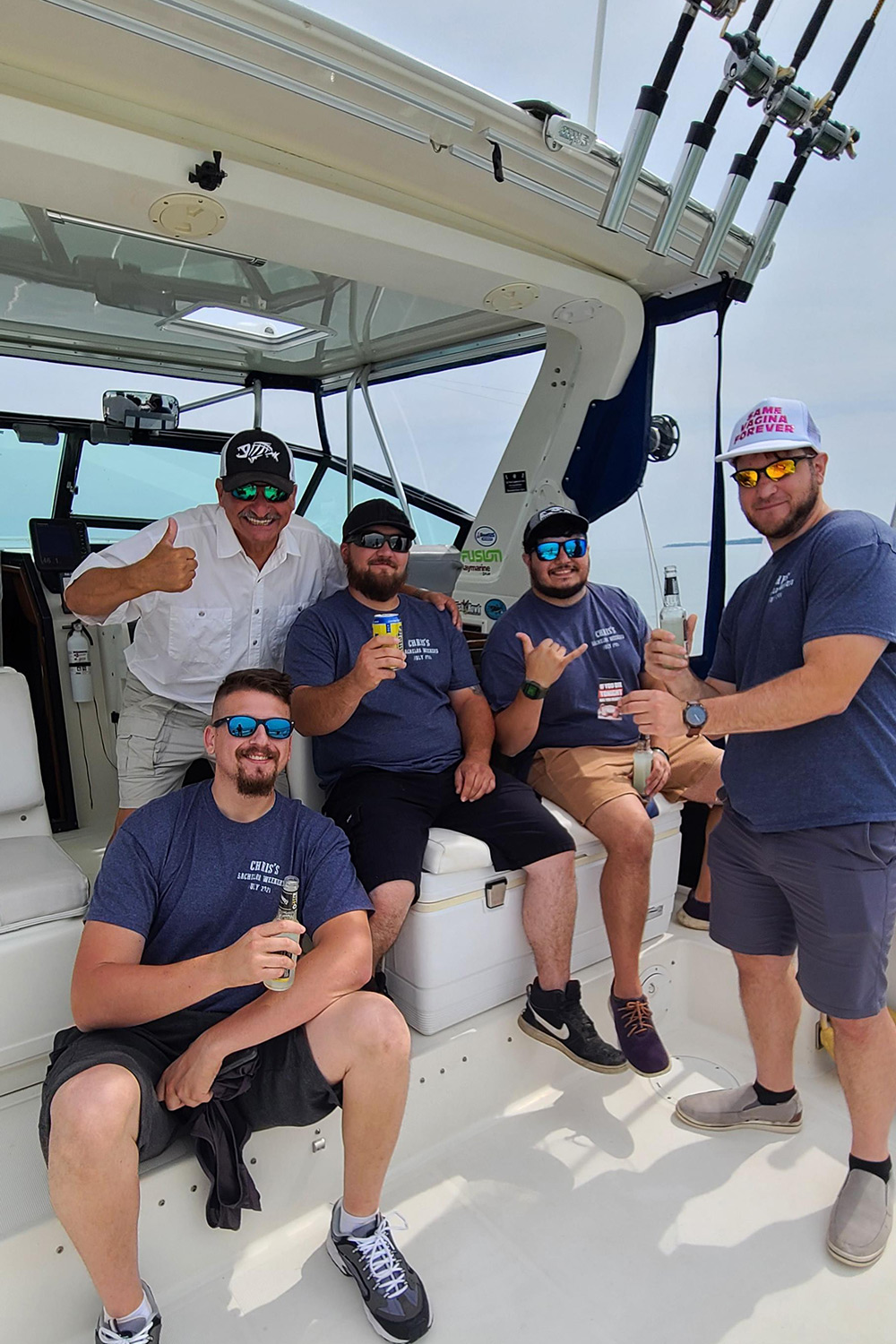 Important Tips for Your Boat Day
Safety First
While having a blast is the goal, safety should always be a top priority. Ensure that your boat charter provider adheres to all safety regulations, has properly maintained vessels, and employs experienced crew members.
Don't Forget the Sun Protection
Sunscreen, sunglasses, hats, and other protective gear for everyone. Many boats have optional bimini tops, which provide extra shade while you're out on the water. It's so easy to get burned, so it's critical to apply sunscreen before you cruise out and reapply after toweling off if you're going swimming. Don't ruin the rest of the weekend with a horrible sunburn.
Stay Hydrated
Sure, don't forget the seltzers and beer to throw in the iced-down cooler, but also bring waters. Lots of waters. It's easy to get dehydrated when having fun in the sun on a boat day. Make sure everyone has access to plenty of fresh water during your boat day. Often, the boat captain or owner will provide some, but it's essential that the best man or whomever is in charge of the boat day bring extra for everyone onboard.
Have Fun!
Bachelor party weekends are meant to be nothing but a fun adventure. Adding a boat day to the itinerary is guaranteed to provide everyone with an enjoyable experience. Plan the highlight of the trip with GetMyBoat and find the perfect boat for your bachelor party today!