What's New With The iPad 2?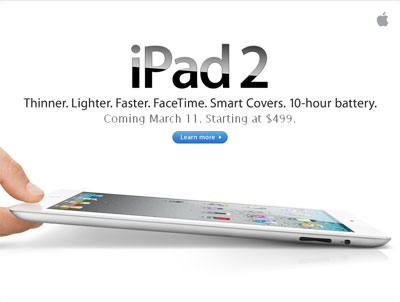 I've been a bit of an iPad hold-out. Now don't get me wrong, I'm not an irrational Apple hater or anything. (I've actually had an iPhone for 3+ years now, and it does everything I could want and more) But to me, the concept of a tablet just seems too limiting. But I've recently had some time to use the iPad while traveling, and I'm starting to see the appeal of it. It won't replace my laptop, but it's good for a quick trip.
I knew that the iPad 2 was right around the corner, so I decided to wait and see what new features would be introduced before picking one up. (I've been burned by Apple before, like when I bought the iPhone 2G only a few months before the 3G came out!)
The highlights: Thinner, lighter, and more powerful. Same price. Same battery life.
What's missing: Retina display, 4G support, USB, SD Slot, (free) HDMI adapter, etc.
The guys over at Engadget put together this nifty chart that shows the complete breakdown between the two iPads.

iPad
iPad 2
Display
9.7-inch
LED-backlit IPS LCD
9.7-inch
LED-backlit IPS LCD
Resolution
1024 x 768
1024 x 768
Processor
1GHz Apple A4
1GHz dual-core Apple A5
Graphics
PowerVR SGX 535
?
Memory
256MB RAM
?
Storage
16GB / 32GB / 64GB
16GB / 32GB / 64GB
Front camera
none
VGA
Rear camera
none
720p
Cellular radio
EDGE plus triband HSPA
EDGE plus quadband HSPA or
CDMA / EV-DO Rev. A
WiFi
802.11a/b/g/n
802.11a/b/g/n
Bluetooth
2.1 + EDR
2.1 + EDR
Accelerometer
3-axis
3-axis
Gyroscope
No
3-axis
Thickness
13.4mm
8.8mm
Weight
680g (WiFi),
730g (WiFi + 3G)
601g (WiFi),
607g (Verizon),

613g (AT&T)
Overall, it's a nice upgrade, but many people (myself included) were expecting more from Apple. The tablet market is starting to ramp up, and Apple needed a game changer to stay ahead of the crowd. Hopefully the iPad 3 will be the answer. 😀