2015 Chevy Suburban: Why Massive SUVs Are Still Awesome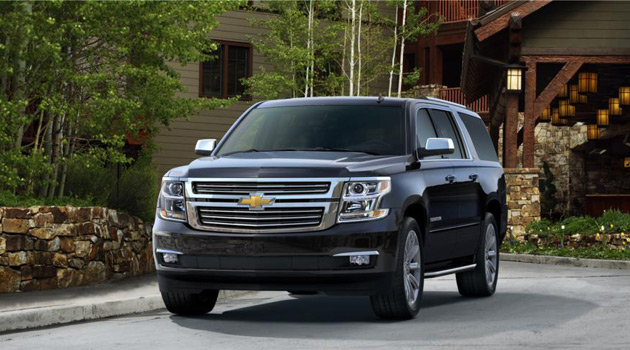 In the age of truck-based SUVs morphing into "crossovers," the mammoth Chevy Suburban stands strong. Few vehicles offer the Suburban's combination of ruggedness, towing and hauling capability, or comfort. For 2015, Chevrolet has updated the Suburban's infotainment systems and overall luxury, attempting to bring some of the car-like creature comforts to this still truck-based SUV.
What's to like:
Magnetic ride control in the LTZ trim
Adaptive cruise control
The bad news:
Average fuel economy is still under 20 miles per gallon
MyLink infotainment is slow to load and run
Same Body-on-Frame Design
Believe it or not, the Suburban has been in production since the 1930s, and is one of Chevrolet's most storied models. While the 2015 Suburban incorporates a variety of modern elements, the SUV's old fashioned body-on-frame design hasn't changed.
When it comes to body-on-frame versus the unibody construction, things have changed in the SUV marketplace. When the Ford Explorer first debuted in 1991, for example, it was essentially a Ford Ranger with an SUV's body. By 2009, the Explorer was built on a unibody frame that has more in common with a car than today's trucks. The Dodge Durango and the Honda Passport are the same story – they started out on truck frames, but now they're produced on unibody frames that have little in common with today's pickups.
The reasons for this switch from body-on-frame to unibody have everything to do with describing the modern Suburban. Body-on-frame vehicles have more capabilities in terms of hauling and towing, and that's the Suburban's strength. While many SUVs in the segment aren't capable of pulling much more than a small travel trailer or boat, the Suburban offers as much as 8,600 lbs of tow capacity.
Of course, the Suburban's body-on-frame ruggedness comes at a price. The Suburban's hefty curb weight (as much as 5,900 lbs for the 4wd model) makes it nearly impossible for the Suburban to get more than 18mpg in the EPA's combined city/highway mileage testing.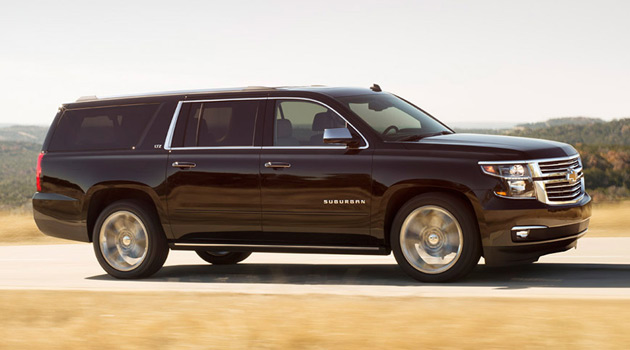 Improved Stability and Fuel Economy
To improve the ride quality and handling of the Suburban, Chevy offers Magnetic Ride Control on the Suburban LTZ. Similar to the suspension system used on the new Corvette, Magnetic Ride Control is a system of special hydraulic shocks filled with a metallic fluid (essentially, there are metal particles suspended in normal shock fluid). By applying a current to this fluid, the shocks damping characteristics change. By making the shock more or less rigid, the vehicle can be tuned to be "softer" or "harder" as conditions demand. This allows for improved ride and stability.
Moving this monster is a 5.3L V8, part of Chevy's Ecotec line. This relatively new engine features direct injection and cylinder deactivation, both of which help to maximize fuel economy and performance. Considering the relatively small size of the 5.3L V8, the engine's 355 horsepower rating (along with 383 ft-lbs of torque) is impressive. What's even more impressive is that this same engine can make as much as 380 horsepower and 416 pounds-foot of torque when using E85.
Still, when paired with a six-speed automatic, the new 5.3L struggles to deliver decent gas mileage. The 2WD version gets 16mpg city / 23mpg highway (18mpg combined) when running on gasoline. Those numbers fall to 12 mpg city/17mpg when using E85. As fuel economy regulations become increasingly strict, look for Chevrolet to upgrade the Suburban's transmission to 8 or 9 speeds, and to offer a smaller diesel engine.
Big Styling and Comfort Continues
In addition to weight, the Suburban's aerodynamics negatively impact the SUV's fuel economy. While Chevy could squeeze some fuel economy from the Suburban by streamlining the vehicle's truck-like styling, they've wisely decided to leave the Suburban's look alone. Some vehicles have a style that's all their own, and those vehicles don't require major changes in appearance…the Suburban is one of those vehicles.
Inside, the massive size of the Suburban allows for third row seating and captain chairs in the center row. Behind the seats is ample cargo room for luggage, groceries, pet cages, bulletproof vests and machine guns (Suburbans are frequently used by the US State Department and US Secret Service), etc. In fact, there's nearly 95 cubic feet of storage space in a Suburban when the 3rd row of seats is folded down…that's nearly as much interior space as you'll find in a Toyota Corolla!
If there's a complaint about the new Suburban, it's the MyLink infotainment system. While it's said to be very easy to navigate (the system won an award from CNET a couple of years ago), response times are lengthy. Early reviews are that the system is slow to respond and not very enjoyable to use.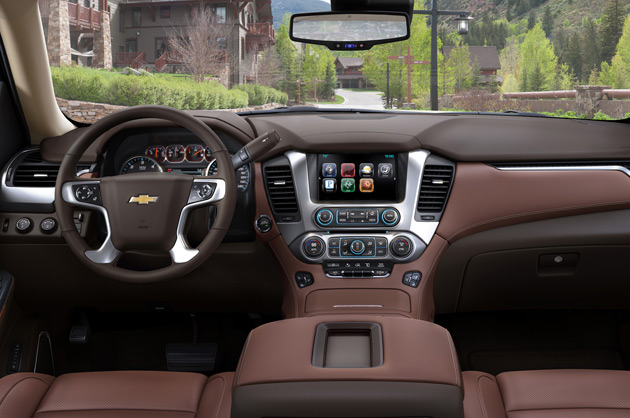 The Verdict
To quote Ferris Bueller: If you have the means, I highly recommend the Chevy Suburban. Sure, it's hard to park at your local cafe. It gulps down fuel like a frat boy pounds beer at a keg party. And as nicely as it handles, it's still a beast to handle at speed. But simply stated, the Suburban does it all. It's rugged, it's luxurious, it's safe, and it's stylish. You can take it this thing to the art museum or the cattle ranch and no one will bat an eye. You can load your family in this vehicle without a second thought, confident it will carry all your gear wherever you want to go with safety.
Assuming you can afford to feed the vehicle's thirst for fuel (and that's no small thing), the Suburban's $60-$70k MSRP is a relative bargain compared to the asking price of less capable and similarly luxurious SUVs from Audi, BMW, Mercedes, and Lexus. The 2015 Suburban is an improvement on an already great vehicle, and Chevrolet deserves high praise for being smart enough to leave the vehicle alone.